COVID-19 has thrown the biggest curveball the further education sector has ever seen. With the September intake just around the corner, students are still trying to figure out whether their university will open their campus on time or will online classes prevail.
In a welcome move, 87.4% of universities in the UK have confirmed their intentions for their teaching delivery in the next academic year. This news comes as a huge sigh of relief for students, especially international students, who can now look forward to getting their visa and accommodation in place. Furthermore, many countries have announced that they will soon resume international travel, albeit following COVID-19 safety protocols.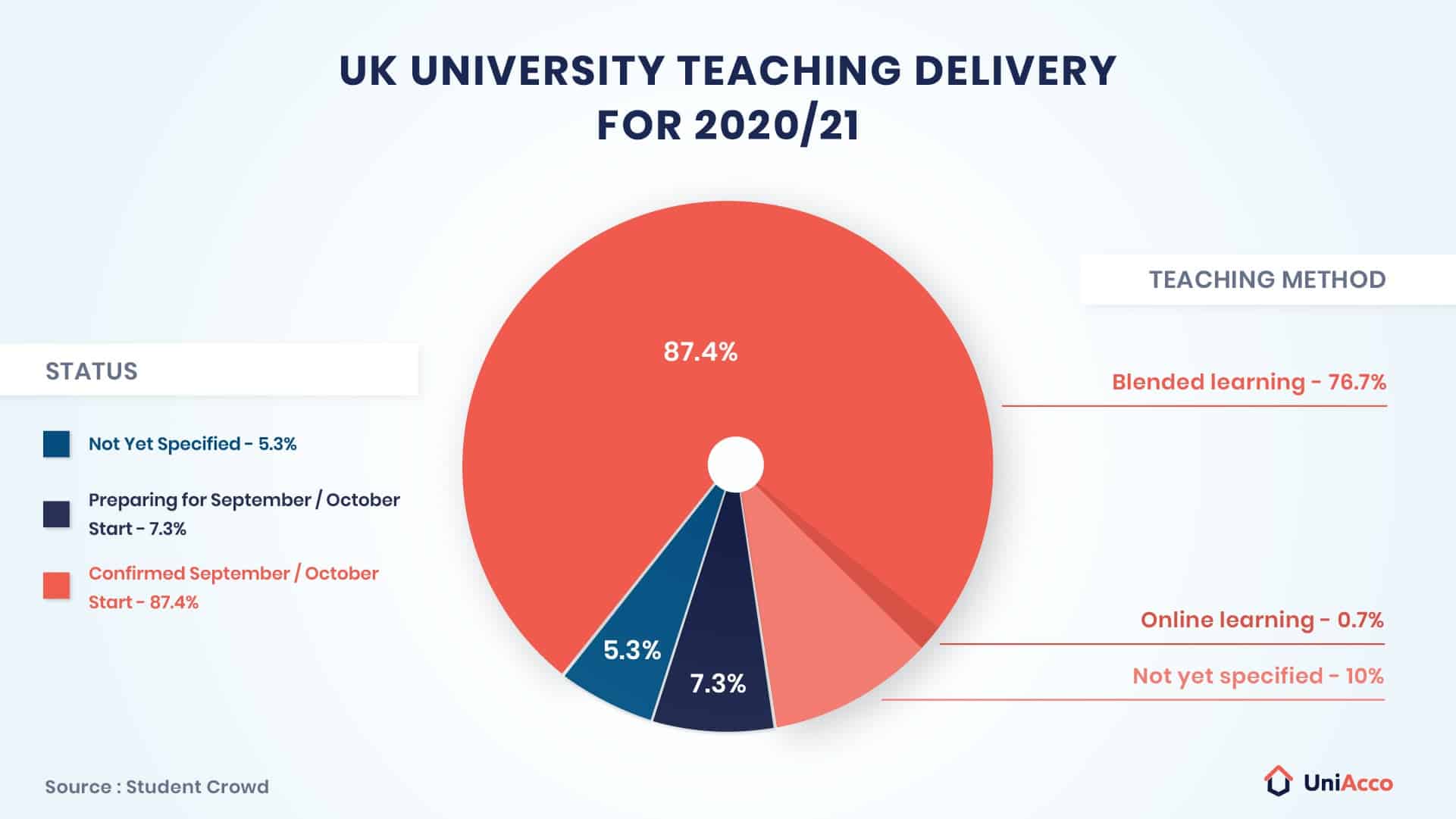 The people in charge of setting policies for universities have received no clear government guidance. However, knowing how important international students are to the GDP of England, it's only a matter of time before universities start with their normal course of studies.
Here is a list of all the universities and their declared intentions for 2020/21 –
Source – StudentCrowd
(Latest university responses added – 16th June)
Abertay University (Dundee)

Status – Confirmed Sept/Oct start (delayed start date)
Teaching Method – Blended learning
Online Open Day – Virtual Open Day on website
Aberystwyth University

Status – Confirmed Sept/Oct start
Teaching Method – Blended learning
Online Open Day – 6th July
Anglia Ruskin University (ARU)

Status – Confirmed Sept/Oct start
Teaching Method – Blended learning
Online Open Day – 15th June
Arts University Bournemouth (AUB)

Status – Preparing for Sept/Oct start
Teaching Method – Blended learning
Online Open Day – On-campus from September
Aston University

Status – Confirmed Sept/Oct start
Teaching Method – Not yet specified
Online Open Day – 3rd July
Bangor University

Status – Confirmed Sept/Oct start
Teaching Method – Blended learning
Online Open Day – 27th June, 8th July
Bath Spa University

Status – Preparing for Sept/Oct start
Teaching Method – Blended learning
Online Open Day – On-campus from September
Birkbeck, University of London

Status – Confirmed Sept/Oct start
Teaching Method – Blended learning
Online Open Day – 2nd July
Birmingham City University

Status – Confirmed Sept/Oct start
Teaching Method – Blended learning
Online Open Day – 24th June
Bishop Grosseteste University (BGU)

Status – Confirmed Sept/Oct start
Teaching Method – Not yet specified
Online Open Day – 13th June, 10th July, 14th Aug
Bournemouth University (BU)

Status – Confirmed Sept/Oct start
Teaching Method – Blended learning
Online Open Day – 17th June, 11th July
BPP

Status – Confirmed Sept/Oct start
Teaching Method – Blended learning
Online Open Day – 2nd, 15th, 16th June, 7th, 13th, 14th July, 3rd, 4th, 27th Aug, 1st Sept
Bradford College

Status – Not yet specified
Teaching Method – Not yet specified
Online Open Day – 20th June
Brunel University London

Status – Confirmed Sept/Oct start
Teaching Method – Blended learning
Online Open Day – 3rd July
Buckinghamshire New University

Status – Confirmed Sept/Oct start
Teaching Method – Blended learning
Online Open Day – On-campus from September
Canterbury Christ Church University

Status – Confirmed Sept/Oct start
Teaching Method – Not yet specified
Online Open Day – 19th June
Cardiff Metropolitan University

Status – Confirmed Sept/Oct start
Teaching Method – Blended learning
Online Open Day – Virtual Open Day videos on website
Cardiff University

Status – Confirmed Sept/Oct start
Teaching Method – Blended learning
Online Open Day – 3rd July
City, University of London

Status – Confirmed Sept/Oct start
Teaching Method – Not yet specified
Online Open Day – 27th June
Colchester Institute

Status – Not yet specified
Teaching Method – Not yet specified
Online Open Day – 17th June
Courtauld Institute of Art

Status – Confirmed Sept/Oct start
Teaching Method – Not yet specified
Online Open Day – 29th June, 22nd July, 26th Aug
Coventry University

Status – Confirmed Sept/Oct start
Teaching Method – Not yet specified
Online Open Day – 19th, 20th June, 10th, 11th July
De Montfort University (DMU)

Status – Confirmed Sept/Oct start
Teaching Method – Not yet specified
Online Open Day – 4th July
Durham University

Status – Confirmed Sept/Oct start
Teaching Method – Blended learning
Online Open Day – Dates to be announced
Edge Hill University

Status – Confirmed Sept/Oct start
Teaching Method – Not yet specified
Online Open Day – 15th, 16th, 17th, 18th, 19th June
Edge Hotel School

Status – Preparing for Sept/Oct start
Teaching Method – Blended learning
Online Open Day – 24th June
Edinburgh Napier University

Status – Preparing Sept/Oct start
Teaching Method – Blended learning
Online Open Day – On-campus only from Sept
Falmouth University

Status – Confirmed Sept/Oct start
Teaching Method – Blended learning
Online Open Day – On-campus only from Oct
Glasgow Caledonian University

Status – Confirmed Sept/Oct start (delayed start date)
Teaching Method – Not yet specified
Online Open Day – On-campus only from Sept
Glasgow School of Art

Status – Confirmed Sept/Oct start
Teaching Method – Not yet specified
Online Open Day – Virtual open day & live chats taking place on website
Glyndwr University

Status – Confirmed Sept/Oct start
Teaching Method – Not yet specified
Online Open Day – 24th June
Goldsmiths, University of London

Status – Confirmed Sept/Oct start
Teaching Method – Not yet specified
Online Open Day – 6th, 7th, 8th, 9th, 10th, 11th July
Guildhall School of Music & Drama

Status – Preparing for Sept/Oct start
Teaching Method – Not yet specified
Online Open Day – Dates to be announced
Harper Adams University

Status – Preparing for Sept/Oct start
Teaching Method – Blended learning
Online Open Day – 17th June
Hartpury University

Status – Confirmed Sept/Oct start
Teaching Method – Not yet specified
Online Open Day – On-campus only from July
Heriot-Watt University

Status – Confirmed Sept/Oct start
Teaching Method – Blended learning
Online Open Day – 3rd July
Imperial College London

Status – Confirmed Sept/Oct start
Teaching Method – Not yet specified
Online Open Day – 14th – 18th July
Kaplan Open Learning

Status – Confirmed Sept/Oct start
Teaching Method – Blended Learning
Online Open Day – Dates to be announced
Keele University

Status – Confirmed Sept/Oct start
Teaching Method – Blended learning
Online Open Day – 20th June
King's College London

Status – Confirmed Sept/Oct start
Teaching Method – Blended learning
Online Open Day – 20th – 25th July
Kingston University

Status – Confirmed Sept/Oct start
Teaching Method – Not yet specified
Online Open Day – 17th June
Lancaster University

Status – Confirmed Sept/Oct start
Teaching Method – Blended learning
Online Open Day – 27th June, 11th July
Leeds Arts University

Status – Not yet specified
Teaching Method – Not yet specified
Online Open Day – Dates to be announced
Leeds Beckett University

Status – Confirmed Sept/Oct start
Teaching Method – Not yet specified
Online Open Day – 3rd July
Leeds City College

Status – Confirmed Sept/Oct start
Teaching Method – Not yet specified
Online Open Day – 23rd June
Leeds Trinity University

Status – Confirmed Sept/Oct start
Teaching Method – Blended learning
Online Open Day – On-campus only from Sept
Liverpool Hope University

Status – Confirmed Sept/Oct start
Teaching Method – Blended learning
Online Open Day – 26th June, 4th July
Liverpool John Moores University

Status – Confirmed Sept/Oct start
Teaching Method – Not yet specified
Online Open Day – 22nd, 23rd, 24th, 25th, 26th June
London Metropolitan University

Status – Confirmed Sept/Oct start (delayed start date)
Teaching Method – Blended learning
Online Open Day – 3rd, 4th, 5th, 6th, 7th, 8th, 9th July
London School of Commerce

Status – Not yet specified
Teaching Method – Not yet specified
Online Open Day – Unknown
London South Bank University

Status – Confirmed Sept/Oct start
Teaching Method – Blended learning
Online Open Day – 20th June
Loughborough University

Status – Confirmed Sept/Oct start
Teaching Method – Blended learning
Online Open Day – 24th, 25th, 26th, 27th June
Manchester Metropolitan University

Status – Confirmed Sept/Oct start
Teaching Method – Blended learning
Online Open Day – 15th, 16th, 17th, 18th, 19th June
Middlesex University

Status – Confirmed Sept/Oct start
Teaching Method – Blended learning
Online Open Day – 15th, 16th 17th June
Newcastle University

Status – Confirmed Sept/Oct start
Teaching Method – Not yet specified
Online Open Day – 26th, 27th June, 19th Sep
Newman University

Status – Not yet specified
Teaching Method – Not yet specified
Online Open Day – 4th July
Norwich University of the Arts (NUA)

Status – Confirmed Sept/Oct start
Teaching Method – Not yet specified
Online Open Day – 19th June
Nottingham Trent University (NTU)

Status – Confirmed Sept/Oct start
Teaching Method – Blended learning
Online Open Day – 26th June
Oxford Brookes University

Status – Confirmed Sept/Oct start
Teaching Method – Not yet specified
Online Open Day – 27th June
Plymouth Marjon University

Status – Confirmed Sept/Oct start
Teaching Method – Not yet specified
Online Open Day – Selection of online events
Queen Margaret University (QMU)

Status – Confirmed Sept/Oct start
Teaching Method – Blended learning
Online Open Day – On-campus only from Sept
Queen Mary University of London (QMUL)

Status – Confirmed Sept/Oct start
Teaching Method – Not yet specified
Online Open Day – 25th, 26th June
Queen's University Belfast (QUB)

Status – Confirmed Sept/Oct start
Teaching Method – Blended learning
Online Open Day – On-campus only from Sept
Ravensbourne

Status – Not yet specified
Teaching Method – Not yet specified
Online Open Day – 17th June
Regents University London

Status – Confirmed Sept/Oct start
Teaching Method – Blended learning
Online Open Day – 18th June
Richmond American International University in London

Status – Confirmed Sept/Oct start
Teaching Method – Blended learning
Online Open Day – 27th May
Robert Gordon University (RGU)

Status – Confirmed Sept/Oct start (delayed start date)
Teaching Method – Not yet specified
Online Open Day – On-campus only from Sept
Royal Conservatoire of Scotland

Status – Preparing for Sept/Oct start
Teaching Method – Blended learning
Online Open Day – On-campus only from Oct
Royal Holloway, University of London

Status – Preparing for Sept/Oct start
Teaching Method – Not yet specified
Online Open Day – 19th, 20th June
School of Oriental and African Studies (SOAS)

Status – Confirmed Sept/Oct start
Teaching Method – Blended learning
Online Open Day – On-campus only from Sept
Sheffield Hallam University

Status – Confirmed Sept/Oct start
Teaching Method – Blended learning
Online Open Day – 25th June
Solent University

Status – Confirmed Sept/Oct start
Teaching Method – Not yet specified
Online Open Day – On-campus only from Sept
St George's, University of London

Status – Confirmed Sept/Oct start
Teaching Method – Online learning
Online Open Day – Dates to be announced
St Mary's University College

Status – Not yet specified
Teaching Method – Not yet specified
Online Open Day – Dates to be announced
St Mary's University, Twickenham

Status – Confirmed Sept/Oct start
Teaching Method – Blended learning
Online Open Day – Selection of online events
Staffordshire University

Status – Confirmed for Sept/Oct start
Teaching Method – Not yet specified
Online Open Day – 20th, 24th, 27th June
Swansea University

Status – Confirmed Sept/Oct start
Teaching Method – Blended learning
Online Open Day – 20th June
Teesside University

Status – Confirmed Sept/Oct start
Teaching Method – Blended learning
Online Open Day – 27th June
The Open University

Status – Confirmed Sept/Oct start
Teaching Method – Not yet specified
Online Open Day – Unknown
The University of Sheffield

Status – Confirmed Sept/Oct start
Teaching Method – Blended learning
Online Open Day – 27th June, 11th July
Ulster University

Status – Confirmed Sept/Oct start
Teaching Method – Blended learning
Online Open Day – On-campus only from Sept
University College Birmingham

Status – Confirmed Sept/Oct start
Teaching Method – Blended learning
Online Open Day – 27th June
University College London (UCL)

Status – Confirmed Sept/Oct start
Teaching Method – Blended learning
Online Open Day – 29th, 30th June, 1st, 2nd, 3rd, 4th July
University for the Creative Arts (UCA)

Status – Preparing for Sept/Oct start
Teaching Method – Not yet specified
Online Open Day – Virtual Open Day on website
University of Aberdeen

Status – Confirmed Sept/Oct start (delayed start date)
Teaching Method – Blended learning
Online Open Day – On-campus from August
University of Bath

Status – Confirmed Sept/Oct start
Teaching Method – Blended learning
Online Open Day – Virtual Open Day on the website. Live chat events on 11th June, 16th, 30 July
University of Bedfordshire

Status – Confirmed Sept/Oct start
Teaching Method – Blended learning
Online Open Day – 1st, 30th July
University of Birmingham

Status – Confirmed Sept/Oct start
Teaching Method – Not yet specified
Online Open Day – 22nd, 23rd, 24th, 25th, 26th June
University of Bolton

Status – Confirmed Sept/Oct start
Teaching Method – Blended learning
Online Open Day – 1st July
University of Bradford

Status – Confirmed Sept/Oct start
Teaching Method – Blended learning
Online Open Day – 20th June
University of Brighton

Status – Confirmed Sept/Oct start
Teaching Method – Blended learning
Online Open Day – Selection of online events
University of Bristol

Status – Confirmed Sept/Oct start
Teaching Method – Blended learning
Online Open Day – 26th June
University of Buckingham

Status – Confirmed Sept/Oct start
Teaching Method – Blended learning
Online Open Day – 11th July
University of Cambridge

Status – Confirmed Sept/Oct start
Teaching Method – Blended learning
Online Open Day – 2nd, 3rd July
University of Central Lancashire (UCLan)

Status – Confirmed Sept/Oct start
Teaching Method – Blended learning
Online Open Day – 15th, 16th June
University of Chester

Status – Confirmed Sept/Oct start
Teaching Method – Blended learning
Online Open Day – On-campus from October
University of Chichester

Status – Confirmed Sept/Oct start
Teaching Method – Blended learning
Online Open Day – 27th June
University of Cumbria

Status – Confirmed Sept/Oct start
Teaching Method – Blended learning
Online Open Day – 16th June
University of Derby

Status – Confirmed Sept/Oct start
Teaching Method – Blended learning
Online Open Day – Virtual Open Day on website
University of Dundee

Status – Confirmed Sept/Oct start (delayed start date)
Teaching Method – Blended learning
Online Open Day – 31st Aug, 26th Sept
University of East Anglia (UEA)

Status – Confirmed Sept/Oct start (delayed start date)
Teaching Method – Blended learning
Online Open Day – 20th June, 4th July
University of East London (UEL)

Status – Confirmed Sept/Oct start
Teaching Method – Blended learning
Online Open Day – Selection of online events
University of Edinburgh

Status – Confirmed Sept/Oct start
Teaching Method – Blended learning
Online Open Day – On-campus only from Sept
University of Essex

Status – Confirmed Sept/Oct start
Teaching Method – Blended learning
Online Open Day – 24th June
University of Glasgow

Status – Confirmed Sept/Oct start
Teaching Method – Blended learning
Online Open Day – 23rd June
University of Gloucestershire

Status – Confirmed Sept/Oct start
Teaching Method – Blended learning
Online Open Day – 27th June
University of Greenwich

Status – Confirmed Sept/Oct start
Teaching Method – Blended learning
Online Open Day – 1st, 18th July
University of Hertfordshire

Status – Confirmed Sept/Oct start
Teaching Method – Blended learning
Online Open Day – Virtual Open Day on website
University of Huddersfield

Status – Preparing for Sept/Oct start
Teaching Method – Not yet specified
Online Open Day – 22nd June – 3rd July
University of Hull

Status – Confirmed Sept/Oct start
Teaching Method – Blended learning
Online Open Day – 10th, 11th July
University of Kent

Status – Confirmed Sept/Oct start
Teaching Method – Blended learning
Online Open Day – 4th July
University of Law

Status – Confirmed Sept/Oct start
Teaching Method – Not yet specified
Online Open Day – 18th June
University of Leeds

Status – Confirmed Sept/Oct start
Teaching Method – Not yet specified
Online Open Day – 29th June – 10th July
University of Leicester

Status – Preparing for Sept/Oct start
Teaching Method – Not yet specified
Online Open Day – 6th June, 3rd July
University of Lincoln

Status – Confirmed Sept/Oct start

Teaching Method – Blended learning
Online Open Day – 10th, 11th July
University of Liverpool

Status – Confirmed Sept/Oct start
Teaching Method – Blended learning
Online Open Day – 19th, 20th June
University of Manchester

Status – Confirmed Sept/Oct start
Teaching Method – Blended learning
Online Open Day – 15th, 16th, 17th, 18th, 19th June
University of Northampton

Status – Confirmed Sept/Oct start
Teaching Method – Blended learning
Online Open Day – 3rd July
University of Northumbria at Newcastle

Status – Confirmed Sept/Oct start
Teaching Method – Blended learning
Online Open Day – 17th, 30th June, 8th,15th, 30th July
University of Nottingham

Status – Confirmed Sept/Oct start
Teaching Method – Not yet specified
Online Open Day – Dates to be announced
University of Oxford

Status – Confirmed Sept/Oct start
Teaching Method – Blended learning
Online Open Day – 1st, 2nd July
University of Plymouth

Status – Confirmed Sept/Oct start
Teaching Method – Blended learning
Online Open Day – Virtual Open Day on website 4th, 5th June, 29th June – 3rd July
University of Portsmouth

Status – Confirmed Sept/Oct start
Teaching Method – Blended learning
Online Open Day – 2nd, 4th July
University of Reading

Status – Confirmed Sept/Oct start
Teaching Method – Blended learning
Online Open Day – 19th, 20th June
University of Roehampton

Status – Confirmed Sept/Oct start
Teaching Method – Blended learning
Online Open Day – 15th Aug
University of Salford

Status – Confirmed Sept/Oct start
Teaching Method – Blended learning
Online Open Day – 20th June
University of South Wales (Prifysgol De Cymru)

Status – Confirmed Sept/Oct start
Teaching Method – Blended learning
Online Open Day – Online Open Days available on the website
University of Southampton

Status – Confirmed Sept/Oct start
Teaching Method – Blended learning
Online Open Day – 24th June
University of St Andrews

Status – Confirmed Sept/Oct start
Teaching Method – Blended learning
Online Open Day – Selection of online events
University of Stirling

Status – Confirmed Sept/Oct start
Teaching Method – Blended learning
Online Open Day – 19th September, 24th October
University of Strathclyde

Status – Confirmed Sept/Oct start
Teaching Method – Blended learning
Online Open Day – On-campus only from Sept
University of Suffolk

Status – Confirmed Sept/Oct start
Teaching Method – Blended learning
Online Open Day – 27th June
University of Sunderland

Status – Confirmed Sept/Oct start
Teaching Method – Blended learning
Online Open Day – 15th August
University of Surrey

Status – Confirmed Sept/Oct start
Teaching Method – Blended learning
Online Open Day – 24th, 25th, 26th June
University of Sussex

Status – Confirmed Sept/Oct start
Teaching Method – Blended learning
Online Open Day – 28th – 30th July
University of the Arts London (UAL)

Status – Confirmed Sept/Oct start (delayed start date)
Teaching Method – Blended learning
Online Open Day – 16th,17th June
University of the Highlands and Islands (UHI)

Status – Confirmed Sept/Oct start
Teaching Method – Blended learning
Online Open Day – 24th June
University of the West of Scotland (UWS)

Status – Confirmed for Sept/Oct start
Teaching Method – Blended learning
Online Open Day – On-campus only from Oct
University of Wales Trinity Saint David (UWTSD)

Status – Preparing for Sept/Oct start
Teaching Method – Blended learning
Online Open Day – 20th, 27th June
University of Warwick

Status – Confirmed Sept/Oct start
Teaching Method – Blended learning
Online Open Day – 6th – 10th and 13th – 17th July
University of West London (UWL)

Status – Not yet specified
Teaching Method – Not yet specified
Online Open Day – 24th June
University of Westminster

Status – Confirmed for Sept/Oct start
Teaching Method – Not yet specified
Online Open Day – Selection of online events
University of Winchester

Status – Confirmed Sept/Oct start
Teaching Method – Blended learning
Online Open Day – 16th June, 4th July
University of Wolverhampton

Status – Confirmed Sept/Oct start
Teaching Method – Blended learning
Online Open Day – 25th June
University of Worcester

Status – Confirmed Sept/Oct start
Teaching Method – Blended learning
Online Open Day – Virtual Open Day on website
University of York

Status – Confirmed Sept/Oct start
Teaching Method – Blended learning
Online Open Day – Selection of online events
UWE Bristol

Status – Confirmed Sept/Oct start
Teaching Method – Blended learning
Online Open Day – On-campus only from Oct
York St John University

Status – Confirmed Sept/Oct start
Teaching Method – Blended learning
Online Open Day – 29th June