Coventry is the second-largest city in the West Midlands region, after Birmingham. Being an important city in the UK, Coventry sees a lot of international students arriving every year. Coventry is endowed with 3 top-notch universities namely Coventry University, the University of Warwick and Arden University. Besides its renowned institutions, the city is also well-known for its warm and pleasant environment, as well as its easily accessible transportation options. Coventry attracts students from all over the world due to its dynamic nightlife, variety of restaurants and cafés, and plenty of things to see and do. It is essential to understand the cost of living in Coventry in addition to the numerous costs that students frequently encounter during their academic pursuits. This allows students to manage their monthly costs and plan their spending ahead of time.
What Is The Cost Of Living In Coventry?
The cost of living in Coventry is slightly lower than the UK average. Coventry is often regarded as one of the most affordable cities for students in the UK. What works for Coventry is its affordable social life and student houses Coventry. Monthly living expenses for students in Coventry range from £1,070 to £1,382, excluding tuition and study costs. Check out the table below for the monthly breakdown of important living costs in Coventry:-
| | |
| --- | --- |
| Particulars | Expenses (Per Month) |
| Off-Campus Accommodation | £316 |
| On-Campus Accommodation | £628 |
| Transportation | £46 |
| Food | £406 |
| Utilities | £202 |
| Entertainment | £45 |
| Groceries | £61 |
| Clothes | £40 |
| Total Cost of Living with Off-Campus Accommodation | £1,070 |
| Total Cost of Living with On-Campus Accommodation | £1,382 |
What Is The Average Rent In Coventry?
The average rent in Coventry is much more affordable than in other big cities in the UK. As per UniAcco's database, the average rent in Coventry is around £137 per week. The average rent in Coventry largely depends on the student accommodation's proximity to the city centre. A 1 bedroom apartment in the City Centre will cost you around £670.00 per month whereas a 1 bedroom apartment outside the City Centre should be around £547.50.
Find the best rates on the most popular student accommodation in Coventry only on UniAcco.
The Best Student Accommodation In Coventry
Premium Housing Option
1. 33 Parkside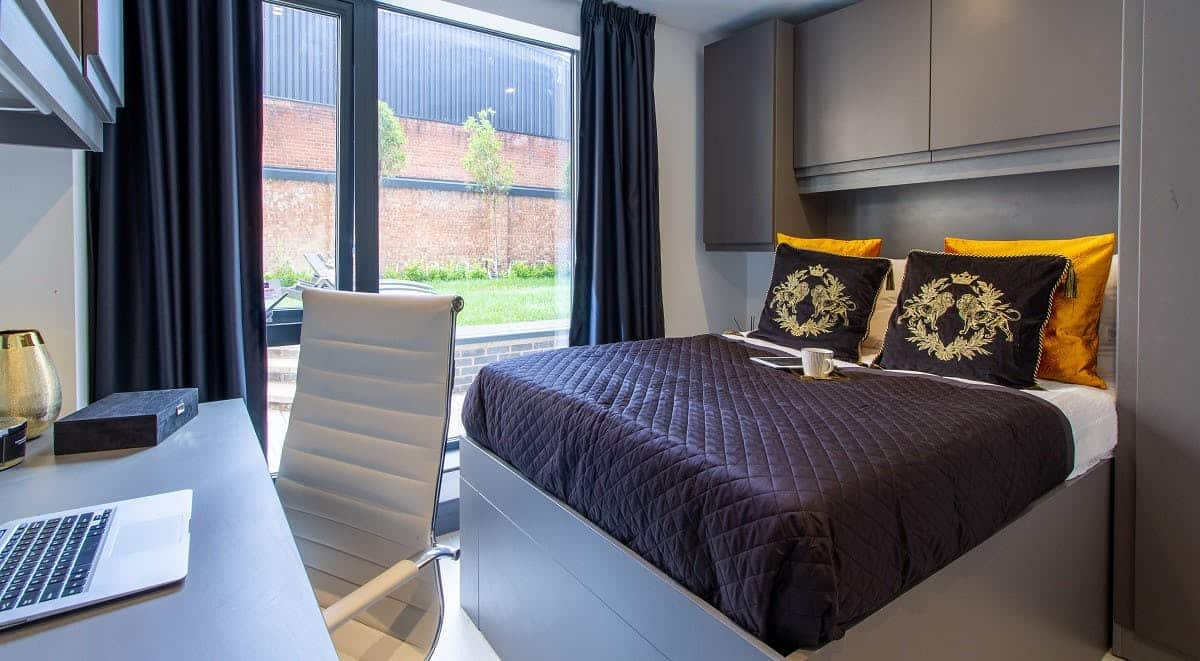 Where?
33 Parkside Coventry CV1 2NE, United Kingdom
About 33 Parkside
Nothing exudes luxury more than Coventry's sterling student accommodation Coventry – 33 Parkside. Right from the lobby to the rooftop lounge, you will find luxury oozing through every crevice at 33 Parkside. The 2-bed apartments, studios and mezzanine studio come fully equipped with a Wi-Fi connection, a comfortable bed, ample storage space and much more. Communal amenities include a fitness suite, a rooftop terrace, a games lounge, a cinema, a private dining room and social events. If you want to live a truly stress-free life in Coventry then we recommend you secure your room at 33 Parkside as soon as possible!
Price Range
£167 – £297/week
Mid-Range Housing Option
2. iQ Weaver Place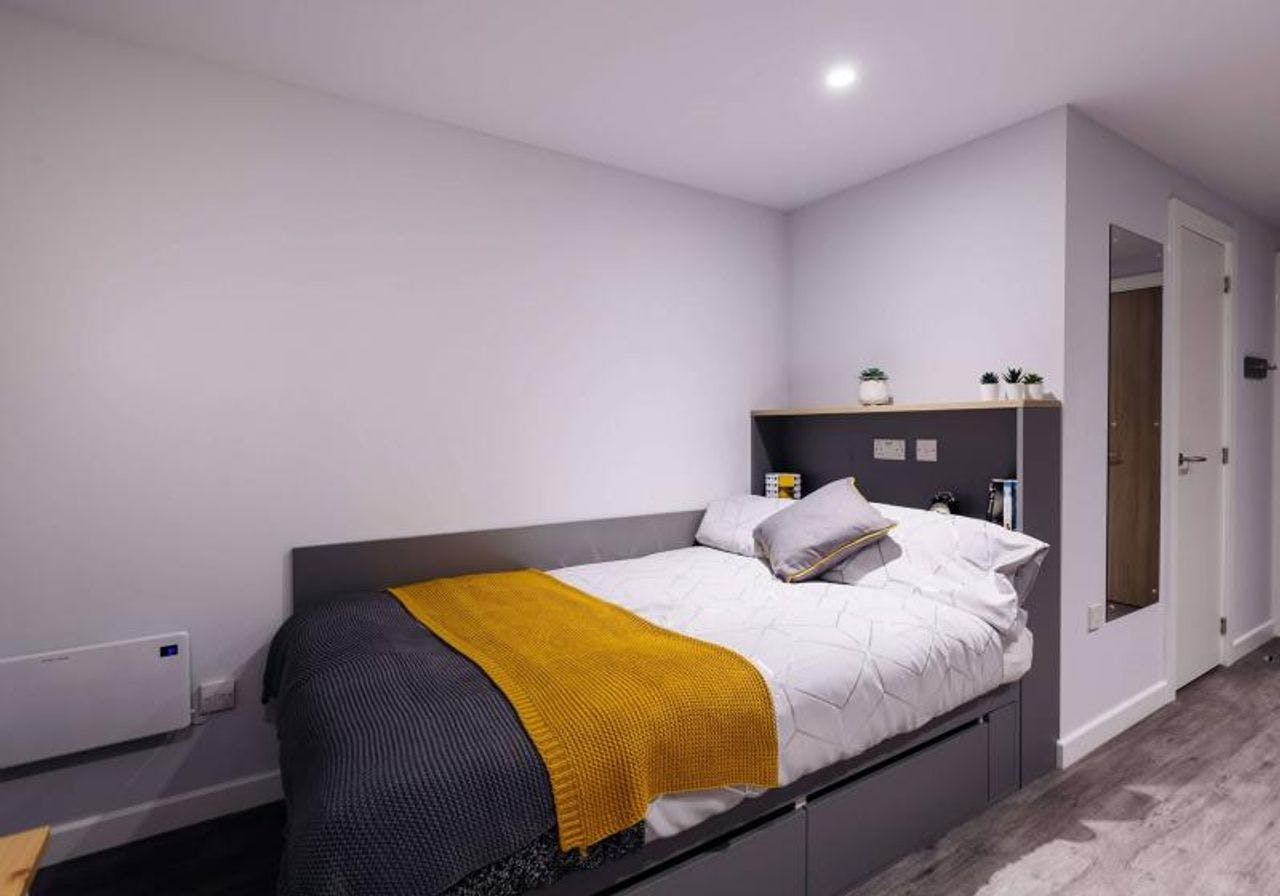 Where?
9 Bishop St, Coventry CV1 1AQ, United Kingdom
About iQ Weaver Place
When it comes to finding student accommodation in Coventry that offers spacious rooms and modern amenities at reasonable rates then iQ Weaver Place is your best bet. iQ Weaver Place has fully furnished non-en-suite rooms, en-suite rooms and studio rooms. This Coventry accommodation is perfect for students enrolled at Coventry University, University of Warwick and Arden University. Some of the amenities available at iQ Weaver Place include a common room, a communal study area, an on-site gym, bike storage and a laundry room.
Price Range
£149 – £227/week
Value For Money Housing Option
3. Apollo House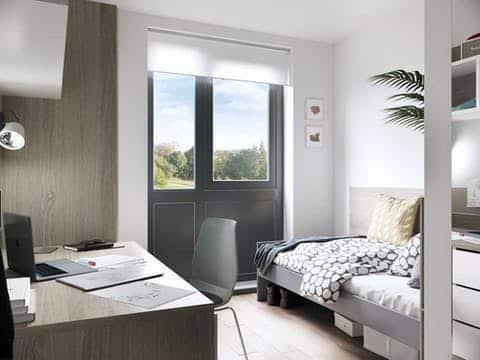 Where?
Butts, Coventry CV1 3GN, United Kingdom
About Apollo House
Not every international student has a budget that will allow them to live lavishly in the UK. Those who are looking for the best value-for-money housing option in Coventry must go for Apollo House. This Coventry uni accommodation has a plethora of features despite its low price range. You can book a standard en-suite room for £85/week and enjoy amenities like a study desk & chair, car parking, bike storage, a communal area, a garden and social events. What's more, Apollo House is surrounded by many top restaurants, nightclubs and pubs.
Price Range
£85 – £110/week
Cost Of Tuition In Coventry
Universities in the UK can charge home students a maximum of £9,250 per year for undergraduate courses. The top universities in Coventry like Coventry University and the University of Warwick choose to stick to this upper limit. However, the cost of tuition for international students can be anywhere between £10,000 and £15,000.
Here is the tuition fee structure for Coventry University –
UK/EU fees
| | |
| --- | --- |
| Tuition fees – UK/EU students | UK/EU student fees Sep 2020 |
| MBA | £18,600 |
| MSc | £12,600 |
| Undergraduate Degree | £9,250 |
| MSc with Extended Professional Practice | £13,700 |
| Undergraduate Top-up Degree | £9,250 |
International fees
| | |
| --- | --- |
| Tuition fees – International students | International student fees Sep 2020 |
| MBA | £18,600 |
| MSc | £16,600 |
| MSc with Extended Professional Practice | £16,700 |
| Undergraduate Degree | £13,900 |
| Undergraduate Top-up Degree | £13,900 |
Source: Coventry University
Cost Of Transportation In Coventry
Transportation expenses majorly contribute to the overall cost of living in Coventry. The city's railway station is served by the West Coast Main Line and has rail services between London and Birmingham (and additional towns). It is also served by railway lines to Nuneaton via Bedworth. Coventry is also looking forward to its light rail system which is due to be operational in 2024.
Buses are another popular means of transportation in Coventry. The bus operators in Coventry include National Express Coventry, Arriva Midlands and Stagecoach in Warwickshire Arriva Midlands, Travel de Courcey and Stagecoach Warwickshire. There are national coach links to major towns and cities, seaside towns, ferry ports and events with National Express.
The cost of a monthly public transport pass is around £50.90.
Cost Of Food And Other Necessities In Coventry
As a university student, you have no choice but to save as much money as you can. A great way to do this is by preparing your own food. If you don't know how to cook yet, start learning. It's a small price to pay in exchange for saving hundreds of pounds on eating out every week. The cost of daily food items and groceries is quite affordable thereby helping students lower their overall cost of living in Coventry. Here is the cost of food and other necessities in Coventry –
Milk (regular), (1 litre) – £0.66
Loaf of Fresh White Bread (500g) – £0.95
Rice (white), (1kg) – £0.88
Eggs (regular) (12) – £1.26
Local Cheese (1kg) – £6.50
Chicken Fillets (1kg) – £5.80
Apples (1kg) – £1.95
Banana (1kg) – £1.32
Oranges (1kg) – £1.40
Tomato (1kg) – £1.68
Potato (1kg) – £1.23
Onion (1kg) – £1.37
Lettuce (1 head) – £1.17
Water (1.5-litre bottle) – £1.25
Domestic Beer (0.5-litre bottle) – £1.40
Imported Beer (0.33-litre bottle) – £2.00
Cost Of Entertainment And Recreation In Coventry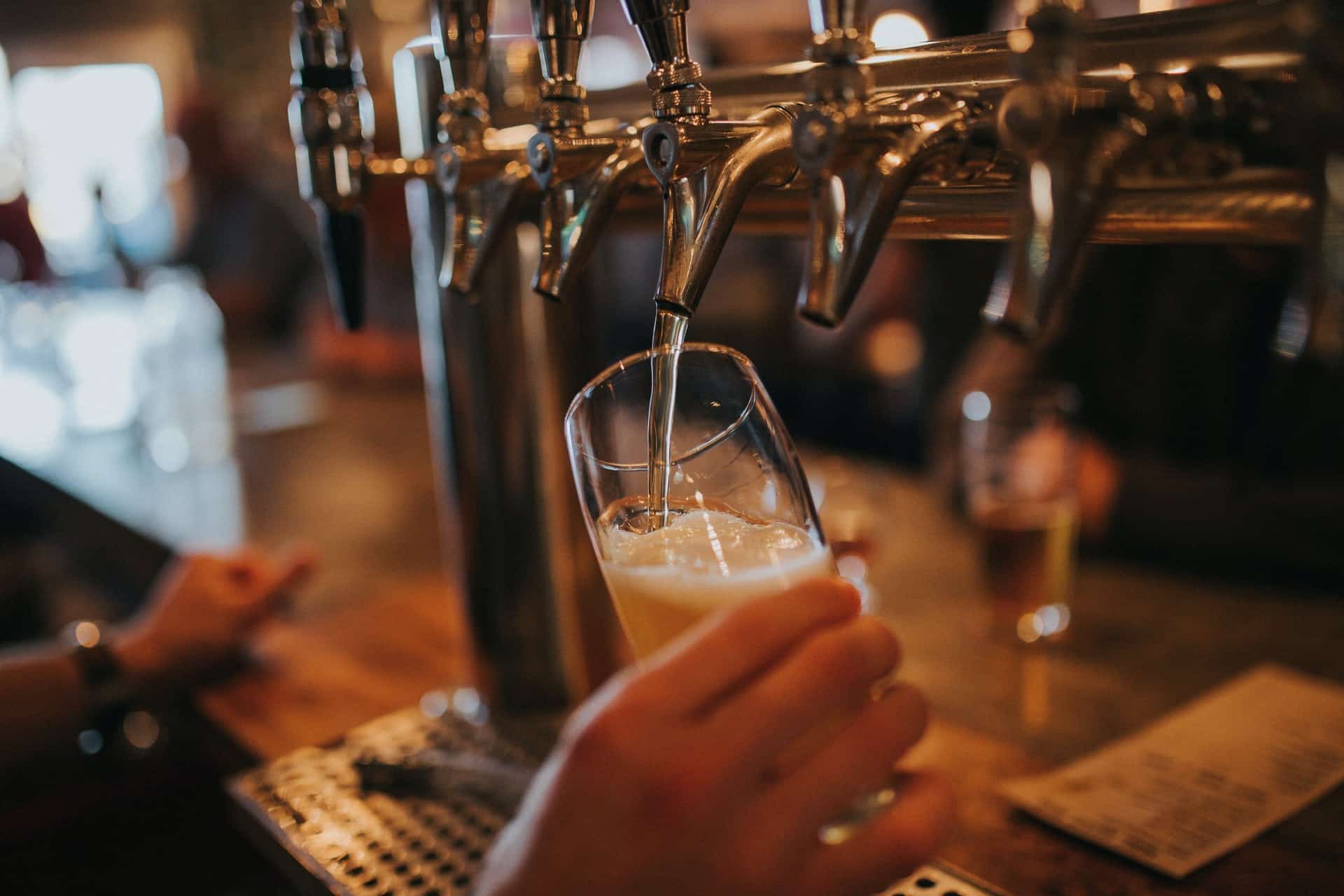 No student wants to spend the peak years of their lives in a rundown town that doesn't have a buzzing social life. Coventry has a huge selection of pubs and nightclubs where you can party the night away (after completing your assignments, that is).
The pubs in Coventry are influenced by the city's medieval history. Do try out pubs like The Phoenix, Slug & Lettuce and The Yard.
To support the city's energetic student population, there are many nightclubs in Coventry. From live music to big-name DJs and cultured cocktails, there's something for everyone. One of the most popular nightclubs in Coventry is Kasbah having hosted Calvin Harris, Arctic Monkeys and La Roux in recent years. Another great nightclub to hit with your friends is Catch Twenty-Two.
Basic dinner out for two in a neighbourhood pub – £22.00
Dinner for two at an Italian restaurant in the ex-pat area including appetisers, main course, wine and dessert – £43.00
Two tickets to the movies – £19.00
One cocktail drink in a downtown club – £6.00
Cappuccino in the ex-pat area of the city – £2.69
One beer in neighbourhood pub (500ml or 1pt.) – £3.78
Sources: UniAcco data, Expatistan, Numbeo.
FAQs
1.How much does it cost to live in Coventry as a student?
The following is a summary of the cost of living in Coventry, United Kingdom: Without rent, the monthly expenditures for a family of four are expected to be $2,845 (2,111£). Without rent, a single person's monthly expenditures are expected to be $835 (620£). Coventry is 32.68% cheaper than New York (excluding rent).
2.Is Coventry a good city for students?
Coventry is an exciting area to live as an international student, having been named one of the 'Best Student Cities in the UK' by QS Best Student Cities 2018. There are several sports, cultural, and social events to choose from, and all of the University's buildings are within easy reach from whatever your interests are.
3.How much is the cost of living for a student?
All living expenditures, including lodging, transit, food, laundry, study fees, and other personal expenses, should cost students around £1,100-£1,300 per month. This will differ based on your lifestyle and needs, so do your own study.
4.Is Coventry cheaper than London?
Yes, Coventry is considerably cheaper than London. According to Expatistan, London is 54% more expensive than Coventry.