Coventry is a happening city and metropolitan borough in England. It is a great place to pursue higher education, thanks to world-class universities like the University of Warwick and Coventry University. Here is a comprehensive student housing in Coventry guide that should come in handy for students looking for some interesting things to do in Coventry.
Things to do in Coventry
Being England's 9th largest urban centre, Coventry is an eclectic blend of a modern manufacturing hub and a historic cathedral city. From beautiful country walks to world-famous theatres – you'll find lots to do in Coventry and throughout the surrounding areas.
Here are some of the must-do activities to get an idea of what Coventry is all about –
Coventry Cathedral
For tourists, one of the first things to see in Coventry is the infamous 'Coventry Cathedral'. Since opening its doors in 1962, Coventry Cathedral has become a major tourist attraction, welcoming thousands of visitors each year. Many tourists and pilgrims come from all over the world to experience this extraordinary building and share the quest for peace and reconciliation embodied by the dramatic contrast between the Ruins and the New Cathedral. The architecture of the Cathedral is stunning, as its modernist style is a stark contrast to other British cathedrals.
Location – Priory St, Coventry CV1 5FB, United Kingdom.
Opening hours – Sun-Sat 10 AM – 5 PM.
Star attraction – Famous choirs from all over the UK regularly perform at the Cathedral.
Phone – +44 (0) 24 7652 1200
Coventry Transport Museum
One of Coventry's top "Cash Cows" is the Coventry Transport Museum. This humongous museum houses the world's most extensive collection of British road transport. At the museum tours, you will discover stories of people who have made Coventry the centre of the world's motor and cycle industries. You also get the opportunity to get up close and personal with some of the actual vehicles that defined some of history's most important moments. Apart from the host of the latest modern road transports, you will get to see 19th-century-styled cars, bicycles and carriages.
Location – Millennium Place, Hales St, Coventry CV1 1JD, United Kingdom.
Opening hours – Sun-Sat 10 AM – 5 PM.
Star attraction – The world's fastest car – Thrust SSC.
Phone – +44 24 7623 4270
Coombe Abbey Country Park
Coombe Abbey Country Park is the perfect weekend getaway for tourists and locals, looking to bask in a lush green landscape. The Park has a magnificent landscape and is only a short drive from Coventry's city centre. It is set in the tranquil Coventry and Warwickshire countryside with 500 acres of formal gardens and parkland. On arrival, you'll be welcomed by the swans and ducks, who spend most of their days cruising on the river. Immerse yourself in various activities such as feeding the resident ducks, leisurely lakeside walks or fishing with one of their day or season fishing tickets.
Location – Brinklow Rd, Coventry CV3 2AB, United Kingdom.
Opening hours – Sun-Sat 8:00 AM – 7:30 PM.
Star attraction – The pottery studio.
Phone – +44 24 7645 3720
Restaurants in Coventry
Picture this – You've been slaving away over a hot stove all week, and now it's the weekend! You definitely deserve a night out. In order to have a great time, and more importantly, a great meal, we've concocted (no pun intended) a list of the best restaurants in Coventry. (As this is a student guide, we've included the top restaurants that offer the best bang for your buck)
The Old Crown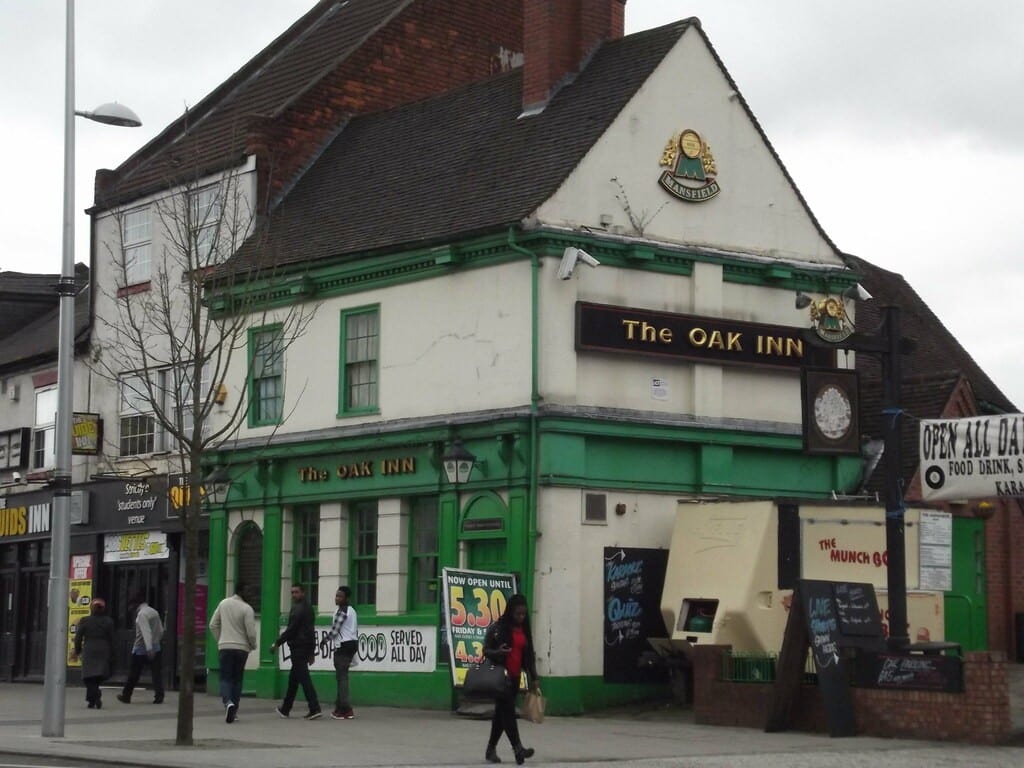 The Old Crown is a traditional pub restaurant that offers wholesome home-cooked food alongside live music. In spite of being the hinterland of Coventry, this restaurant enjoys healthy patronage. Do try some of their scrumptious dishes like the Old Crown mix grill, rabbit and black pudding pie, Sunday roast featuring a choice of four types of meat, homemade Yorkies and gravy.
Address – 466 Aldermans Green Rd, Alderman's Green, Coventry CV2 1NP, United Kingdom.
Opening hours – Sun 12:00 PM – 6:00 PM & Mon-Sat 12:00 PM – 9:00 PM.
Phone – +44 24 7636 2438
Millie's Kitchen
Millie's Kitchen features on our list of best restaurants in Coventry despite not even being a restaurant! This little Italian food stall makes the best pizzas in the whole city. Period. It really surpasses the likes of famous pizza chains in taste as well as value for money. What's more, the staff is really hospitable and always ready to have a pleasant chat.
Address – 5 Market Way, Coventry CV1 1DL, United Kingdom.
Opening hours – Sun 12:00 PM – 4:30 PM & Mon-Sat 11:00 AM – 6:00 PM.
Phone – +44 7754 541225
Falafel Corner
This independent sandwich bar offers a variety of vegetarian and vegan dishes inspired by Middle Eastern and Mediterranean recipes. Apart from delectable dishes like their falafel and halloumi wraps, and homemade salads such as about, they do a great job with their beverages like smoothies, freshly-pressed juices and authentic Arabic coffees.
Address – 1NE, 32 Broadgate, Coventry CV1 1NE, United Kingdom
Opening hours – Sun-Sat 10:00 AM – 6:00 PM
Phone – +44 7835 833769
Rising Café – From the Rubble
No pressure but Will and Kate made their way here as part of a tour of Coventry. Located right next to the Coventry Cathedral, Rising Café Coventry is always bustling with customers. Their wide-ranging menu includes dishes like Philly Cheese Steak to afternoon teas.
Address – Priory St, Coventry CV1 5FB, United Kingdom.
Opening hours – Mon-Sat 10:30 AM – 4:00 PM
Phone – +44 24 7652 1235
If you're looking for a more opulent restaurant experience, we recommend you try out Turmeric Gold, Ristorante Da Vinci or The Dining Room at Mallory Court.
Universities
Coventry has two universities; the University of Warwick which lies to the south of the Coventry city centre, and Coventry University which is situated on a modern city-centre campus.
The University of Warwick
Where? – Coventry CV4 7AL, United Kingdom.
About The University of Warwick
The Guardian 2020 has ranked The University of Warwick as the 9th best university in the UK. Warwick is also cited as amongst the UK's most targeted university institutions by employers and was the world's third-best young university in 2015. It is organised into three faculties—Social Sciences, Arts, Science Engineering and Medicine, and —within which there are 32 departments. As of 2019, Warwick has around 26,531 full-time students and 2,492 academic and research staff.
Coventry University
Where? – Priory St, Coventry CV1 5FB, United Kingdom.
About Coventry University
With more than 29,000 students, Coventry is the larger of the two universities in the city, the other being the University of Warwick. It also carries the tag of being the fastest-growing university in the UK. Coventry University has 2 main campuses – one in the centre of Coventry and the other in Central London. Its four faculties are made up of several departments and schools and run more than 300 undergraduate as well as postgraduate courses.
Cost of Living in Coventry
University life can be expensive. The thrill of leaving home encourages students to go all out on their spending while making the most of their university days. We've found out just how much it costs to be a student in Coventry.
Student Accommodation in Coventry – £720
Food shopping – £80
Local transport – £50
Sports and Leisure – £25
Social activities – £150
Personal care – £70
It is advisable to have a monthly budget of around £1,200 to live comfortably in Coventry.
Transport in Coventry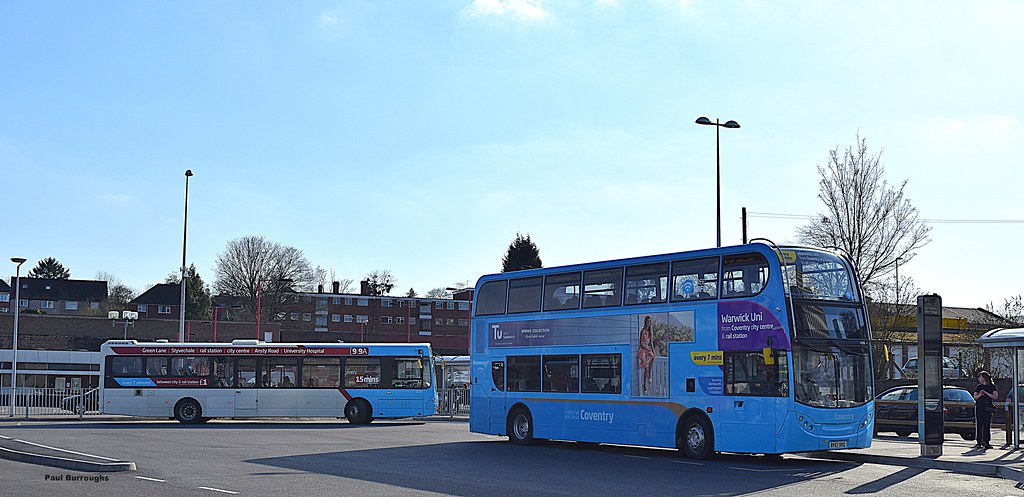 Travelling around Coventry is usually very safe and easy. Most of the UK is accessible by public transport, with buses, trains and cars being the most commonly used methods of transport.
Public transport – To get around Coventry you'll mainly use public transport like trains and buses. Information on Coventry's bus routes, schedules and fares is available online – https://www.wmnetwork.co.uk/
Student discounts – To make your travel around Coventry and the rest of the UK as affordable as possible, students should take full advantage of the range of discounts available to them. TOTUM Cards are very useful as it provides hundreds of discounts in the UK and can be purchased from your university for £12.
Student Accommodation in Coventry
The Oaks | Student houses Coventry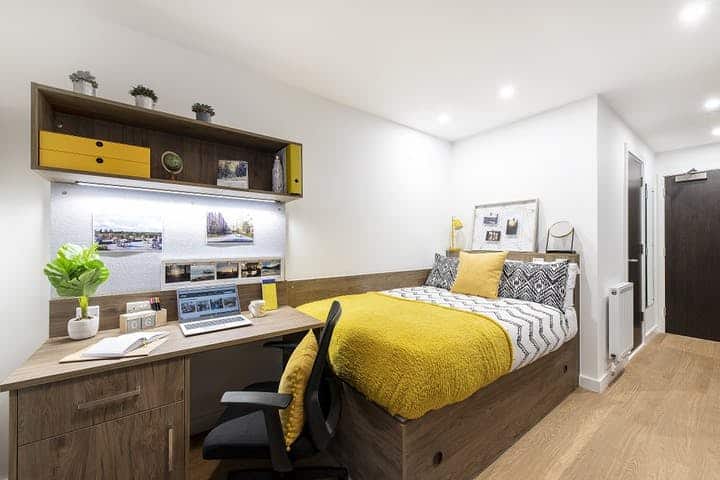 This student studio in Coventry provides en-suite as well as studio rooms. Irrespective of the room choice you make, a high-tech kitchen, a Wi-Fi connection and a common room with a large TV and seating area will be provided. There is a 24/7 on-site staff available at the beck and call of students.
Location – The Oaks, Westwood Way, CV4 8JB, United Kingdom.
Budget – £165 – £215/week.
Amenities – A games room, contents insurance, a gym, and a rooftop courtyard.
Nearest restaurants – University House Cafe, Varsity, Al Rahman India
Gulson Gardens | Coventry uni accommodation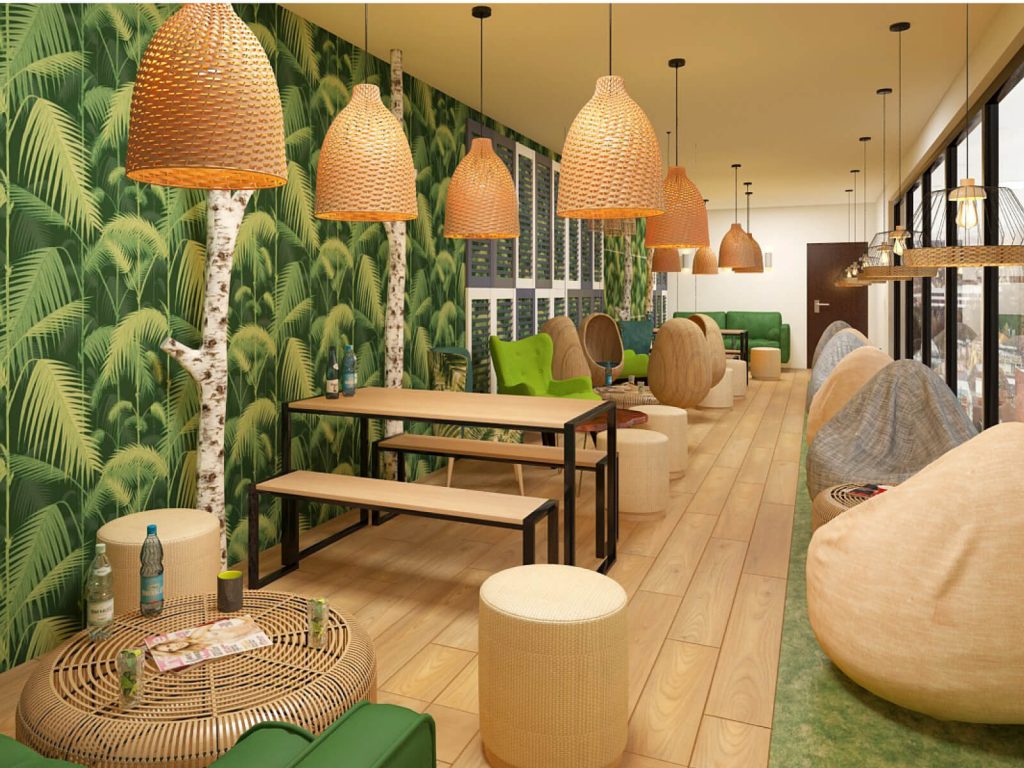 Gulson Gardens in Coventry is a brand-new studio accommodation in Coventry. It is a well-crafted building which provides the best studio rooms designed for students. They provide en-suite as well as studio rooms.
Locations – Gulson Road Coventry
Budget – £137 – £195/week.
Amenities – A gym, a courtyard, vending machines, a games room, lounge area.
Nearest restaurants – Cooper's Fish Bar, Kebab Rush, Domino's.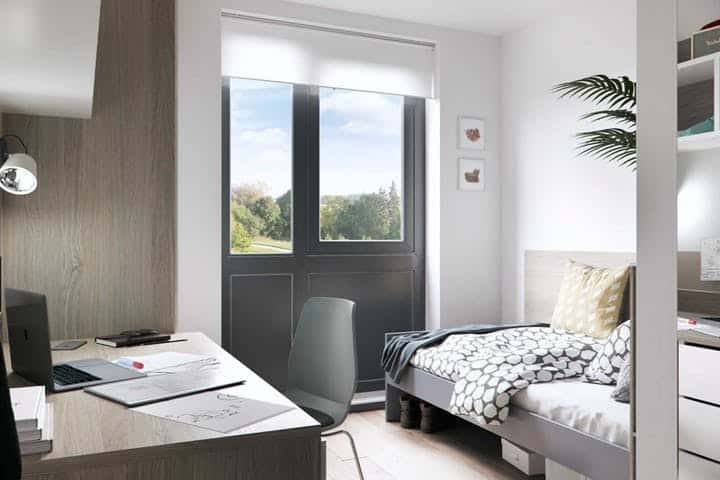 Eden Square is a brand new Student housing located at Coventry. It will offer the best services at the student accommodation Coventry. Located close to the universities and the city centre, it allows you to explore the whole city. They proffer a variety of en-suite and studio rooms.
Location – Stoney Stanton Road Coventry CV1 4FS
Budget – £145 – £215/week
Amenities – A gym, car parking, a theatre, a games room, a courtyard.
Trinity Street | Student houses Coventry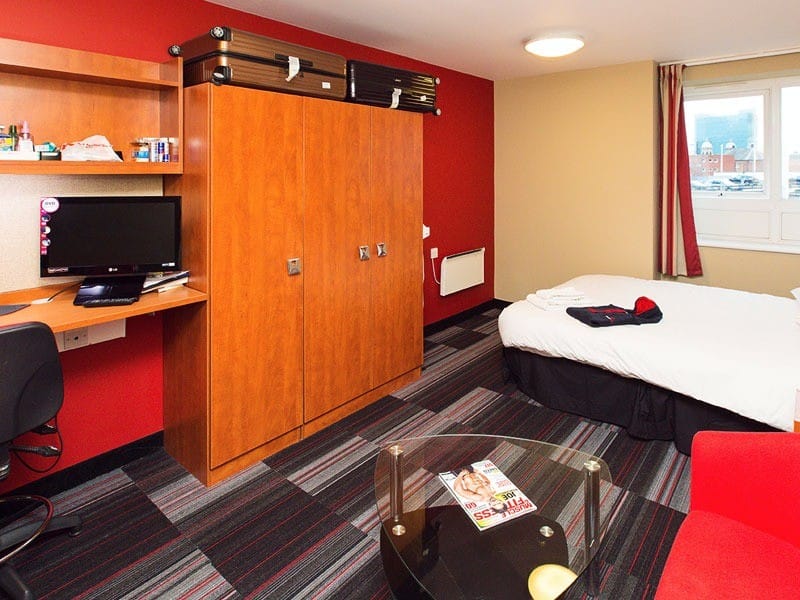 This is a fashionable and luxurious student accommodation in Coventry. A place for cross-cultural residing for students because you may find people from all races and religions living together. The studio rooms offered here are of high class.
Location – Trinity Street/Burges House 1 Trinity Street Coventry CV1 1FJ
Budget – £157 – £196/week
Amenities – A gym, a games room, social events, a communal area.
Nearest restaurants – McDonald's, Starbucks, Pepe's Peri-Peri.
165 Corporation Street | Coventry uni accommodation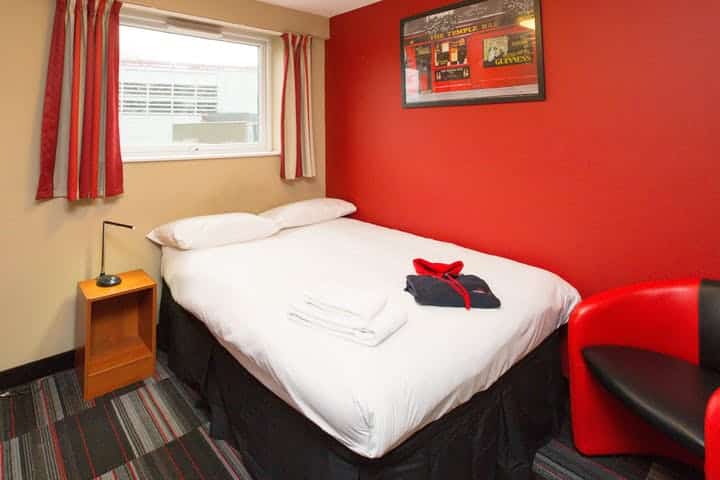 It is a premium Coventry student accommodation studio is in the heart of the city. Students get a wide variety of studio rooms to choose from where they get well designed deluxe rooms, deluxe plus or superior rooms.
Location – 165 Corporation Street Coventry CV1 1GU.
Budget – £157 – £201/week.
Amenities – A gym, an auditorium, car parking, bike storage.
Nearest restaurants – McDonald's, Bella Italia – Coventry, KFC.
---
Best Properties in Coventry for Students
Nightlife
When it comes to Coventry nightlife, you won't be left disappointed. Influenced by its medieval history and bustling universities, the city serves up cutting-edge clubs and alongside more traditional pubs; blending the best of new and old worlds. Over here, most pubs double down as a club that provides young adults with an ideal place to let loose.
For a city with a large, energetic population, Coventry has plenty of clubs. From big-name DJs to live music, there's something for all night owls.
Fueling Coventry's rich nightlife for more than a decade, Kasbah has a long history, having hosted the Arctic Monkeys, Calvin Harris, and La Roux in recent years. It has kept reinventing itself to remain fresh in the eyes of young adults by offering a BBQ and shisha lounge. This club is open till 5 am and with impressive drink deals available throughout the week, you just might wish to stay open even longer!
Catch Twenty Two, that was reopened at the end of 2016, is another lively club that commands a lot of attention. It is partly a cocktail lounge and partly a club. Not only can you dance the night away but dabble in cocktail lessons and masterclasses as well as innovative cocktail boxes, a make-your-own mojito and Bombay Sapphire starter kit that you can order to your table.
Some other honourable mentions are Mortimers, Phoenix, Jumping Jacks and The Oak.
Sports
Sports is a huge part of the culture of people living in Coventry. You'll find the city filled with football and rugby fans who look forward to the weekends to watch their favourite teams play.
Football – Coventry City FC, formed in 1883, is the only professional football team representing the city. The club competes in Football League One, but spent 34 years from 1967 to 2001 in the top tier of English football, notably winning the FA Cup in 1987. Their stadium is the 32,600 seat Ricoh Arena, but they now temporarily play their home games at St Andrew's Stadium in Birmingham.
Rugby – Coventry Bears are the major Rugby League team in the city. They won the Rugby League Conference in 2002 and set their sights on the national league. They won the National Division 3 title in 2004 and have appeared in the Challenge Cup. Both University of Warwick and Coventry University compete in the British Universities and Colleges Sport (BUCS) Midlands 1a competition.
Ice Hockey – The Coventry Blaze is one of the founding teams of the Elite Ice Hockey League. They play their matches at the SkyDome Arena and compete in the Erhardt Conference. Being the most successful club in the Elite League era, The Coventry Blaze also run a successful academy system that develops the young players of Coventry.
Cricket – The city's current leading cricket clubs are Coventry and North Warwickshire Cricket Club and Standard Cricket Club. Both clubs compete with each other in the Premier division of the Warwickshire Cricket League as of 2019. In 2018, Standard Cricket Club were Runners up.
FAQs
1. What kind of student housing options are available in Coventry?
Coventry offers a range of accommodation choices for students, including privately owned and managed apartments and homes, university-owned and managed residence halls, and shared housing arrangements.
2. How much does it cost to rent student housing in Coventry?
Depending on the type of residence and where it is located, Coventry's cost of student living varies. Private student apartments and homes can be more affordable, whereas university-owned dormitories are frequently more expensive. In Coventry, you may anticipate paying from £316 to £628 per month for housing for students.
3. What amenities are typically included in student housing in Coventry?
Internet access, on-site laundry facilities, and a common room for socialising are examples of amenities that are common among all types of student housing. Specific amenities will vary based on the property. Additional features like a gym or swimming pool might be offered in certain student apartments.
4. How do I apply for student housing in Coventry?
Students must book their student accommodation in Coventry 6 months prior to their intake or the official date of the start of the academic year. Usually, accommodations get sold out fast therefore booking prior is advisable. Marketplaces like UniAcco help students find the best home per their needs and speed fasts the booking process.
5. What should I look for in a student apartment?
When searching for a student apartment, it's crucial to take into account a number of important variables, including price, neighbourhood safety, lease flexibility, internet access, storage, and furnishing.