When you move abroad, you often find yourself paying more for energy bills than consuming them. And you wonder why? Ironically, finding the cheapest energy suppliers and comparing their rates might drain your energy. But, once you have figured out which energy you want to consume and from which supplier, it is a pretty straight road from there. Your energy consumption majorly comprises the gas bill, electricity bill and broadband connection. Energy bills also depend upon which locality you live in, and which energy supplier is predominant in your area. Before moving to a new house you need to check if your gas and electricity are covered in the rent or if you have to buy separately, and then decide accordingly. 
Perricone MD High Potency Amine Face Lift in vendita online | eBay meglio cialis originale o generico i limiti di potenza del thc sono il prossimo grande dibattito sulla legalizzazione della marijuana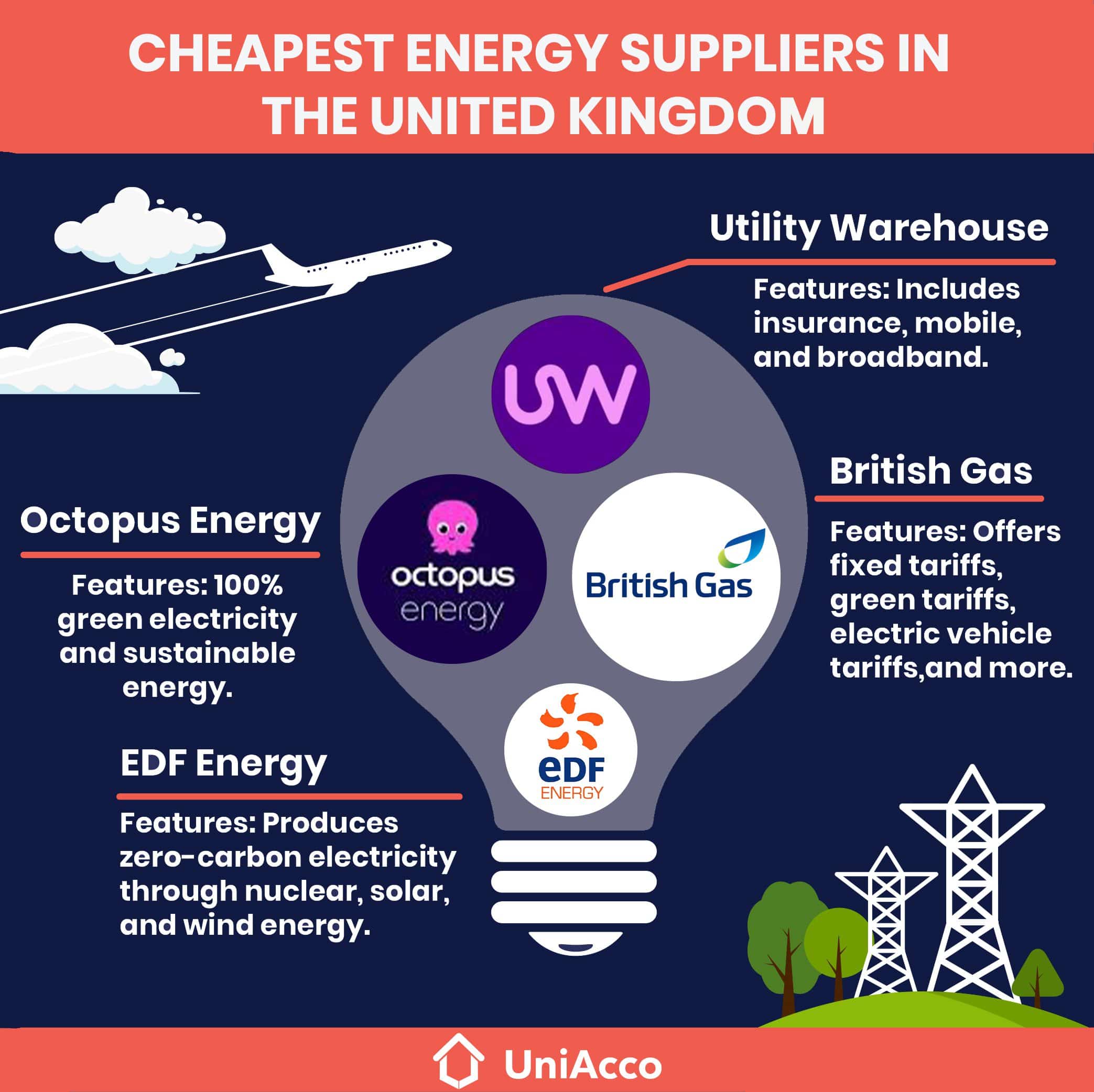 According to the The Office of Gas and Electricity Markets (Ofgem), the current energy prices are at their all-time high. The amount that energy firms can charge for a unit of energy is restricted by the energy price cap. For a typical household, charges are now capped at £1,971 per year. It was £1,227 throughout the past winter. For a typical household, the cap will rise to £2,500 per year as of October 1, 2022. The following two years will see this cap in place. Only unit rates and standing charges are subject to the price cap. Depending on how much gas and electricity you use, you will pay a different amount. Finding the cheapest energy suppliers is difficult now as everyone is raising their tariffs. It is generally advised to stay with your current supplier as you are unlikely to find a cheaper supplier right now. 
Why Switch Gas & Energy Suppliers
Looking for the best energy supplier to save money on your energy bills? With high gas and electricity prices and poor customer service being among the most common reasons people switch energy suppliers, it's essential to know what to look for when shopping around.
One of the most common reasons people switch is because energy prices are too expensive. This can happen if your energy supplier raises its prices, your contract is finished, you're using more gas and electricity, or you initially underestimated how much energy you would use. If you're looking to save money, keep an eye on prices and compare deals to ensure you're getting the best deal possible.
If you're looking for the best energy suppliers 2023, it's essential to consider more than just the price. Some people switch because they're frustrated with their energy firm's website, want to buy both gas and electricity from the same firm or prefer a smaller energy firm. Whatever your reason for switching, it's important to compare your options carefully and read reviews from other customers to make sure you're making the right choice.
In summary, if you're looking to switch energy suppliers for cheapest gas and electric 2023, compare deals and consider more than just the price. With the right research, you can find the best energy supplier to save you money on your energy bills.
How To Choose Best Energy Supplier
Let us see some of the main reasons you should consider while choosing the best energy suppliers UK. 
Green energy
If you're considering switching to a new energy supplier and want to make a positive impact on the environment, then a green energy deal may be the way to go. Green energy is generated through renewable sources like solar, wind, and renewable biogas.
Currently, around 40% of Ireland's electricity comes from renewable resources, and this figure is set to increase in the future. With our green energy comparison service, you can easily explore the variety of green energy plans available and find the one that's right for you. So why not take the first step towards a greener future today?
Customer service
It's always wise to do your research before committing to a new energy supplier, and that includes checking out their customer service track record. You want to ensure you'll receive the help you need if something goes wrong.
Fortunately, there's an easy way to evaluate the quality of an energy company's customer service: the Commission for Regulation of Utilities (CRU) website. Every year, the CRU publishes statistics on the buy steroids uk number of complaints received by each supplier, which are detailed in their Customer Care Team Annual Report for public viewing. This information can be a valuable resource in making an informed decision when choosing a new energy supplier.
Single or dual fuel
It's important to consider whether a potential energy supplier offers both gas and electricity, known as a dual fuel deal, or if they only provide one or the other, known as single fuel. Although many energy suppliers offer both, some don't, so it's essential to double-check if you prefer to get all your energy from one provider. Opting for dual fuel has the added convenience of dealing with only one supplier, which is a significant factor for many households.
However, it's worth noting that it's also possible to switch your gas and electricity to two different suppliers and take advantage of two separate offers. So, it's worth weighing up the pros and cons of each option to make the best decision for your household.
Online services
It's important to take into consideration the online services offered by your potential energy supplier before making the switch. Online account access, digital bills, and a user-friendly mobile app are all helpful tools for managing your energy usage.
If you're interested in a particular energy supplier's mobile app, it's a good idea to check out online reviews on platforms such as the Apple and Android app stores. This can give you a better idea of the app's functionality and user experience, helping you make an informed decision.
Comparison Of The Best Energy Suppliers In The UK
Energy prices can rise and fall for various reasons, such as wholesale costs and network maintenance expenses. If you have not switched your energy provider since your last contract ended, you might be paying more than what you should be paying for your gas and electricity. Switching to a new supplier could help you save money on your monthly bills.
However, switching to a new energy supplier is not just about cost-saving; it can also lead to improved customer service. If you have faced issues with inaccurate billing or inefficient complaints handling, switching to a new supplier can provide a fresh start with better service. Here we have done a basic comparison between different energy suppliers in 2023 below.
| | | | |
| --- | --- | --- | --- |
| Supplier Name | Tariff Name | Unit Rate (p/kWh) | Standing Charge (p/day) |
| British Gas | Energy Plus Boiler Cover Apr 2023 | 10.331 | 52.968 |
| EON | Fix Online v46 | 7.319 | 41.660 |
| EDF Energy | Easy Online Apr23 | 34 | 28 |
| npower | Go Fix Apr 2023 | 19.340 | 37.50 |
| ScottishPower | Super Saver April 2023 Online | 16.570 | 41.92 |
| Octopus Energy | Flexible Octopus | 35 | 44.71 |
| OVO Energy | Better Smart | 15.35 | 25.92 |
| Utilita | Smart Energy | 18.11 | 0 |
| Outfox the Market | FIX'D 21 15.0 | 10.462 | 25 |
Note that prices may vary depending on factors such as location and usage and that this table is not exhaustive and subject to change.
Cheapest Energy Suppliers In The UK
Here are the best places to find cheap gas and electricity for your home:
Utility Warehouse
Even though the majority of vendors are currently charging the price cap, there is one exception. The energy rates at Utility Warehouse are cheaper than the government's Energy Price Guarantee. Hence, it's safe to say that Utility Warehouse is one of the cheapest energy suppliers. However, you can save more money on your energy if you sign up for another service with them. This can include insurance, mobile, or broadband. Even though you might be dealing with another supplier, obtaining a quote and contrasting it with your present tariff is worthwhile.
Octopus Energy
Octopus Energy is a British renewable energy company and one of the cheapest energy suppliers. It is gaining popularity for its 100% green electricity and for building the sustainable energy system of tomorrow. The company keep their costs lower than other energy suppliers so that it can pass the savings to consumers. Their business is built on good customer service and they claim to be the fastest energy suppliers to reply to any customer query. Octopus Energy provides both fixed and variable prices, and most consumers find their straightforward pricing to be more affordable than that of the "Big Six" energy suppliers. Octopus won't charge you any exit costs if you decide to change your mind in the future. It is gaining a pool of loyal customers due to its simple communication and transparency.
Shell Energy 
Looking for a reliable and eco-friendly energy supplier? Shell Energy is a popular choice, providing energy to over 1.4 million homes in the UK. In addition to energy plans, the company also offers broadband and smart home technology.
One of the standout features of Shell Energy is that all customers receive 100% renewable electricity, regardless of the plan they're on. For those who opt for the Go Further Plan, both gas and electricity are carbon-neutral.
Another perk of being a Shell Energy customer is the loyalty programme, Shell Go+. This programme offers various rewards, such as a Shell fuel reward every 10th visit, as well as 10% off every Costa Express and Shell hot drink.
When looking for the best energy supplier in 2023, consider the benefits of using Shell Energy. With a focus on renewable energy and added perks for loyal customers, it's no surprise that many people choose this supplier.
British Gas
British Gas is an energy and home services provider in the UK. It is one of the cheapest energy suppliers and offers different types of tariffs such as fixed tariffs, green tariffs, electric vehicle tariffs, etc. It has a fixed-rate tariff that is priced below the Energy Price Guarantee. 
That means you can stay at peace knowing that your unit rates and standing charges will be fixed for the duration of your contract. It implies that regardless of changes in energy prices, the unit rate you pay will remain the same. Nevertheless, getting an energy quote from them will cause you no harm. 
Scottish Power
When it comes to finding the best energy supplier for 2023, Scottish Power is a top contender. Established in 1990 and currently owned by Spanish energy company Iberdrola, this Glasgow-based supplier is a leader in renewable energy.
Scottish Power provides 100% renewable electricity to homes and generates electricity through its UK wind farms. It also offers various services to its customers, such as boiler insurance and maintenance, appliance care plans, and home emergency cover. Additionally, it provides options to help reduce your carbon footprints, such as solar panels and air source heat pumps.
Through its partnership with Cancer Research UK, Scottish Power has raised a staggering £35 million for the charity to date, highlighting its commitment to making a difference beyond just providing energy.
Electrocity
Ecotricity, a green energy supplier based in Stroud, Gloucestershire, claims to be the UK's greenest energy supplier. With a customer base of around 100,000 residential and business users, the company was the first to offer 100% green electricity sourced from renewable energy sources like wind, solar, and hydroelectric power. However, while their green credentials are admirable, customers have concerns about other factors such as price and service quality. According to Trustpilot, a consumer review website, Ecotricity has received more than 3,300 reviews and an average rating of 3.9 out of 5, indicating that there is still room for improvement. As the demand for green energy grows in 2023, it will be interesting to see how Ecotricity evolves to meet the needs of their customers.
Utilita Energy
Looking for a Pay As You Go energy supplier for 2023? Look no further than Utilita, the UK's first and only specialist provider in this area. Founded by Bill Bullen, Utilita's CEO, the company has taken the energy market by storm, offering a better service for a much fairer price, and challenging the dominance of traditional suppliers.
With a customer base of around 800,000, Utilita has differentiated itself from other energy suppliers in the UK market by offering unique tariffs that exclude standing charges. This means that customers only pay for the energy they use, with no additional costs if they don't use any energy at all. However, it's worth noting that the price-per-unit charged by Utilita may be slightly higher than suppliers that do include standing charges.
If you're looking for a Pay As You Go energy supplier for 2023, Utilita could be the perfect fit for you. 
Outfox the Market
Outfox the Market is a relatively new energy supplier that has quickly become popular among energy consumers in the UK. Known for its affordable prices and excellent customer service, Outfox the Market has received positive feedback from its customers.
Despite being founded in 2017, Outfox the Market has already won the title of "Best Energy Supplier of 2021" from Which. The company is known for offering low-cost tariffs on energy usage, and they frequently introduce new offers and tariffs that are often some of the cheapest on the market. Moreover, Outfox the Market takes pride in producing all its energy from renewable sources.
However, it is important to note that Outfox the Market may only sometimes be the most affordable option for everyone. It's worth noting that Outfox the Market does not accept customers on pre-payment meters. 
EDF Energy
EDF Energy, a major provider to Great Britain, is a subsidiary of the French government-owned EDF. Additionally, it produces zero-carbon electricity using nuclear, solar, and wind energy. All their fixed home energy customers get zero-carbon electricity as standard. 
They are committed to investing in low-carbon energy and using renewable technologies. EDF states that customers are reasonably happy with the clarity and accuracy of their bills. If being sustainable is a priority for you, this will be one of the cheapest energy suppliers. 
Top UK Energy Suppliers & Their Ratings 2023
source : which.co.uk
| | | | |
| --- | --- | --- | --- |
| Company | Total score | Customer score | Which? assessment score |
| Octopus Energy  | 78% | 73% | 82% |
| Utilita  | 67% | 59% | 75% |
| Utility Warehouse | 65% | 67% | 64% |
| Co-op Energy | 64% | 56% | 72% |
| E | 64% | 60% | 69% |
| Bulb Energy | 63% | 54% | 72% |
| Ovo Energy | 63% | 50% | 76% |
| EDF Energy | 62% | 53% | 71% |
| Boost Energy | 61% | 52% | 71% |
| British Gas  | 60% | 52% | 68% |
| Sainsbury's Energy | 59% | 54% | 63% |
How Much Can One Can Save By Switching Energy Suppliers
Switching energy suppliers can be an effective way for one to reduce their energy costs. By switching to a more cost-effective supplier, one can save up to 45% annually. However, the amount of savings that can be achieved may vary based on different factors, such as energy consumption, the contract's length, and the type of energy used. In order to maximise savings, one should provide as much information as possible when comparing energy suppliers and consider working with a partner to help find the best deal.
Is Switching Provider A Complex Process?
The process of switching your energy supplier is relatively simple and comparable to switching your household energy supplier. However, it's important to consider that the switch's complexity may depend on your specific needs. But don't worry, as your energy supply will not be affected during the transition. The transition process will be handled by your new and old suppliers, and won't impact your energy supply.
Exit Fees, Contracts And Tariffs
If you're considering switching energy suppliers, it's important to be aware of any potential fees you may incur if you're still under contract with your current provider. These fees, known as exit fees, can vary from supplier to supplier and could impact your savings in the short term. However, in the long run, you could still benefit financially from switching to a cheaper provider.
In addition, if your existing contract has ended, you may have been moved onto a more expensive tariff known as an "out of contract rate". This could mean you're paying more than you need to be for your energy. By shopping around and switching to a supplier with a more competitive tariff, you could save a significant amount of money on your energy bills. Keep in mind that many suppliers offer fixed-rate contracts for a set period of time, so it's worth exploring these options when looking for a new supplier.
Charities and consumer advocate Martin Lewis are pushing for the implementation of a "social tariff" for energy to help low-income households struggling to pay their gas and electricity bills. This move could potentially save up to £1,500 for 12 million households. With the recent increase in household costs due to the energy crisis and the prepayment meter scandal, there is a growing demand for a revamp of gas and electricity billing. Energy suppliers have expressed their willingness to work on proposals for the social tariff. The government and Ofgem are currently exploring ways to fund and construct the social tariff.
How often do energy prices change?
Energy prices are constantly changing due to market supply, demand and wholesale costs. By choosing a fixed rate tariff, you can know your unit rates for a set period of time. The new Energy Price Guarantee will cap costs for typical households at £2,500 annually until June 2023, with a new cap announcement in May and changes effective from July 1, 2023.
What information do I need to switch energy supplier?
To provide you with an accurate quote, the supplier will require certain details from you. These include the name of your current energy supplier and tariff name, as well as the amount of energy you use in either kWh or pounds. You can easily obtain this information from a recent bill or your online energy account. If you are unable to locate the required details, they can still provide you with a quote based on estimated usage.
Conclusion
Getting cheap energy deals is not very difficult once you have a clear idea of what is it that you are looking for. With the energy prices rising, it is better to choose the cheapest electricity provider when you are starting as it will be better for you in the long run. Whether you are looking for green electricity, sustainable energy, or renewable energy there are only a handful of cheapest energy suppliers and you need to decide between the top four or five. Other ways of saving on energy bills are by going paperless, ensuring you are not paying for the previous tenant, choosing a dual fuel tariff, opting for fixed tariffs, etc. Saving energy costs is essential to maintain your expenses; hence choose your supplier wisely.
FAQs
1. Who is the cheapest energy supplier in UK in 2023?
Square 1 is the cheapest SVT provider with only £151.50 pounds per month.
2. Is Octopus still the cheapest energy supplier?
With 100% green energy, you'll pay a fair price for your energy. It might not be the lowest price available; rather, it's about average. There is no way to quantify that.
3. Is it better to have a fixed or variable energy rate in 2023?
Fixed tariffs can be more expensive, and they sometimes have high exit costs and other binding terms. Variable tariffs provide you greater freedom, but you must regularly monitor energy rates and look for alternative offers if your supplier announces a rise in energy prices.
4. Is it worth getting a fixed energy tariff?
The energy market's conditions ultimately determine fixed-rate tariffs; if wholesale prices are high, fixed deals will be less alluring. Generally speaking, though, a fixed-rate tariff will be more cost-effective than a variable-rate one if market conditions are favourable and you shop around.
5. Will my gas and electricity be interrupted if I switch?
Switching energy suppliers will not affect your gas and electricity supply. Your energy supply will continue as usual, and only the billing process will change to the new supplier.
6. Which is the cheapest energy supplier in London?
Outfox The Market, EDF Energy, Octopus Energy are some of the best and cheapest energy suppliers in London.
7. How long does it take to switch?
The Energy Switch Guarantee (ESG) ensures that suppliers complete a switch, including a 14-day cooling-off period, within 21 days. Your new provider should provide you with a transparent schedule of when the switch will occur, and there should be no interruption to your supply. By utilising our comparison service, selecting a new provider should only take a few minutes of your time.
8. What is a standing charge?
To cover the costs of supplying electricity and gas, including maintenance, to households, energy companies typically impose a standing charge. This fixed charge is either billed on a monthly or daily basis and is added to your usage costs, resulting in your total energy bill. To ensure transparency, your bill should itemize the standing charge, enabling you to understand the costs associated with your energy usage.
9. What is green energy?
Green energy, sourced from solar, wind, hydro, and wave power, has significantly lower carbon emissions compared to fossil fuels, making it an eco-friendly alternative. With the UK aiming for net zero carbon emissions by 2050, many energy companies now offer green tariffs, particularly for electricity. Although your energy supply will still come from the national grid, opting for a green tariff means your energy company will match some or all of the energy you use with renewable energy, thus increasing the overall percentage of green energy in the grid.
Thank you for reading this blog on 'Weigh In The Cheapest Energy Suppliers In The UK!' If you'd like to read more, here are some blogs that may be of interest to you –  
5 Reasons Why UniAcco Dominates Student Accommodation UK
Difference Between The UK And Great Britain