Gaining university status by royal charter in 1957, the University of Leicester is now considered among the best universities in the UK. The undergraduate and postgraduate courses offered are regarded to be world-class. Add to that, sublime infrastructure and highly-experienced faculty and you've got yourself a game-changing university. This university has groomed several world-renowned personalities like Anthony Giddens (a prominent sociologist), Jeffrey A. Hoffman (a NASA astronaut and physicist), Sir Alec Jeffreys (the inventor of genetic fingerprinting) and many more. In this, The University of Leicester, a complete uni guide, we want to provide all the relevant information that students need to make an informed decision before enrolling here.
The University of Leicester focuses on research-based education and has specialized research centres that include –
Institute for Cultural & Media Economics
Precision Medicine Institute
Institute for Advanced Studies,
Institute for Space & Earth Observation
Institute for Structural & Chemical Biology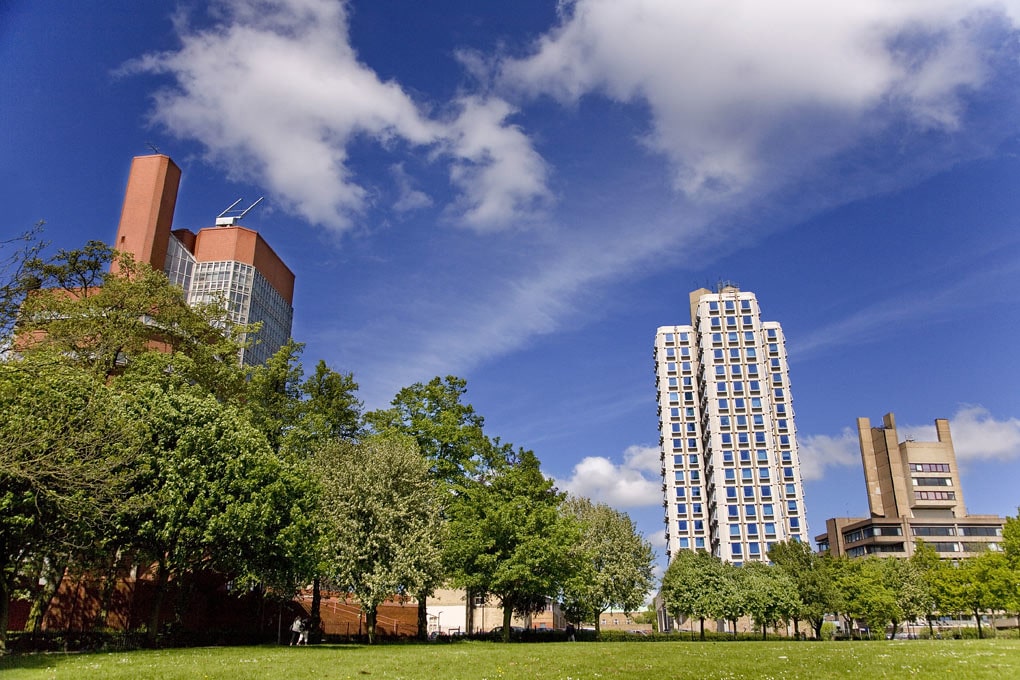 The University of Leicester at a glance –
Address – University Rd, Leicester LE1 7RH, United Kingdom
Established – 1921
Number Of Students – 23,000+
Ranking –
National:
40th in the Complete University Guide 2022
30th in the Guardian University Rankings 2022
Global:
236th in QS World University Rankings 2022
185th in the Times Higher Education (THE) Rankings 2022
Campus
The main campus is located just a mile south of the city centre, adjacent to Wyggeston and Queen Elizabeth I College and Victoria Park. The skyline of the university is punctuated by three distinctive, towering, buildings from the 1960s: the Charles Wilson Building, the Department of Engineering and the Attenborough Tower.
Within the campus, you'll find plenty of ways to make the most of the University's superb sporting facilities. They have two world-class sports centres filled with modern equipment. Students can work up a sweat at the gym, unwind by swimming or relax in the sauna and steam room. The gym also hosts regular fitness classes that range from yoga and boxercise to Zumba and circuit training.
Art and culture play a huge part in the reputation of the University of Leicester. Their very own on-campus arts centre, Attenborough Arts, is a pioneering and award-winning place for both performing and visual arts. You can find excellent programmes for theatre, live events, comedy and music. Another ode to the field of arts and culture can be found in their O2 Academy. Students can catch some of the hottest bands right here on campus. The University of Leicester is the only university with an O2 Academy venue.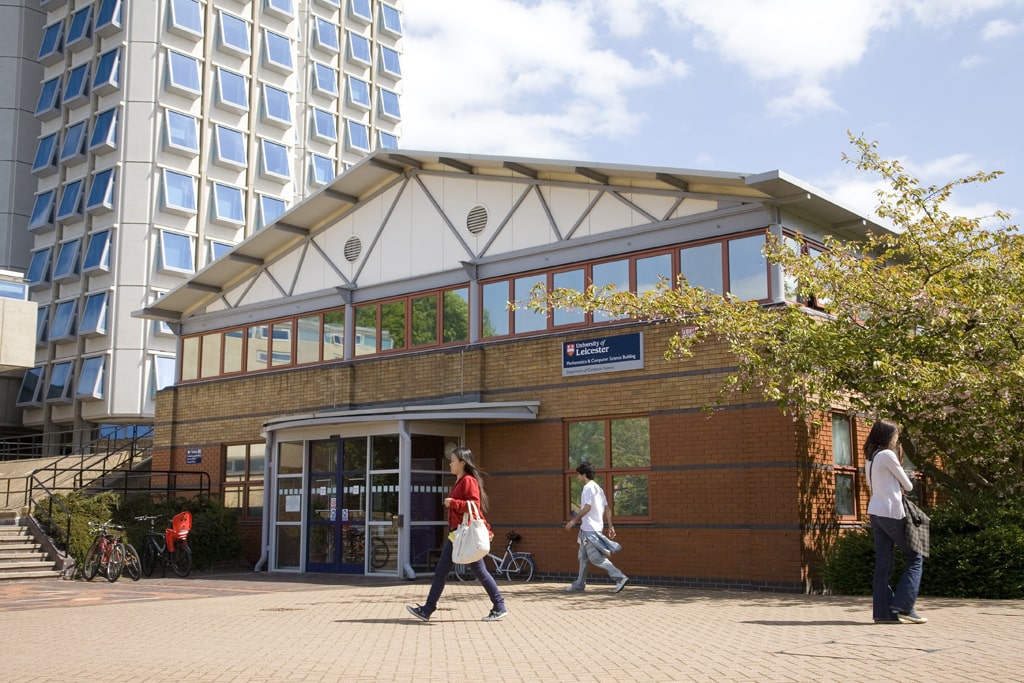 Food, Drinks and Nightlife
Being one of the best student cities, Leicester has a plethora of pubs and clubs offering student nights and discounts. You'll find every type of eatery around the university – from real ale pubs to cocktail bars to coffee shops, dessert parlours and award-winning restaurants. One glaring aspect that you'll notice during your time at the University of Leicester is the cultural diversity that thrives in the city. You will find a variety of restaurants specializing in cuisines representing all corners of the globe. Some of the mainstream restaurants that you just can't miss are Wagamama, Carluccio's, Turtle Bay, Chimichanga, Coast to Coast and Bills.
Shopping
Being a buzzing city, Leicester has quickly developed into a major shopping hub. You'll find several independent shops and boutiques, all lined up meticulously one after the other. Highcross in the city centre is the place to be if you're after high street stores and designer names such as Apple, Superdry, Hugo Boss, Urban Outfitters, Topshop and AllSaints. For a more mellow shopping experience, head on over to St Martin's Square and The Lanes. The quiet independent shops and cafes provide a stark contrast to the bustling activities happening in the city centre.
Closer to campus is Queens Road, ideal for a more relaxed and bohemian vibe. This place is known for its welcoming aura coming from all of the shops, bars and restaurants – perfect for a relaxed brunch or evening.
How to Apply
Undergraduate –
As you probably know already, all full-time undergraduate degree applications to universities in the UK need to be made through the Universities and Colleges Admissions Service (UCAS). You can check out all the available courses at the University of Leicester on the UCAS website.
When Can You Apply?
UCAS begin accepting applications at the start of September each year, for entry to university in October of the next year.
The usual closing date for applications to reach the UCAS office is 26th January. However, Medicine, Dentistry and Veterinary have an earlier closing date of 15th October. We strongly urge you to apply before the 26th January deadline.
Application Process
As stated earlier, applications for undergraduate degree programmes have to be made through the Universities and Colleges Admissions Service (UCAS). Follow all the on-screen directions and submit your application form. Please note that your personal statement that accompanies your application form must be written in your own words.
The University of Leicester will then analyze your application and take a call on your admission as quickly as possible. If selected, the Admissions Tutor or Department will contact you directly if you are to be invited for an interview, although most courses do not typically interview applicants. If they make you an offer of admission, you will receive an official notification through UCAS and an offer letter from the University.
Postgraduate –
Choose A Course
The first step is to choose between a Master's Degree or a Research Degree. You can browse through the number of different postgraduate courses offered by the University of Leicester on their website.
Looking For Study Abroad?
Get Counselling from our Experts to Study in your Desired Country.
Apply Now
Organize Your Documents
You will require the following documents during the admission process –
Personal statement/research proposal
Proof of English language competency (only if English is not your first language)
Letter of Recommendation (LOR)
Academic qualifications and transcripts
Two completed references (one must be academic) or names and contact details of two people from whom the university can request references (one must be an academic referee)
Resume/CV
Passport details
Specific requirements for the programme chosen
Please note that this is not an exhaustive list. The more documentation you have in hand, the quicker you'll receive a decision.
Apply Directly To The University Of Leicester
You can apply online for most campus-based courses and distance learning courses using the 'Apply Now' link at the bottom of each course page on the university's website.
Fill Out Your Application Form
Register as a 'New User' (button on the right-hand side of the page) or log in using your existing details.
Follow the on-screen instructions to complete the application form and upload all the necessary supporting documents. You can save your part-completed application and return to it any time later. Ensure that you click the submit button to complete your application. Once you have submitted your application, no changes can be made.
On successful submission of the application form, the university will send you a confirmation email.
Popular Courses
Here are some of the most popular courses at the University of Leicester –
BSc in Computer Science
| | | |
| --- | --- | --- |
| Duration | Exams Accepted | Tuition Fees Per Year |
| 3-4 Years | IELTS: 6, PTE: 54 | £21,515 |
BA Marketing
| | | |
| --- | --- | --- |
| Duration | Exams Accepted | Tuition Fees Per Year |
| 3-4 Years | IELTS: 6.5, PTE: 61 | £17,500 |
BSc Business Accounting and Finance
| | | |
| --- | --- | --- |
| Duration | Exams Accepted | Tuition Fees Per Year |
| 3-4 Years | IELTS: 6.5, PTE: 61 | £17,500 |
MEng in Mechanical Engineering
| | | |
| --- | --- | --- |
| Duration | Exams Accepted | Tuition Fees Per Year |
| 3-4 Years | IELTS: 6, PTE: 54 | £21,750 |
MSc Advanced Computer Science
| | | |
| --- | --- | --- |
| Duration | Exams Accepted | Tuition Fees Per Year |
| 1 Year | IELTS: 6, PTE: 54 | £21,750 |
MBChB in Medicine
| | | |
| --- | --- | --- |
| Duration | Exams Accepted | Tuition Fees Per Year |
| 5-6 Years | IELTS: 7.5, PTE: 54 | £23,000 |
Accommodation
Salisbury Road
Where?
16 Salisbury Road, TBD
About Salisbury Road
Salisbury Road provides students with excellent studio rooms and apartments. Irrespective of your room choice, expect a WiFi connection, a spacious bed and a fully equipped kitchen. Also expect a 24/7 on-site staff to assist you whenever you need them. The location of this property is really close to the University of Leicester; hence you will find a lot of students from this university living here. To cure your hunger pangs, this vicinity is loaded with restaurants, pubs and bars like The Case Restaurant, Herb and OGGI Simply Italian. For some weekend entertainment, you can watch Leicester City Football Club play some dazzling football at the King Power Stadium.
Price Range
£120 – £172/week
Regent Road
Where?
Regent Road, 120 Regent Road, Leicester, LE1 7LT
About Regent Road
The University of Leicester is just a 10-minute walk from Regent Road. The studio rooms and apartments offered by Regent Road come fully furnished with a double bed, a couch, a study desk and chair and a WiFi connection. Students can make use of the many communal amenities provided that include a lounge area, an on-site gym, social events, car parking, bike storage, a smoking room, a courtyard, a games room and a study room. Getting around the city is easy as the nearest train station (Leicester) and bus stop (Regent Road) are just a 5-minute walk away.
Price Range
£155 – £159/week
Upper New Walk
Where?
160 Upper New Walk, Leicester, LE1 7QA
About Upper New Walk
Upper New Walk proffers students with elegant studio rooms. These types of rooms are ideal don't mind sharing their living space but need some degree of privacy. Every room comes with a bed and WI-FI connection. The studio rooms come in three variants – Silver Studio, Gold Studio and Platinum Studio. Communal amenities such as a laundry room, social events, a lounge area, a smoking room and parcel receipt service can be utilized by students to make their student life more comfortable.
Price Range
£169/week
140-142 New Walk
Where?
140-142 New Walk, Leicester, LE1 7JL
About 140-142 New Walk
140-142 New Walk is a secure student accommodation located very close to the University of Leicester. There's a CCTV security system in place, along with secure key access. There's also a 24/7 on-site management team ready to tackle any problem of the residents. For students who will inevitably get tired of cooking their own food, can try out the many restaurants, pubs and clubs in the area like The Marquis Wellington – Pub & Kitchen, Red China Chinese Restaurant, Pepe's London Road, Leicester, among others.
Price Range
£154-£209/week
73 Princess Road East
Where?
73 Princess Road East, Leicester, LE1 7DS
About 73 Princess Road East
This Leicester student accommodation offers its residents amazing en-suite apartments and studio rooms. It is a secure facility with CCTV and secure key access. Irrespective of room choice a bed and WiFi connection will be provided. Its close proximity to the University of Leicester makes it a popular accommodation option among students. Leicester is the nearest train station and many eateries, cafes and pubs can be found within a 10-minute walking radius.
Price Range
£185 – £193/week