Coming to the UK to study is a great idea because of the superior education infrastructure here. But this costs money, and depending on where in the UK you choose to study; there can be a substantial difference in the costs you bear. A significant advantage of studying and living in Leicester is that your money will go a long way. Leicester has consistently been regarded as one of the UK's most affordable student destinations. This means that by studying in Leicester, you will be studying in one of the best value cities for student accommodation, food, and other living costs. Let's learn more about the cost of living in Leicester.
What is The Cost of Living in Leicester for Students?
The cost of living in Leicester is close to the national average and, therefore, attracts a good number of students from all over the world. The presence of world-class universities such as the University of Leicester and De Montfort University, add to the overall allure of Leicester.
Here is a rough estimate of the monthly costs in Leicester –
Student accommodation in Leicester – £650
Food shopping – £100
Local transport – £58
Books and printing – £50
Internet and mobile phone – £40
Social activities – £150
We recommend you have a monthly budget of around £1,000 (without tuition) to live comfortably in Leicester.
What Is The Average Rent In Leicester?
As per Expatistan, the monthly rent for 85 m2 (900 sqft) furnished student houses Leicester in an expensive area works up to £714 per month whereas the rent of a similar room in a normal area would cost you £655 every month. Larger studio apartments will cost you even more. Then there's also overheads like heating, electricity, water, gas, etc. that will set you back £134 per month. You've probably already guessed by now that the cost of student accommodation Leicester will form a huge part of your student budget (along with tuition fees). 
But we've partnered with some amazing Purpose Built Student Accommodation (PBSA's) companies who provide a stunning range of rooms at really affordable prices. What's more, the cost of utilities will be included in the rent so bid adieu to those expensive utility bills. Check out our website to browse through thousands of properties spread across 71 cities across the UK.
Where Can I Find The Best Student Accommodation in Leicester?
Premium Housing Option –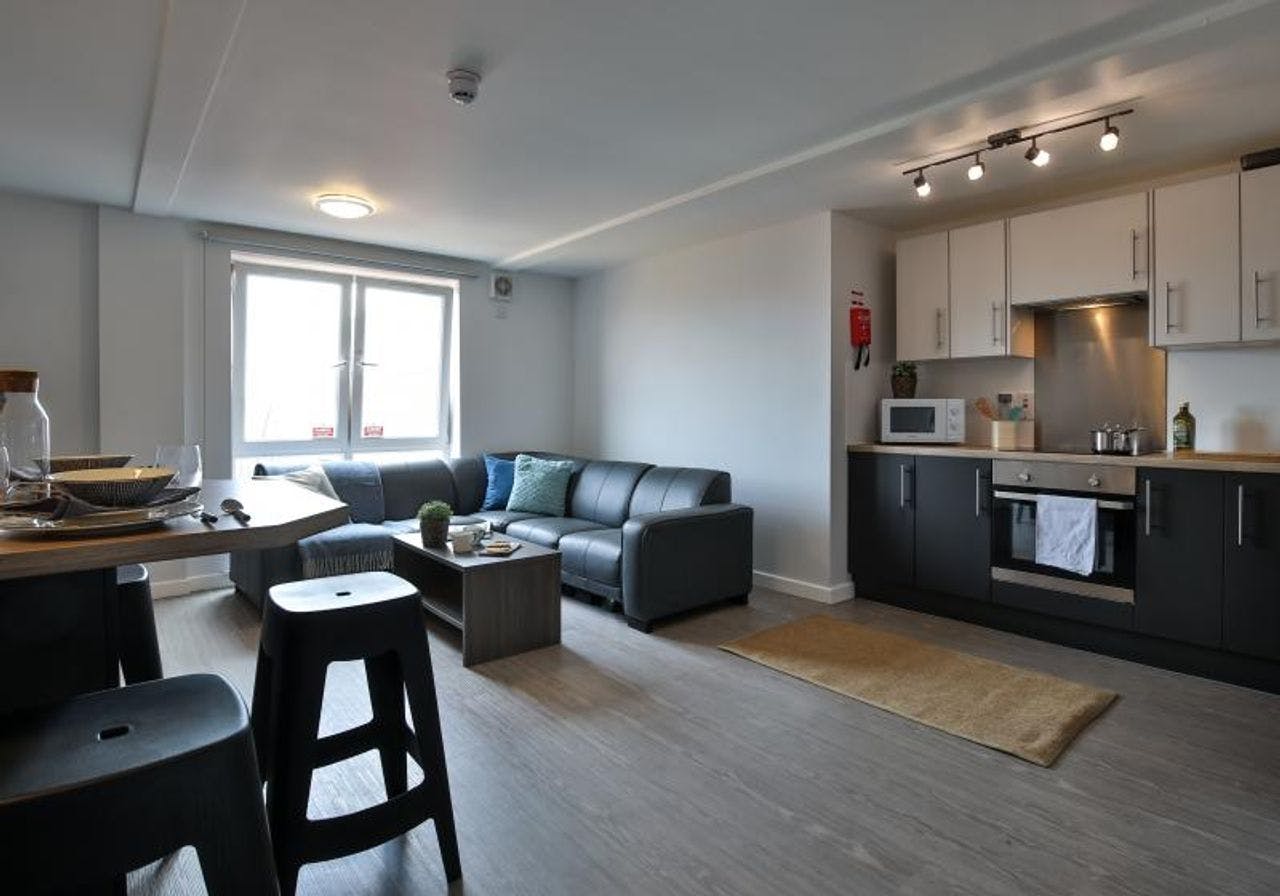 Where?
21-33 Newarke St, Leicester LE1 5SP, United Kingdom
About iQ Grosvenor House
If the Queen can live an uber-luxurious life in London, then there's no reason you can't do the same in Leicester. There's no better place in Leicester to live like royalty than iQ Grosvenor House. This student accommodation Leicester offers en-suite rooms, studio rooms and also one bed apartments. Irrespective of your room choice, expect a WiFi connection, a bed and a study desk & chair in every room. Another great part about iQ Grosvenor House is the fact De Montfort University, Leicester is only a minute away! Residents can choose to unwind by playing pool or simply relax at the communal lounge. Other amenities include a garden, parcel receipt service, contents insurance, social events, bike storage and a games room. 
Price Range
£141 – £237/week
Mid-Range Housing Option –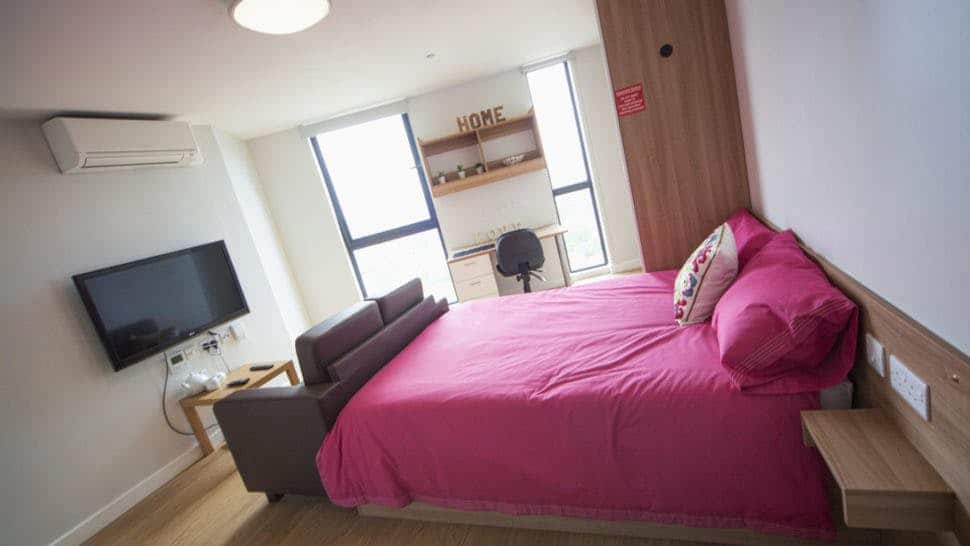 Where?
The Summit, Eastern Blvd, Leicester LE2 7JD, UK
About The Summit
The Summit offers luxurious Leicester student lettings at an affordable price. Over here, you will find fully furnished studio rooms and one bed apartments. Expect to find in every room a super-fast WiFi connection, a comfortable double bed and a decked-out kitchen. Residents can even make use of the communal amenities that include bike storage, a garden, 24/7 dedicated support, an on-site gym, social events, car parking, a communal area, a study area and contents insurance. What's more, De Montfort University, Leicester is 4-minute drive away.
Price Range
£149 – £199/week
Looking for Student Accommodation in UK?
Fill this form and get in touch with an expert
Value For Money Housing Option –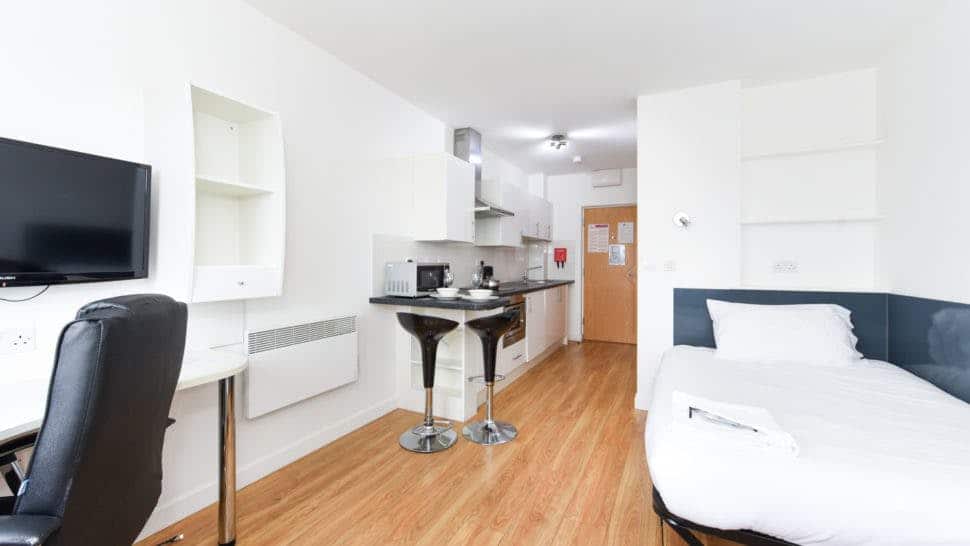 Where?
Brookland Rd, Leicester LE2 6BH, United Kingdom
About Brookland Road
If you're on a tight budget, the Brookland Road is your best option for student accommodation Leicester . You can find a fully furnished en-suite room at only £99 per week. The en-suite rooms and studio rooms up for grabs have all the latest facilities and amenities. Residents can also use the communal amenities like all-inclusive utility bills, contents insurance, an on-site gym, study rooms, a games room, a cinema, on-site laundry facilities and ANUK accreditation. 
Price Range
£99 – £149/week
What Is The Cost Of Transportation In Leicester?
Leicester has excellent transport links that make it easy to travel to university, or anywhere else in the city. Trains and buses are the preferred modes of transportation, with the latter being the cheaper option. A monthly public transport pass should cost you around £58. For those you prefer travelling around by cab, be prepared to shell out £11 per taxi trip on an 8 km journey (5 miles).
What Is The Cost Of Food And Other Necessities In Leicester?
It goes without saying that preparing your own food will save you a lot of money. The cost of food in Leicester is so affordable that you can prepare an entire day's meal under £10. In contrast, a dinner for two at an Italian restaurant will cost you £50. Here is a rough breakdown of the cost of basic food in Leicester –
Milk (regular), (1 litre) – £0.90
Loaf of Fresh White Bread (500g) – £1.00
Rice (white), (1kg) – £0.66
Eggs (regular) (12) – £1.84
Local Cheese (1kg) – £3.96
Chicken Fillets (1kg) – £5.08
Apples (1kg) – £1.62
Banana (1kg) – £1.25
Oranges (1kg) – £2.00
Tomato (1kg) – £1.66
Potato (1kg) – £1.26
Onion (1kg) – £0.96
Water (1.5 liter bottle) – £1.04
Bottle of Wine (Mid-Range) – £6.00
Domestic Beer (0.5 liter bottle) – £1.91
Imported Beer (0.33 liter bottle) – £1.83
Besides food, you will also have to spend on clothing, gym membership, doctor's visit, toiletries, etc. Be prepared to spend close to £150 monthly on all these other necessities.
What Is The Cost Of Entertainment And Recreation In Leicester?
Leicester has two main shopping centres Highcross Leicester and the Haymarket Shopping Centre. You can also find numerous designer and specialist shops on St Martin's Square and the Leicester Lanes. There are also various restaurants, clubs and pubs in the area and along the city's Victorian arcades. Here is a list of basic prices for entertainment and recreation in Leicester –
Basic dinner out for two in a neighbourhood pub – £22
Dinner for two at an Italian restaurant in the expat area including appetisers, main course, wine and dessert – £50
2 tickets to the movies – £16
1 cocktail drink in a downtown club – £10
Cappuccino in the expat area of the city – £3.42
1 beer in neighbourhood pub (500ml or 1pt.) – £3.03
Some money-saving tips in Leicester
Make separate accounts – One account for your direct payment obligations such as rent and bills, and another for day to day expenses. This will ensure you don't accidentally spend your rent money.
Stay away from credit cards – Credit cards are always a bad idea because as a student, you will inevitably fall behind on your payments. Credit card companies charge a high rate of interest and defaulting of these payments will have an adverse effect on your credit history.
Part-time and summer jobs – There's no harm in earning a bit of money. Apply for jobs around your campus. You can also apply for paid internships.
Discounts – Apply for the NUS Extra Card to get discounts at your favourite shops. Be vigilant for any deals or discounts when you're shopping.
Speak to the locals – They will tell you the cheapest local places to shop in the city. You can also ask them for the best time to visit these shops so that you can avoid large crowds.
Buy Second-hand books – If you try to purchase all the books on your reading list, you will go broke. Check websites that sell used textbooks, but make sure you're getting the right edition. Second-hand books are not only cheap but also come with useful notes and tips written by the previous owner.
Sources: UniAcco data, Numbeo, Expatistan.