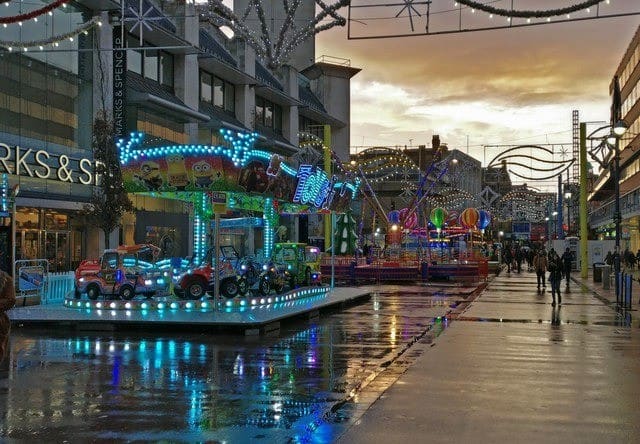 We'll be honest; till 2010, no one really cared about Leicester. It flew largely under the radar up until the last decade. However, the discovery of the remains of Richard III of England in 2012 and Leicester City Football Club's legendary 5000/1 Premier League title-winning season threw this 73.3 km² city into the spotlight. The world soon came to know what Leicester was all about – a city with modern marvels, an out-of-this-world planetarium and historic cathedrals. Here are the best things you can do in Leicester –
The National Space Centre
A visit to The National Space Centre will guarantee you an out-of-this-world experience. Literally! Take a journey through the themed galleries, stopping at over 150 interactive experiences and much more. Opened to the public in 2001, National Space Centre is basically a museum fully engulfed with rockets, exhibitions and galleries. It also happens to be UK's largest planetarium! The Soyuz 7K-OK Spacecraft and the remarkable Organ DMA EVA Spacesuit are among the many artefacts on display. Zvezda created the suit in 1987 for the Soviet space programme, and it was used for thermal vacuum tests until 1989. Sit back in awe of the UK's largest planetarium as it takes you on a voyage of discovery in this 360° full-dome experience. The National Space Centre hosts many exciting weekend events, including astronomy evenings, family face quiz, movie-themed events, astronaut visits, even special Star Wars, LEGO and Time Lord weekends and many more.
Address – Exploration Dr, Leicester LE4 5NS, United Kingdom.
Tickets – Adult £15.50, Child (5-16) £12.50, Concessions £12.50, Under 5 Free, Parking (all day) £3.00
Opening hours – Monday – Friday 10:00 AM – 4:00 PM, Saturday – Sunday 10:00 AM – 5:00 PM
Star attraction – The Sir Patrick Moore planetarium.
Phone – +44 116 261 0261
Leicester Cathedral
The Leicester Cathedral (formally called Cathedral Church of Saint Martin, Leicester) is the official seat of the Bishop of Leicester. The church is devoted to St Martin of Tours, a 4th century Roman officer who became a Bishop, and also was built on the site of Roman remains in the year 1086. However, the Cathedral's claim to fame has to be reburial of King Richard III in 2012. Hundreds of people pay their respects to the king who died in the last battle.'The King Under The Car Park' was infamously discovered nearby in the foundations of the lost Greyfriars chapel. You should visit the cathedral for their Advent and Easter services. Each year over one hundred thousand people visit this ancient cathedral. The Leicester Cathedral is a Grade II listed building comprising a large nave and a chancel with two chapels, along with a 220-foot-tall spire.
Address – 2.Peacock Ln, Leicester LE1 5FQ, United Kingdom.
Tickets – Free entry
Opening hours – Monday – Saturday 10:00 AM – 5:00 PM, Sunday – 12.30 PM – 2.30 PM
Star attraction – The tomb of Richard III of England.
Phone – +44 116 261 5200
Golden Mile
The Golden Mile is a name given to a stretch of Belgrave Road that houses many Indian restaurants and shops. The origin of the name is accredited to the many shops selling gold jewellery which is said to be the largest selection outside India. The area became an haven for the asain community in the 1960s and 70s, as it provided affordable housing. Using their past trading skills, the arriving Asian community established modest and efficient firms. If you are missing, You can also find authentic food, spices, clothing and other goods along this stretch. If you're around the Golden mile, make sure to visit the award-wining Curry Fever. Therefore it is no surprise to know that the Golden Mile carries the tag of being "the closest that Britain comes to an Indian bazaar".
Address – 87E Belgrave Rd, Leicester LE4 6AS, United Kingdom.
Star attraction – The Diwali celebration at Golden Mile every October.
Phone – Curry Fever – +44 116 266 2941
King Power Stadium
This one's for football fans; the King Power Stadium also known as Leicester City Stadium. It is the home of Leicester City Football Club since 2002. Located just outside the centre, this stadium is the 20th largest stadium in England with a capacity of 32,312 people. On July 23, 2002, renowned Leicester striker Gary Lineker formally unveiled the stadium. At this same site, Leicester City won the 2015-16 Premier League title with a 3-1 victory over Everton on May 7, 2016. There isn't much to do here unless it's match day, but if you're a fan, the stadium tour is unmissable! You can walk around the ground, visit the dressing room, have your photo taken at the media centre, go to the gift shop, and try to feel the excitement that players felt when they won the Premier League.
Address – Filbert Way, Leicester LE2 7FL, United Kingdom.
Tickets – Tickets for game day can range anywhere from £5 to £50.
Star attraction – The Premier League trophy from their legendary 2015–16 season.
Phone – 0344 815 5000
Leicester Market
The Leicester Market is the largest covered outdoor market in Europe and has been exactly where it sits now for 700 years. That's right; the market has been flourishing in the city centre for almost seven centuries. Over here, you can also find a statue of the 5th Duke of Rutland and a Lloyd's Bar. The best time to get an authentic feel of the Leicester Market is on a Saturday afternoon. The butchers at the Food Hall have a broad assortment of high-quality meat and poultry. Deli vendors provide a wonderful selection of artisan cheeses, prepared sliced meats, bacon, and local pork pies to make a nice deli-style buffet meal. Two excellent fishmongers offer a diverse assortment of fish and seafood, including king prawns, scallops, salmon, seabass, cod, tuna, and sometimes even swordfish!
Address – Market Pl, Leicester LE1 5GG, United Kingdom.
Opening hours – Monday – Saturday 7:00 AM – 6:00 PM
Star attraction – The monthly Farmers' Market on the last Wednesday of every month, specializing in locally produced organic meat, fruit and vegetables.
Phone – +44 116 223 2372
New Walk Museum And Art Gallery
The New Walk Museum and Art Gallery is located in the infamous New Walk area, which is a pedestrianized walkway. It opened in 1849 as one of England's first public museums. It runs all the way out of the city centre to Victoria Park. The museum is entirely free and displays magnificent works of art along with "Ancient Egypt", dinosaur exhibits and many regular events. The museum holds a wide range of temporary exhibitions, including pieces from its own collections as well as travelling exhibitions from other national museums. In addition to fascinating talks, children's handling sessions, and lunchtime performances, the venue is licenced for weddings, civil ceremonies, and private hire. There are many restaurants around like Revolution, Pamson Grill and Herb, to keep you fueled up so that you can explore New Walk Museum and Art Gallery in its entirety.
Address – 53 New Walk, Leicester LE1 7EA, United Kingdom
Tickets – Free entry
Opening hours – Monday – Friday 11:00 AM – 4:30 PM, Saturday – Sunday 11:00 AM – 5:00 PM
Star attraction – The Ancient Egypt section.
Phone – +44 116 225 4900Website –
Abbey Park
Abbey Park is Leicester's premier park and lies approximately one mile north of the city centre. The park opened in 1882 on the flood plain of the River Soar, and in 1932 it expanded to include the area west of the river that had formerly been St Mary's Abbey. Home to Leicester Abbey, the River Soar flows through the park, and you can also find a miniature railway, café, and a boating lake there. The park has been the site of an annual flower show since the 19th century, which at first included a swimming gala and later became known as the Abbey Park Show. The show featured entertainment and displays until 1995 when falling attendance and rising costs led to its abolition. The Park is actually perfect for a little getaway in the summer; where you can play sports, roam around or just cool off with ice cream. Abbey Park also holds fireworks celebrations and other events all year round.
Address – Abbey Park Rd, Leicester LE4 5AQ, United Kingdom
Opening hours – Monday – Sunday 8:00 AM – 6:00 PM
Star attraction – The pets corner, tennis courts and outdoor gym.
Phone – +44 116 454 1003
University Of Leicester Botanic Garden
The University of Leicester botanic garden sits just outside the city centre. The University of Leicester Botanic Garden was founded in 1921 with the efforts and support of members of the Literary and Philosophical Society. It moved to its present site in Oadby in 1947, comprising the grounds of four houses: Beaumont, Southmeade, The Knoll and Hastings, which were built in the early 1900s and are now used as student residences or for the Garden education programme. It, however, does remain a must-visit because of the Attenborough Arboretum and tons of different plants across acres of garden. The botanic garden's main aim is to be a backdrop for scientific research and offer a place for students to learn, but more importantly, a lovely place to spend a day. There is ample space, sculptures, benches and a track to make it the perfect place for a walk.
Address – 2ld, 3 Glebe Rd, Oadby, Leicester LE2 2LD, United Kingdom
Opening hours – Monday – Sunday 10:00 AM – 4:00 PM
Star attraction – The Attenborough Arboretum which is a satellite facility of the Botanic Garden
Phone – +44 116 271 2933
#LastFriday At LCB Depot
This fun tradition was started some years ago as an initiative to bring local businesses and the community at large together. Every last Friday of the month, local independent businesses help in curating some of the most exciting monthly nights of street food, arts and music. The month of January was hosted by The Vegan Kitchen, New Yorkshire Pizza, Gyro Guys, What The Chuck and The Boxx n Bar. They have vegan and veggie options available at these little shacks for all those non-meat lovers. Apart from their ground-breaking consignment of food, they also have live music and stand-up gigs to their long-list of fun things to do in Leicester!
Address: LCB Depot,31 Rutland Street, Leicester, Le1 1R
Timings: 5pm – 10pm
Tickets: 2 GBP per person.
New Walk
Take a stroll up Leicester's leafy New Walk today and you'll be following in some pretty impressive footsteps. You'll be walking on an ancient road used by Roman soldiers, and enjoying the tree-lined promenade beloved by Leicester's Georgians and Victorians. This rare preserved Georgian walkway once linked the town with its racecourse – now Victoria Park – and is lined with elegant buildings set behind decorative railings. Holy Cross Priory is a Roman Catholic church that was built before the city's other structures and has remained an active place of worship. A mass similar to one Richard III might have taken part in on the morning he rode off to battle at Bosworth Field is said daily here—open to all. New Walk has a cluster of bars, cafés and restaurants that invite visitors to linger in this elegant part of town. The Belmont Hotel at New Walk is a building that was once home to Ernest Gimson, a founding father of the Arts & Crafts Movement.
Address: 17 New Walk, Leicester, LE1 6TE, GB.
Opening Timings: 1st January 2023 – 31 December 2023