Mannequin House, a brand new student accommodation less than 20 mins from London's city centre and well placed for London's university campuses as well. Set in the heart of East London's historic art and manufacturing centre, Mannequin House used to be a tailoring factory now converted to student homes. Reminiscences of this past can be seen in the décor with sewing machine tables and thread spools dotted across the common areas.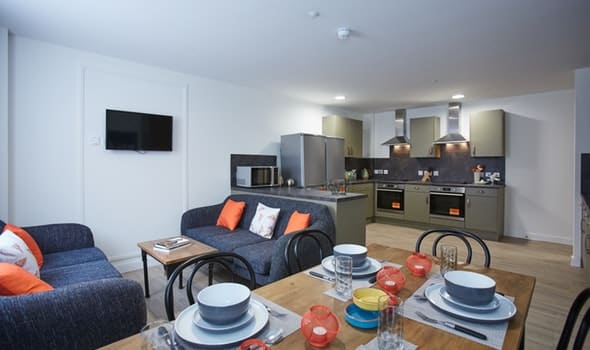 Nearby places: Having multiple places to see and things to do is a great add-on to any student accommodation. As the poem goes 'all work and no play makes Jack a dull boy' and that happens to be very true when you are a student in a different city or country. Here are a few places to visit and things to do around the Mannequin House London.
Restaurants- There are several restaurants in the vicinity, whether it be by an approx 20 minute walk or a short ride. The closest one being a Yasar's Kitchen a turkish restaurant and BG Zakuska Walthamstow a bulgarian restaurant.

Cafés- Multiple cafés are located in walking vicinity. The nearest ones being Demo Café, Café Express and Forest Bistro Café.
Pubs/Bars- There are a few pubs/bars in the vicinity with the closest one's being Ferry Boat Inn Tottenham and Lord Palmerston.
Tourist Attractions- Explore the city, starting from near you. Vestry House Museum, Cork Oak, Forty Hall & Estate are the places to visit nearby. Travelling a little further will get you to places like London Bridge, Tower of London, Madame Tussauds, London Eye and Buckingham Palace.
Parks- Stoneydown Park, The Paddock, Walthamstow Wetlands, Greenleaf Park are some of the parks within walking distance.
Markets/Shopping Malls- Tesco Express, Walthamstow Market, Selborne Walk Shopping Centre are some of the nearby shopping centres.
Theatres- Bernie Grant Arts Centre, Park Theatre, The Yard Theatre, Stratford Circus Arts Centre, Hackney Empire are some of the nearest theatres that are a short ride away.
Cinema Halls- Stow Film Lounge, Empire Cinemas – Walthamstow, Bernie Grant Arts Centre are some of the nearest cinemas.
Art Gallery- Artworks Project Space, Barbican Arts Group Trust, L G A, 1B Coppermill Lane are some of the art galleries that are within walking distance.
Commute- Blackhorse Road is the nearest train station just a stone throw away. Walthamstow Wetlands Ferry Boat Inn is the nearest bus stop a short walk away.
Nearby unis: For a student, seeking higher education is the motivational force behind his decision to move out of his house and live apart from his/her loved ones. What university is nearby is always the biggest criteria whilst selecting a room, as it should be. The universities close to Mannequin House are, as follows.

London Metropolitan University– Based in one of the world's most exciting capital cities, London Met is home to a diverse community of inspiring and determined learners, teachers and innovative thinkers. They offer a wide range of courses, from undergraduate and postgraduate degrees to short courses and professional qualifications, many of which are available to study full-time or part-time to best suit your needs and lifestyle.
University College London– They are one of the world's very best universities, consistently placed in the global top 20 in a wide range of world rankings. Their central London location gives their students access not only to the best in entertainment and nightlife, but also to cultural and academic resources.
New College of the Humanities- The College believes in teaching students in a way that's attractive to employers from a wide range of industries. The humanities and social science subjects on offer can be transferred into many skills sets from arts and heritage, finance, law and the public sector, to journalism, publishing and advertising.
Loughborough University, London Campus- Loughborough University London is an inspiring postgraduate campus that enhances their existing world-class partnerships and excellence in research, to deliver an industry-focused learning experience that is second to none.
Room types: There are a lot of room types offered by PBSA's, like non-en-suite, en-suite, studio, linked studios's, etc. Mannequin House offers en-suites and studios.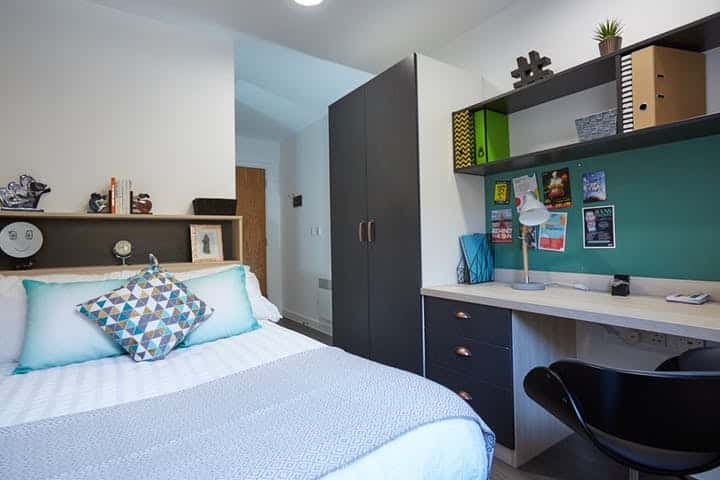 En-suite– En-suite is a private room with a private bathroom and shared kitchen & living area. Depending on which floor your room is situated, the en-suite rooms have bronze, silver, gold and platinum variants.
Studio- Studio is a private room with a private bathroom as well as a kitchen. Varying in area there are different variant of studios available, mainly bronze, silver, gold and platinum.
Apartment facilities:

Contents Insurance
24/7 Support
Wi-Fi
Utility Bills
Free dual occupancy (studio rooms)
Summer accommodation available
Community facilities:

Games Room
Communal lounge
Study Room
Outdoor Courtyard
Price: The price range starts from £199 onwards.
Payment:

Booking Deposit- £250 to confirm a booking (Refundable at the end of your tenancy)
Instalment Plan- You can choose from annual, termly and monthly payment plans across the year.
Guarantor- The guarantor can be any international guarantor, not necessarily UK based.
Mode of Payment- Pay using a Credit Card, Debit Card or Bank Transfer.
Thanks for reading this blog on Mannequin House London. If you are interested in learning more about university life abroad, the following should be of interest to you: