Sheffield, the large metropolitan borough in South Yorkshire, England, is slowly becoming an important student hub. More than 10,000 students from over 150 countries move to Sheffield for higher studies, with the University of Sheffield and Sheffield Hallam University being the preferred study destinations. What adds to the allure of Sheffield is that student accommodation Sheffield, tuition, travel, entertainment, food, and other living expenses are quite affordable. Students can further lower their living costs by utilizing student discount cards to save money on shopping, food, stationery and entertainment. Let's find out the cost of living in Sheffield for students.
What Is The Cost Of Living In Sheffield?
Despite being the 4th largest city in the UK, Sheffield is one of the most affordable student-friendly cities in the UK. The cost of living in Sheffield for students is comparatively lower than in most other student cities. In fact, studies show that Sheffield's living costs are 10% lower than the UK national average and 25% lower than in London. It is advised that students budget between £730 and £802 per month in order to live comfortably in Sheffield. Here is a quick breakdown of the costs associated with students in Sheffield –
| | |
| --- | --- |
| Particulars | Expenses (Per Month) |
| Off-Campus Accommodation | £248 |
| On-Campus Accommodation | £320 |
| Transportation | £52 |
| Food | £290 |
| Utilities | £73 |
| Entertainment | £22 |
| Groceries | £73 |
| Clothes | £24 |
| Total Cost of Living with Off-Campus Accommodation | £730 |
| Total Cost of Living with On-Campus Accommodation | £802 |
As per UniAcco's data, Sheffield is one of the cheapest places in the UK to rent student accommodation. Even if you remove the cost of Sheffield accommodation from the equation, the Sheffield cost of living still scores high on affordability and is consistently touted as one of the most affordable cities in the UK for students.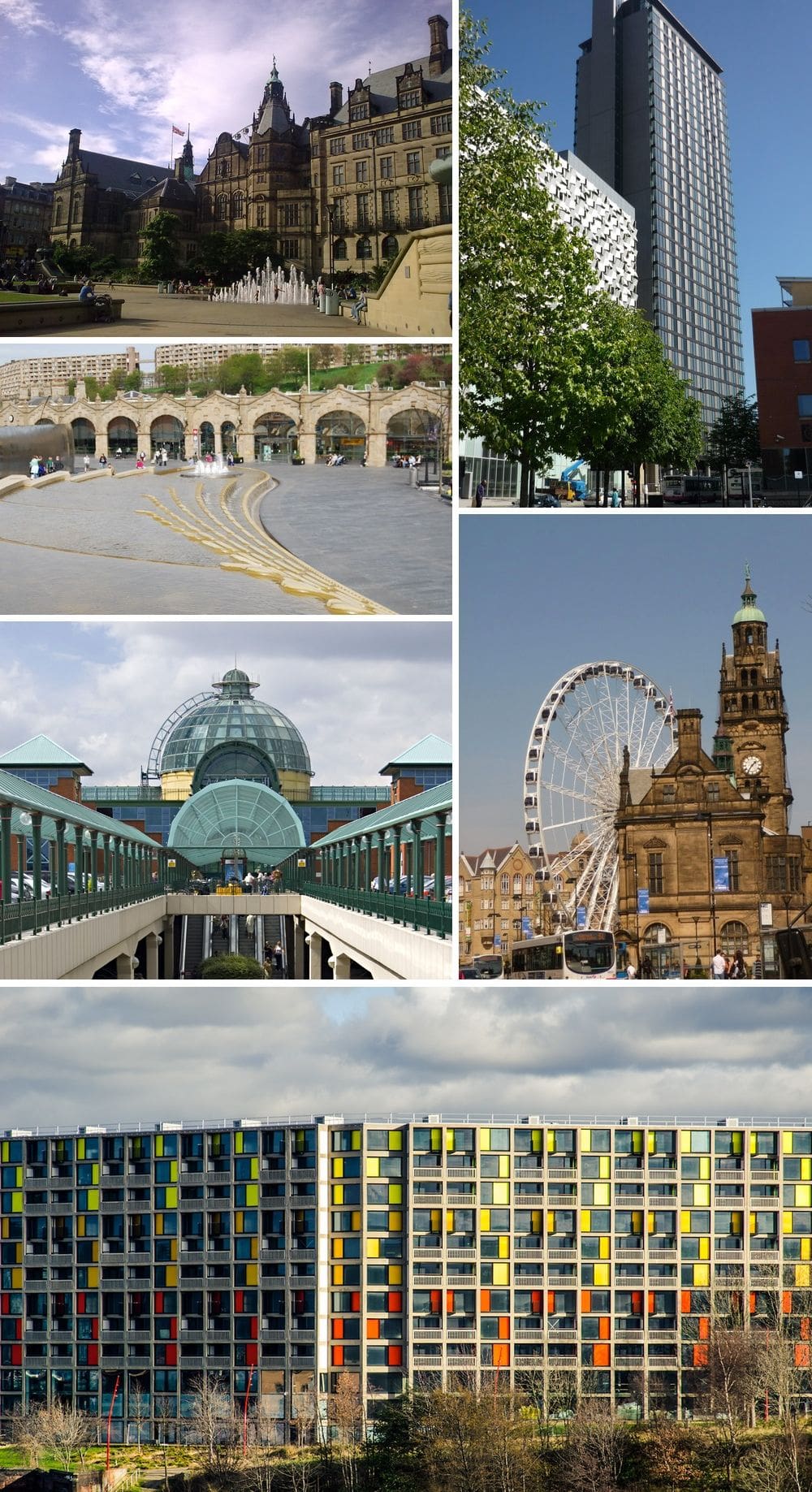 The Best Student Accommodation In Sheffield
Premium Housing Option – Sheffield 3

iQ Century Square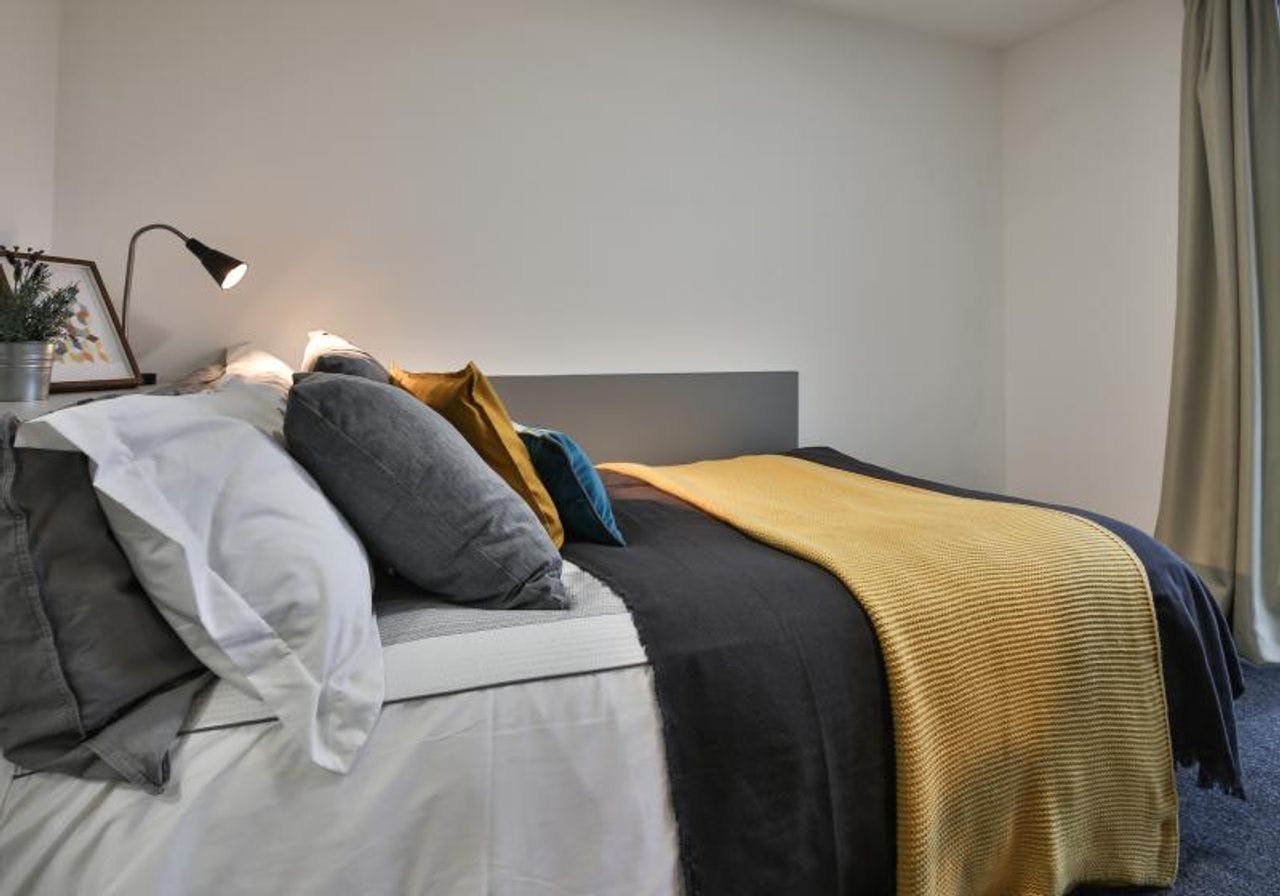 Where is iQ Century Square?
Radford St, Sheffield S3 7AZ, United Kingdom
About iQ Century Square
iQ Century Square is among the most popular student accommodation in Sheffield, thanks to its close proximity to top universities. The University of Sheffield and Sheffield Hallam University are located within comfortable walking distance. The rooms available at iQ Century Square are classy and loaded with all the latest amenities. Make sure you secure your en-suite room or studio or 2-bedroom apartment well in advance, as they are known to sell out quickly! Communal amenities include 24-hour security with CCTV cameras, a cinema room with beanbags, a common room with a foosball table, a 24/7 onsite gym, bike storage and a study room.
Price Range of iQ Century Square
£141 – £227/week
Mid-Range Housing
iQ Fenton
Where is iQ Fenton?
51 Wellington Street Sheffield S1 4HL United Kingdom
About iQ Fenton
iQ Fenton is a great student Sheffield accommodation option in Sheffield that offers high-quality student houses in Sheffield at attractive prices. Students can choose between fully furnished en-suite rooms and studio rooms. Irrespective of their room choice, they can expect a WiFi connection, a television, a bed and a wardrobe in every room. Students can enjoy a host of different communal amenities at iQ Fenton like a games room with PlayStation 4 consoles, a cinema room with beanbags and popcorn machine, a big common room with TVs and table football, a free gym, a courtyard with outdoor seating and onsite laundry.
Price Range of iQ Fenton
£118 – £223/week
Value For Money Housing Option
iQ Brocco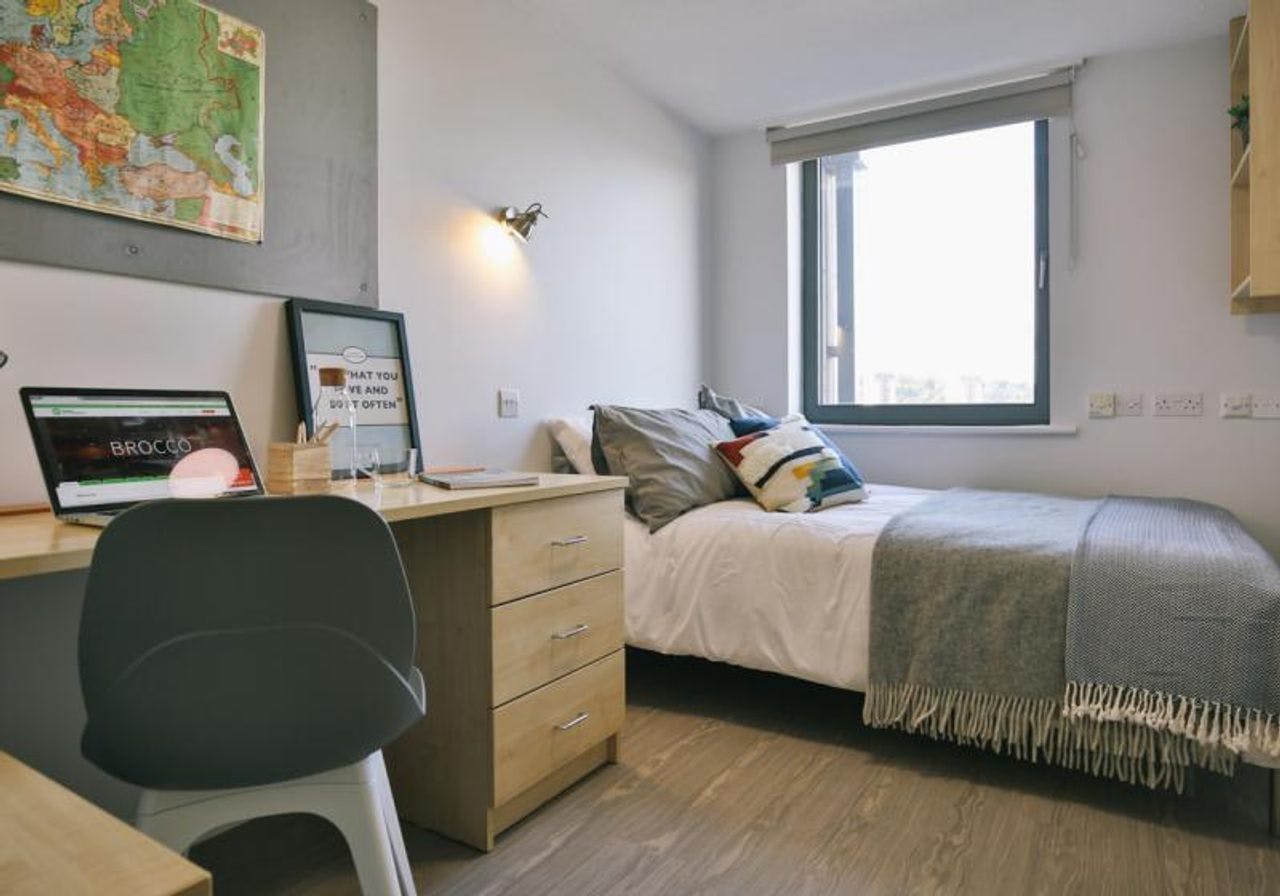 Where is iQ Brocco?
iQ Sheffield Brocco 34 Edward Street Sheffield S3 7GB United Kingdom
About iQ Brocco
If you are looking for the best student accommodation in Sheffield that offers the best value for money, then look no further than iQ Brocco! iQ Brocco provides students with excellent en-suite rooms and 2-bedroom apartments. These rooms come with a WiFi connection, contents insurance, a study desk & chair, a bed and much more! Universities like the University of Sheffield, Sheffield Hallam University and Sheffield Business School are just a short walk away. The building facilities at iQ Brocco include onsite laundry, secure bike storage and a social space with TV and pool table, and table tennis in the courtyard.
Price Range of iQ Brocco
£115 – £137/week
Cost Of Tuition In Sheffield
The two main universities in Sheffield are the University of Sheffield and Sheffield Hallam University, which bring 60,000 students to the city every year. The cost of tuition in Sheffield is on par with other universities in the UK. Domestic students can benefit from the £9,250 per year cap for undergraduate students. On the other hand, full-time overseas undergraduates have to shell out between £18,500 and £23,750 every year.
Cost Of Transportation In Sheffield
The best part about travelling in Sheffield is that it's easy to get around on foot and also utilise the tram, bus and rail services. An added bonus for students who prefer using public transport is that they can benefit from massive student discounts. A monthly public transport pass would set you back £65.00, which is well worth the investment. This vastly brings down the cost of living in Sheffield for students.
Cycling is another mode of transport students can explore as Sheffield has many cycle routes. The number of cycling routes in the city and countryside has been increasing steadily, so it makes sense to invest in a cycle or rent one.
Cost Of Living In Sheffield: Food & Miscellaneous
The cost of food in Sheffield will depend on your eating habits. Students who tend to eat out more will end up paying more for food as compared to students who cook their own meals. While Sheffield has no dearth of upscale or budget restaurants, it makes more economic sense for students to prepare their own food, as the cost of poultry, fruits and vegetables in Sheffield is low.
According to Numbeo, here is the cost of Food And Other Necessities In Sheffield –
Milk (regular), (1 litre) – £0.97
Loaf of Fresh White Bread (500g) – £0.95
Rice (white), (1kg) – £1.17
Eggs (regular) (12) – £2.03
Local Cheese (1kg) – £5.14
Chicken Fillets (1kg) – £5.38
Apples (1kg) – £1.72
Banana (1kg) – £0.99
Oranges (1kg) – £1.30
Tomato (1kg) – £1.52
Potato (1kg) – £0.92
Onion (1kg) – £0.97
Lettuce (1 head) – £0.81
Water (1.5-litre bottle) – £1.08
Domestic Beer (0.5-litre bottle) – £2.01
Imported Beer (0.33-litre bottle) – £2.63
Students who prefer to spend their free time sweating it out in the gym or playing foosball can do so free of charge at UniAcco properties. This saves students close to £35 a month on a gym membership.
Cost Of Entertainment And Recreation In Sheffield
Every university student wants to make sure they attend a top-class university in a lively and buzzing student city. Sheffield ticks all these boxes with aplomb. The city of Sheffield is renowned for its range of student nights, clubs and music venues. Here are some Sheffield hotspots that you must hit as a student –
Leadmill – You can't call yourself a resident of Sheffield if you haven't visited the oldest nightclub in Sheffield – Leadmill. This famous haunt houses some of the most well-known and up-and-coming bands in the UK. Get yourself a regular card for £3 which will give you access to a wide range of food and drink offers!
Carver Street – Carver Street has something for everyone. Paris, Walkabout, Pop World, Viper Rooms and Crystal are some popular nightclubs located on Carver Street. Be sure to always find students lined up here on weekends and otherwise!
Plug – Plug is popular among students because of its themed nights, live music events and cheap drink deals. Expect fun and wacky events here, like the David Attenborough Appreciation" where they give away 100 free David Attenborough t-shirts.
Honourable mentions: West Street, Tank, Code Warehouse.
FAQs
Is Sheffield expensive for students?
Sheffield is one of the top ten most affordable UK academic cities, with a cost of living that is much lower than the national average. You'll discover discounts around every corner thanks to the city's student community, making it easy to manage your finances in the city.
Is it convenient to commute easily in Sheffield?
Sheffield is located in the heart of the UK, close to other major cities and everything else. It features a variety of conveniently accessible and reasonably priced travel modes. So, whether you want to explore the Scottish Highlands or get lost in London's backstreets, you're never more than a short ride away.
Is Sheffield safe for students?
Sheffield is the safest metropolis in the United Kingdom. The city is proud of its varied population, which attracts students from 150 countries throughout the world. You'll feel right at home in this friendly community.
Which are the affordable areas to live in Sheffield?
Bramall Lane, Broomhill, Crookes, Ranmoor, are amongst the affordable areas housing some of the prominent universities in Sheffield. You can find great student accommodation with easy access to food courts, malls, shopping arenas, as well as major attractions in these cities.