Leeds is the largest town in the county of West Yorkshire in Northern England, approx 170 miles north of central London. Leeds has one of the most differing economies of all the UK's leading employment centres and has seen a rapid rate of private-sector jobs growth of any UK city. Leeds is categorised as a High Sufficiency level city by the Globalization and World Cities Research Network. It is the financial, commercial and cultural heart of the West Yorkshire Urban Area. It is served by five universities and has the fourth largest student population in the country and the country's fourth-largest metropolitan economy.
It used to be a small manorial borough in the 13th century, and in the 17th and 18th centuries it became a significant hub for the manufacturing and trading of yarn, and in the Industrial Revolution a predominant mill town; yarn was still the main industry, but flax, iron foundries, engineering, printing, and other industries were just as important. It went From being a market town in the valley of the River Aire in the 16th century to a populous urban centre by the mid-20th century by expanded and absorbed the surrounding villages. It now comes under the West Yorkshire Urban Area, the United Kingdom's fourth-most crowded metropolitan area, with a population of 2.6 million
From chic shopping and decadent dining to contemporary arts and a vibrant nightlife, Leeds is abundant with things to do. Here are some pointers on what to do in Leeds.
History
Harewood Castle – This is a 14th-century stone hall house and courtyard fortress, located on the Harewood Estate, Harewood, in West Yorkshire, England. It is a grade I listed building.
Address: Sandy Gate, Harewood, Leeds LS17 9LE
Contact: +44 113 218 1010
Ticket Type
Standard (Online Prices)
Standard (at the gate)
Adult online price
£13.95
£15.50
Child online price
(Under 4s Free)
£7.65
£8.50
Family online price
(Families of 2 adults and upto 2 children)
£36.45
£40.50
Leeds Cathedral- Formally known as the Cathedral Church of St Anne, and locally known as Saint Anne's Cathedral, is a cathedral of the Roman Catholic Diocese of Leeds and is the seat of the Roman Catholic Bishop of Leeds.
Address: Cathedral Chambers, Great George St, Leeds LS2 8BE
Contact: +44 113 245 4545
Kirkstall Abbey- This is a ruined Cistercian monastery in Kirkstall, north-west of Leeds city centre in West Yorkshire, England. It is housed in a public park on the north bank of the River Aire. It was founded in c.1152 and was decommissioned during the Dissolution of the Monasteries under Henry VIII.
Address: Abbey Rd, Kirkstall, Leeds LS5 3EH
Hours: Tue to Sun – 10am to 4pm
Contact: +44 113 378 4079
Outdoors
RHS Garden Harlow Carr-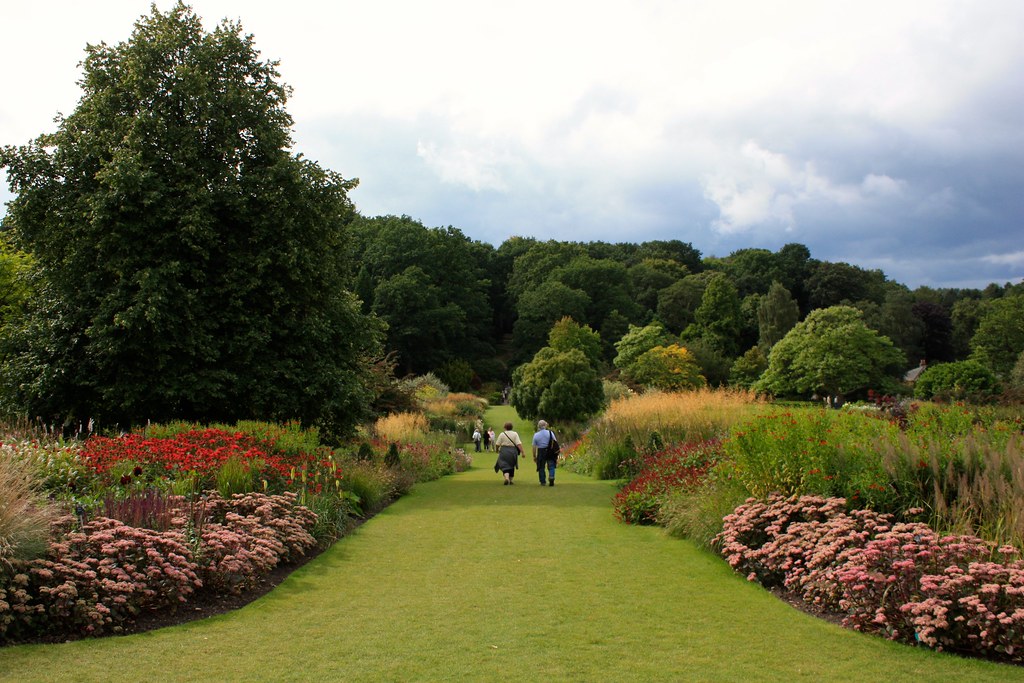 This is amongst the five public gardens managed by the Royal Horticultural Society. It is built on the western edge of Harrogate in the county of North Yorkshire. The RHS obtained Harlow Carr by merging with the Northern Horticultural Society in 2001. It has been the Northern Horticultural Society's trial ground and displays garden since they bought it in 1946.
| | |
| --- | --- |
| Address: | Crag Ln, Harrogate HG3 1QB |
| Contact: | +44 1423 565418 |
| Website: | https://www.roundhaypark.org.uk/ |
| Opening hours: | 9:30am–6pm |
| | |
| --- | --- |
| Item | Standard Price |
| Adult | £10.90 |
| Child (aged 5 to 16; Max four children per adult, Under 5 years go free) | £5.50 |
| Family (2 adults along with 2 children; Additional child tickets available at the garden entrance at a discounted rate) | £27.25 |
Roundhay Park- Located in Leeds, West Yorkshire, England, this is one of the largest urban parks in Europe. It encompasses more than 700 acres of parkland, lakes, woodland and gardens which are owned by Leeds City Council. The park is amongst the most popular tourist attractions in Leeds. It is established on the north-east edge of the city, surrounded by Oakwood to the south, the suburbia of Roundhay to the west and the A6120 outer ring road to the north.
| | |
| --- | --- |
| Address: | Mansion Ln, Roundhay, Leeds LS8 2HH |
| Contact: | +44 113 378 6002 |
| Website: | https://www.roundhaypark.org.uk/ |
| Opening hours: | Open 24 hrs |
Golden Acre Park- This is a public park between Adel and Bramhope, Leeds, West Yorkshire, England, managed by Leeds City Council. It is located on the A660 Otley Road and covers an area of 137 acres.
| | |
| --- | --- |
| Address: | Otley Road Bramhope, Leeds LS16 8BQ |
| Contact: | +44 113 261 0374 |
| Website: | https://www.leeds.gov.uk/leisure/parks-and-countryside/major-parks/golden-acre-park |
| Opening hours: | Open 24 hrs |
Arts & Culture
Leeds Art Gallery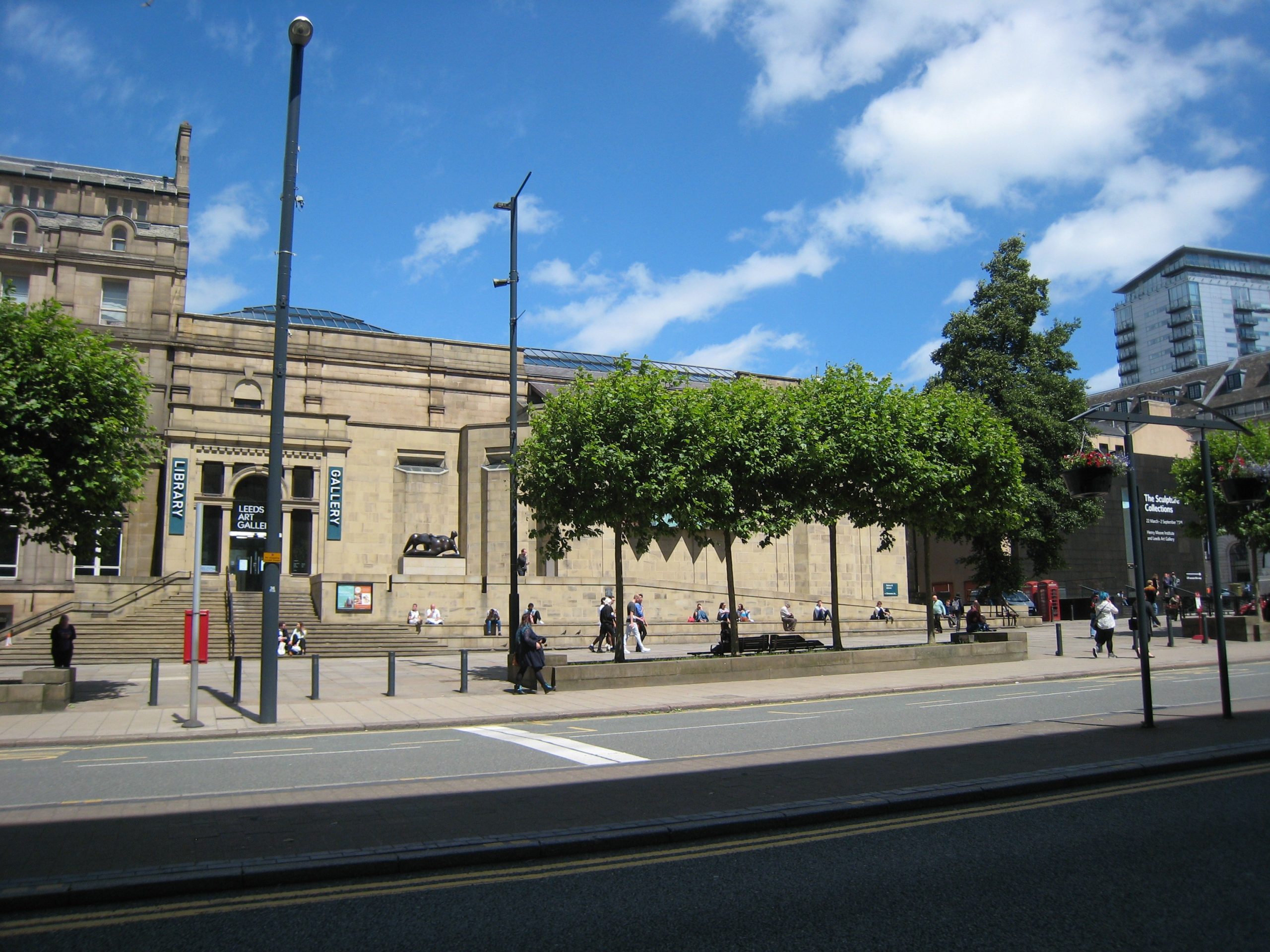 Its collection of 20th-century British Art was designated by the British government in 1997 as a collection "of national importance". Its collection also includes 19th-century and earlier artworks. It is a grade II listed building retained and managed by Leeds City Council, connected on the West to Leeds Central Library and on the East via a bridge to the Henry Moore Institute with which it shares sculptures.
Address:
The Headrow, Leeds LS1 3AA
Contact:
+44 113 378 5350
Website:
leeds.gov.uk
Opening hours:
Tue to Sat – 10am to 5pm
Sun – 11am to 3pm
The Hepworth Wakefield- The gallery is situated on the south side of the River Calder. It is named after artist and sculptor Barbara Hepworth who was from the city. The gallery's inception was done by British architect David Chipperfield. It is recorded as a charity under English law.
| | |
| --- | --- |
| Address: | Gallery Walk, Wakefield WF1 5AW |
| Contact: | +44 1924 247360 |
| Website: | https://hepworthwakefield.org/ |
| Opening hours: | Mon to Sun – 10am to 5pm |
Leeds Town Hall- This is a 19th-century municipal building on The Headrow, Leeds, West Yorkshire, England. Planned to include law courts, offices, a council chamber, a public hall, and a suite of formal rooms, it was built between 1853 and 1858 to a design by the architect Cuthbert Brodrick. With the construction of the Civic Hall in 1933, some of these functions were relocated. After the construction of the Leeds Crown Court in 1993, the Town Hall now serves mainly as a concert, conference and wedding venue, its offices still used by some council departments. It was made as a Grade I listed building in 1951.
| | |
| --- | --- |
| Address: | The Headrow, Leeds LS1 3AD |
| Contact: | +44 113 378 6016 |
| Website: | https://www.leedstownhall.co.uk/ |
Museums
The Thackray Medical Museum- The Thackray Medical Museum in Leeds, West Yorkshire, England, is a museum of the history of a medicine adjacent to St James's University Hospital. In 1998 it won "Museum of the Year". Its other awards include in 2004 both the "Excellence in England Small Tourist Attraction of the Year" and "Sandford Award for Heritage Education". Thackray medical museum prices are kept low so as to let everybody bask in history and evolution od medicine.
| | |
| --- | --- |
| Address: | Beckett Street, Leeds, LS9 7LN |
| Contact: | 0113 244 4343 |
| Website: | https://www.thackraymedicalmuseum.co.uk/ |
| Opening hours: | 10am to 5pm |
| Price: | £5–8 |
Leeds City Museum- It was originally built in 1819 but reopened in 2008 in Leeds, West Yorkshire, England. It is built in the former Mechanics' Institute built by Cuthbert Brodrick, in Cookridge Street, which has been redesigned by Austin-Smith: Lord Architects and Buro Happold engineers. Gallery and exhibit design are provided by Redman Design. It is amongst the nine sites in the Leeds Museums & Galleries group. Special exhibitions are hosted alongside a collection of displays from the Leeds Archive.
Address:
Millennium Square, Leeds LS2 8BH
Contact:
+44 113 378 5001
Website:
https://museumsandgalleries.leeds.gov.uk/leeds-city-museum/
Opening hours:
Monday: closed
Tuesday to Friday: 10am-5pm
Saturday & Sunday: 11am – 5pm
Price:
Free
The Leeds Industrial Museum- Armley Mills is a museum that displays industrial heritage situated in Armley, near Leeds, in West Yorkshire, Northern England. The museum includes collections of heavy engineering, textile machinery and railway equipment amongst others. The Grade II listed building housing the museum was once the world's largest woollen mill.
Address:
Canal Rd, Armley, Leeds LS12 2QF
Contact:
+44 113 378 3173
Website:
https://museumsandgalleries.leeds.gov.uk/leeds-industrial-museum/
Opening hours:
Tue to Fri – 10am – 5pm
Sat & Sun – 11am – 5pm
Price:
£5–8
Restaurants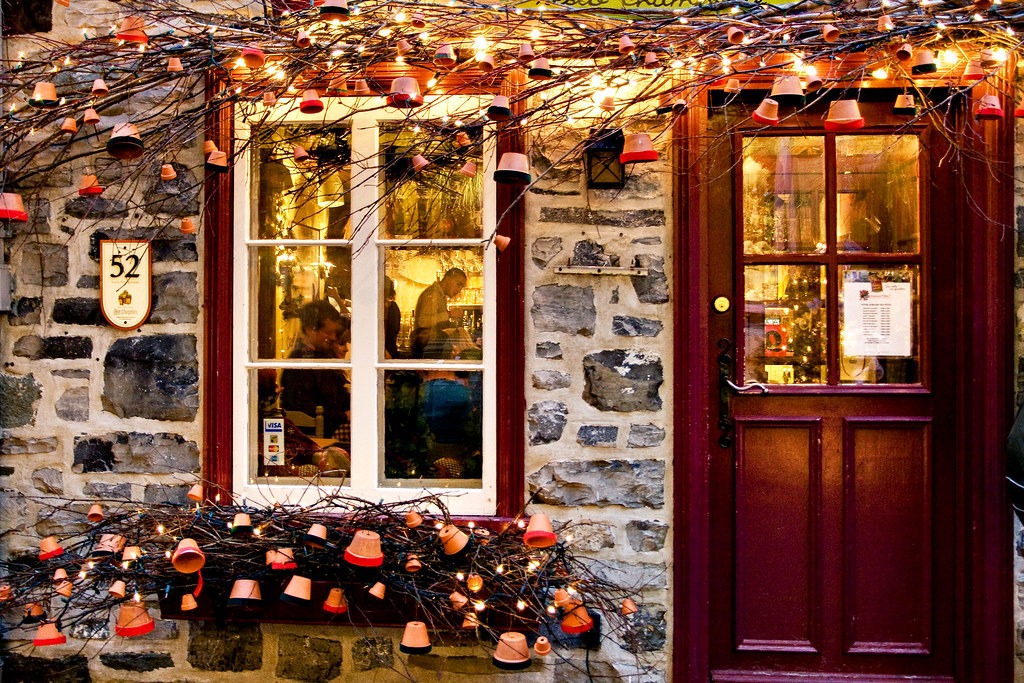 Tavernaki Bistro- Always understated but Tavernaki is the stuff that dreams are made of. Dainty and welcoming, it's like stepping inside a little island bistro, where the stresses and strains of everyday life just disappear. The food is reliably top-notch and their authentic cheese, meat and fish platters are a fabulous way to enjoy a bite of nearly everything. If sharing is not your cup of tea, opt for one of the individual main courses like the grilled skewers laden with succulent meats and charred halloumi, titular souvlaki or the creamy aubergine moussaka.
Address: Tavernaki Bistro, 18 Great George Street, Leeds, West Yorkshire, LS1 3DW.
Price: Main courses range from £12.95 to £22.95.
Ox Club- Tucked away inside the Headrow House, Ox Club arrived in Leeds back in 2015 and has been one of the best restaurants in the city ever since. Their ever-changing menu revolves around the prime Grillworks grill sitting beautifully in the kitchen. Their flavour combinations are exciting and bold, think barley and golden beetroot, BBQ Chinese pigeon, all made to smokey perfection. The Scandi-cool dining room is similarly designed, and the impressive view over the open kitchen lets you see that wood-fired grill in action.
Address: Ox Club, 19a The Headrow, Leeds, West Yorkshire, LS1 6PU.
Price: Main courses range from £14 to £22, small plates range from £7 to £12.
The Swine That Dines- Once a greasy spoon, now an excellent dining destination. The owners have a knack for making creative, punchy and waste-free food that makes use every part of the animals and the plant. They are open during the day for laid-back dining. The menu changes monthly but high-quality cuts of meat, innovative cooking techniques and plates-to-share are constant. Ultimately vegetarian menus arrive the first weekend of every month, and a bring-your-own approach to booze helps keeps those precious pennies in your pocket.
Address: The Swine That Dines, 58 North Street, Leeds, Yorkshire, LS2 7PN.
Price: Lunchtime small plates range from £4 to £9, evening menu is £55 for two to share.
Bars
Angelica- Its extensive range of beautifully presented beverages is served with a side order of picturesque scenery. Angelica has a decadent and exclusive feel that befits its higher-than-average bar prices. The bar enjoys sweeping views from its outdoor wraparound terrace, and visitors are prepped for a starry service with lift entry and a greeting at the door. For all its posh features, Angelica is surprisingly welcoming, and the efficient bartenders know their stuff, investing time in making mixed drinks with a selection of quality spirits and liqueurs.
Address:
Level 6 Trinity Leeds, 70 Boar Lane, Leeds, LS1 6HW
Website:
www.angelica-restaurant.com
Opening hours:
Mon to Thu – 10 am to midnight
Fri to Sat – 10 am to 2am
Sun – 10am to 11pm
The Alchemist – The Alchemist bar is first and foremost a cocktail bar that also serves other drinks and food, instead of a restaurant that serves a few cocktails. Tales of dry ice, copper kettles, fire and test tubes provided steady publicity on social media, and it quickly became difficult to get into at the weekend. Wedged into a corner near Next above Urban Outfitters, the venue is on the small side, which excludes large groups and walk-ins at the weekend. Alchemist's playful, wacky and incredibly creative cocktails that grab headlines. The bartenders make classics (they call them 'safe bets') such as cosmos, mojitos, and daiquiris well. Still, it's the extravagantly named list of house specials that you'll want to try. A peanut butter colada was certainly not for the faint-hearted. At the same time, the sharp passion fruit meringue martini was more dessert than a drink, with a flamed foam and gloopy lychee liqueur.
Address:
Level 1, Trinity Leeds, Leeds, LS1 6HW
Website:
thealchemist.uk.com
Opening hours:
Sun to Wed – 11am to midnight
Thu to Fri – 11am to 1am
Sat – 10am to 1am
The Shed Bar – Tucked away in one of the busiest areas of the city centre, underneath the railway arches, The Shed certainly is not showy. The soundtrack played here is mainly rock and indie. The walls are decorated with posters and records from Led Zeppelin and Jimi Hendrix, giving it a bar-meets-record-store feel. Crucially, though, there's no inkling of pretension or exclusivity about the place; instead, it simply centres on what it does well: providing a nimbly unpredictable variety of music and drink.
Address:
6 Heatons Court, Leeds, LS1 4LJ
Website:
www.theshedbar.co.uk
Opening hours:
Sunday & Monday: Closed
Tue & Wed: 4pm to 1am
​​Thursday: 4pm to 2am
​Friday & Saturday: 4pm to 4am
Nightlife: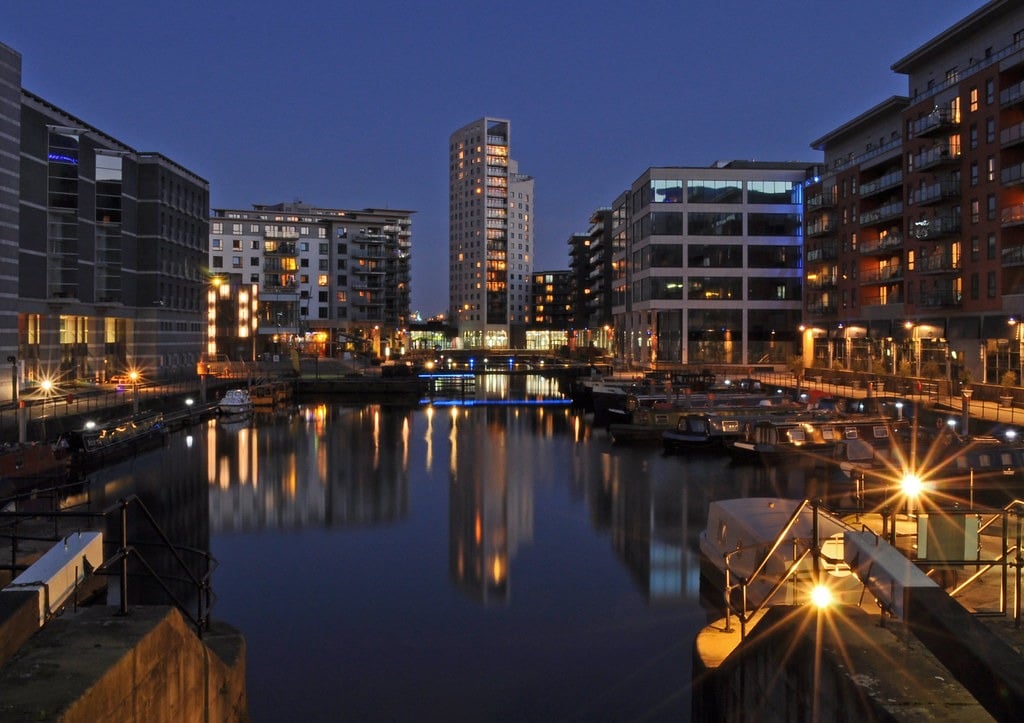 The HiFi Club- This buzzing underground joint is where you'll find the best jazz, soul, funk and hip-hop tunes within the city. With the semblance of FunkSoulNation, Move On Up every Wednesday on the first Friday of every month, and the weekly Sunday meet up, it's no surprise HiFi is so popular, specially with £3 bottles of lager and cider.
Address: The HiFi Club, 2 Central Road, Leeds, West Yorkshire, LS1 6DE.
Wire- Call Lane's underground haven, Wire has long been a popular late-night haunt in Leeds. It hosts a wide-ranging bunch of club nights from the Leeds indie disco Fuzzy Logic on Thursdays to the likes of Selective Hearing, Acetate and Butter Side Up. Wire prides itself on its great musical lineage.
Address: Wire, 2a Call Lane, Leeds, West Yorkshire, LS1 6DN.
The Warehouse- For more than 35 years, The Warehouse has been at the heart of Leeds' groundbreaking club scene, with a specific focus on the best house DJs they can find. There are 3 rooms to visit, including the primary space, with two smaller rooms overlooking it. It's abode to a newly installed Funktion-One sound system, so you know it's going to sound great – as well as CO2 jets, lighting rigs and colour lasers. They have an array of special one-off events, but it's regular nights like Mischief and Propaganda that make it the place to be.
Address: The Warehouse, 19-21 Somers Street, Leeds, West Yorkshire, LS1 2RG.
Fun Things to Do:
Pixel Bar- Pixel Bar is the only bar in West Yorkshire dedicated to video games and esports. Come along and have a game with friends on our 12 high-spec gaming PCs or 6 console booths. They also have a variety of board games that are free to play for all customers. Check out the latest esports tournaments from across the world shown live on our big screens across the bar.
Address:
25 Great George Street, Leeds LS1 3AL
Contact:
+44 7498 521168
Website:
https://www.pixel-bar.co.uk/
Opening hours:
Sun to Thu – 12pm to 1am
Fri & Sat – 12pm to 3am
Escape Hunt- A team gets locked in a themed room with only an hour to hunt down and decode clues to escape. Working as a team will get you to beat the clock and just maybe, experience the thrill of escaping. Escape Hunt can be played between 2-6 players, larger groups can play head to head.
Address:
Unit UB26, The Light, The Headrow, Leeds LS1 8TL
Contact:
+44 113 243 2222
Website:
https://escapehunt.com/uk/leeds/
Opening hours:
Sun – 10:00am to 8:30pm
Mon to Sat – 10:00am to 10:00pm
Live For Today Adventures, Hazlewood Castle – 'Live For Today' is a well-known quote used by many that means living life to the fullest. Here at the Hazlewood Castle Venue (one of three in the north), they offer a great array of activities that are perfect for a group party or simple day out. Activities that they offer are Quad Biking, Paintballing, Archery, Orienteering, Bushcraft, Laser Tag and Air Rifle Shooting their instructors are truly unique and have been hand-picked over the years, they can provide the best experience possible in a safe environment.
| | |
| --- | --- |
| Address: | Paradise Lane, Leeds LS24 9NJ |
| Contact: | 01133 230 180 |
| Website: | https://www.live-for-today.com/ |
| Opening hours: | Sun & Sat – 9:00am to 5:00pm |
Accommodation:
Quebec's Luxury Apartments- Each individually air-conditioned apartment can brag over 3 times the space of any Executive Hotel Suite, and it's contemporary design and sensibility exude style and grace. Designed to house those used to superior quality and impeccable service, Quebecs Luxury Apartments proffers every 5-star comfort, benefits and pleasure in a portfolio of amenities that redefine prestige.
Address: The Old Post Office, 3 Infirmary Street, Leeds, LS1 2HT
Website: https://www.quebecsluxuryapartments.co.uk/
Price: £158
Clayton Hotel, Leeds- Located beside Leeds' city centre, it is just off the M1, at Junction 3 of the M621 motorway. A short drive away is Leeds Bradford International Airport. Leeds Railway Station is at a walkable distance. The rooms are spacious with modern furnishings. All the rooms are soundproofed and offer comfortable duvets and hypo-allergenic pillows. Rooms also include a private bathroom with a power shower, a TV in each room, along with a hairdryer and tea/coffee facilities. Buffet style breakfasts are served, while light lunches and drinks are served in the Inkwell bar, which telecasts live sports and hosts events throughout the week. The Brasserie Restaurant offers international cuisine.
Address: City Walk, Sweet Street, Leeds, LS11 9AT
Website: https://www.claytonhotelleeds.com/
Price: £97 – £152
ibis Styles Leeds City Centre Arena- Situated 0.3 km from the First Direct Arena in Leeds, it features an onsite restaurant and bar. Free Wi-Fi is available throughout the property. Off-site parking is available at an additional fee. Every room in this hotel is equipped with a flat-screen TV and tea/coffee making facilities. Extras include free toiletries and a hairdryer. Arnold's restaurant and bar are situated onsite and are available for lunch and dinner. Using locally sourced produce, it offers an eclectic selection of homemade starters, mains and desserts. Breakfast, including pastries, cereals, cold meats, cheese, juices, fresh fruit, tea, coffee is served.
Address: Wade Lane, Leeds, LS2 8NJ
Website: https://all.accor.com/hotel/9687/index.en.shtml?dateIn=&nights=&compositions=1&stayplus=false#origin=ibis
Price: £59 – £79
Find the Best Student Accommodation in Leeds with UniAcco!