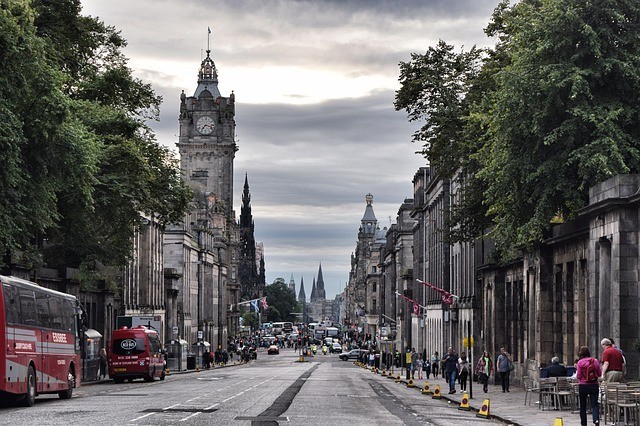 Edinburgh has built a reputation of being one of the most enigmatic cities in Europe. Its dark, medieval walls hold so many secrets, most of which we probably don't even know about. Did you know that the Edinburgh Castle is built on an extinct volcano? Or that Edinburgh has more listed buildings than anywhere in the world? These facts probably don't mean much to a student but what if I told you that the Scottish capital's student houses are miles cheaper than any other big student city. Bet you're interested now!
Edinburg is one of the best and most exciting places to live as a student. Every August, Edinburgh welcomes Festival Fringe, the world's largest arts festival. 2019's festival sold a record 856,541 tickets sold and hosted 3,841 shows in 323 venues. Hence, it is fitting that Edinburg is dubbed as the number one festival city in the world. This gorgeous city also holds two UNESCO designations for its muddled medieval Old Town and its well-planned Georgian New Town.
Things to do in Edinburgh
Edinburgh Castle – This historical monument is almost synonymous with Edinburgh. It served as the official residence of King Malcolm Canmore (r 1058–93) and Queen Margaret. An interesting fact to know is that from then until the 1920s, Edinburgh Castle was the British army's main base in Scotland. Today it is one of Scotland's most popular and atmospheric tourist attractions. For a tour of this castle, you can go to https://www.edinburghcastle.scot/ and book your tickets at the best possible price.
Walk down the Royal Mile – The Royal Mile is a succession of multiple streets that form the main thoroughfare of the Old Town in Edinburgh. From the Castle gates to the Palace gates, the road is almost a mile long (1.6 km) and runs downhill between two significant locations namely Edinburgh Castle and Holyrood Palace, hence its name. The Mile is overlooked by impressive, towering tenements, between which cobbled closes and narrow stairways interlock to create a secret underground world.
Camera Obscura and World of Illusions – Camera Obscura & World of Illusions is a major tourist attraction in Old Town, Edinburgh. It is located on Castlehill section of the Royal Mile close to Edinburgh Castle. Founded by entrepreneur Maria Theresa Short in 1835, it is a crucial site in Patrick Geddes' development of regional planning. Camera Obscura & World of Illusions visitor attraction is now home to over 100 interactive exhibits, including the original Camera Obscura. It is based over five floors which include a rooftop terrace with panoramic views of Edinburgh. Edinburgh is one of the best student destinations.
Scotch Whisky Experience – One of the most beloved tourist activity is visiting the Scotch Whisky Experience. Enjoyed by whiskey lovers and otherwise, there's something for everyone at this tourist hub. Their trained experts will help identify if fruity, sweet or smoky flavours suits your palate and help you concoct your perfect dram. Apart from this, the experience includes a barrel ride and a special tutored nosing and tasting in the vault containing the world's most extensive collection of Scotch Whiskies.
Restaurants in Edinburgh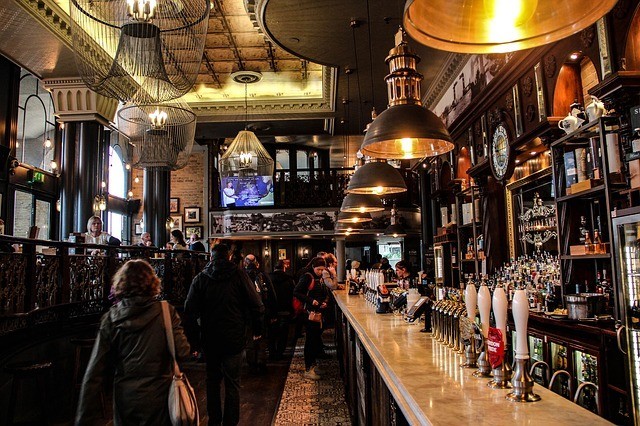 George Street is the place to be at if you want to sample some of the best restaurants in Edinburgh. For students, it is imperative to keep the splurging at a minimum, that is why we have curated the best budget-friendly restaurants in Edinburgh.
Lynne's Scrumptious Explosion – Their star dish – the Haggis is a must-have at this restaurant. Locals and tourists alike flock this establishment for their multi-cuisine dishes that range from American, Cafe, British, Street Food, Scottish, Fast food.
Tupiniquim Brasil crepes – This restaurant specialises in street food and is immensely popular with students. It offers excellent value for money as their serving portions are more than generous. Do try their spicy chicken crepe.
Elephant House – This is where world-renowned author JK Rowling wrote some of her Harry Potter books. This restaurant, located in Old Town, offers a stunning view of the Edinburgh Castle
Cafe Marmalade – A chic little cafe situated on Bernard street, is known for its authentic British and Scottish dishes. Their breakfast platter is incredibly and best enjoyed with a hot beverage.
@Pizza – You guessed right. They have perfected everybody's favourite pass-time dish – Pizza. The choices and variety of toppings allow you to make your own pizza from scratch! Their excellent staff is very knowledgable and welcoming.
The Three Sisters – This pocket-friendly pub is every student's dream. They have an excellent selection of food that ranges from shepherd's pie to fish and chips. This restaurant is also vegetarian-friendly.
Universities in Edinburgh
The University of Edinburgh
Where? Old College, South Bridge, Edinburgh EH8 9YL, United Kingdom
About
Established in 1583, this university has consistently been ranked as one of the top universities in the world. It is globally recognised and has students from all over the world owing to its rich history, noted alumni and distinguished scholars. The University of Edinburgh Scotland offers a wide range of programmes in many disciplines like Science and Engineering, Social Sciences Medicine, Arts, Humanities, Veterinary Medicine, among others.
Edinburgh Napier University
Where? unit 4, 10 Bankhead Terrace, Edinburgh EH11 4DY, United Kingdom
About
Studying at the Edinburgh Napier University means that you will be in the beating heart of the Scottish capital and revel in its pulsating nightlife. You can develop your skills in world-class facilities, across three innovative campuses. An interesting statistics to know is that 95% of their undergraduate students and 96.2% of their postgraduate students are in work or further education six months after graduation.
Queen Margaret University
Where? Queen Margaret University Way, Musselburgh EH21 6UU, United Kingdom
About
Queen Margaret University is famous for its friendly and supportive staff, their purpose-built campus with sports facilities and their Learning Resource Centre which hosts a range of excellent learning facilities. They also have many career-enhancing extracurricular opportunities. Also, something that should be noted is that they have a 97.1% graduate employment rate which shows that their graduates have the skills and knowledge that employers value.
Heriot-Watt University
Where? Campus The Avenue, Edinburgh EH14 4AS, United Kingdom
About
Heriot-Watt is a specialist, pioneering university with a global presence. They pride themselves on making highly employable graduates who are ready to make a positive impact in the world. It has a vibrant student life with over 50 societies currently existing. They including the Brewing Society which organises an annual charity beer festival. Some of their notable alumni include Kygo (musician), Jack Ross (footballer), Deepak Tripathi (historian), among others.
Cost of living in Edinburgh
The cost of living in Scotland's capital is quite high. It may not be as expensive as its other British compatriot, London but still expensive enough for your average student. The average monthly expenditure of a student is as follows (subject to lifestyle)
Accommodation £1270
Food shopping £120
Local transport £135
Books and printing £105
Internet and mobile phone £50
Social activities £250
It is advisable to have a monthly budget of around £2,600 to live comfortably in Edinburgh.
Transport in Edinburgh
Edinburgh is surprisingly small but has a well-connected network of private and public modes of transportation. Its compact size means that the best way to get around the city is by foot. But if that's asking for too much then fear not because this city has several other options in the way of cycles, buses, trams and taxis.
Cycles – Like most cities, cycling is seen as a clean, environmentally friendly method of transportation. This not only is an inexpensive means of transportation but also cuts down on traffic congestion. A lot of improvements in facilities for cyclists in Edinburgh can be attributed to Spokes which started the Lothian Cycle Campaign. Spokes has made many attempts to make "cycle friendly".
Buses – Buses are the main modes of transportation in Edinburgh. There is an extensive network of buses covering all parts of the city. Edinburgh is widely regarded as having one of the most extensive bus services in the whole of Scotland, with some of the highest patronage in the UK outside of London. The two leading operators of buses are Lothian Buses and First Scotland East.
Trams – The Edinburgh Trams started in 2014, making it relatively new. It connects Edinburgh Airport on the western edge of the city, with Haymarket, Princes Street, St Andrew Square and York Place in the city centre.
Taxis – Taxis in Edinburgh are very similar to those in London. They are elegant, comfortable and spacious. Besides the driver, The famous black cabs can take up to five passengers . The three main taxi operators in the city are Central Taxi, Lida Taxi and E&I Taxis.
Student accommodation in Edinburgh
Meadow Court – Meadow Court offers student flats Edinburgh and townhouses for 3 to 6 people. Every student is allocated a double bed, a study area, a furnished en-suite and access to on-site facilities as well as superfast broadband. The University of Edinburgh is a 12-minute walk. There are various cuisine restaurants within an approximately 15-minute walk radius, including Thai, Indian, Moroccan. There are numerous bars and pubs in the vicinity of the accommodation.
27 King's Stables Road – This student accommodation Edinburgh proffers studio apartments. Irrespective of the room choice, the studio comes equipped with a bed, fully equipped kitchen and an en-suite bathroom. Studios are perfect for students who value their privacy. The University of Edinburgh is a short walk away. There are numerous restaurants serving food from different culture and ethnicities within a 10-minute walking distance. A roof terrace is for the pretty sunset views after a long day at the university. A cinema room, a gym and laundry is provided on-campus.
Vita Student Fountainbridge – Vita Student Fountainbridge is surrounded by Edinburgh's famous attractions, historic castles and a plethora of things to explore. With Haymarket station just 10-minutes walk away, it is very convenient for students to travel in & out of the city. Students of The University of Edinburgh can reach the campus in just 10-minutes from the accommodation. Living at Vita Student Fountainbridge Edinburgh will get you everything under one roof. The rooms are fully-furnished, plus each apartment offers a Smart TV, well-fitted kitchen, WiFi and en-suite bathrooms.
Panmure Court – This private student accommodation Edinburgh proffers studio rooms, the studios can host dual occupancy at no extra cost. A comfortable bed, a WiFi connection, and 24/7 on-site staff is available at the beck and call of students. It has ANUK and National Code accreditation. It is a 5-minute walk to Holyrood Campus and a 20-minute walk to the University of Edinburgh. There are several bus stops and train station within a short walking distance. Students can find a plethora of pubs, restaurants, bars are just a short walk away. The nearest hospital is Chalmers Edinburgh Hospital.
Potterrow – Potterrow is a brand-new student accommodation Edinburgh. It brings you the best apartments and amazing studios to provide convenient facilities for students. It mainly provides you with facilities and amenities like Double Bed, Mini-kitchen, Balcony rooms, En-suite shower room, Workspace, Spacious storage, among others. The University of Bath and the Bath Spa Universities are the nearest universities here. You can explore different restaurants and pubs in the city. The Slug and Lettuce are excellent options for food, or you can try out Mission burrito. For a nightcap, the Nest is your best option.
---
Best Properties in Edinburgh for Students
---
Nightlife and lifestyle
Edinburgh's nightlife is a blend of old and new. You'll find traditional, dark pubs in Old Town and modern, more trendy bars in New Town. Pub crawling tends to be easy thanks to Edinburg's small size. With an endless trove of stressed-out university students, it's no surprise Edinburgh is one of the most fun places to party in the UK.
Ox184 – One of the best-kept secrets of Edinburgh, Ox184 is actually a restaurant. But once the dinner crowd disperses, this place transforms into a lively club. It is incredibly spacious with an upstairs seating area. This place doesn't close until 3 am on weekends, which means that the good times keep rolling till early in the mornings!
Frankenstein – Frankenstein is housed in a 19th-century church, and in many respects is a pretty typical bar with a dance floor and weekday trivia nights — but it also has a giant TV that plays the original, black and white Frankenstein movie on repeat.
Tigerlily – This is an upscale hotel in New Town that is known for its huge bar and lounge. Located in the ever-bustling area of George Street, Tigerlily's atmosphere is eccentric and lively. Expect to rub shoulders with posh people who love their single malts.