The three best Universities in Canterbury international students should know of are The University of Kent, University for the Creative Arts (UCA) and Canterbury Christ Church University (CCCU). Over the years, these Universities have reached new heights by emphasizing the holistic development of students. These universities have left no stone unturned when it comes to the quality of infrastructure as they strive to give their students the very best of everything. They enjoy tremendous goodwill having produced several world-famous personalities such as Ellie Goulding (Singer – The University of Kent), Bob Holness (TV Presenter – UCA), John Culshaw (Comedian – Canterbury Christ Church) amongst others. 
Canterbury is a cathedral city and a UNESCO World Heritage site. Its fortuitous location means that London and Europe are within easy reach. It may be smaller than some of its neighbouring cities but has a lot to offer, and hence, it is no surprise that it is consistently regarded as one of the most viewed cities in the United Kingdom. History aficionados can marvel at numerous historical structures including a wall founded in Roman times and rebuilt in the 14th century, the ruins of St Augustine's Abbey and a Norman castle, and the oldest extant school in the world, the King's School.
Being a cathedral city, there is no dearth of Churches. the Canterbury Cathedral is the Mother Church of the Anglican Communion and seat of the Archbishop of Canterbury. Founded in 597 AD by Augustine, the Canterbury Cathedral forms a World Heritage Site. Theatre buffs can visit the infamous Marlowe Theatre. The recently redeveloped Theatre is the largest in the area and offers programs like musicals, drama, ballet, contemporary dance, classical orchestras, opera, children's shows, pantomime, stand-up comedy, and concerts. This city has also inspired Chaucer to write his most famous text, The Canterbury Tales based on the shrine of Saint Thomas Becket at Canterbury Cathedral.
1) The University of Kent | Universities in Canterbury, UK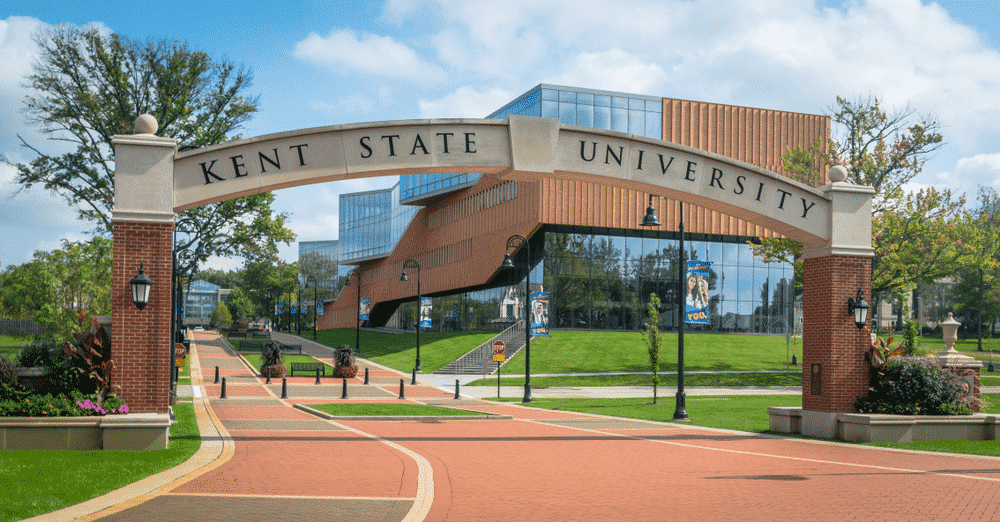 Image credit: Keith J Finks
The University of Kent is one of the top Universities in Canterbury and offers a world-class academic experience. The University has a state-of-the-art infrastructure and attracts students from all over the world. It has a very diverse student and faculty population with students from 158 various nationalities and 41% of its research and academic staff being from outside the United Kingdom. the University of Kent ranking in 2019 was 25 in the Best Universities in the UK list, courtesy of the Sunday Times. The University has a plethora of courses to offer its students as it is divided into three faculties, humanities, sciences, and social sciences, which are further sub-divided into 20 schools. It has specialist post-graduate centres in European cities like Rome, Paris, Athens and Brussels. It also provides courses like Part-time, Short-time, Undergraduate, Post Graduate and International Courses. 
The University has a very student-friendly campus which can be reflected in its in-house grocery store, book store, pharmacy and launderettes. This is one of the best universities in Canterbury.
Location:
Giles Ln, Canterbury CT2 7NZ, United Kingdom.
Transport:
The Portage Area Regional Transit Authority (PARTA) is a bus service serving the Kent University and surrounding community. It provides three on-campus routes: The Campus Loop, Allerton and Stadium/Front Campus. These routes are open to all students and visitors to the University.
Popular courses:
Law, MBA, Architecture
Kent University Ranking:
International Fees:
£15,200-£18,400.
Admission requirements:
Academic ability and potential shown by Qualifications achieved and qualifications pending, e.g. GCSE+AS level results and predicted or actual A level grades or equivalent.
Extra-curricular activities, achievements and interests.
School reference.
Student Accommodation at Kent University:
You may find some popular student accommodations like Leydon Lettings, Parkwood Reception, Hello Student Accommodation and Kent Unilet nearby.
Nearby places:
J Bar, Create Cafe and Caffe Nero are all a stone's throw away from the University. If you want to go to The Canterbury Squash Club or The Labyrinth, they are both a 10 min walk away.
2) University for the Creative Arts (UCA)
A relatively new university of Canterbury, formed in 2015. UCA is a degree-awarded university. It is renowned in the creative arts sector, attracting almost 6000 students annually. Students can benefit greatly from the easy accessibility to the local exhibition projects and enjoy community links at the Turner Contemporary Gallery. Apart from this, the University is also a research hub. It has five research centres: Centre for Digital Scholarship, Centre for Sustainable Design, Crafts Study Centre, Fine Art & Photography Research Centre, and International Textile Research Centre.
Sunday Times pegs UCA at number 33 in the Top Universities in the UK list. Programs offered by UCA include subjects like Art and Design, Acting and Performance, Architecture, Business Management, Creative Computing, Drawing, Fashion, Fashion Design, Film and Digital art, Film Production, Fine Arts and Game Design.
Location:
Falkner Rd, Farnham GU9 7DS, United Kingdom.
Transport
This campus is situated near two mainline rail stations and has bus connectivity. It is a 10 min walk from Epson and Farnham campuses.
Popular courses
Art, Design, Media.
Ranking
42nd in the Times University Guide 2020
13th in the Guardian University Guide 2020
Accepted Qualification:
International BaccalaureateExtended Diplomas at level 3
Foundation Diploma in Art & Design at level 3 or 4
NVQ at level 3
Essential Skills at Level 3
Functional Skills at level 3
Level 3 of the 'Creative and Media' 14 – 19 Diploma
Scottish Highers
Irish Leaving Certificate
Welsh Baccalaureate
Other UK/EU/International qualifications equivalent to tariff points at level 3 and deemed suitable by the Admissions Team.
Student Accommodation at UCA
You will find nearby student accommodations like Canterbury Student Manor, Varsity Canterbury, and Canterbury Student Room and Rentals. 
Nearby places
Hot spots near the University include two theatres and the annual Canterbury Festival; by night there's an eclectic mix of laid-back pubs, live venues and popular bars to appeal to all tastes.
3) Canterbury Christ Church University (CCCU)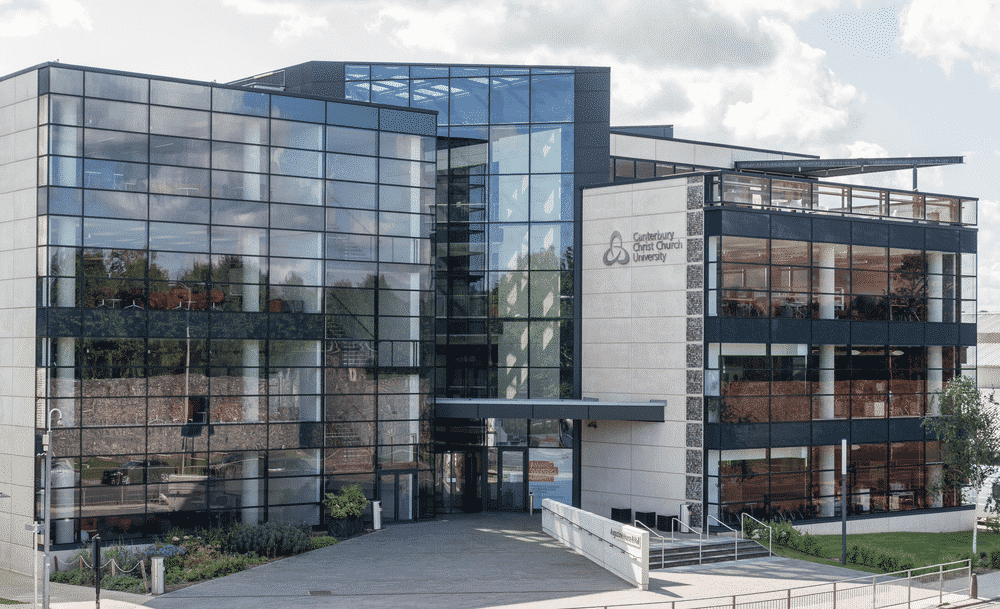 Image Credit: Gordon Bell
Canterbury University was initially founded as a Church of England college for teacher training in 1962 and subsequently granted university status in 2005. The main campus of Canterbury Christ Church University located in Canterbury attracts a host of international students. The University is not only the largest provider of higher education for public services like health and care services, teacher training, emergency services but also provides academic and professional programs like doctorates and research degrees in the arts, humanities and social and applied sciences. The majority graduate in one of the UK's most important historic buildings – Canterbury Cathedral.
The sprawling campus of Canterbury Christ Church University is spread across various sites like Sidney Cooper Gallery, Hall Place Enterprise Centre, Christ Church Sports Centre, Augustine House, and the St George's Centre. CCCU also has a formidable presence in the world of sports. Over 1200 students compete in a variety of sports with other Universities. Their remarkable Sports Scholarship scheme supports over 40 meritorious young athletes, including a world record holder and several international competitors.
Interesting Fact:
Canterbury Christ Church University is one of a handful of universities with a campus in a World Heritage Site.
Location:
N Holmes Rd, Canterbury CT1 1QU, United Kingdom.
Transport:
They have several bus facilities operating in the surrounding areas. You can choose other means like walking, cycling or driving to the University.
Popular courses:
This University provides you with Under Graduate and Post-graduate courses including Accounting, Advertising, American Studies, Business Management, Computer Science, Digital Media, Ecology, Film Production, Human biology and Law.
Canterbury University Ranking:
117th in the Guardian University Guide 2020
118th in the Times University Guide 2019
Accepted Qualification:
A-levels
Vocational A-levels
Accredited Access qualifications
Diploma in Foundation Studies (Art and Design)
BTEC Qualifications
CACHE qualifications
Cambridge Pre-U
OCR qualifications
Certificate/Diploma in Financial Studies
Higher Apprenticeships
International Baccalaureate
Irish Highers
NVQ 3 qualifications
International Baccalaureate Career-related programme
Scottish Highers
European Baccalaureate
Welsh Baccalaureate
Student Accommodation near Canterbury Christ Church University:
The Popular Student Accommodation near this is Urban Student Life and Canterbury Student Manor.
Nearby places :
There are many small eateries in and around the campus. Citi Crepes, Touchdown Cafe, Longport Cafe, to name a few. Fancy a round of golf? The Canterbury Golf Club and Driving Range is a 5 min drive from the campus.
We hope you enjoyed reading this blog on Best Universities in Canterbury, United Kingdom. Don't forget to read –