Newcastle is one of the best cities for students in the United Kingdom. The city is the best destination for you to pursue your higher studies because of its highly regarded, internationally recognized universities. You can travel, explore, and learn outside your preferred university because the city has a rich historical and cultural legacy. You can save money by reserving the best student accommodation in Newcastle which offers better living conditions and more amenities with excursions, activities, and trips priced to match budget-friendly. City offers a warm and inviting environment for international students worldwide with a lively ambience, a bustling shopping scene, a buzzing nightlife, and a student-friendly city.
Reason To Book Student Accommodations In Newcastle:
Many possibilities for student housing are available in Newcastle. Hence, finding the best student accommodation in Newcastle that suits your needs and tastes can be quite a chore. Students may feel stressed by academic life's demands but here you may discover Newcastle student housing alternatives that are targeted to your requirements. While attending university, students need a lot of essential items.
The price of living in off-campus housing close to the university varies on several variables. One can choose student housing near the university that offers a good amount of amenities that are in line with their budget due to the reasonably affordable rent prices. Most students book the best student accommodation in Newcastle, for a better living experience and to focus more on academics.
Best Student Accommodations In Newcastle:
| | | |
| --- | --- | --- |
| Accommodation | Cost | In INR/ per week |
| St. James Point | £ 149-225/ per week | 19747 |
| iQ Stephenson House | £ 91-210/ per week | 18430 |
| iQ Collingwood | £ 137-252/ per week | 22116 |
| Newcastle 1 | £ 165-254/ per week | 22292 |
| Leazes Parade | £ 81-108/ per week | 9478 |
| Barker House | £112-145/ per week | 12725 |
| Roman House | £115-210/ per week | 18430 |
| TheGlassworks-Newcastle | £ 135-209/ per week | 18342 |
| Vita Student Westgate | £ 170-386/ per week | 33877 |
| Quay Point | £ 113-135/ per week | 11848 |
List Of Student Accommodations In Newcastle:
1. St. James Point: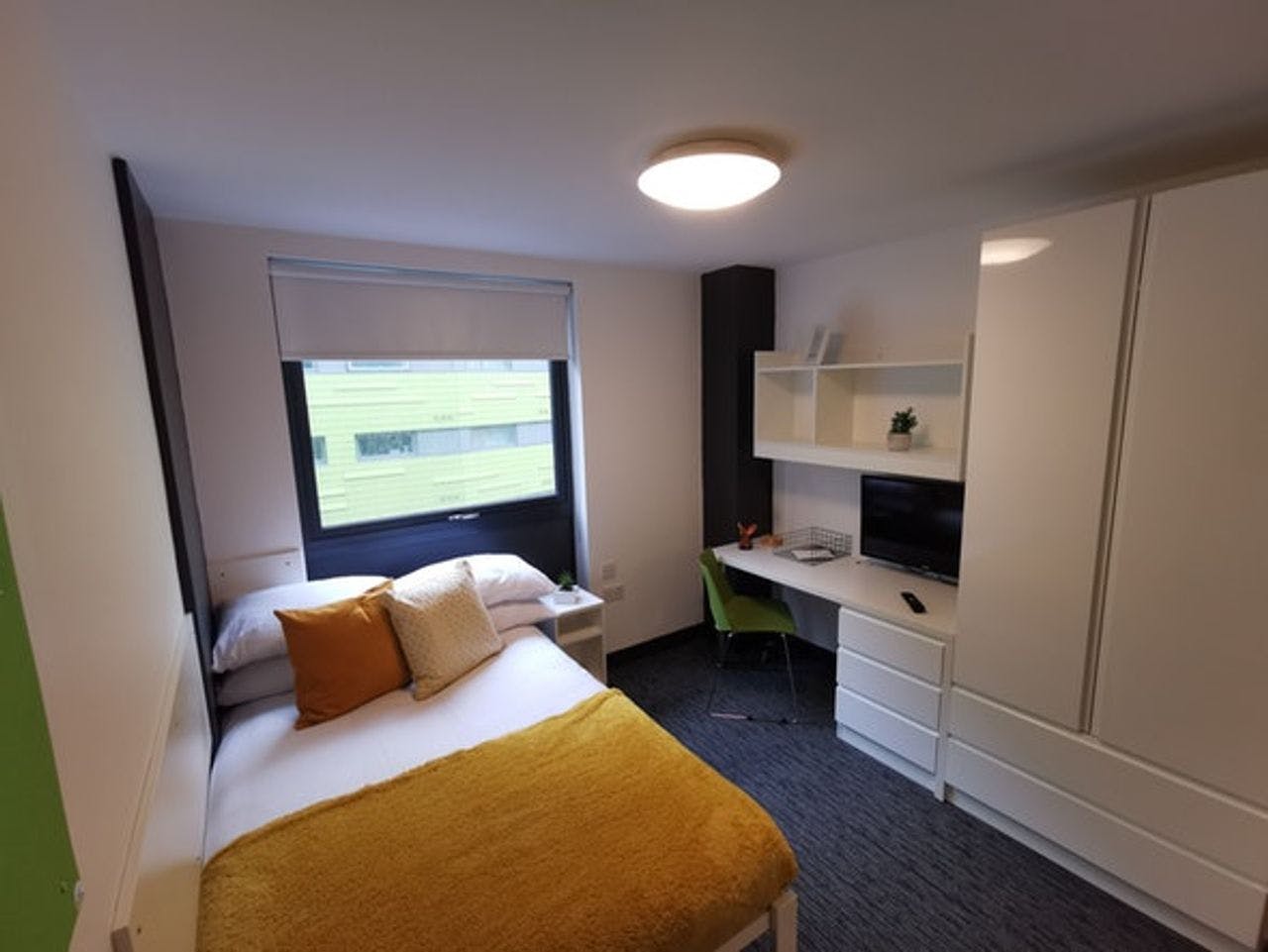 In Newcastle, St. James Point is a great housing for students. Some of the best universities are found near this student housing. Students may explore the exciting city for leisure time and weekend activities while residing at St James Point. In addition to offering some of the best student accommodation in Newcastle, the city has a comparatively low cost of living. Students who want to go to the town or university can do so quickly due to the transportation available. St. James Point is a short distance from bus and train depots.
Price: £ 149-225/ per week
2. iQ Stephenson House: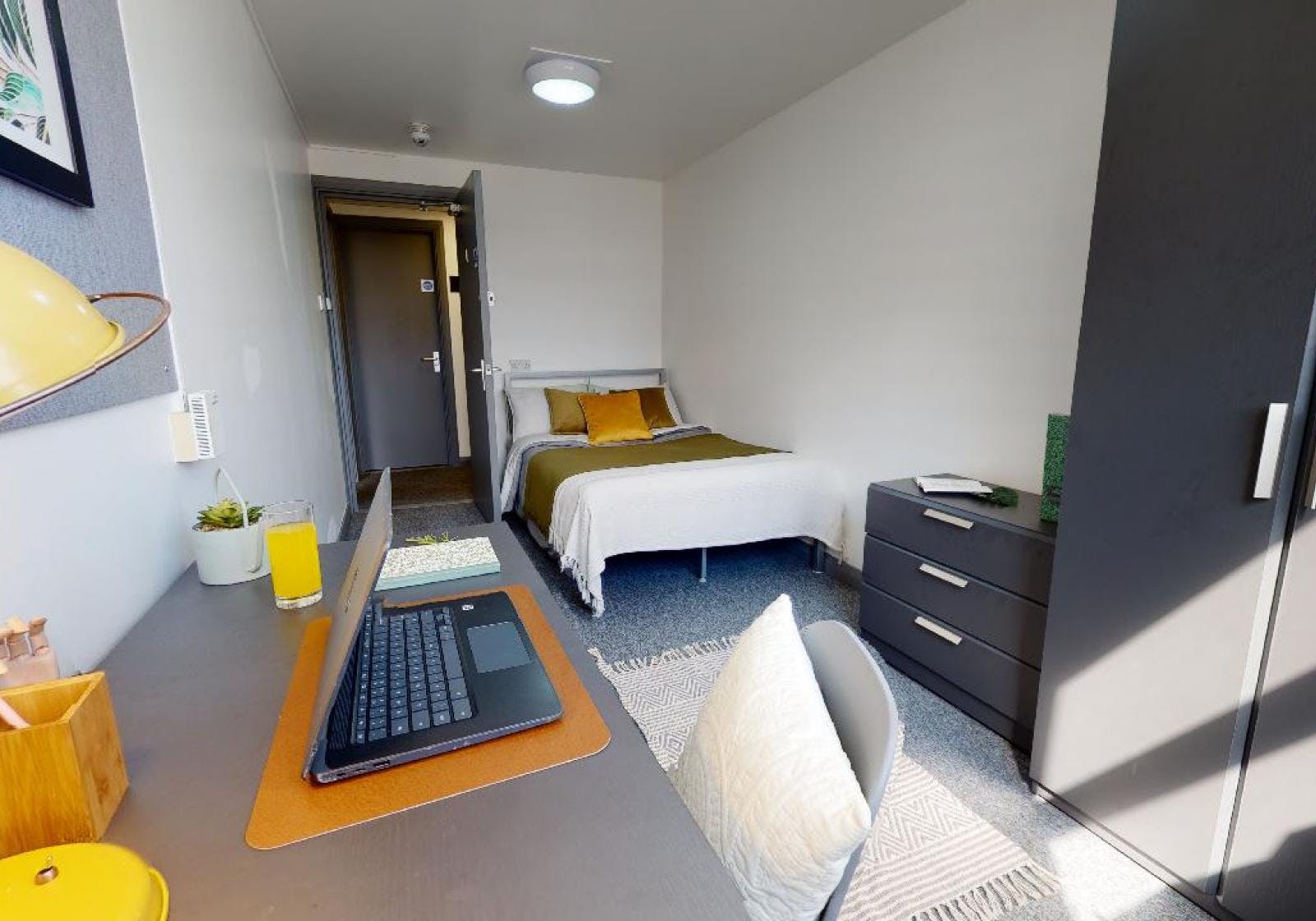 IQ Stephenson House is at a great location on Stoddart Street. You won't get bored because there are so many places nearby that cater to students. The closest grocery store is only a minute away so you can access anything. Those who own automobiles will feel more secure knowing the best student accommodation in Newcastle that provides parking for students. You can find various hotels that have excellent transit options, and you can quickly get around the city due to the proximity of the closest bus stop to the property. It just takes 14 minutes to walk from Manors Train Station to iQ Stephenson House to catch the next train for those desiring to venture outside the city.
Price: £ 91-210/ per week
3. iQ Collingwood: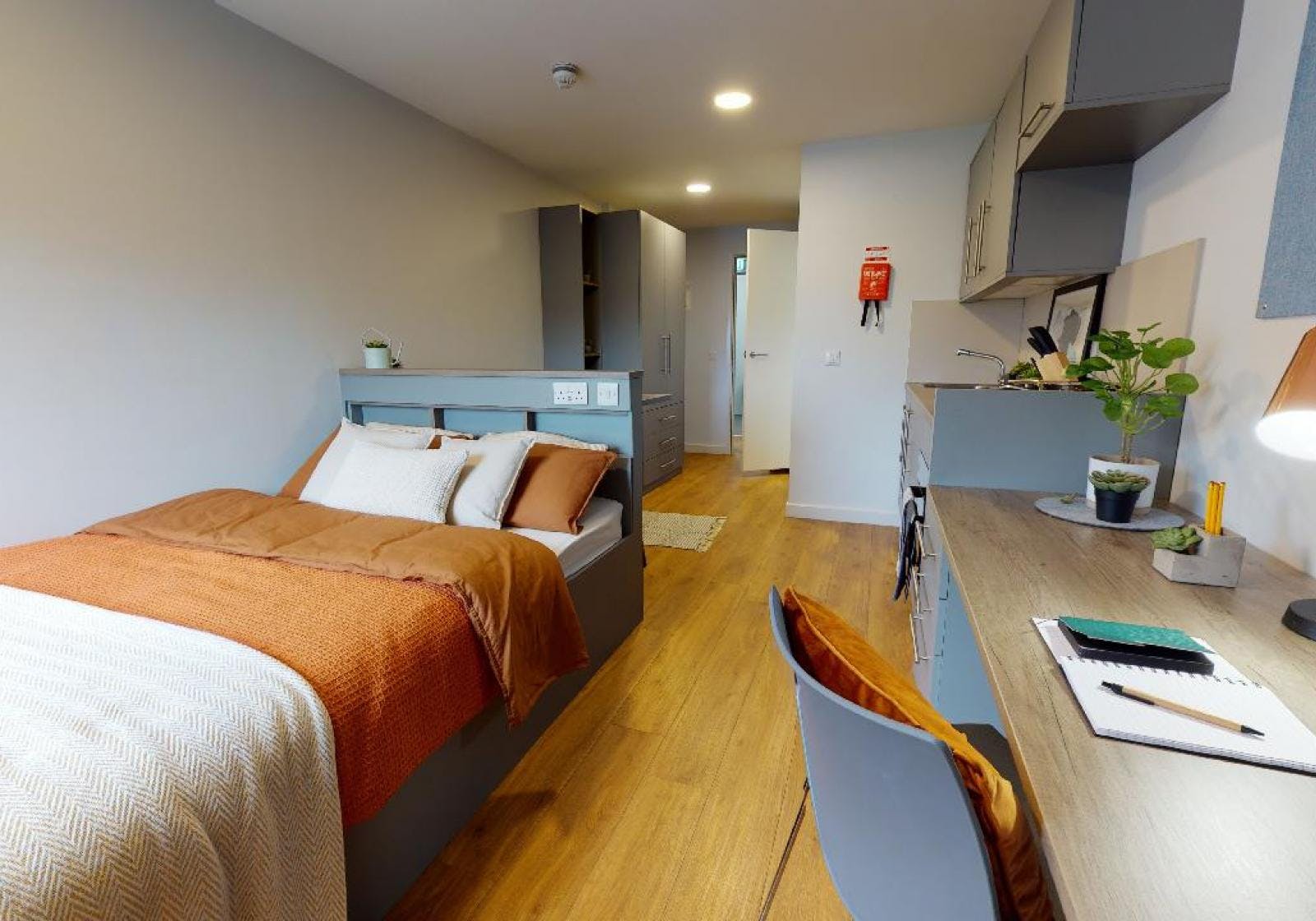 It offers shared apartment and studio categories with contemporary bathrooms. Students can feel at home because each of the housing is loaded with a variety of conveniences. These amenities include free wifi, a kitchenette, a study area, a wardrobe, a lounge area, a game room, a community area, and many more. The expertly chosen accommodations ensure a comfortable and affordable stay. Several rooms are available at iQ Collingwood, including studio flats, private homes, and rooms with bathrooms. This hotel also offers excellent amenities and 24-hour staffing to make guests feel more comfortable.
Price: £ 137-252/ per week
4. Newcastle 1: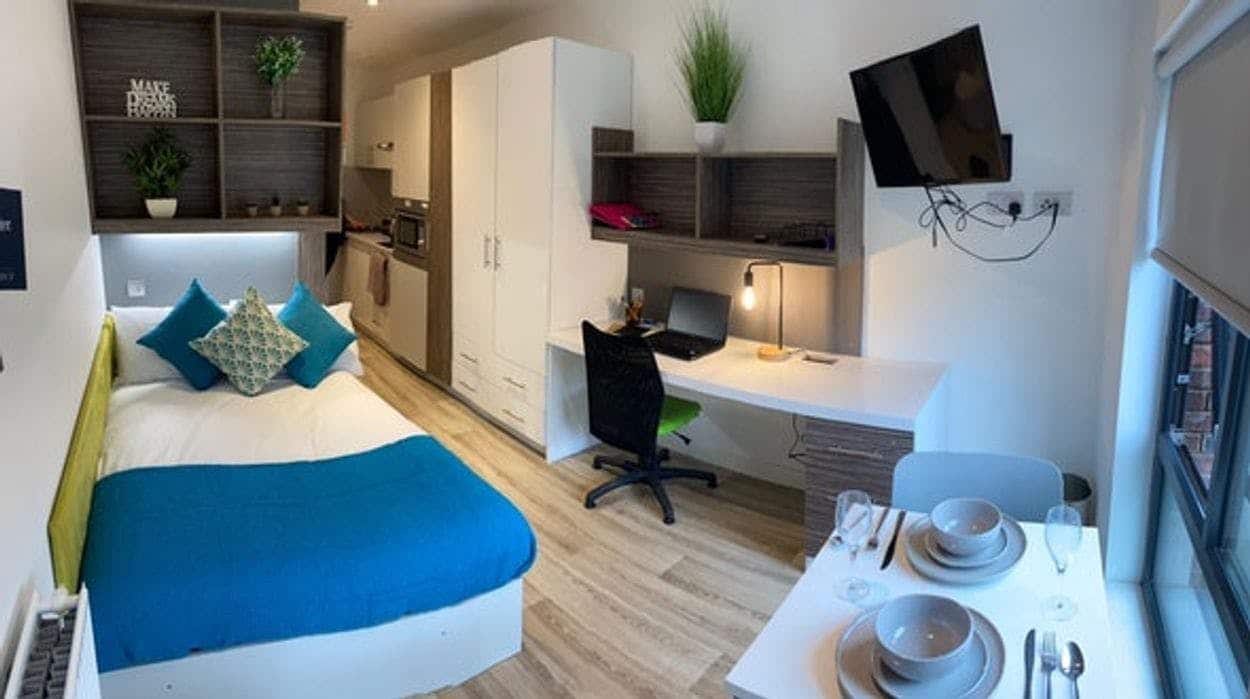 Choosing Newcastle 1 is the best option for university students in Newcastle. Residents of this property have a lot to choose from, surrounded by stunning buildings and exciting landmarks. This student housing complex is in the centre of Newcastle, just a 10-minute walk from University. This residence is ideally close to colleges. Due to the proximity of stations and transportation connections, students typically find it comfortable to settle here.
Price: £ 165-254/ per week
5. Leazes Parade: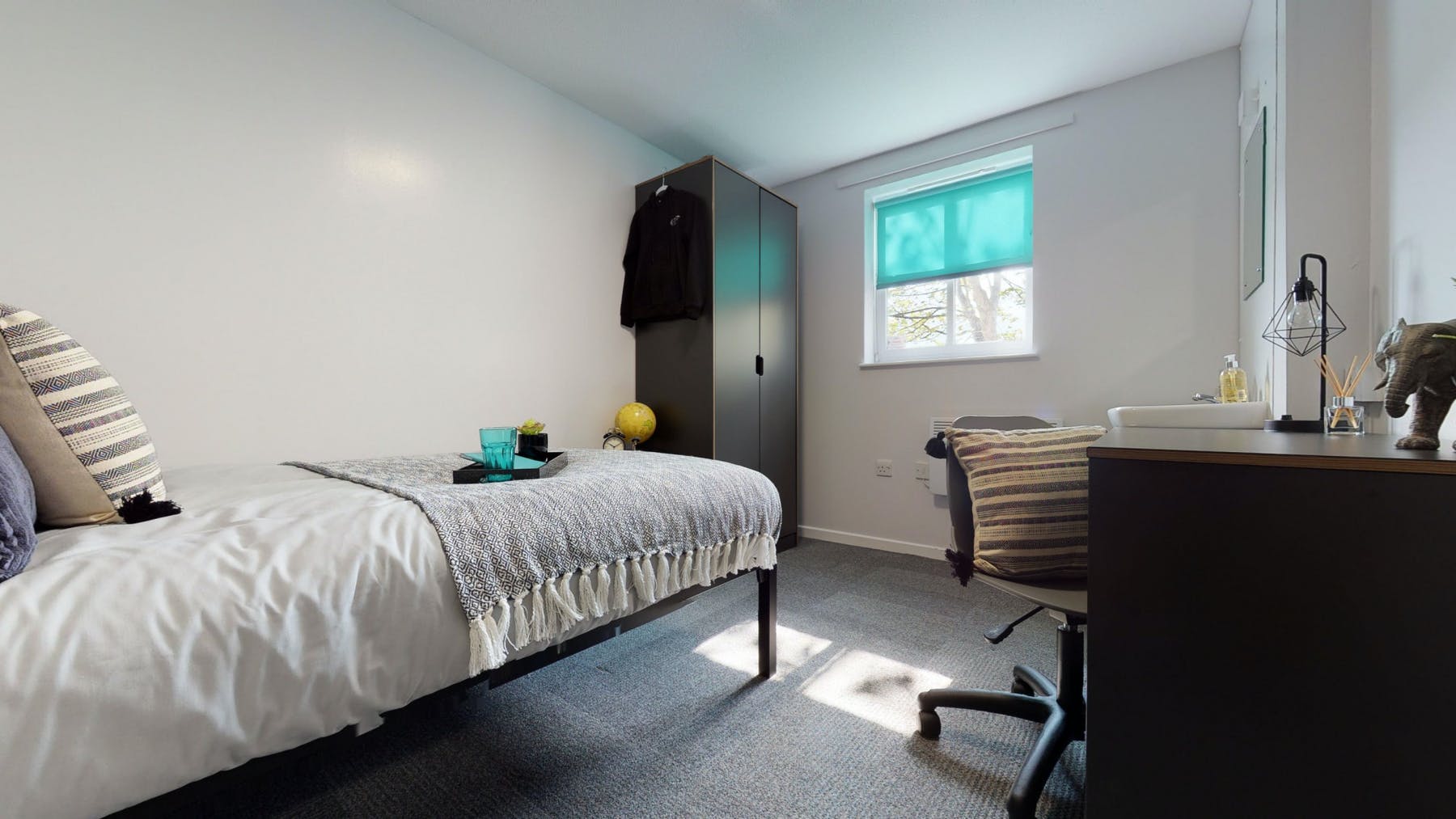 Tyne's Leazes Parade housing is a premier example of contemporary student living. It is one of the city's most sought-after student housing complexes and guarantees its residents a secure, enjoyable, and delightful experience while living as students. The property is only a two-minute walk from a bus stop, making getting around the city and visiting its attractions easier. Some amenities include a games room, a vending machine, on-site maintenance and washing facilities, and a common area with a television to help students socialise with their peers.
Price: £ 81-108/ per week
Transportation In Newcastle:
A municipal taxi system that enables customers to book cabs through mobile apps quickly has also been made available to Newcastle residents by the city governing authority. The most admirable feature of Newcastle's taxi service is that charges are far less expensive than in nearby UK locations.
Newcastle has bus service providers and you can choose based on your needs. Due to the city's constant operation, there are more than 150 buses on its streets and highways, so it is possible to a get bus anywhere.
Wrapping It Up:
From the above, finding the best student accommodation in Newcastle is not a big task. Many students look for off-campus private housing as university housing fills up quickly. While there are many online sites in the city where students can find accommodation, some of the more popular options include inexpensive private homes, residence halls, and student dorms.
FAQs:
1. How much is student accommodation in Newcastle?
Your payment will vary depending on the kind of student housing you select. You will pay £94 per week for a shared home in Newcastle. The weekly cost of living in halls is £148, although it may be more or less depending on the type of room you select for staying in housing.
2. Is Newcastle an excellent place to live for students?
Yes, Newcastle is a fantastic location for students as it allows you to experience studying in a more miniature, less crowded metropolis. One of the things that people like best about the best student accommodation in Newcastle is that you can walk to the Newcastle campuses or other places.
3. Is Newcastle good for international students?
Yes, Newcastle is an excellent city for international students because it has friendly residents and an easy-to-use public transportation system to get you around the city. With many historical sites and lovely buildings to explore, it also has excellent connections to other regions of the UK.
4. What amenities are included in Student rooms in Newcastle?
Air conditioning, hot water, a bed, a dishwasher, a microwave, an electric stove, internet, a refrigerator, a bookshelf, and a desk are commonly included in student accommodations in Newcastle. A private bathroom and balcony may also be included in more abundant choices (c).
5. Is Newcastle cheap for students?
Yes, Newcastle is one of the cheapest cities in the UK while being heavily exposed to the upper class. To live comfortably in Newcastle, it is advised that you keep your monthly expenses between £1,024 and £1,328 on average.