Leeds is consistently rated amongst one of the best shopping destinations in the UK. Leeds city centre boasts more than a thousand shops – and ranging from designer stores, from vintage and quirky art shops to market stalls. And the city is so compact that most are well within walking distance from one other.
High-end shopping experiences
Recently, retail developments have changed the city's business potential and skyline. Victoria Gate, which opened in '16, has been integral to the city's regeneration. The £150 million development has at its centre a flagship John Lewis store – the biggest outside London city. Its modern exterior has made a significant visual impact and enhances the shopping experience.
The Victoria Quarter was made around 1900 and happened to be an upmarket shopping centre located off Briggate, the major pedestrianised shopping street in the city. Interiors of the centre are exquisite, as shoppers walk on and around marble and mosaic floors, all enveloped under a colourful glass roof. This is also mirrored by the types of shops within the Quarter. The most popular is Harvey Nichols, which was the first branch outside London when it opened its doors in 1996.
Its list of brands includes Gucci, Chanel and Stella McCartney, its 4th Floor Café offers a delicious breakfast, lunch or an evening à la carte menu. There is an array of high-end retailers within the Victoria Quarter, including Paul Smith and Vivienne Westwood, the Loake store stepped into Leeds' Victoria Quarter in '16, bringing elegant and traditional footwear to the shopping centre.
Fashionistas will all be thrilled with branches of And Other Stories, Anthropologie, All Saints – and that's just the stores beginning with 'A'! Treat yourself to chocolates from Charbonnel et Walker or relaxing scented candles from Neom. Trinity Leeds opened, transforming the city centre. Included at this destination are famous high street brands such as Marks & Spencer, Topshop, Boots and Primark, NYX, and budget beauty brands Kiko. There's also a variety of familiar eateries and cafes to help rest your feet after shopping, such as Trinity Kitchen's ever-changing range of street food.
Shopping centres galore
Inside Trinity is the 1st northern branch of the Everyman Cinema, making the centre the destination for an evening out or even a day out. It's open till late during the week, which makes it handy for post-work shopping binges. The fashion powerhouses of Zara and Debenhams are also situated along Briggate. Amsterdam jeans makers Denham's staff will even supply you with a coffee while you shop.
The Light on The Headrow offers various opportunities for shopping, you can also watch a film at the Vue Cinema here as well or dine one of its many food outlets, near the Light on The Headrow are Argos and TK Maxx. A massive branch of Matalan also opened in spring '19.
St Johns Centre has an array of high-street shops, including children's store Toytown and fashion brand Roman – and just on the opposite is the Merrion Centre, a wonderful place to shop for all your essentials. Jumbo Records, built in the 1970s, is a record shop that moved into the Merrion Centre in '17. Music lovers can also head to Crash Records, down the road on The Headrow, for new and collectable vinyl. In the beautiful Victorian shopping arcades away from the high street, you can enjoy an elegant browsing or buying experience.
In the Queen's Arcade, there is a vast range of jewellery stores, clothing boutiques, as well as other delightful shops that may not be found elsewhere. Handbag Clinic is a must-visit for a range of designer accessories, Accent Clothing for casual fashion for women, men and children, or Mary Shortle's range of more than 500 dolls and teddies.
Quirky gems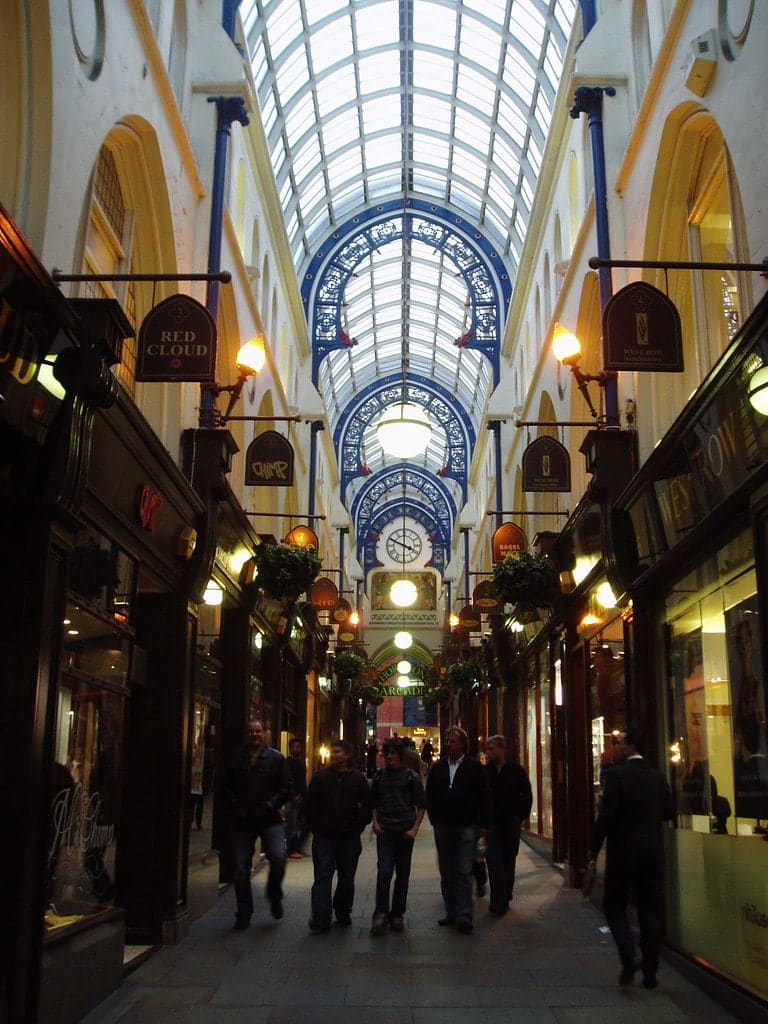 Thornton's Arcade is on Lands Lane. Opened in 1878, its 3 storeys has within itself an abundance of quirky shops for gifts and delectable treats. It has the renowned OK Comics. It has several skate stores like Don't Mess With Yorkshire, along with Welcome Skate Store for skateboards. The village offers specialist books, and Bolongaro Trevor is your stop for designer clothing. Kapow Coffee for breakfast is definitely recommended. A must-see is the famous Potts clock featuring characters from Ivanhoe and Robin Hood.
The Grand Arcade is an abode to several independents, including the Traditional Shaving Company. Built-in 1897, it is located in the Northern Quarter, just around the corner from the Grand Theatre. The arcade is also the location of a recently-refurbished Potts Clock. The arcade champions local businesses in a beautiful architectural space. Find "the" dress for your special day in The Bridal Emporium or snap up an unusual gift in Our Handmade Collective. Enjoy a vintage-style afternoon tea in Just Grand!
A Grade 1-listed historic retail hub, Leeds Corn Exchange opened in 1863 and is another beautiful example of Victorian architecture. It is home to around 30 independent shops such as design & specialist retailers, health & beauty, piercing shops as well as food outlets. Soho's has a fascinating selection of rockabilly, punk and steampunk clothing. Women's fashion stores include Precious Proms and Pearls, Little Pink Wardrobe; as for men, there is MKI and the All Blues Co.
There are unusual shops including Outrage Jewellery, contemporary jewellery & textile design from Stephen and Anne Roper in Simcha Gallery. For a souvenir try The Great Yorkshire Shop, which offers a selection of cards, gifts and homeware. West Yorkshire is the place for Cameras and vintage photography equipment; music lovers and musicians can head to guitar retailer Northern Acoustics or the Leeds Drum Centre.
Independent retailers and markets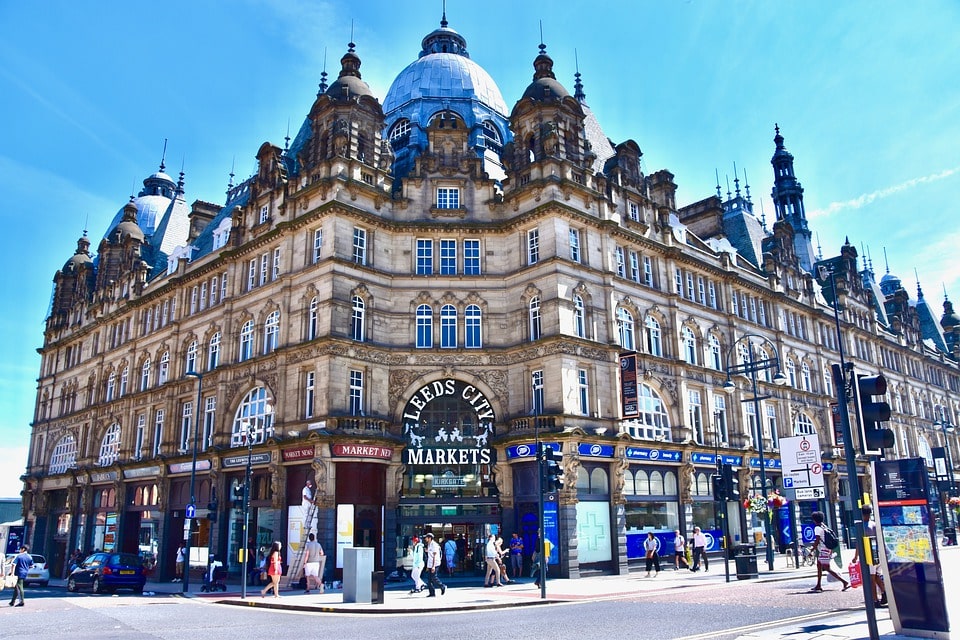 After wandering around the stunning choice of independent shops, you can grab a bite at Humpit – dedicated to hummus and pitta or Primo's Gourmet Hot Dogs or coffee shop Vanilla One. For something a little more robust, the Little Leeds Beer House is ideal; showcasing all the fantastic beer the UK has to offer, it also provides drink-ins and take-outs.
The historic Kirkgate Market must not be missed for those of you seeking an old-fashioned authentic shopping experience. Founded in 1857, it spans 75,000 square feet and currently has around 170 traders, it is amongst one of the largest indoor markets in Europe.
It is the well-known birthplace of Marks & Spencer; the store celebrated its centenary in '13 by establishing a coffee and heritage shop in the market. The venue also represents an array of nationalities with a Russian & Polish delicatessen and an Asian Bazaar every Wednesday morning.
Food is integral to Kirkgate; there is a farmers' market held every 1st and 3rd Sunday of the month with an irresistible variety of produce to boast. Kirkgate Market has several stalls selling everything from produce, clothes to jewellery and toys. Occasionally it also hosts #kirkLATE markets where visitors can try out all the different street cafes and enjoy live music in the evening.
The city has a very established Christmas Market, and for several years has brought traditional German market stalls to Millennium Square from November onwards.
Leeds has some wonderful vintage and antique shops. For jewellery one can head to Year Dot on the Headrow; it has been in the service of Leeds for more than 30 years, the shop offers a wide range of costume and vintage jewellery, as does Hymans on Call Lane. For clothes, shoppers can choose Blue Rinse in Call Lane, Best in New Market Street or Kirkgate Market. Ryan Vintage on Duncan Street is amongst the longest-running vintage stores in the city. ArtOfficial on Kirkgate not only sells art supplies but also clothes and designs by local artists. On the Wall on Boar Lane is known for prints and posters. If you want presents to take home, head to the VisitLeeds and Art Gallery Shop located on The Headrow, it proffers a range of exclusive and traditional Yorkshire gifts.
Out-of-town shopping
Leeds centre has an ample to offer in terms of shops; but if you are heading out of the city, there are still plenty of choices. The White Rose Shopping Centre is a short drive, located near Elland Road football ground at Beeston. There is a wide array of high street brands to choose from as well as food outlets and a Cineworld cinema.
Crown Point Shopping Park houses a Nike Factory Store, Asda Living, Argos, Hobbycraft, TK Maxx and other favourite stores. Crossgates Shopping Centre is also an abode to many fashions, lifestyle and home retailers, and so is Kirkstall Bridge shopping park. Just down the road from here is Kirkstall Abbey, these beautiful monastery ruins are surrounded by parkland and include a gift shop, and a arts and crafts market in its grounds at certain times of the year.
Headingley and Chapel Allerton contain several independent outlets. Headingley is especially well known for its vintage and charity shops, including a vast Oxfam store on Otley Road with a large range of donated products on offer. Birstall Shopping Park contains IKEA as well as other well-known shopping brands and food outlets. Trinity Walk in Wakefield is a massive shopping centre with many shops and cafes to choose from.
Further on still, Harrogate proffers an upmarket shopping experience. Montpellier Quarter houses over 50 independent shops, hair and beauty salons, bars and restaurants. There are art and antique shops, gift shops and fashion boutiques across the town as well as some high-street retailers in the mix. The Royal Horticultural Society's Harlow Carr is on the outskirts of the city and attracts gardeners from all over the country as well as tourists to its branch of Bettys Tea Rooms.
Day trips out of Leeds to Saltaire, Shipley, Skipton or Otley must include visiting the number of their attractive shops and market stalls. Skipton High Street is charming, featuring cobbled roads and alleyways, the Craven Court centre created from a 16th-century theatre and Thanet's Yard.