Nottingham Trent University (NTU) is a leading public research university in Nottingham, England. Its origins can be traced back to the establishment of the Nottingham Government School of Design in 1843. However, it received its current name and the status of a university only in 1992. NTU has five excellent campuses across Nottingham namely –
City Campus
Clifton Campus
Confetti Campus
Brackenhurst Campus
Mansfield & Ashfield Campus
The Nottingham Trent University has an impressive alumni roster with the likes of Matt Berry, a popular actor who has appeared in shows like The IT Crowd, House of Fools and many more. Varun Dhawan, a famous Indian actor who has appeared in several commercially successful films like Badrinath Ki Dulhania, Main Tera Hero, Badlapur, and Sui Dhaaga. Olav Bjortomt is a four-time world quiz champion.
The cost of living in Nottingham falls below the national average, making it an affordable place to live. Nottingham currently has one of the highest job creation rates in the UK. It is famed for its connection to the legend of Robin Hood and tradition as a centre for manufacturing during the Industrial Revolution.
Nottingham Trent University At A Glance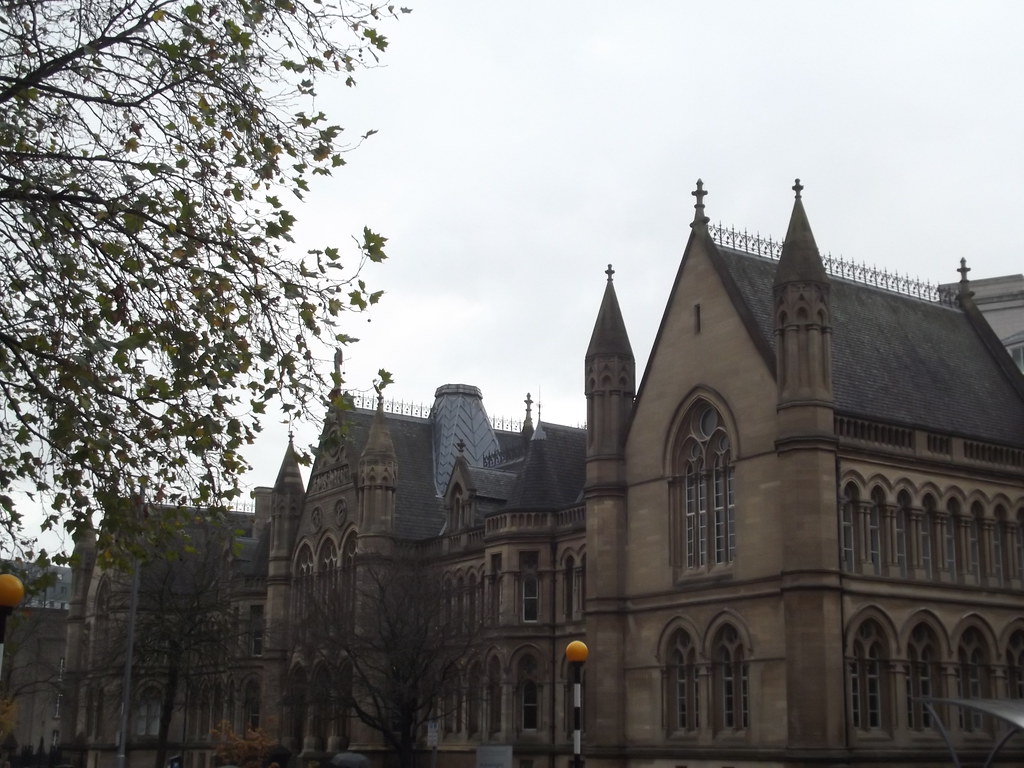 Location – 50 Shakespeare Street, Nottingham NG1 4FQ, United Kingdom
Founded – 1843
Students – 40,000+ (2022)
Rankings –
National:
70th in the Times University Guide Rankings 2022
45th in The Complete University Guide Rankings 2022
Global:
801-1000 in QS World University Rankings 2022
501–600 in the Times Higher Education (THE) Rankings 2022
Features
Nottingham Trent University spared no expense when it came to ensuring its campuses met world-class standards. Literally. They've invested £450 million into their study, social and sporting spaces in the past ten years.
City Campus – NTU'S City Campus is filled with over 17,000 students who take full advantage of the campus' vibrant social venues and calming study environments. What sticks out the most at this campus is their state-of-the-art Boots Library, and the Arkwright and Newton building – one of Nottingham's most iconic buildings. Apart from this, the Nottingham Trent Student Union is home to over 160 clubs and societies, from rugby and volleyball to knitting and photography. There's always something for everyone!
Clifton Campus – This campus houses around 9,000+ students who waste no chance to take part in the buzzing social venues, ultra-modern learning spaces and cosy accommodations. Their £11m ISTeC Centre and state-of-the-art laboratories are the hallmarks of this campus. What gives students a complete university experience is their new and improved accommodation, social hub – The Point, world-class sports centre and stunning Pavilion. We can't forget to mention their Clifton Campus Sports Village which is home to the Lee Westwood Sports Centre.
Brackenhurst Campus – This campus is set in 500 acres of lush Nottinghamshire countryside. This itself is enough to call it the ultimate outdoor classroom. Here you'll find a community of over 1,000 students and the animals that inhabit its farm, Animal Unit and Equestrian Centre. The groundbreaking research that they conduct at their Eco Library is considered world-class. There is no shortage of social space with the existence of the Students' Union Brack Bar and the Orangery café. The annual fest includes live music, activities, tractor rides and a BBQ.
Confetti Campus – This Campus is spread across the newly built Digital Media Hub and Metronome, as well as Space2. The facilities and equipment here include –
Recording studios designed by White Mark Ltd – designers for Jay Z – feature an SSL Duality Delta.
A 400-capacity live venue.
A 25-seat media production lab with Avid and Adobe Creative Cloud.
Broadcast-spec production gallery with 4k production facilities.
A 37m2 Green Screen VFX studio with a VFX infinity curve screen.
A 144m2 Television Studio with broadcast-standard digital video cameras and a full lighting rig.
A 25-seat screening room with Dolby Atmos audio facilities.
Academics
Nottingham Trent University is an academic powerhouse. NTU offers 181 postgraduate programmes, 214 undergraduate programmes, and a range of online and degree apprenticeship courses in various fields like management, business, law, journalism, social science, nursing, sciences, education, arts, psychology, marketing, creative technologies, sports and design. It maintains high standards in research across 70 research centres and groups. It is a member of Midlands Enterprise Universities, the Talloires Network, and the International Santander Universities Network. Also, it has links with reputable foreign universities like Donghua University in Shanghai and the University of Seoul in South Korea.
Popular Courses At Nottingham Trent University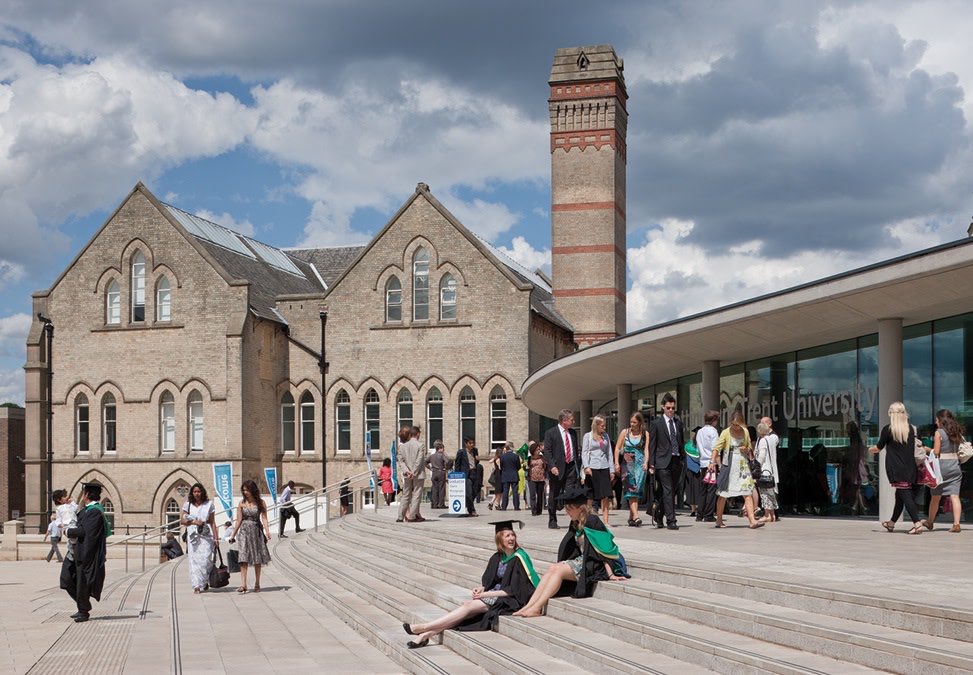 Bachelors Courses
BA (Hons) in Business
| | | |
| --- | --- | --- |
| Duration | Exams Accepted | Tuition Fees Per Year |
| 3-4 Years | IELTS: 6.5, PTE: 62 | £15,600 |
BA (Hons) Animation
| | | |
| --- | --- | --- |
| Duration | Exams Accepted | Tuition Fees Per Year |
| 3 Years | IELTS: 6, PTE: 54 | £15,500 – £16,200 |
Masters Courses
Master of Business Administration
| | | |
| --- | --- | --- |
| Duration | Exams Accepted | Tuition Fees Per Year |
| 1-2 Years | IELTS: 6.5, PTE: 62 | £15,850 – £21,500 |
MSc Computer Science
| | | |
| --- | --- | --- |
| Duration | Exams Accepted | Tuition Fees Per Year |
| 1 Year | IELTS: 6.5, PTE: 62 | £14,800 – £18,000 |
MSc Engineering Management
| | | |
| --- | --- | --- |
| Duration | Exams Accepted | Tuition Fees Per Year |
| 1 Year | IELTS: 6.5, PTE: 62 | £15,600 – £15,850 |
MEng (Hons) Civil Engineering Design and Construction
| | | |
| --- | --- | --- |
| Duration | Exams Accepted | Tuition Fees Per Year |
| 4-5 Years | IELTS: 6.5, PTE: 62 | £15,600 – £15,850 |
Transport
Nottingham is a big city in central England's Midlands region. It is close to two hours by train from London and students make up 10% of the population, lending a unique student-friendly feel to the city. Huge reliance is placed on public transport which can be reflected in Nottingham's tag of being "England's Least Car-Dependent City."
Railways – The railway set up in Nottingham is extremely well-connected, after all, Nottingham Station is the second busiest railway station in the Midlands. Train operating companies like East Midlands Railway, CrossCountry, and Northern run the train scene here.
Trams – The humble tram was reintroduced in 2004, making Nottingham only the sixth English city to have a light rail system. The trams in Nottingham start from the city centre to Hucknall in the north. Two new lines have been opened in 2015 that connect other parts of south and west Nottingham.
Buses – Buses play an integral part in the everyday life of Nottinghamians. The biggest bus transport operator in Nottingham is Nottingham City Transport with 330 buses.
Student Accommodation Near Nottingham Trent University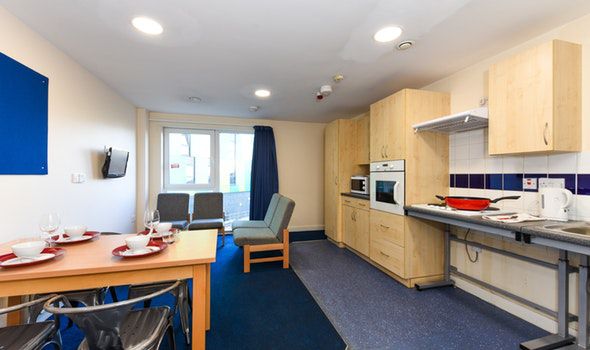 Where?
North Church Street, Nottingham NG1 4BR, United Kingdom
About
Trinity Square provides en-suite rooms and studio rooms. Apart from Nottingham Trent University being a 5-minute walk away, many other universities like NTU Business School and Nottingham Trent International College are quite close by. Restaurants such as Balageru Ethiopian and Eritrean Restaurant are just a short 3-minute walk from this student accommodation. Royal Centre is the nearest train station and Talbot Street is the nearest bus stop. The reason Trinity Square is so popular among students is because of its many amenities like on-site laundry facilities, study space, and outdoor courtyard.
Price Range
£169 – £199/week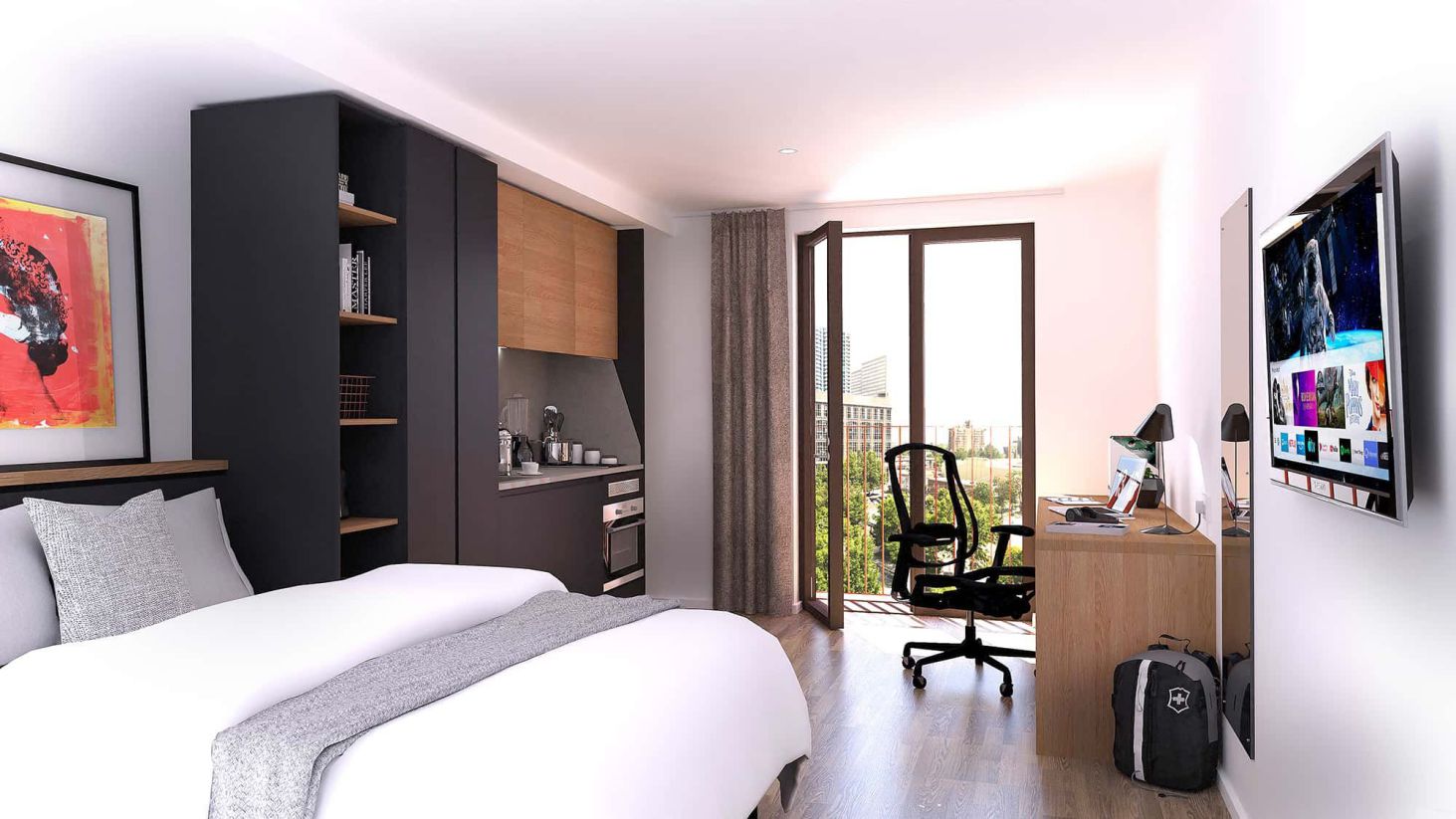 Where?
25 Station Street, Nottingham, NG2 3AJ
About
Vita Student Station Street is a premium student living accommodation. It offers excellent links to transportation services, which means that many train and bus services are available between the property and Nottingham Trent University. The fully furnished apartments have amazing features like outdoor terrace areas and Juliette balconies. Other amenities include an exclusive coffee lounge, a private cinema room, and even a gym. There's no shortage of eateries here as there are many student-friendly bars nearby to have a great weekend.
Price Range
£263 – £345/week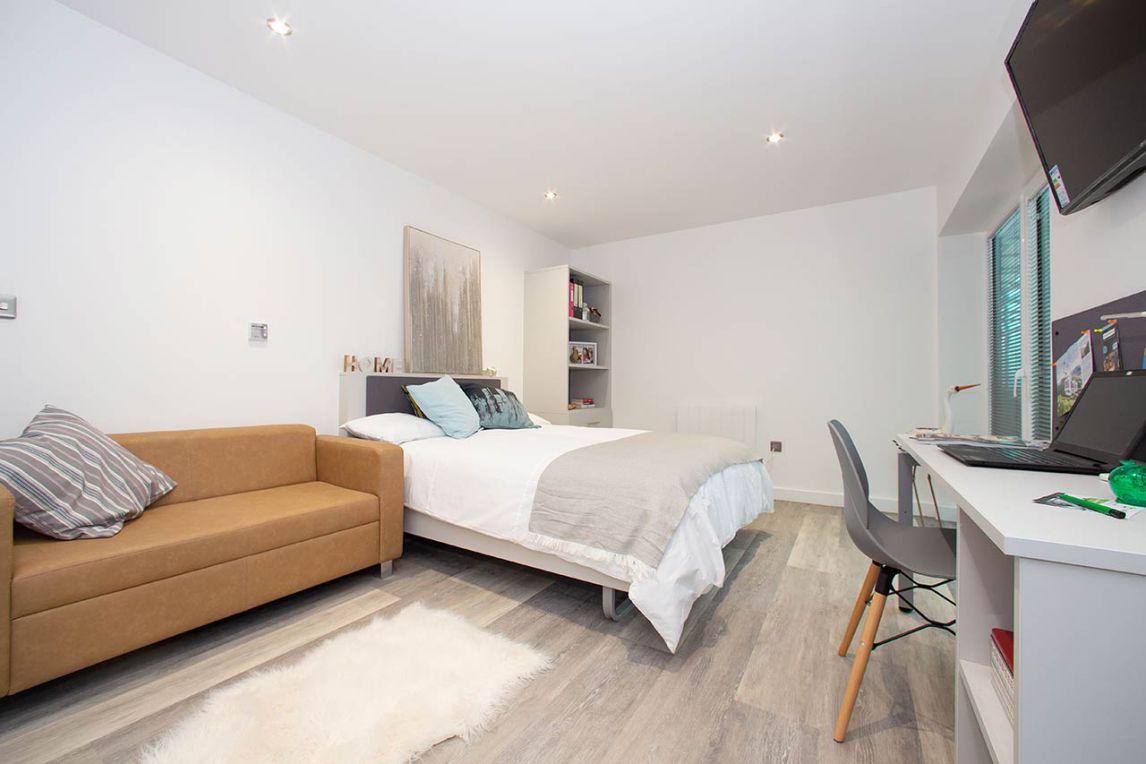 Where?
Queens Road, Nottingham, NG2 3UR
About
Located between the University of Nottingham and Nottingham Trent University, Laceworks provides a wide range of studio rooms. They provide students with the best of amenities like an on-site gym, TV, WiFi, all-inclusive utility bills, communal laundry, 24-hour reception, group & individual study areas, bike storage, games zone, parcel storage room, laundrette, gym and coffee shop. On weekends, you can spend the day visiting places like the City of Caves, Royal Concert House, Nottingham Playhouse and the Independent Cinemas. Great transport links give you easy access to all parts of Nottingham.
Price Range
£175 – £289/week
Nearby – Student Accommodations in Nottingham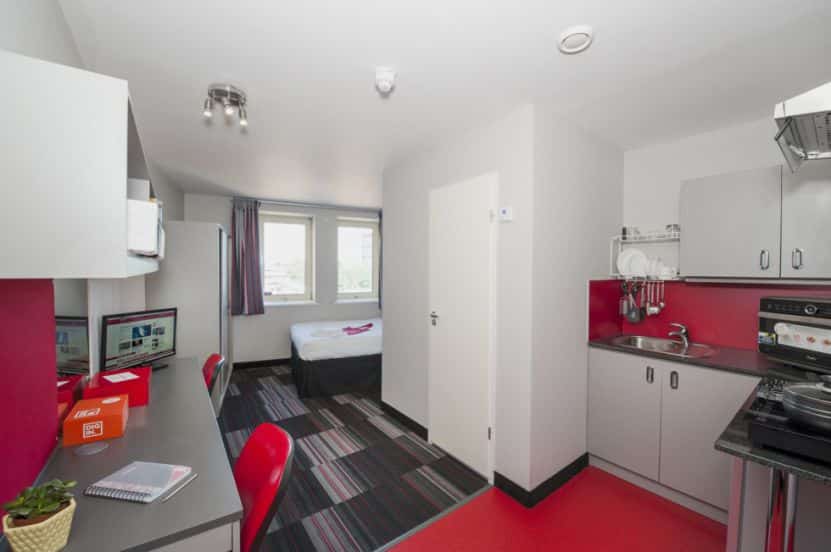 Where?
Lambert House, Talbot Street, Nottingham, NG1 5GN
About
Talbot Street is a brand new student accommodation that is looking to redefine the luxury segment of the student accommodation market. They have a wide range of stunning studios and amazing en-suite serviced apartments. Its ideal location means that NTU is just a 5-minute walk away. At Talbot Street, you'll never be alone as residents can benefit from a wealth of social spaces at the property. There is a gym as well as an on-site spa, something very few student accommodations can boast about. They also have essentials such as a well-equipped kitchenette, bathroom, study space, WiFi and free cleaning service. Talbot Street is known for its buzzing nightlife, so be just assured of having a great time at one of the many clubs, restaurants and pubs in the area.
Price Range
£173 – £259/week
Where?
Lawrence House Clarendon Street Nottingham NG1 5NT
About
Located in the middle of Nottingham, Clarendon Street offers close to 200 rooms in a wide range of variety. This chic Nottingham Trent accommodation is just a short walk away from Nottingham Trent University. All the studio apartments offer comfortable living with double beds, TV, WiFi, en-suite bathroom, well-equipped kitchenette, study room and living area. Being in the city centre will give you access to many restaurants, cafes and bars. A visit to Tap & Tumbler with your friends is guaranteed to make you have an unforgettable time. Special mention needs to be made to the Wollaton Hall, Creswell Crags and Edwinstowe village.
Price Range
£180 – £203/week