Moving to Birmingham for further studies? Great! Birmingham is home to 5 amazing universities – Aston University, University of Birmingham, Birmingham City University, University College Birmingham and Newman University. But that's not all that makes this city so popular among students. Being the second-largest city in the UK, Birmingham is considered to be the cultural, financial, social and commercial centre of both the East and West Midlands. We bet you're now excited about the prospect of living in Birmingham but have some doubts about the student cost of living. Is Birmingham expensive to live in? Well, let's dive right in to see the costs associated with living in "the second city of the United Kingdom" – Birmingham.
What Is The Cost Of Living In Birmingham?
Birmingham has shrugged off its image of being a lowly industrial city to become one of the UK's leading centres of trade, commerce and business. Birmingham welcomes business from both from the UK and internationally. Thanks to this, there's been a rich infusion of cultures and traditions because of people from all over the world, coming here in search of opportunities.
The cost of living in Birmingham differs from city to city. For instance, areas like Solihull and Sutton Coldfield tend to be the most expensive, whereas Edgbaston and Mosely are reasonably priced. In fact, in 2015, Mosely was voted the best place to live in the UK for city living.
Here's a quick monthly breakdown of the cost of living in Birmingham –
Accommodation – £800
Food shopping – £100
Local transport – £72
Books and printing – £80
Internet and mobile phone – £50
Social activities – £200
It is advisable to have a monthly budget of around £1,500 (without tuition) to live comfortably in Birmingham.
What Is The Average Rent In Birmingham?
The average rent in Birmingham decreases as you move further away from the city centre. If you want to reside close to the city centre, i.e. near popular restaurants, pubs, supermarkets and universities, prepare to shell out £600+ per month on a 1 bedroom flat (apartment). However, if this is too much for you and you don't mind staying a wee bit away from the city centre, then expect your average rent to be around £380+ per month on a 1 bedroom flat (apartment).
You need to make a detailed analysis of where you want to live. Living in the city centre means paying high rent, but you can save on travelling as everything you need is nearby. Staying outside the city centre means you can enjoy (relatively) lower rent rates, but you might have to splurge on travelling.
Where Can I Find The Best Student Accommodation in Birmingham?
Premium Housing Option –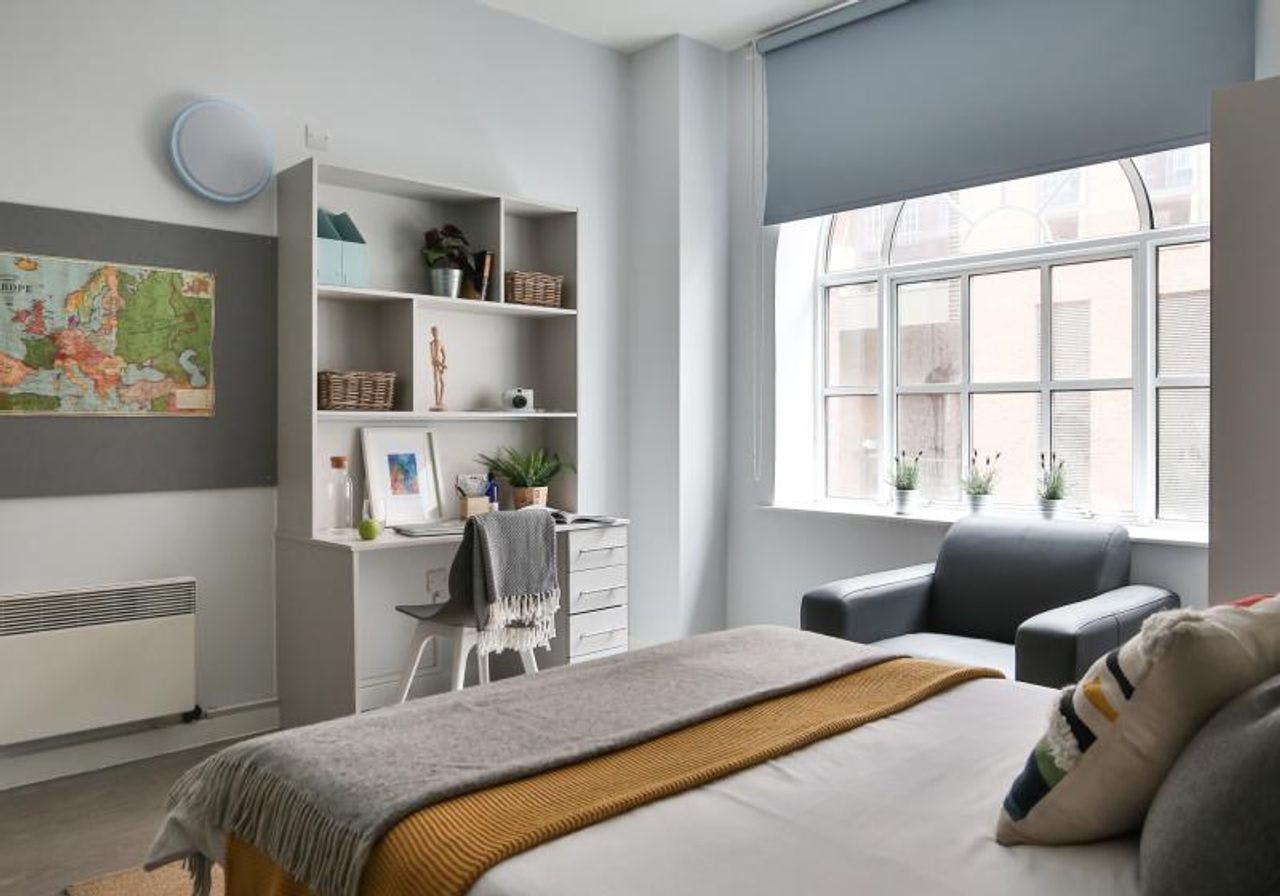 iQ Studios 51
Where?
30 Bagot Street Birmingham B4 7AG United Kingdom
About iQ Studios 51
At iQ Studios 51, students get an opportunity to select from 8 different types of luxurious studio rooms. They also have an opportunity to book a Two Bed Apartment that can be shared with a friend. Besides your basic amenities like a WiFi connection, bed and a wardrobe, this premium student accommodation in Birmingham also offers a common room, a games room, a communal study area, a spacious outdoor courtyard, a laundry room, on-site maintenance, a games console room and bike storage. If you truly want to live a hassle-free and luxurious life in Birmingham, then iQ Studios 51 should feature on the top of your list.
Mid-Range Housing Option –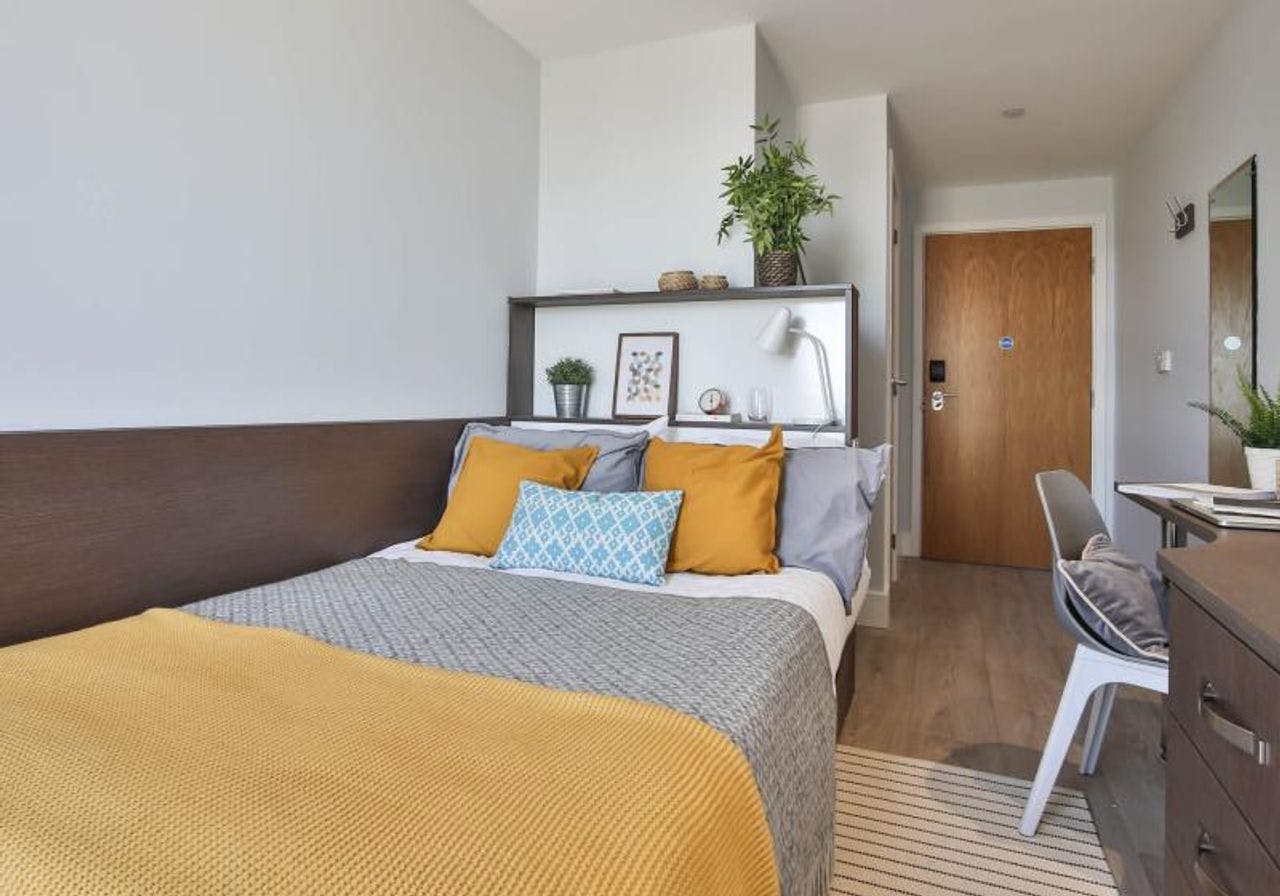 iQ Penworks House
Where?
5 Moland Street Birmingham B4 7AS United Kingdom
About iQ Penworks House
iQ Penworks House is a popular student accommodation because of its proximity to universities like Birmingham City University, Aston University Birmingham and University College Birmingham. While studio rooms are all the rage, iQ Penworks House works hard to ensure en-suite rooms are still in vogue. In fact, they have 7 beautifully done up en-suite rooms that have all the latest amenities. These kinds of rooms are perfect for students who don't want to spend a lot on rent and don't mind sharing the kitchen and living space with other students.
Value For Money Housing Option –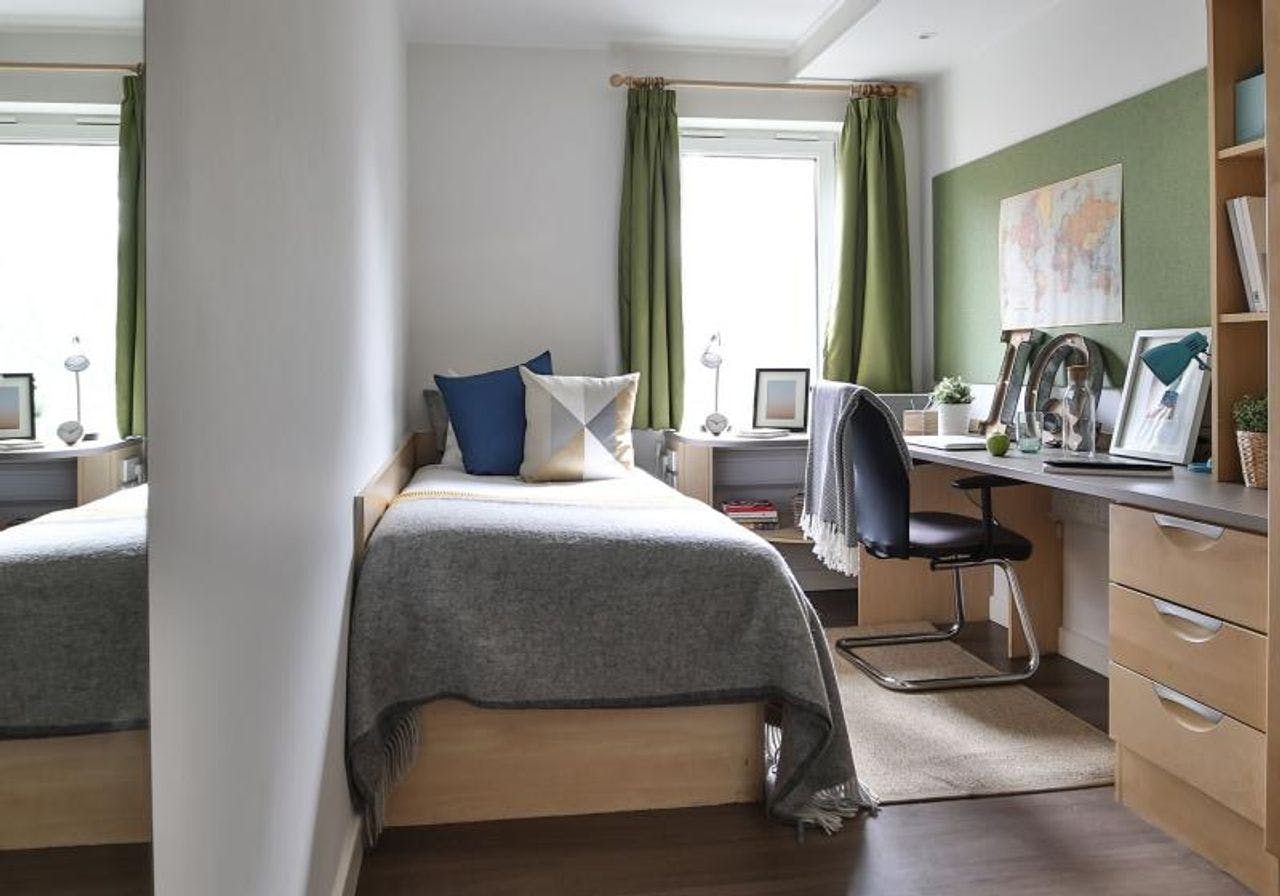 iQ Broderick
Where?
Broderick House 140 Bath Row Birmingham B15 1NQ United Kingdom
About iQ Broderick
Struggling to cope with the high cost of living in Birmingham? Fear not, iQ Broderick is at your rescue. This student accommodation offers the best bang for your buck, thanks to their (more than) affordable rent rates. You can book an en-suite room @ only £128/week. This price tag doesn't only give you a cosy en-suite room but also access to many useful amenities such as contents insurance, a theatre, 24/7 dedicated support, a games room, social events, bike storage, a communal area, a study area and much more.
What Is The Cost Of Tuition In Birmingham?
The top universities in Birmingham charge around the same tuition. To give you a rough idea of the tuition fees in Birmingham, we're taking the University of Birmingham as a reference point.
Home Students
Full-time yearly tuition fees for the 2020/21 academic year – £9,250
Part-time yearly tuition fees for the 2020/21 academic year – £6,935
International Students
Full-time yearly tuition fees for the 2020/21 academic year (Undergraduate) – £18,120 to £18,780
Full-time yearly tuition fees for the 2020/21 academic year (Postgraduate) – £18,450 to £20,070
(Disclaimer – The cost of your tuition fee depends on the programme you choose to study and the level at which you study)
What Is The Cost Of Transportation In Birmingham?
Birmingham has a well-connected railway network for both local and regional service. The 3 major stations – Snow Hill (ideally located for Aston Uni), Moor Street (for BCU), and Birmingham New Street station are frequented by many students. Buses are also popular in Birmingham as it has connectivity across all parts of the city. A monthly public transport pass will cost you around £72 every month.
What Is The Cost Of Food And Other Necessities In Birmingham?
The cost of food will depend on whether you cook at home or choose to eat out. It goes without saying that cooking your own will work out much cheaper for you. Here's a small glimpse on what you will be spending on food in Birmingham.
Takeout Coffee: £1.70 – £3.00
Bottle of Coke: £0.70 – £1.50
1L of milk: £0.50 – £1.00
A loaf of Bread: £0.62 – £1.20
12 Eggs: £1.25 – £2.35
1kg Chicken £4.00 – £5.90
1kg Beef: £5.00 – £10.00
1kg Apples: £1.00 – £3.00
1kg White Rice: £0.60 – £2.00
Pint (0.5L) domestic beer at a restaurant/pub: £2.80 – £3.85
Besides food, you will also have to spend on clothing, doctor's visit, toiletries, gym membership, etc. Be prepared to spend close to £300 per month on all these other necessities.
What Is The Cost Of Entertainment And Recreation In Birmingham?
Birmingham is famous for its active social life. The city centre, in particular, houses many renowned pubs, bars, clubs and nightclubs. Here is a list of basic prices for entertainment and recreation in Birmingham.
Pint (0.5L) domestic beer at a restaurant/pub: £2.80 – £3.85
Bottle of imported beer at a restaurant/pub: £2.00 – £4.00
Basic dinner out for two in a pub: £37.00
2 tickets to the movies: £21.00
Dinner for two at an Italian restaurant including appetisers, main course, wine and dessert: £56.00
Cappuccino in expat area of the city: £4.00
1 min. of prepaid mobile tariff (no discounts or plans): £0.12
To maintain a healthy social life, make sure you earmark £300 every month.