The University of Cardiff in Wales specialises in research. This university was actually founded in 1883 as the University College of South Wales and Monmouthshire. It subsequently became a founding college of the University of Wales in 1893. It was only in 2005 when Cardiff University was able to become an independent university awarding its own degrees. The university contains ten colleges –
Biomedical and Life Sciences
Physical Sciences and Engineering
Arts, Humanities and Social Sciences
The University Of Cardiff In Wales At A Glance
Location – Cardiff CF10 3AT, United Kingdom
Founded –
1883 (UCSWM/UCC)
2005 (Independent University Status)
Students – 38,000+
Rankings –
National:
38th in the Guardian University Rankings 2022
25th in the Complete University Guide 2022
Global:
151st in QS World University Rankings 2022
189th in the Times Higher Education (THE) Rankings 2022
What Are The Features Of Cardiff University?
In 2013, Cardiff University was deemed to be one of the best UK universities for supporting LGB students. This was adjudged by the charity Stonewall in its annual Gay by Degree guide. In fact, Cardiff University was one of only two universities in the UK and the only one in Wales to achieve top marks in a Stonewall checklist of priorities for LGB students. The University also holds the distinction of being the only Welsh member of the Russell Group of research-intensive British universities.
Does Cardiff University Have A Good Academics Record?
Cardiff University has 2 Nobel Laureates on its staff – Sir Martin Evans and Robert Huber. So be rest assured that the classes conducted will be in tandem with world-class standards. Quite a few University staff have been elected as Fellows of the Royal Society. This just substantiates Cardiff University's stance on providing its students with quality education. The various buildings of Cardiff University deliver stunning lectures and seminars, especially Cardiff Business School and Cardiff School of Engineering. Many alumni have gone on to reach new highs in their careers. These include the former Prime Minister of the Iraqi Kurdistan Region, Barham Salih and BBC Governor Richard Tait.
What Are The Various Colleges Cardiff University Is Divided Into?
Cardiff University is divided into 3 colleges that house 24 academic schools. Here is a breakdown of the colleges of Cardiff University.
College Of Biomedical And Life Sciences
Biosciences
Pharmacy and Pharmaceutical Sciences
Dentistry
Healthcare Sciences
Medicine
Psychology
Optometry and Vision Sciences
Postgraduate Medical and Dental Education (Wales Deanery)
College Of Physical Sciences
Computer Science & Informatics
Mathematics
Architecture
Chemistry
Physics and Astronomy
Earth and Ocean Sciences
Engineering
College Of Arts, Humanities And Social Sciences
Business
English, Communication and Philosophy
Social Sciences
Geography and Planning
Modern Languages
Journalism, Media and Cultural Studies
Law and Politics
Music
History Archaeology and Religion
Welsh
What Are Some Of The Extracurricular Activities At Cardiff University?
Cardiff University has a robust sports programme that is apparent from the investments made in the Talybont Halls complex. Over here, you will find Cardiff University's sports training village. This multimillion-pound complex includes facilities for football, badminton, basketball, tennis and hockey. A state-of-the-art gym and squash courts are located at the university fitness and squash centre, near the city centre campus at Cathays Park. Field sports such as football, rugby and lacrosse thrive at Cardiff University thanks to extensive playing fields located across campuses.
If sports is something that doesn't pique your interest, then you can join one of the many other 260 clubs and societies that cover a wide range of interests. Some of the popular clubs are Cardiff University Debating Society, and "Act One", the student dramatic society. Below you will get to know about the famous Cardiff University courses.
Cardiff University Courses That Are Popular
Bachelors Courses
Medicine (MBBCh)
| | | |
| --- | --- | --- |
| Duration | Exams Accepted | Tuition Fees Per Year |
| 5 Years | IELTS: 7, PTE: 70 | £23,450 – £33,200 |
Computer Science (BSc)
| | | |
| --- | --- | --- |
| Duration | Exams Accepted | Tuition Fees Per Year |
| 3 Years | IELTS: 6.5, PTE: 62 | £23,450 |
Accounting and Finance (BSc)
| | | |
| --- | --- | --- |
| Duration | Exams Accepted | Tuition Fees Per Year |
| 3 Years | IELTS: 6.5, PTE: 62 | £19,700 |
Masters Courses
MBA
| | | |
| --- | --- | --- |
| Duration | Exams Accepted | Tuition Fees Per Year |
| 1 Year | IELTS: 7, PTE: 70 | £28,450 |
Data Science and Analytics (MSc)
| | | |
| --- | --- | --- |
| Duration | Exams Accepted | Tuition Fees Per Year |
| 1 Year | IELTS: 6.5, PTE: 62 | £22,950 |
International Management (MSc)
| | | |
| --- | --- | --- |
| Duration | Exams Accepted | Tuition Fees Per Year |
| 1 Year | IELTS: 6.5, PTE: 62 | £23,950 |
MSc in Civil Engineering
| | | |
| --- | --- | --- |
| Duration | Exams Accepted | Tuition Fees Per Year |
| 1 Year | IELTS: 6.5, PTE: 62 | £21,950 |
Which Are The Best Student Accommodations Near Cardiff University?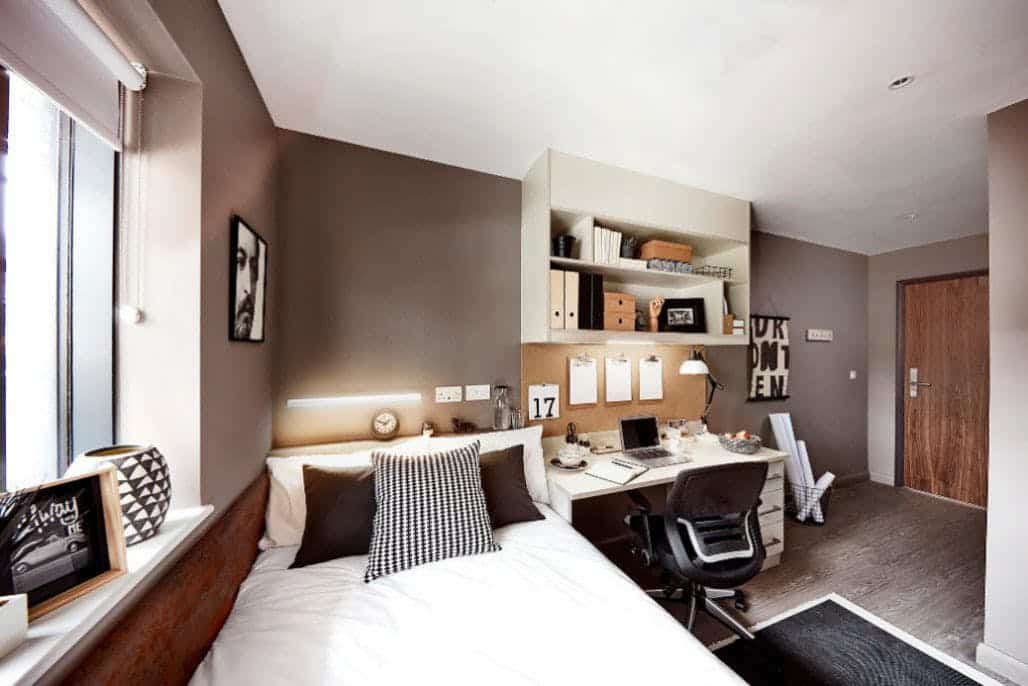 Where?
Newport Rd Ln, Cardiff CF24 0SP, United Kingdom
About Eclipse
Eclipse is a very popular student accommodation Cardiff University for student because this property offers en-suite rooms, studio rooms as well as 1-bed apartments. No matter which room configuration you go for, expect a WiFi connection, a double bed and a study desk and chair in your room. Residents need to travel only 5 minutes on foot to reach the nearest restaurant – Lilo's Pasta. The communal amenities offered by Eclipse include study rooms, a dinner party room, a gym, and even an on-site cinema.
Price Range
£135 – £257/week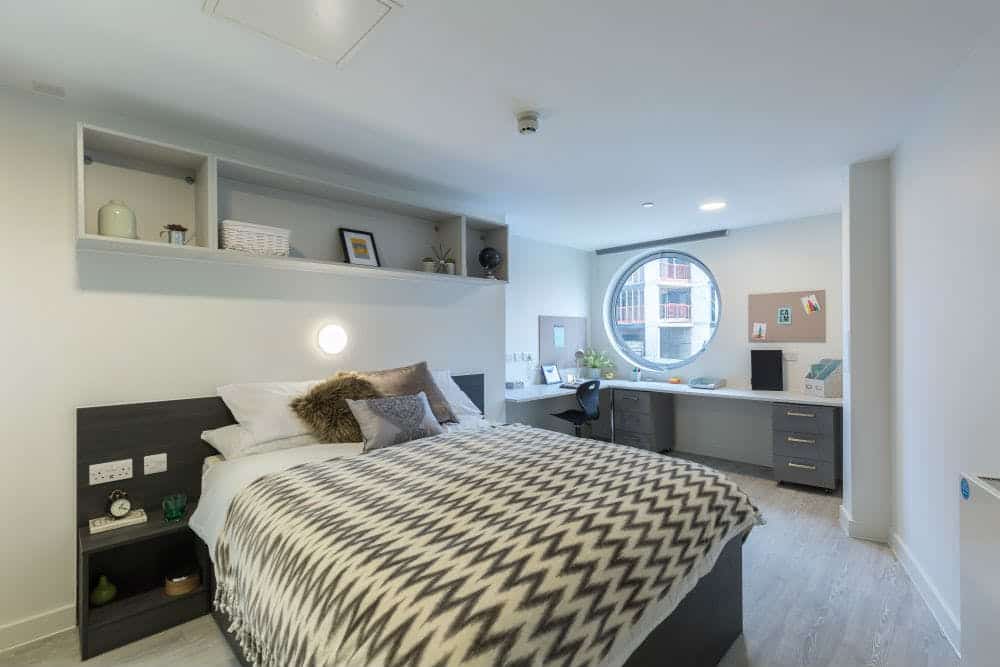 Where?
Livin 21-27 City Road Cardiff, CF24 3BJ
About Livin
Livin offers spacious studio rooms and apartments. These rooms come with a WiFi connection, a bed, a fridge, a microwave, an electric stove, and so much more. If you want a host of communal amenities at your student houses Cardiff or Cardiff uni accommodation, then Livin won't disappoint you! They offer all inclusive-utility bills, study spaces, an on-site gym, bike storage, freeview TV in the communal area, communal space, on-site laundry facilities, contents insurance, gaming area, on-site maintenance and vending machines. If you think these exciting amenities won't keep you busy on weekends, head over to the nearby restaurants, pubs and clubs like I Giardini Di Sorrento, Al Wali Restaurant, The Ernest Willows,
Price Range
£145 – £195/week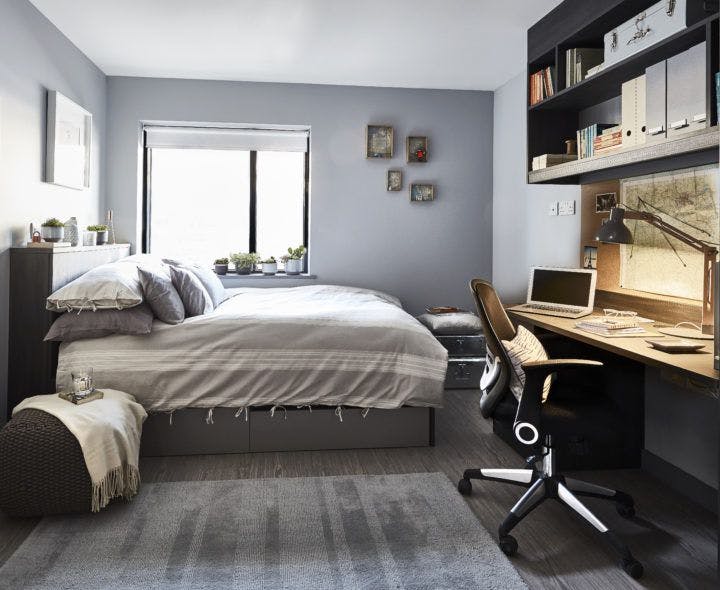 Where?
Windsor House, Windsor Lane, Cardiff, CF10 3DE
About Windsor House
Windsor House is a contemporary student accommodation in Cardiff located in the heart of Cardiff. From this property, students can reach Cardiff University in just a couple of minutes. The en-suite rooms and studio rooms are fully furnished with a WiFi connection, a double bed, a wardrobe, and so much more. Students who are inclined to work out can make use of the fully equipped on-site gym. Other amenities include a resident's lounge, a smoking room, bike storage, CCTV security system, a study area, a theatre, social events and a garden.
Price Range
£141 – £198/week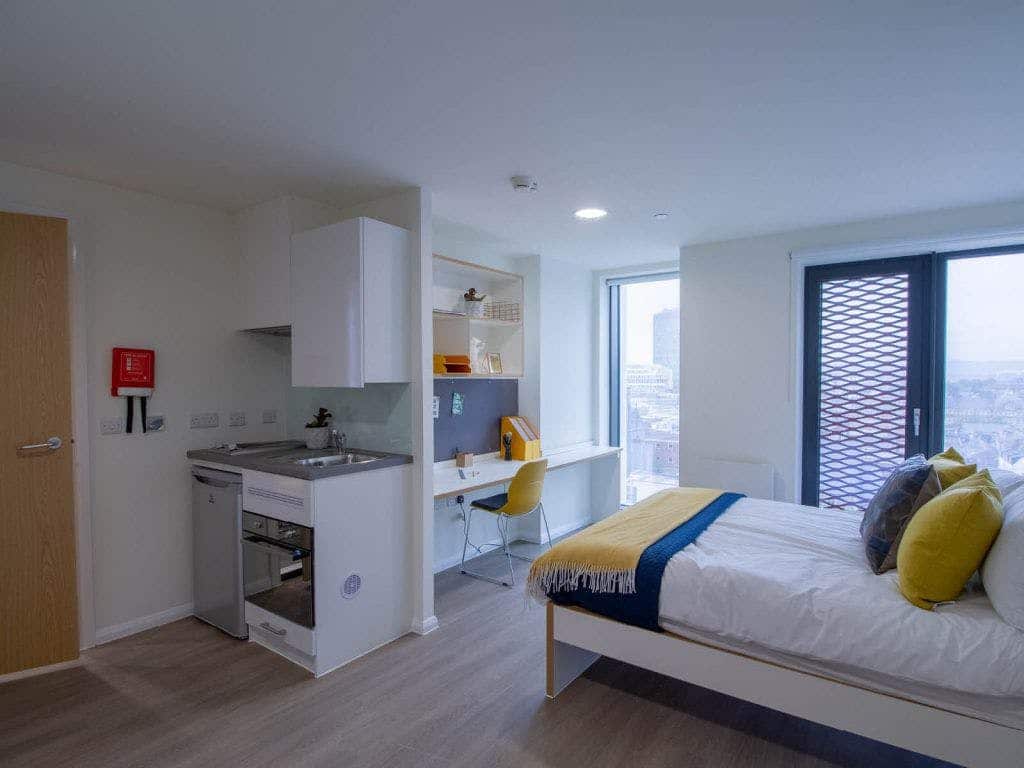 Where?
Bridge St Cardiff CF10 2TJ
About Bridge Street Exchange
Imagine staying at a student accommodation Cardiff that is close to your university, has spacious en-suite and studio room options and also has a karaoke room! Bridge Street Exchange gives you all this and much more. Students can choose from 25+ room types that have all the necessary facilities and amenities. By staying at Bridge Street Exchange, students have access to a garden, a games room, an on-site gym, bike storage, contents insurance, vending machines, a lounge and a study area. Restaurants and nightclubs like Nando's, Coyote Ugly and The Dead Canary are located just around the corner.
Price Range
£139 – £233/week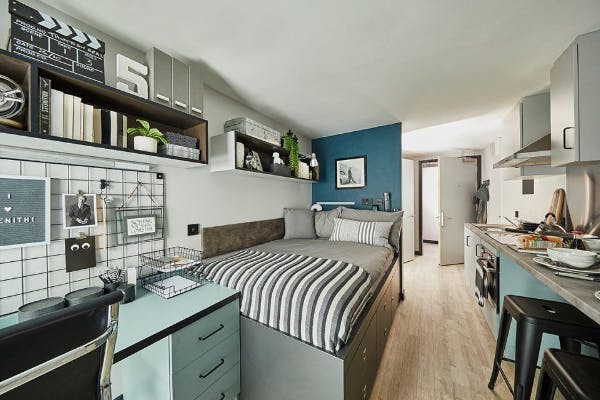 Where?
Fusion Student, Zenith, Herbert Street, Cardiff CF10 4DG
About Zenith
When you stay at Zenith student accommodation Cardiff, you will understand what "care" really is about. There is a 24-hour concierge staff and maintenance team who are trained to help residents in every way they can. This Cardiff accommodation offers spacious en-suite rooms and studio rooms at affordable prices. Students get the benefits of all-inclusive utility bills and laundry services. Other amenities offered to students include a games room, a karaoke room, a communal area, a study area, an auditorium, an on-site gym, social events and a garden.
Price Range
£159 – £225/week