Beaches have a very calming and soothing effect on one's weary soul. It is said that an ocean breeze puts a mind at ease, which is very accurate in the case of a majority of the population. Here are the best 15 beaches near London, United Kingdom.
1.Camber Sands, East Sussex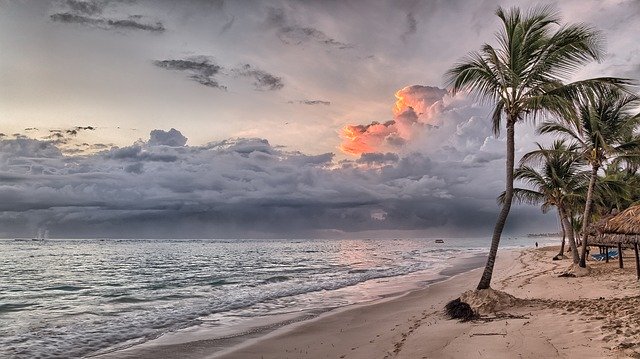 Camber Sands is one of the region's few to have a sandy beach. This beach stretches for five miles, with the many tourist places to visit in London being the western end at the mouth of the River Rother. In the East, the sands begin to make a transition into shingles. This comes under one of the best beaches in east London.
Getting there: Going by car, you can get here via Camber Road, a road leading off the A259 near Rye. The nearest train station is in Rye which is four miles away. From London, you can ride the Eurostar from St Pancras and change at Ashford.
Dog-friendly? Dogs are allowed on the beach between May to September. They need to be in the restricted zones though, and during the winter months, dogs are allowed to walk the full stretch of the beach.
Parking: There are three car parks available next to the beach. One at Camber Central is open between the 1st of April and the 30th of September which is paid on entry. The second one is on Old Lydd Road and is a paid car park. The third parking area is the Western Car Park and operates by Automatic Number Plate Recognition.
Lifeguard service: No lifeguard service at this beach.
Facilities: Campsite, cafe/restaurant, toilets, litter bins
Popular activities: Swimming, bird watching, donkey rides, swimming, water sports, windsurfing, cycling, sunbathing and walking.
Nearby attractions: You can find Rye only a few 4-mile drive away, located at the top of a hill with views across the Romney Marshes. Here you will be able to find crafts, cafes, antique shops and a medieval church.
Historical Sites: Explore Camber Castle, Sissinghurst and Knole, Bodiam. Henry James, the author, once lived at Lamb House in Rye.
2.Holywell, Eastbourne, East Sussex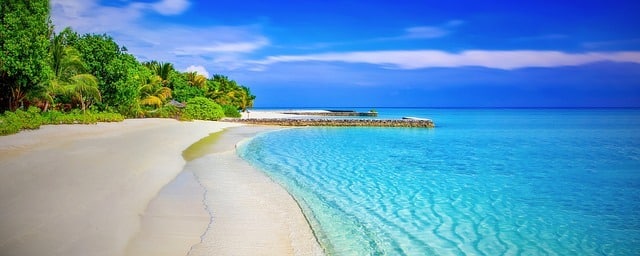 This part of the coastline offers pools full of marine life at low tide and chalk cliffs at Beachy Head. It backs onto Italian gardens which were formerly known as Holywell Retreat, nestled on the greenery is the Holywell Tea Chalet.
Facilities: Toilets, beach shower, shops and dustbins.
Popular activities: Walking, Sunbathing, Swimming, Fishing and Surfing.
Getting there: This beach is three miles from Eastbourne Station.
Nearby attractions: Beachy Head, Nigel Greaves Gallery, Birling Gap and the Seven Sisters and Eastbourne Miniature Steam Railway Adventure Park.
3.Cuckmere Haven, Seaford, East Sussex
The pebble beach is dominated by the white chalk cliffs of the Seven Sisters to the East and sits at the mouth of the meandering Cuckmere river. This is a popular place for anglers and also is one of the best beaches in London.
Getting there: This beach is just off the A259 between Eastbourne and Seaford. One can get the buses 13 & 12 from Brighton/Eastbourne and from further along the coast. The beach is only two miles from Seaford train station.
Parking: Car park at the Country Park Centre near the Golden Galleon pub, free parking at Seaford Head Local Nature Reserve.
Facilities: Food available, toilets and shops
Popular activities: Sunbathing and swimming
Nearby attractions: The famous chalk cliffs of Seven Sisters are right next to the beach.
4. Fairlight Glen, Covehurst, Hastings, East Sussex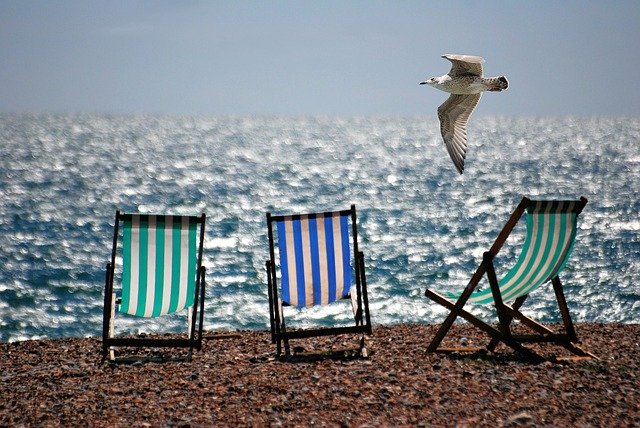 Fairlight Glen is situated two miles east of the fishing port of Hastings and 1.5 miles west of the village of Fairlight Cove. It is a wooded area forming part of the Hastings country park which leads down to Covehurst Bay. Here you can enjoy beautiful coastal views from Beachy Head in the west to the white cliffs of Dover in the East.
Fill the form on this page and save up on your accommodation.
Type of beach: Sand & shingle
Parking: The nearest car park is at the Hastings Country Park Visitor Centre where there are toilets, cafes and an information centre also.
Facilities: Parking and beach cleaning
Popular activities: Nudist/ naturist beach
Bear in mind: The three clefts that run down to the shore have been declared hazardous routes – Warren Glen, Eastbourne Glen and Fairlight Glen.
Getting there: Hastings Country Park Visitor Centre can be accessed from the A259, from there it is a 20-minute walk to the beach. You can also take the 244 bus between Hastings (Breeds Place) and Pett, getting down at Fairlight church.
Nearby attractions: Hastings Country Park Nature Reserve, here you can find wildflowers in spring and summer as well as many species of birds in the spring and autumn months. Hastings fishing museum is a former fishermen's church which now harbours ship models, nets and photographs and is also a free museum in London.
5. East Head At West Wittering, West Sussex, Chichester
This beach is a sand dune split on the eastern side entrance to Chichester Harbour. It is considered one of the best beaches near London in West Sussex.
Getting there: Drivers can access this beach from the A286 south from Chichester. Chichester is seven miles away by train and get to the beach from Chichester by taking the Stagecoach South 52/ 53/ 652/ 653 bus alighting at Old House at the Home stop, and then take the Pound Road (opposite the bus stop) and walk following the signs to the beach.
Dog-friendly? Dogs are allowed from October to May. In summer you can take your dog on the beach, but you must be outside groynes 14A-18.
Parking: West Wittering Beach car park
Popular activities: Swimming, walking, spotting wildlife, canoeing, surfing and paddleboarding.
Nearby attractions: Bosham Quay, Chichester Cathedral, Pagham Harbour Local Nature Reserve, Bishop's Palace Gardens, Chichester Festival Theatre, Royal Marines Museum and Fishbourne Roman Palace.
6. East Beach, Littlehampton, West Sussex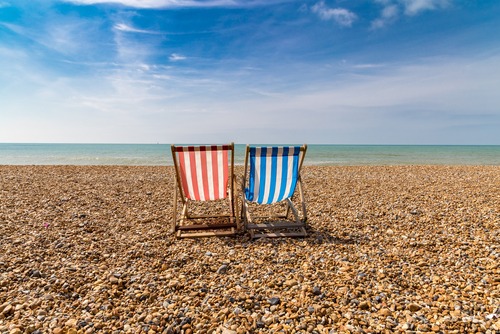 East Beach is over a mile long, and it is an excellent location for relaxation and seaside fun like building sandcastles, taking a walk along the promenade or taking a dip in the water.
Type of beach: Sand and pebble
Dog-friendly? Dogs are restricted to the area East of Norfolk Road between the 1st of May to the 30th of September.
Parking: There are three pay and display car parks on the seafront. Spaces for coaches are on Banjo Road.
Lifeguard service: RNLI lifeguarded beach daily from the 19th of May to the 9th of September from 10am to 6pm.
Popular activities: Fishing, kite-surfing, sailing and diving from Littlehampton Harbour.
Getting there: Park at one of the three Pay & Display car parks on the seafront.
Nearby attractions: The Seafront Greens is the perfect spot for a picnic, along the promenade with free to use grills available. You can also indulge in a walk to Climping Beach where views of the South Downs and the River Arun are on either side. The famous East Beach Cafe is an excellent place for a break, and you can also find seaside amusements at Littlehampton Harbour Park.
7. Felixstowe, Sussex
Felixstowe can be found between the rivers Orwell and Deben. The is a Victorian town referred to as the 'Garden Resort of the East Coast', because of the beautiful gardens that are situated along the level promenade and in the town centre also.
Type of beach: Sand and shingle
Dog-Friendly: There are dog restrictions in place from May to September, but you can find dog-friendly space on either side of the restricted area from Spa Pavilion to Arwela Road, they are easy to spot; even in these areas, dogs must be kept on a leash.
Parking: There is a car park in town, just behind the gardens as well as many parking options along the seafront.
Lifeguard service: Yes, during peak season.
Popular activities: Cycling, swimming, dog walking.
Getting there: Take the A12 north and then the A14 to Felixstowe from London.
Nearby attractions: The town centre is filled with plenty of boutiques, shops and shopping places in London. Visit the Felixstowe Ferry where you can walk up the banks of river Deben and take a ferry for a trip to Bawdsey.
Historical Sites: Landguard Peninsula with its 18th C. Fort, which is one of Britain's best-preserved coastal defences.
8. Dungeness, Kent
Located on the coast of Kent, Dungeness is a headland formed mainly of a beach in the form of a cuspate foreland. This area is a Site of Special Scientific Interest and shelters the low-lying land, Romney Marsh. The beach is one of the largest expanses of shingles in Europe. It has international conservation importance for its geomorphology, plant and invertebrate communities and birdlife. One of the most exciting parts of this beach is an area known as "the patch", where waste hot water from the nuclear power station is sent into the sea through outfall pipes which enriched the biological productivity of the sea bed and also attract birds from all around. There are more than 600 different types of plants here (a third of all those found in Britain).
Facilities: Public toilets are available in Lade Car Park as well as the train station. For hunger pangs visit The Pilot Inn on Battery Road for fish & chips or the Fusciardi Ice Cream Parlour on Marine Parade.
Popular activities: Fishing, bird watching and walking
Getting there: If travelling by train, you can go from Charing Cross or London Bridge to Rye changing at Ashford.
Nearby attractions: The nearest town is Lydd, and a popular place is Prospect Cottage with its driftwood garden.
9. Tankerton Beach And The Street, Whitstable, Kent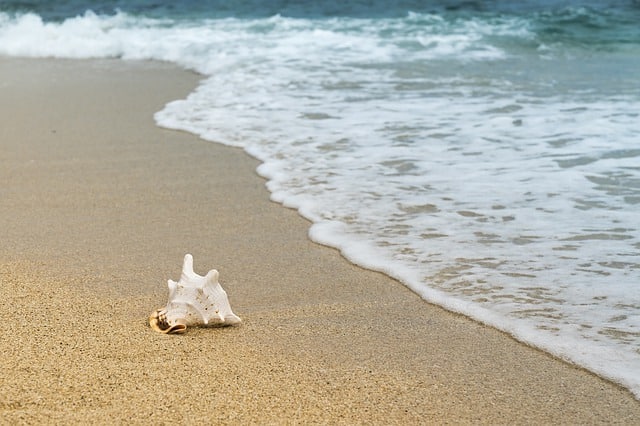 Tankerton Beach is an excellent destination for families and sun lovers with painted beach huts and sloped grassy banks. At low tide enjoy a walk right into the sea, this walk is known as 'The Street'. You can explore rock pools, swim around and discover sea life. There is also a grassy area for picnics and relaxing that gently slope down into the shingle beach.
Type of beach: Shingle and pebble beach
Dog-friendly? No dogs are allowed on this beach between May to September.
Parking: Free on-street parking at the top of Tankerton slopes with ample pay and display parking within a short distance.
Popular activities: Windsurfing, walking, swimming, paddle-boarding, biking trails, boating, surfing and kite-surfing.
Facilities: Disabled facilities and cafe/ restaurant
Getting there: Tankerton Beach below Tankerton slopes is approximately one mile east of the Whitstable town centre. Wondering how to get around in London? The beach is next to Kent Coastline Walk and a 14-minute walk from the nearby train station of Whitstable. You can also take an 11-minute bus journey from Whitstable or a three-minute taxi ride to the beach. The train journey from London St Pancras Intl to Whitstable is one hour and 11 minutes. Driving from London, take the M2.
Nearby attractions: Whitstable town centre, The Horsebridge Arts and Community Centre, Whitstable Museum and Gallery or the Whitstable Castle and Gardens.
10. Botany Bay, Near Broadstairs, Kent
Botany Bay in Thanet offers smugglers caves and vast expanses of soft sand. The northernmost of seven bays in Broadstairs, Kent. is tucked away behind the residential streets on the way to Broadstairs. At low tide, it's the perfect place for fossil hunting and exploring rock pools.
Dog-friendly? Dogs are not allowed on this beach from the 1st of May to the 31st of September.
Parking: Free on-street parking on Percy Avenue and Marine Drive. There is also a Pay and Display parking available in Broadstairs town centre.
Facilities: Deck chair hire, cafe/restaurant, pubs toilets and first aid point
Popular activities: Fossil hunting, swimming and rock pooling
Getting there: This beach is found between Broadstairs and Margate in an area called Kingsgate.
Nearby attractions: The nearest town is Broadstairs.
11. Minnis Bay, Birchington, Kent
Minnis Bay is regarded as one of the most pleasant beaches on the North Kent Coast. It is a long stretch of sand with a children's play area and a grassy picnic area.
Dog-friendly? There is a dog ban in place from the 1st of May until the 20th of September.
Parking: Pay and display parking is available at the very end of the parade.
Lifeguard service: Yes (seasonal)
Facilities: Paddling pool where you can hunt for crustaceans, restaurant with a bar, a kiosk on the prom, first aid point, toilets, beach chalets, beach wheelchairs available.
Popular activities: Cafe/restaurant, water sports, windsurfing, kite-boarding, biking (there is a 3.75-mile section of the Viking Coastal Trail to Margate Main Sands)
Getting there: Trains from London to Birchington are two hours from London St Pancras International, and there are buses that you can take you from Birchington station to the beach. While driving to Minnis Bay, the best postcode to use is CT7 9QP.
Nearby attractions: Dreamland, The Powell-Cotton Museum, West Bay Beach and St Mildred's Bay.
12. Sandgate, Kent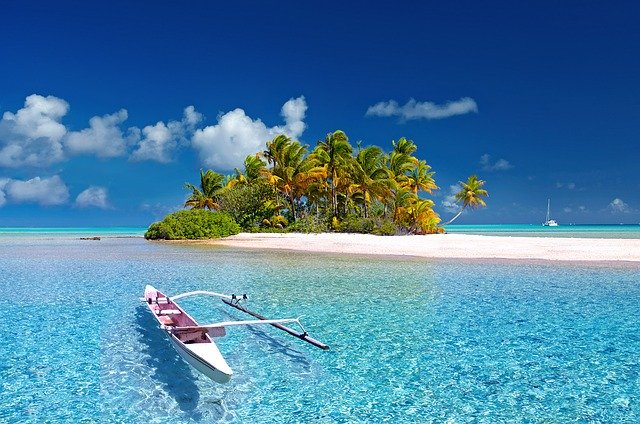 Sandgate is a secluded shingle beach based on the Kent coastline between Folkestone and Hythe. The beaches here have views of the English channel with a town full of antiques, restaurants, inns and independent shops. The two-mile of coast extends inland to wooded hills.
Dog-friendly? This beach is dog-free from the 1st of May to the 30th of September.
Parking: Yes, along the seafront. Although it can get busy at peak times.
Facilities: Drinking water, promenade, showers, toilets, cafes, pubs and shops.
Popular activities: Cycling, fishing, kayaking, wind sailing, rowing and swimming
Getting there: You can get here by train to Folkestone from St Pancras or London Bridge station, then a short taxi or bus ride.
Nearby attractions: Crypt of St. Leonard, Lower Leas Coastal Park, The Leas Promenade, Inn Doors Micropub, Kent Battle of Britain Museum, Crypt of St. Leonard, Folkestone Harbour Arm, Battle of Britain Memorial, Hythe Beach and Sunny Sands.
13.The Deal, Kent
The deal offers a long pebble beach with a pier dating back to the 1950s. This beach is a short walk from restaurants, independent shops and quirky cafes. It's the ideal place for long dog walks along the beach, lazy lunches and browsing shops.
Dog-friendly? From the 1st of May to the 30th of September, but they are not allowed on the stretch from Sandown Castle to Deal Castle.
Parking: For free parking, go to Marine Road. Pay and display car park on Victoria Road and Beach Street.
Popular activities: Cycling, fishing along the pier, crazy golf, swimming, paddling and sailing.
Getting there: It is accessible via the A2 and M2. Train journeys are 90 minutes from St Pancras train station.
Nearby attractions: St Margaret's Bay Beach, Deal Maritime & Local History Museum, Deal Castle, Walmer Castle, South Foreland Lighthouse and The Astor Theatre
14. Shellness, Leysdown, Isle Of Sheppey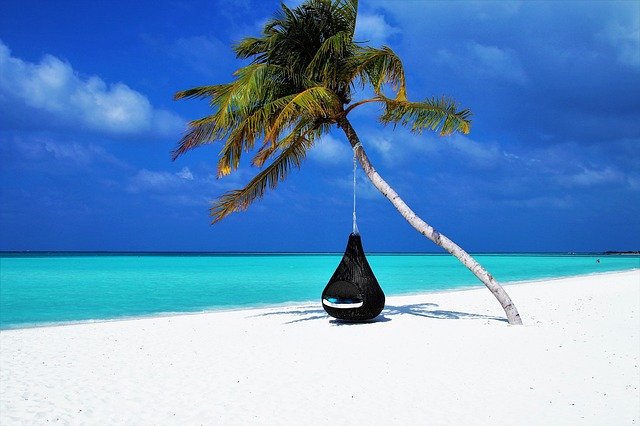 – It offers the old seaside resort feeling with arcades, cafes and lovely pubs to eat at. Shellness is located near Leysdown-on-Sea which is on the far eastern end of the Isle of Sheppey in the north Kent coast. Lots of amusement arcades for children to enjoy.
Dog-friendly? Dogs are not allowed from the 1st of May to the 30th of September.
Facilities: Toilets, cafe, arcades
Popular activities: Skinny dipping, sunbathing and swimming.
Getting there: You can get to the Isle of Sheppey via the A249 road from the A2 or Junction 5 of the M2 near Sittingbourne.
Nearby attractions: The Royal Cinema, Merlins Entertainment Complex, Mr G's Amusements, Shepherd Neame Visitor Centre and Brewery Tour, Oare Marshes Nature Reserve, The Tankerton Arms and the Black Dog.
15. Lydden Spout (Samphire Hoe), Dover
Lydden Spout beach, also known as Samphire Hoe is found under the famous white cliffs of Dover. The beach is mainly shingle, but some patches of sand between the rock pools at low tide can be found. This area was built from the material dug to create the Channel Tunnel. At low tide, you can find several species of crab, butterfish, blennies, masses of prawns and shrimp, mermaid purses, dogfish eggs and anemones also multi-coloured seaweed and shells on the beach. The area is a nature reserve and an outstanding area of natural beauty which offers a stunning location, a lovely coastline with grassy areas and wildflowers.
Type of beach: Sand and shingle
Parking: Parking open between 7am and dusk with a parking fee of £2.
Facilities: Kiosk for snacks and wheelchair friendly.
Popular activities: Painting, rock pooling, fishing, swimming, walking and bird watching.
Getting there: This beach can be found off the A20 carriageway, between Dover and Folkestone.
Nearby attractions: White Cliffs of Dover, Dover Sea Safari, Dover Castle, Fan Bay Deep Shelter, Dover Museum, Kearsney Abbey Gardens, Dover Transport Museum and Battle of Britain Memorial.
Thank you for reading 'Best 15 Beaches Near London'. If you'd like to read more, here are some blogs that might be of interest to you: