The mighty capital of Scotland has been an important part of Scottish history right from the 15th century. This city has long been a prominent centre for education, especially in the fields of medicine, Scots law, literature, philosophy, the sciences and engineering. Many people are surprised to know that this old castle-laden town is the second-largest financial centre in the United Kingdom after London. Let's take a dive into what makes Edinburgh so special and of course, the cost of living in Edinburgh which attracts 4.9 million visitors every year. and increases Edinburgh acceptance rate
Housing some of the top-ranking institutions in the UK and the world, Edinburgh is among the favourite destinations for international students. The cost of living in Edinburgh can range from £1,739 to £1,934 depending on whether you live on-campus or off-campus. There are several other factors that contribute to these living costs and they by and large depend on your personal lifestyle and budget. This article lists the expenses often encountered by students on a monthly basis when living in Edinburgh.
What Is The Cost Of Living In Edinburgh?
The cost of living in Edinburgh for students is slightly higher than the UK average but still manages to attract a good number of students from all over the world. The presence of world-class universities such as the University of Edinburgh, Edinburgh Napier University and Heriot-Watt University adds to the overall allure of Edinburgh. Here's a quick monthly breakdown of the cost of living in Edinburgh, Scotland –
| | |
| --- | --- |
| Item | Cost (Per Month) |
| Off-Campus Accommodation | £516 |
| On-Campus Accommodation | £711 |
| Transportation | £58 |
| Food | £900 |
| Utility | £108 |
| Entertainment | £37 |
| Groceries | £108 |
| Clothes | £70 |
| Total Cost of Living with Off-Campus Accommodation (Per Month) | £1,739 |
| Total Cost of Living with On-Campus Accommodation (Per Month) | £1,934 |
Average Rent In Edinburgh
Student accommodation in Edinburgh is a little different compared to the rest of the UK. You will find more flats rather than houses here so don't be alarmed if you have 9 housemates. On the brighter side, UniAcco has some of the best student accommodations in Edinburgh, enabling students to choose from a variety of room configurations that include en-suite rooms, studio rooms and student flats in Edinburgh. A 5 bedroom flat in the city centre will have an average rent of £516 – £711 per month. Life in Edinburgh offers a unique blend of historical charm and modern living. The city is renowned for its stunning architecture, picturesque landscapes, and a thriving cultural scene.
Cost Of Student Accommodation In Edinburgh
Premium Student Housing In Edinburgh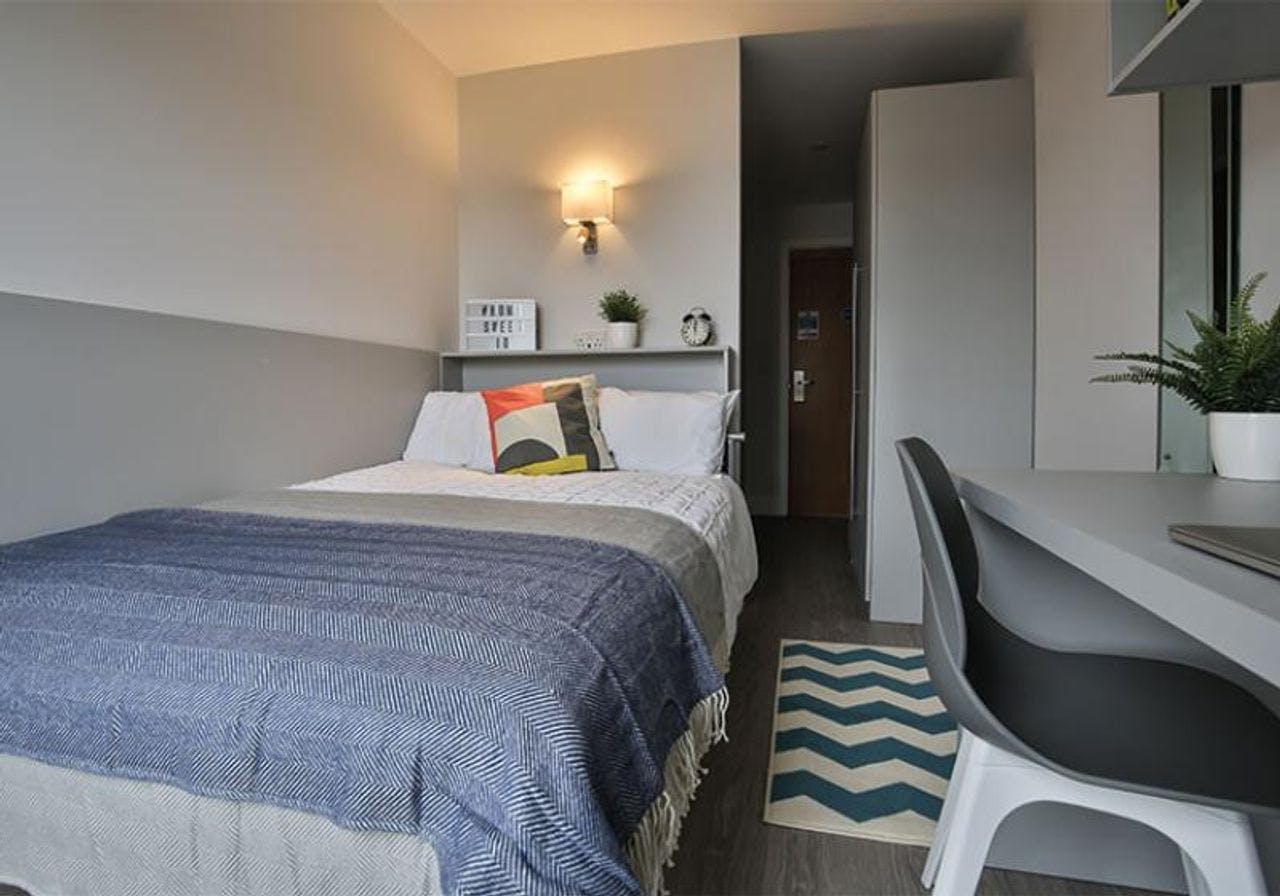 Where? – 114 Dundee Street Fountainbridge Edinburgh EH11 1AB United Kingdom.
iQ Fountainbridge is one of the few properties in Edinburgh that offers students en-suite rooms, studio rooms as well as apartments. No matter which room type you choose, you can expect a study desk, a bed and a WiFi connection. The University of Edinburgh is the closest university to iQ Fountainbridge. On weekends, students can hit one of the many restaurants, pubs and cafes like Chiquito, Pizza Hut, and Fahrenheit Restaurant & Bar, among others. This student accommodation in Edinburgh comes with amazing communal amenities that include a gym, a cinema and a spacious lounge.
Mid-Range Student Housing In Edinburgh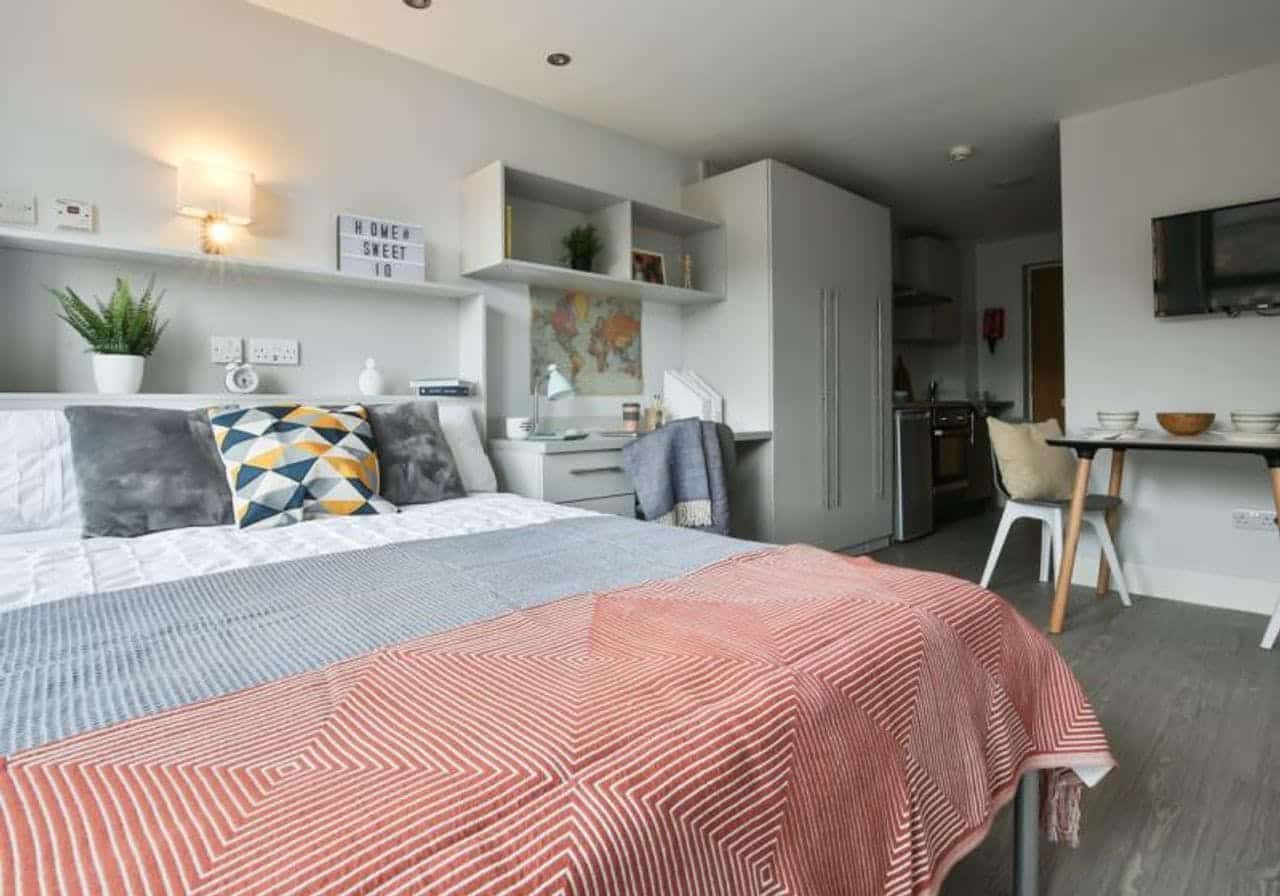 Where? – 69 Grove Street Edinburgh EH3 8FD United Kingdom.
The best part about iQ Grove is its proximity to famous universities. For instance, Edinburgh College of Art is just a 7-minute drive away from this property. This student accommodation in Edinburgh offers amazing apartment facilities like a television, a fridge, a WiFi connection and a microwave. The communal amenities include a cinema, gym, private dining rooms, lounge and study areas, as well as useful services like a laundry room and all-inclusive utility bills. There is an ever-present on-site staff available at the beck and call of students.
Value For Money Student Housing In Edinburgh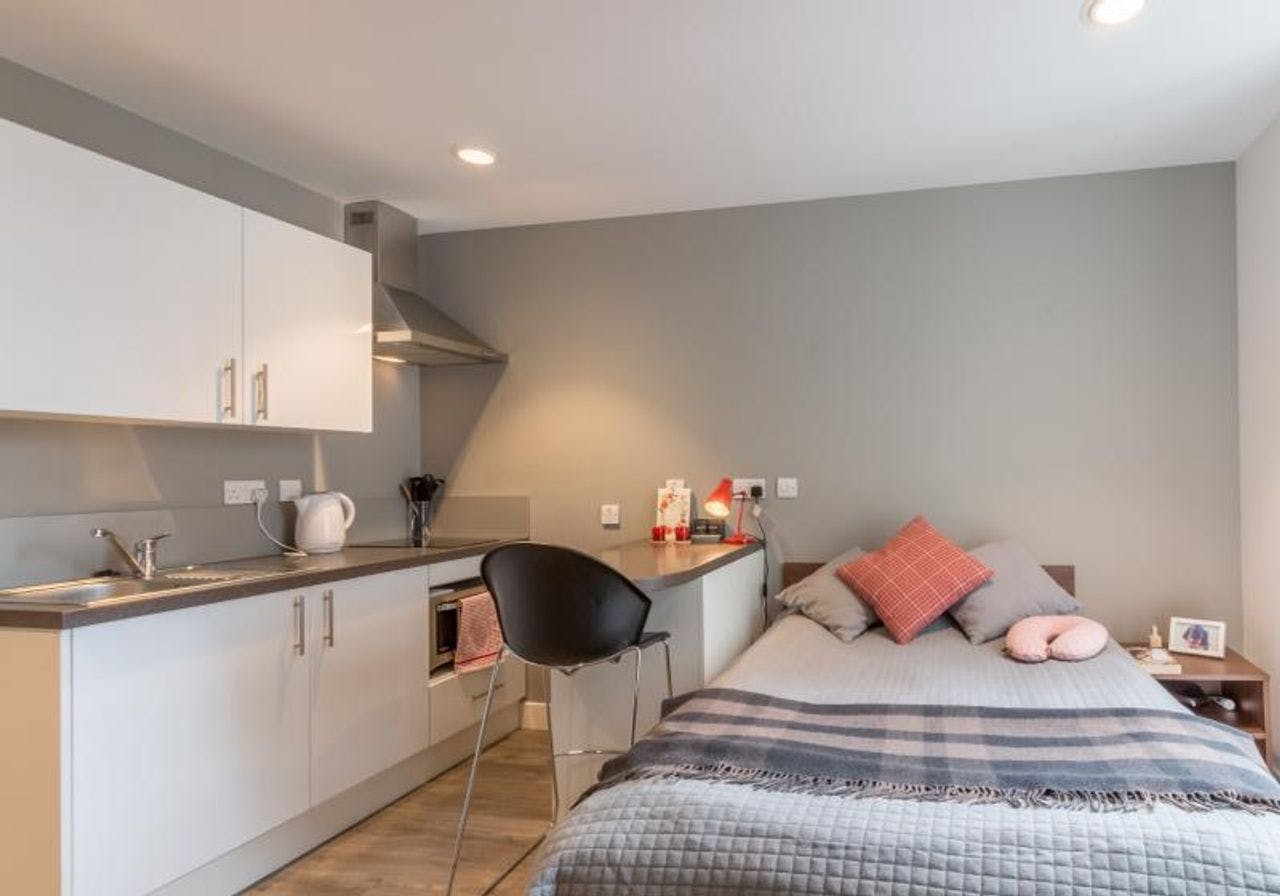 Where? – iQ Elliott House 8 – 11 Hillside Crescent Edinburgh EH7 5EA United Kingdom.
iQ Elliott House provides the best bang for your buck when it comes to Edinburgh uni accommodation. The en-suite rooms, studio rooms and apartments are very well-priced, making this property immensely popular among students. iQ Elliott House is very close to universities like the University of Edinburgh, Edinburgh Napier University and Heriot-Watt University. So, the travelling and living costs in Edinburgh for international students are likely to be low. The communal amenities at iQ Elliott House are a laundry room, social events and on-site management.
Cost Of Tuition In Edinburgh
The cost of living in Edinburgh for international students in terms of tuition is slightly higher than it is in cities such as London or Manchester. But for undergraduates within Europe, university fees are entirely subsidized by the Student Awards Agency for Scotland (SAAS). So depending on where you're from, the cost of tuition in Edinburgh can be surprisingly affordable.
Cost Of Transportation In Edinburgh
Buses – Lothian Buses run throughout Edinburgh and into Midlothian and East Lothian, making travel cheap and easy for students. There is a special night service with buses leaving every 10 minutes from Waverley Steps. Use this service when you're getting home from night outs as it is safe and will save you a fortune on spending on cabs. A one-way ticket will cost you around £1.70. Consider procuring a monthly pass for around £55.
Taxis – A typical taxi trip (basic tariff – 8 km) will cost you £19.
Trains – Haymarket and Waverley are two of the major stations in Edinburgh. Try booking your train ticket in advance online. This will save you some bucks.
Cost Of Food & Other Necessities In Edinburgh
Edinburgh boasts some amazing restaurants, particularly on George Street. There are some great, budget-friendly restaurants like Bella Italia, Jimmy Chung's, Prezzo and Gusto but it goes without saying that cooking your own food will lead to massive savings. Here is a rough breakdown of the cost of basic food in Edinburgh –
Milk (regular), (1 litre) – £0.88
Loaf of Fresh White Bread (500g) – £0.95
Rice (white), (1kg) – £1.00
Eggs (regular) (12) – £1.78
Local Cheese (1kg) – £6.31
Chicken Fillets (1kg) – £7.02
Apples (1kg) – £1.83
Banana (1kg) – £1.19
Oranges (1kg) – £1.98
Tomato (1kg) – £2.03
Potato (1kg) – £1.09
Onion (1kg) – £0.94
Water (1.5-litre bottle) – £1.04
Domestic Beer (0.5-litre bottle) – £1.71
Imported Beer (0.33-litre bottle) – £1.65
Besides food, you will also have to spend on clothing, doctor's visits, toiletries, gym membership, etc. Be prepared to spend close to £84+ per month on all these other necessities.
Cost Of Entertainment & Recreation In Edinburgh
Edinburgh has one of the most buzzing entertainment scenes in the UK. This city is famous for its annual events such as the Edinburgh International Festival and New Year's Hogmanay street party. Edinburgh tourist attractions are a must-see! You cannot miss The Royal Mile, the 287 steps of Scott's Monument and the Princes Street Gardens. Apart from these, students can have a gala time at one of the several bars, restaurants, and pubs Edinburgh has to offer. Here is a list of basic prices of the cost of living in Edinburgh for entertainment and recreation –
Basic dinner out for two in a neighbourhood pub – £36
Dinner for two at an Italian restaurant in the ex-pat area including appetisers, main course, wine and dessert – £57
2 tickets to the movies – £20
1 cocktail drink in a downtown club – £8
Cappuccino in ex-pat area of the city – £3.03
1 beer in neighbourhood pub (500ml or 1pt.) – £4.74
Source: UniAcco data, Numbeo, Expatistan.
FAQs
Is Edinburgh a safe city for students?
Edinburgh has a low crime rate and is a safe city. Even if you've recently shifted or relocated as an international student, the city is completely safe having ranked high in student satisfaction levels.
What are the popular attractions in Edinburgh?
Edinburgh Castle, the National Museum, and Arthur's Seat are among the most popular attractions not only in the city but across the world. The city is filled with iconic buildings, beautiful sites, and historic landmarks.
Is public transport easily accessible in Edinburgh?
Edinburgh provides visitors with convenient transportation in and around the city. A good bus service, along with first-rate train connections, plentiful taxis, and the arrival of trams, gives a plethora of possibilities for going from point A to point B in the city.
Where do students stay in Edinburgh?
Haymarket, Oldtown, Fountainbridge, and the City Centre in itself are some of the most student-friendly areas in Edinburgh. Known for their welcoming atmosphere, proximity to the universities, affordability, and good connection to transport links, these areas attract international students from across the globe.
What is Edinburgh university accommodation prices?
The cost of living in Edinburgh for students may vary due to several factors. However, as of 2023 prices, a student should make a budget of £516 per month for off campus accommodation costs, while on campus accommodation costs £711 per month.
Is Edinburgh Expensive?
Edinburgh is widely regarded as a reasonably priced city. However, Edinburgh offers a fantastic environment for both students and professionals to prosper and develop a satisfying life because of its top-notch colleges, welcoming culture, and variety of career options.
We hope you enjoyed this blog on the 'Cost Of Living In Edinburgh – The Ultimate Guide.' To know more about related fields do check out our other blogs –