The grim business outlook is proving to be too much for companies to handle. With the world economy on a downward spiral, many companies all around the world are experiencing a major drop in revenue. In a bid to stay afloat, they are trying to lower their operating expenses by laying off employees.
Walt Disney World said that they would be furloughing around 43,000 employees. Tech heavyweights, Tesla, sent an email to employees saying it will furlough all nonessential workers and reduce all employees' pay by at least 10%. ClassPass, a billion-dollar fitness platform, furloughed or laid off over half of its 700 employees.
To further lower costs, founders and CEOs are taking huge pay cuts. Founder and Group CEO of OYO Rooms, Ritesh Agarwal, has foregone his salary for the year. Treebo Hotels, a hospitality player, have stated that the founders are taking a 60% salary cut and senior management is taking 40% salary cuts for at least three months. All in all, most leadership teams of various companies around the world have taken deep voluntary salary cuts between 50% and 70% to do what's right in the interest of the company.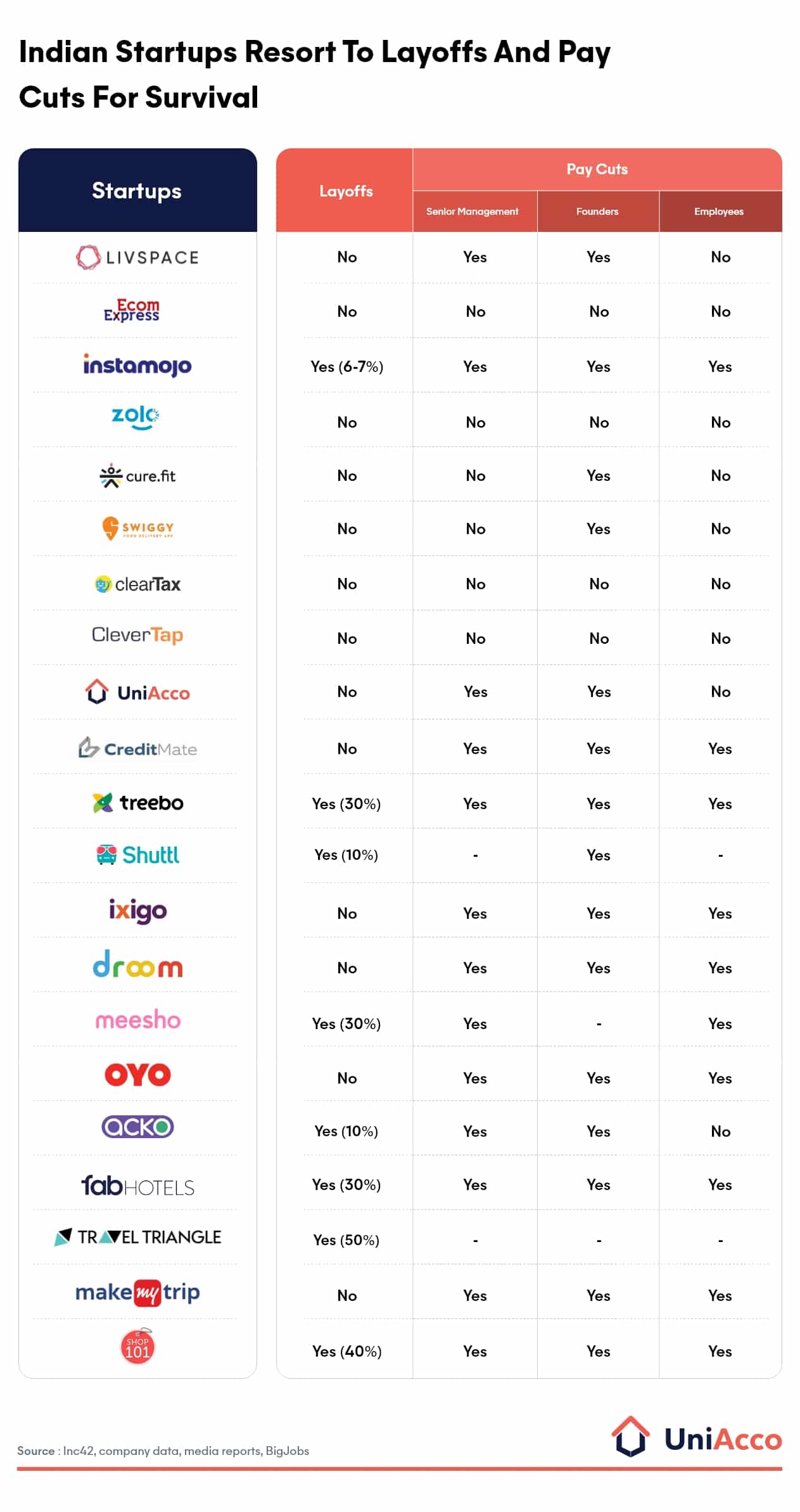 But in the midst of all this, there is a strong legion of companies such as Salesforce, Visa, Morgan Stanley, Citigroup, Bank of America, and FedEx who have pledged not to pursue any layoffs in light of Coronavirus. Cognizant, which has Indian roots with 65 per cent of its employees in India, has one-upped companies all around the world by announcing an additional 25 per cent of the basic pay to most of its staffers in India.
Indian startups that are hiring
Interestingly enough, there are some companies, especially startups, who have thrown caution to the wind by utilizing this time to recruit brilliant individuals whose professional careers have been stalled due to the pandemic. Take, for instance, UniAcco, a cross-border student accommodation platform, who are aggressively looking to fill out vacancies in their sales, tech and data science departments. The co-founder of UniAcco, Sayantan Biswas, says, "The hallmark of a great company is how well it reacts to adversity. Even during these tough times, we believe that we together as a team, can achieve tremendous success. We want to bring more people on board who will help us achieve our goal of being the go-to platform for international students to book their accommodation".
Other Indian startups like Solar AMC have also followed suit by announcing that they will be recruiting people for their finance, marketing and operations departments. If interested, send in your CV to career@solaramc.com
Payments startup, Cashfree, are looking for skilled frontend developers, full-stack/backend engineers and SDETs. The company's founder Akash Sinha says, "We want to become a platform which online companies could use to automate their entire payment flow, be it payment collection, wage disbursal, or refunds, we want to provide a 360-degree solution".
Coffer Internet Services Pvt Ltd, another Indian startup, is an app that helps construction project managers and contractors track real-time on-site progress to finish projects on time and within budget. This Bangalore based company is looking for UX+UI Designers, Backend Engineers, SED (React Developer), SDE (Andriod Developer) and Customer Relationship Managers.
You can apply directly to the aforementioned companies via LinkedIn.
International startups that are hiring
Here are some international startups who are actively hiring in this midst on Coronavirus –
Company – Lyrebird
Location – Montreal, Quebec
Position – Senior Software Engineer (Fulltime)
Experience – 3+ Years
Company – Placenote
Location – Ontario / Remote
Position – Lead Machine Vision Researcher
Experience – 3+ Years
Company – Vetcove
Location – New York City
Position – Full-Stack Software Engineer
Experience – 3+ Years
Company – Dahmakan
Location – Malaysia
Position – VP of Marketing
Experience – 3+ Years
Company – MagicBus
Location – Remote
Position – Marketing Manager
Experience – 3+ Years
Company – Standard Cyborg
Location – San Francisco / Remote
Position – Forward Deployed Engineer
Experience – 1+ Years
International companies that are hiring
As one would assume, there is a surging demand for people on the frontlines, particularly in health and online retail. Companies like Amazon, Anthem, Decker Truck Line and Home Depot recently posted the highest number of open job listings.
Amazon alone said it plans to hire an additional 100,000 warehouse and delivery workers amid a surge in online orders.
Food giants, Albertson's that owns brands such as Safeway and United Supermarkets, announced that it would hire 30,000 new employees, including store associates and managers.
With a surge for pharmaceuticals and other medical needs, CVS will hire 50,000 full-time, part-time and temporary employees.
Financial services firm, KPMG, is currently hiring for more than 2,000 open roles.
Pizza Hut is hiring 30,000 new full-time and part-time workers as Americans staying at home tend to order more pizza. Papa John's and Domino's will hire 20,000 and 10,000 full-time and part-time employees, respectively.
Just like Amazon, Target has pledged $300 million towards increase pay, institute paid leave and bonuses. They will also hire 9,000 new roles.
The best way to apply to these companies is by going through the individual company websites. You can also apply on LinkedIn and through other job sites such as Career Builder, Indeed, Monster.com, and ZipRecruiter.
Big companies in India that are hiring
Company – Amazon
Location – Bangalore
Position – Brand Development Associate
Eligibility – Bachelor's Degree
Experience – Minimum 1 year
Company – Flipkart
Location – Bangalore
Position – Content Writer
Eligibility – B.Com, M.Com, BA – Any specialization, MBA/PGDM – Any specialization
Experience – N/A
Company – Paytm
Location – Delhi
Position – Graphic Designer
Eligibility – Graduate with graphic designing skills
Experience – N/A
Company – Myntra
Location – Bangalore
Position – Data Analyst Associate
Eligibility – BTech in Computer Science
Experience – Minimum 1 year