Water can rev up your metabolism, help you lose weight, and keep your belly flat. According to a report, consuming 17 ounces of water daily improved the study participants' metabolic rate by 30 percent. Drink 1.5 liters (about six glasses) of water a day, and you can burn 17,400 calories per year! To make a detox drink, mix plain water with proven fat burning detox water recipes, and you will have an elixir that energizes you, battles bloating and helps you meet your goals of weight loss. In their peels and pulp, fruits like bananas, grapefruits, and apples have compounds that fry flab and prevent disease in a delicious way. Inspire yourself with some of the delicious recipes below:
Cucumber Lemon Water
The cucumber and lemon are washed and cut, and the mint is rinsed. Place the lemon and cucumber in a water jug. Fill the jug with water, blend, and leave to cool in the refrigerator overnight. You will continue to top the jug with more water for a few days before the fruits/herbs need to be modified.
Strawberry Basil Water
Start with one gallon of water (room temperature is fine). In a glass jar, combine the other ingredients, stir gently with a wooden spoon and refrigerate for three to four hours to allow all the ingredients to combine. Enjoy and serve.
According to the community, strawberries are rich in antioxidants, potassium, vitamin C, and several other nutrients. Basil has properties that are anti-inflammatory and antibacterial.
Grapefruit Mint
Grapefruit detox water recipes have great health benefits: A study showed that those who consumed grapefruit lost a full inch off their waistlines for six weeks. About why? The fruit is rich in phytochemicals, a fat-burning, bioactive compound. And mint is known to curb your appetite.
Apple Lemon Mint
For many good reasons, lemon is a popular detox ingredient: an antioxidant in its peel activates liver enzymes to help flush toxins out of the body. Here, one of the best fruits for a healthy body is combined with apples!
Mint Melon
Stock up while you can on the last of the summer watermelon: it is one of the best fruits for fat loss, having been shown to boost lipid (fat) profiles and decrease body fat accumulation. Moreover, a Spanish study found that there was less muscle soreness among athletes who drank post-workout watermelon juice.
Cucumber Lime Kiwi
Cucumbers are a well-known staple of the diet, and for a good reason: they are relatively low in calories, and their skin contains plenty of vitamins and minerals to support the body. So make sure to keep the skin on when adding to your H2O.
Mint Lemon Orange
Citrus fruits are classic ingredients: according to the World Health Organisation, they are abundant in the antioxidant D-limonene, a strong compound contained in the peel that activates liver enzymes to help flush contaminants from the body and gives a kick to slow bowels. You will lose belly fat by drinking multiple glasses of citrus water every day. Try out the lemon mint detox water recipe as well!
Cinnamon Orange Pomegranate
As with other sugar substitutes, cinnamon is a perfect way to add some flavor to your drink without unnecessary calories. For an antioxidant boost, pomegranates are also a perfect addition, and oranges are packed with valuable vitamins and minerals to keep the body lean and safe.
Hibiscus Basil Lemon Balm
Overnight, steep the hibiscus flowers, lemon balm, and basil in water. Strain and serve with ice, chilled. For women with low-estrogen conditions such as polycystic ovarian syndrome (PCOS) and menopause, Hibiscus is shown to promote an estrogen-like effect, making it suitable. Low estrogen can decrease the production of bile from the liver, resulting in reduced absorption of dietary fats and discomfort in the abdomen. In order to not only work on the nervous system to alleviate tension, basil and lemon balm are used but are often used as carminatives to calm muscles and minimize bloating and gas symptoms. For women suffering from digestive pain and tension, this infusion is perfect.
Blackberry Mint
Blackberries are a good source of antioxidants that are detox-boosting. While encouraging digestion and relaxing your indigestion and inflammation, adding mint to this fruit water will help give it a refreshing taste.
Celery Cucumber
To any water, add celery and crunch away! It has six calories per stalk and is full of vitamins A, C, K, B vitamins such as folate and potassium, which reduces water retention and helps restore muscle, so you can get back to the gym faster and burn more calories. A celery with cucumber detox water recipe will keep you fresh and active.
Kiwi Mint Cucumber
A secret superhero includes these soothing green detox water recipes: it has been shown that kiwi reduces bloating and constipation and increases immunity. Not only is the cucumber refreshing, but it's also rich in vitamins C and K, so once you empty your bottle, eat the veggies.
Pomegranate Strawberry Mint
Here comes a body detox water recipe! Pomegranates are the stuff of ancient mythology, and with good reason:
The seeds have three types of antioxidant polyphenols, namely tannins, anthocyanins, and ellagic acid, which all help combat and avoid harm to your body caused by free radicals. COmbined with strawberry and mint, they can do wonders to your body.
Frozen Berry and Lemon
It is an outstanding idea to drop berries into your bottle. They're some of the best fat-burning foods, be they strawberries, blueberries, or blackberries. The use of frozen berries gives a pleasing mocktail effect to your sip.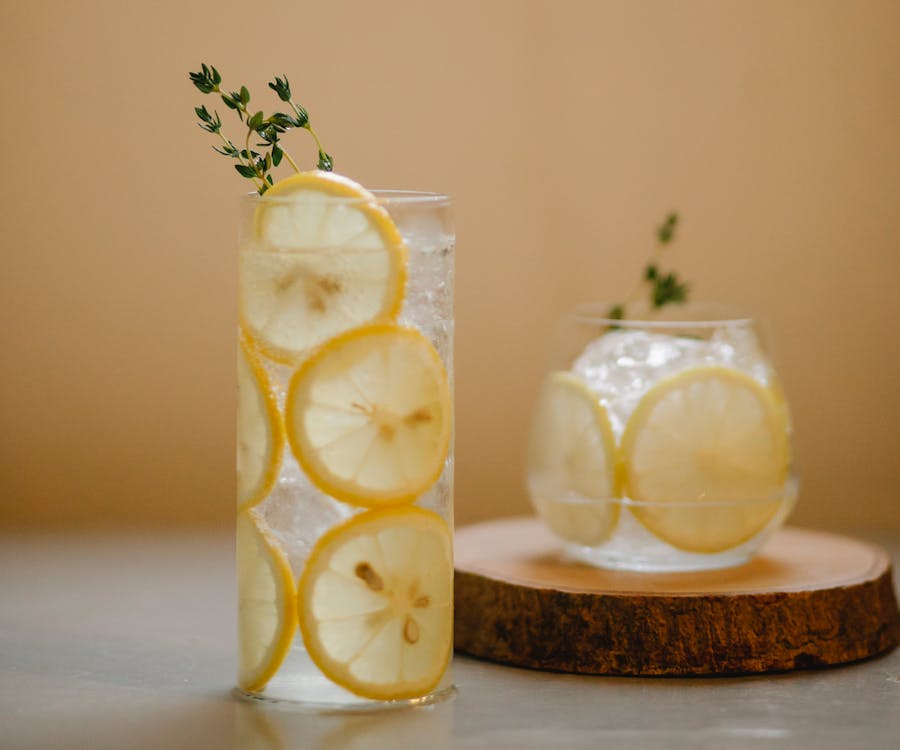 Coconut Persimmon
After a gluttonous meal, this is a perfect choice for detoxing: Persimmons are abundant in toxin-mopping vitamins A and C and high in, ahem, elimination-speeding fiber. They also have a tiny amount of manganese, which is essential in fat and protein metabolism.
Strawberry Orange
Strawberry Orange detox water recipes are a complete treat with fat-burning berries plus body-cleansing lemon. If you want, add some seltzer to carry back childhood memories of Fanta fully guilt-free.
Berry Kiwi Orange
Since they're filled with antioxidants, berries are an excellent addition to your detox beverages. But in this detox beverage, this is not the only nutritious star: oranges are filled with vitamin C to provide you an energy boost, and kiwis have lots of nutrients that are good for weight loss, such as potassium.
Lime Chia
Lime is a calming, cleansing veteran, but the hot upstarts of detox are chia seeds: they can balance blood sugar, improve weight loss, hold your hunger at bay and even help keep your body hydrated during the day: when in liquid, they grow to as much as ten times their size, making you feel full and minimizing your appetite!
Strawberry Cucumber Pineapple
This detox water recipes concoction is a powerhouse that battles inflammation: both pineapple and strawberries have antioxidant properties. Cucumber is an additive that is low-cal and refreshing, and rich in vitamins C and K.
Mango Ginger
Thanks to the fresh ginger, ginger detox water recipes are a potent bloat-fighter. Used for thousands of years to relieve queasy tummies and enhance digestion, in Chinese medicinal texts from the fourth century BC, you can find mentions of ginger! According to a study, Ginger serves as a muscle relaxant that helps the body to release gas more easily. In a number of ways, you can get your ginger fix, but fresh ginger is the richest in gingerol, the compound that contributes to many of the health benefits of the spice.
Mint Goji Cucumber
Goji berries add more to your drink than a sweet-and-tangy taste: the slimming effect of superfood! In research published, researchers found that the goji group was burning calories at a pace 10 percent higher than the placebo group one hour after the dose. The results were up to 4 hours long.
Pomegranate
Throw away the cocktail of succulent pomegranate juice and try this sweet detox drink instead. Without all the extra sugar and sweeteners, pomegranate detox water recipes have all the vitamins and nutrients that can be given by the berries.
Carrot Persimmon
Now here's an orange drink worth bottling down. Fat-soluble compounds that are associated with a reduction in a wide variety of diseases, as well as a decreased incidence and severity of inflammatory disorders such as asthma and rheumatoid arthritis, are spiked with carotenoids. Persimmons are rich in vitamins A, C, and lycopene, an antioxidant that can decrease cancer danger.
Blood orange Grape Mint
Blood oranges in the calorie department are actually very low at just 70 calories per serving for such sweet fruit, and they contain fiber and potassium. As they have a high water content, grapes are also a great addition to your detox water recipes to keep you extra hydrated during your day.
Apple Cinnamon
Who knew that a cinnamon detox water recipe could function as well as it does in oatmeal in the water? It's a healthy thing to do: cinnamon regulates blood sugar and avoids the spikes of insulin that shield you from munchies.