Nottingham is a city and unitary authority area located in the heart of England. Affectionately called the "Queen of the Midlands", it is an excellent place for students to pursue their higher education. Nottingham hosts the highest concentration of higher education providers in the East Midlands as the city is served by three exceptional universities – the University of Nottingham, Nottingham Trent University and the University of Law. If you're planning to enrol at one of these universities, this article gives a detailed analysis of the cost of living in Nottingham for international students.
Nottingham attracts several international students from all over the world, thanks to its high-ranking universities. The city has a plethora of activities in store for students to do. This brings us to our next question: How much does it cost to live in Nottingham? The average cost of living in Nottingham ranges from £1,339 to £1,443, depending on your lifestyle and how you budget. While living costs are cheaper in Nottingham than in London, there are various factors that add to the entire cost apart from your tuition and study expenditures. Read on to find out about these factors that influence your living expenses.
What Is The Cost Of Living In Nottingham?
The Cost of Living in Nottingham is quite close to the UK average. Check out the monthly breakdown of important living costs in Nottingham –
| | |
| --- | --- |
| Particulars | Expenses (Per Month) |
| Off-Campus Accommodation | £480 |
| On-Campus Accommodation | £464 |
| Transportation | £56 |
| Food | £480 |
| Utilities | £104 |
| Entertainment | £65 |
| Groceries | £60 |
| Clothes | £50 |
| Total Cost of Living with Off-Campus Accommodation | £1339 |
| Total Cost of Living with On-Campus Accommodation | £1443 |
What Is The Average Rent In Nottingham?
As per our data, the average monthly rent in Nottingham is £660. Then again, the rent for student accommodation in Nottingham depends on the proximity to the city centre. The monthly rent for an 85 m2 (900 sqft) furnished Nottingham accommodation in an expensive area will cost you £1,242 whereas, the monthly rent for an 85 m2 (900 sqft) furnished Nottingham uni accommodation in a normal area will set you back £724.
Through UniAcco's platform, you can get yourself a spacious en-suite room or student houses Nottingham, with all the latest and modern amenities for only £516 a month. Check out our website to know more.
The Best Student Accommodation in Nottingham
Premium Nottingham Accommodation
1. iQ NewLand House: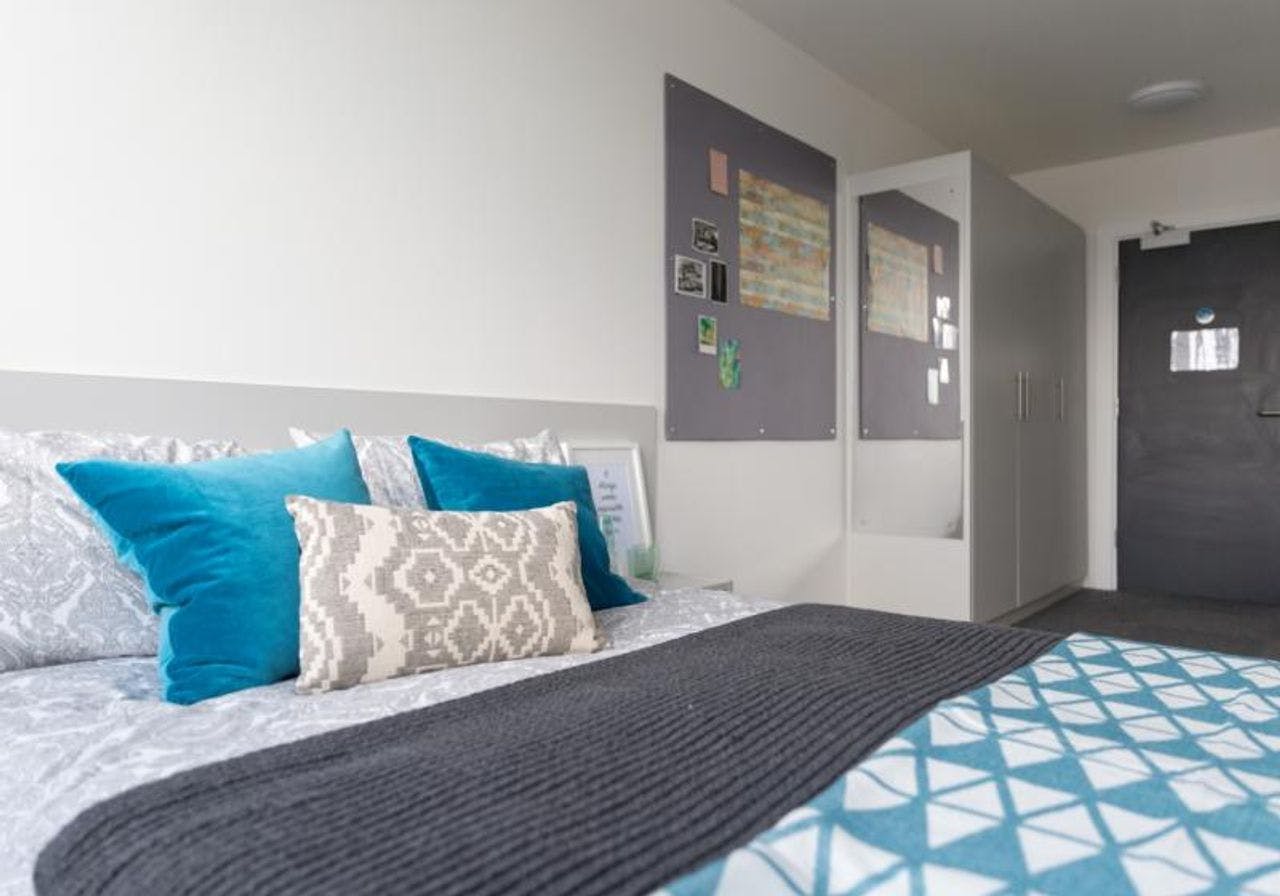 Where?
Nottingham NG1 6HE, United Kingdom
About iQ NewLand House
Get a taste of luxury living in Nottingham with iQ NewLand House. This student accommodation in Nottingham offers a wide range of studio rooms and two-bed apartments. Irrespective of your room choice, you can expect a WiFi connection, a bed and a wardrobe in every room. Communal amenities at iQ NewLand House include social events, a garden, a communal area, a study area, contents insurance, a CCTV security system and 24/7 dedication. What's more, Nottingham Trent University and the University of Nottingham are just a few minutes away. With iQ NewLand House offering so much, we bet you think that the price tag is a bargain!
Price Range
£145 – £220/week
Mid-Range Nottingham Uni Accommodation
2. iQ NewTown House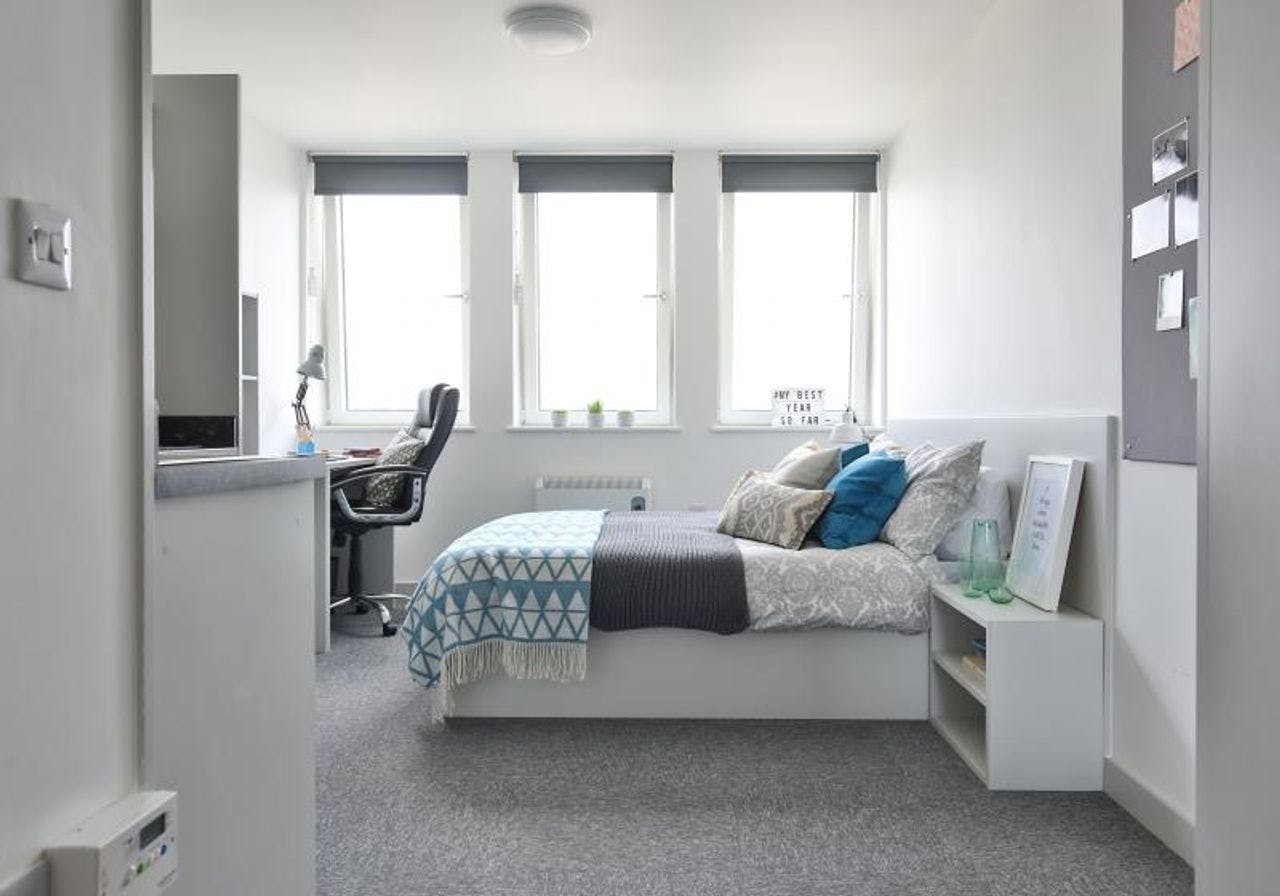 Where?
Maid Marian Way, Nottingham NG1 6GQ, United Kingdom
About iQ NewTown House
If you have a balanced budget, then we recommend you go for iQ NewTown House. Their studio rooms have a premium feel to them but don't carry the back-breaking rent rates. You get all your basic in-room amenities like a bed, a study desk & chair and a WiFi connection in every room. Students can also make use of the communal amenities like the on-site gym, social events, the theatre, the communal room, the study area, 24/7 dedicated service, CCTV security system and much more. Take a virtual tour of iQ NewTown House on our website.
Price Range
£172 – £211/week
Value For Money Student House Nottingham
3. iQ Exchange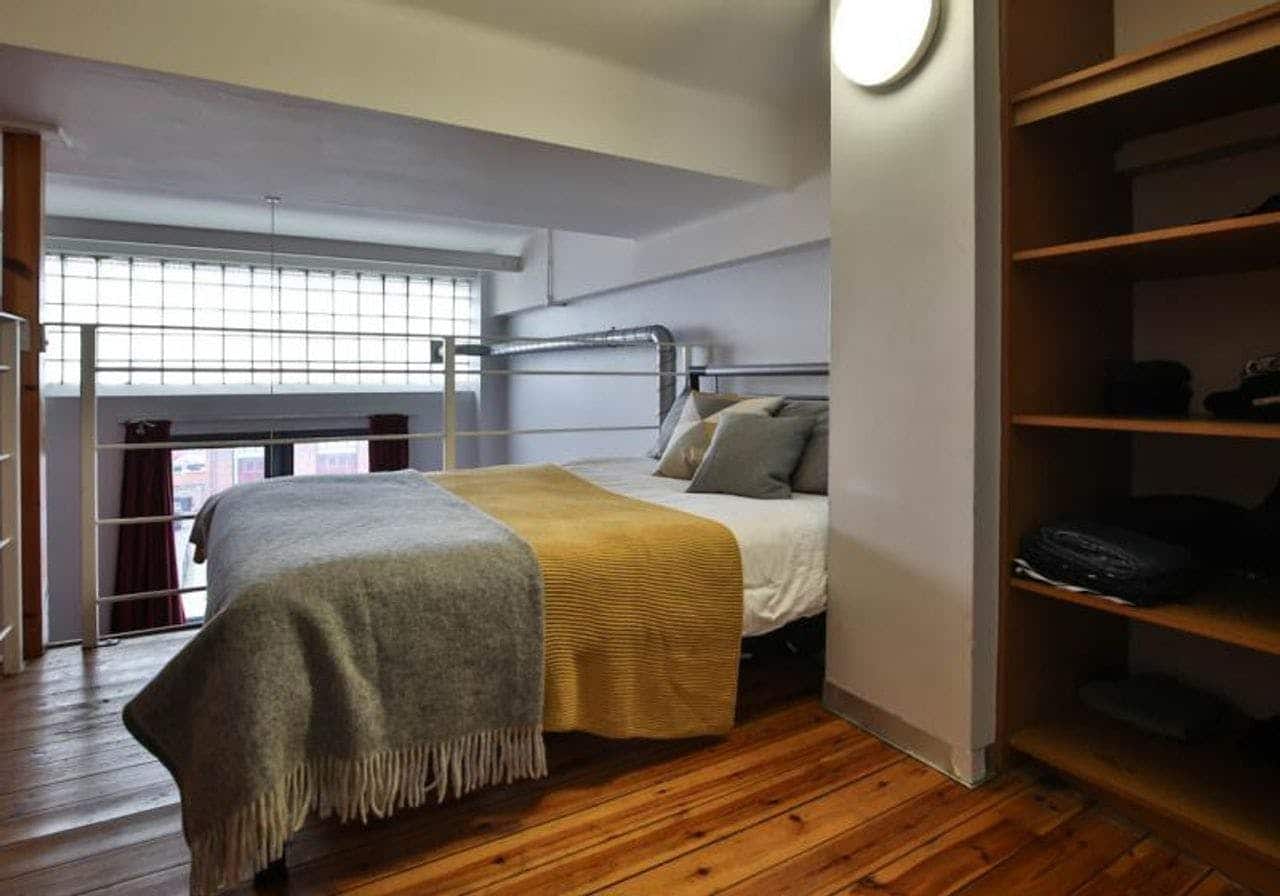 Where?
143 Lower Parliament St, Nottingham NG1 1EE, United Kingdom
About iQ Exchange
Get the best bang for your buck at iQ Exchange. This unique student accommodation offers en-suite rooms, studio rooms and even two-bed apartments! iQ Exchange student accommodation is perfect for students of the University of Nottingham and Nottingham Trent University. Many young students try their best at securing iQ Exchange months in advance, and it's not surprising to know why. iQ Exchange, Nottingham offers fully furnished rooms and amazing communal amenities such as a common room, a laundry room, bike storage, social events, contents insurance and much more.
Price Range
£129 – £222/week
Cost Of Tuition In Nottingham
Close to 62,000 students attend the three most popular universities in Nottingham –
Nottingham Trent University
The University of Law
The University of Nottingham
The average tuition fee for undergraduate students in Nottingham is around £14,570, which is cheaper than most cities in the UK. Furthermore, Telegraph, recently named the University of Nottingham as the second-cheapest institution for studying in the UK, with an average total weekly spend of approximately £180. So, if you're thinking about studying in Nottingham, go ahead with it. You'll be spending much less than students in other cities in the UK.
Cost Of Transportation In Nottingham
Prior to 2015, the public transport system of Nottingham won several awards for its largest publicly owned bus network in England. The government has invested heavily in upgrading and modernizing the transport system which has led to the re-opening of the Robin Hood Line and the construction of a light rail network, Nottingham Express Transit. Students who wish to study in Nottingham should strongly consider getting a monthly public transport pass for £57.
Cost Of Food And Other Necessities In Nottingham
There are several hundred restaurants in Nottingham that serve dishes from all over the world. But don't be tempted to eat out on a daily basis. Preparing your own food will help you save a lot of money. Here is a rough breakdown of the cost of basic food in Nottingham –
Milk (regular), (1 litre) – £0.90
Loaf of Fresh White Bread (500g) – £0.90
Rice (white), (1kg) – £0.73
Eggs (regular) (12) – £2.14
Local Cheese (1kg) – £6.08
Chicken Fillets (1kg) – £5.64
Apples (1kg) – £2.48
Banana (1kg) – £0.89
Oranges (1kg) – £1.37
Tomato (1kg) – £3.48
Potato (1kg) – £0.92
Onion (1kg) – £0.85
Lettuce (1 head) – £0.67
Water (1.5-litre bottle) – £0.87
Domestic Beer (0.5-litre bottle) – £1.86
Imported Beer (0.33-litre bottle) – £2.00
Cost Of Entertainment And Recreation In Nottingham
Nottingham hosts several multicultural events all throughout the year. The city has hosted an annual Asian Mela every year in summer since about 1989. There's also the parade on St Patrick's Day, fireworks at the Chinese New Year, Holi in the Park and several Sikh events.
Nottingham also has several large music and entertainment venues including Rock City, the Royal Concert Hall, the Nottingham Arena (Social centre) and Nottingham Royal Concert Hall (2,500-capacity).
Galleries and museums are aplenty in Nottingham. Visit the National Justice Museum, City of Caves, Nottingham Castle Museum and Nottingham Natural History Museum.
There is truly no end to entertainment opportunities in Nottingham. Use your free time to explore all the entertainment hubs in the city – Victoria Centre, Broadmarsh, and Lace Market.
Here are some costs associated with entertainment and recreation in Nottingham.
Basic dinner out for two in a neighbourhood pub – £41.00
Dinner for two at an Italian restaurant in the ex-pat area including appetisers, main course, wine and dessert – £65.00
Two tickets to the movies – £22.00
One cocktail drink in a downtown club – £8.00
Cappuccino in ex-pat area of the city – £3.80
One beer in neighbourhood pub (500ml or 1pt.) – £4.03
Sources: UniAcco data, Expatistan, Numbeo.
FAQs
1. Is living in Nottingham expensive?
According to a recent study by TotallyMoney, Nottingham is the second cheapest city in the UK for student living costs. In order to rank universities, this was based on eight crucial living parameters such as rent, the cost of a taxi, the cost of a pint, and more. Nottingham's cost of living is quite close to the UK national average.
2. Does Nottingham have a good student life?
Nottingham is a vibrant, multicultural city rich in history. Living in Nottingham provides you with first-class shopping, fantastic sports facilities, and distinct local culture. The city is also well-known for its safe, diversified, and entertaining nightlife.
3. Is Nottingham safe for international students?
Nottingham is known to be safe and student-friendly. Hence, living in the city will provide you with a plethora of unique experiences. With the University of Nottingham holding a strong reputation, you will find a huge number of international students in and around this city.
4. What is a good price for student accommodation in Nottingham?
Approximately, student residences in Nottingham start from around £150 a week or £600 a month. However, the rent largely depends on the location. If your housing is located in or within the vicinity of the city centre, it could be more expensive when compared to the rest of the city.
5. What is Nottingham famous for?
Nottingham is well-known for its ancient castle and connections to the fabled bandit Robin Hood. Additionally, it is renowned for its rich cultural history and tradition of manufacturing lace.