Travelling spoils you, but in all the good ways. It leaves you always craving more, an addiction that can never quite be met. Every place, every trip is a new adventure; pulling you deeper into the love of wanderlust.
Consider Scotland, if you only conjure up pictures of the Loch Ness Monster for a moment, tartan kilted Highlanders, blaring bagpipes, magnificent scenery, shaggy Highland cattle, ghostly castles, and, of course, the birthplace of golf. Altogether, these things are part of the fabric that makes Scotland so unique. In several different ways, the country lends itself to Travelling and exploring.
And then there is Scotland's compact, hilly capital Edinburgh. It has an Old mediaeval Town with gardens and neoclassical buildings and an elegant Georgian New Town. Edinburgh Castle, house to the crown jewels of Scotland and the Stone of Destiny, used in the coronation of Scottish rulers, is towering over the area. In Holyrood Park, Arthur's Seat is an imposing mountain with sweeping views, and monuments and memorials overlook Calton Hill, all waiting to be explored.
Hitting Edinburgh is never the wrong decision. If you're searching for history, landmarks, or even just a good old glass of Scotch, Scotland's capital city has several top-notch tourist destinations. Throw in some of the best scenery in urban Europe, and we have a perfect escape from the city just waiting to happen.
We are here to escort you through your tour to Edinburgh enlisting the best things to do while you are staying in Edinburgh and making your travel worth!
#1. The Awesome Nightlife and Festivals
Although Edinburgh is mediaeval and historical; at night, there is another side of the city that comes to life. Modern underground bars, traditional Scottish pubs, fun nightclubs and sophisticated whisky bars abound in the area. We're still not shocked at how unique the night outs are in Edinburgh, being a student city. Hoot the Redeemer is an underground bar that serves quirky drinks, boozy slushies, adult ice cream and a fun feel. Explore the secret bars where the locals hang out.
#2. The Interesting Scottish History
Edinburgh has a rich history dating back to the Roman era. Battles, forts, arms and armies; once the town was a battleground. Wander around the grounds of Edinburgh Castle on your journey to Edinburgh. The historic fortress is constructed high on Castle Rock, an incredible 700 million-year-old extinct volcano. Visit the castle, visit the various rooms and read more about the history of Edinburgh, including what you can read about the War of Scottish Independence.
Head to some of the most prestigious museums in Edinburgh, including the Scottish National Galleries, where you can find portraits of significant figures in Scottish history face-to-face. Just behind the doors, for free admission, you can see some of the most incredible art in the world.
You can also discover a darker side of Edinburgh at the Edinburgh Dungeons, where you can learn all about the mediaeval city's haunted past. Just walk around the old town, and you'll find a piece of history lurking in Edinburgh.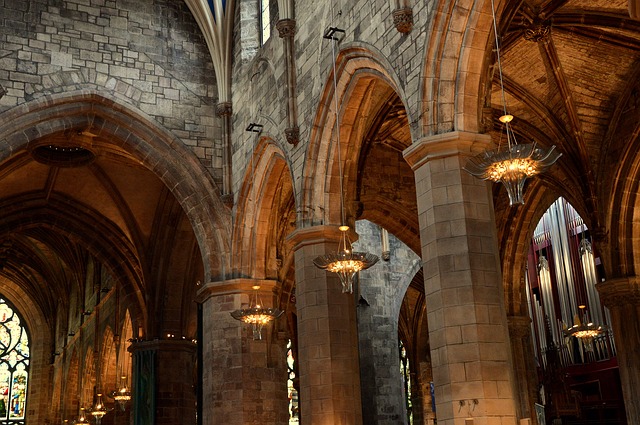 #3. The Interesting Architecture of Scotland
Edinburgh is the birthplace to some impressive architecture. A short walk down the Royal Mile and through the narrow alleys of the Old Town, and you'll quickly see the blend of Edinburgh's architectural styles. Admire St Giles' Cathedral dating back to 1124, visit St Margaret's Cathedral, the oldest part of Edinburgh Castle, or admire the Gothic architecture at Scott's Monument.
#4. The Highland Views and Hikes
Edinburgh's lush green spaces and rolling hills make it the ideal outdoor destination for those who love to be one with nature. If you're up for a lovely stroll, head up to Arthur's Seat, an area that makes up much of Holyrood Park. Resting 251 metres above sea level on an old volcano, if you hike up to the top of Arthur's Seat, you can gain fantastic views of Edinburgh.
If you're looking for a good, simple stroll or something more strenuous, there are various routes you can take. For just £ 5, you can also head to Nelson's Monument for spectacular views of the area.
#5. The Scottish Food Scene
Edinburgh has a food scene that's underrated. You'll not only find countless cosy Scottish pubs and restaurants, you'll also find plenty of other cuisines from around the world. You name it, Indian, Italian, Thai, English, Scottish, Chinese, that's what Edinburgh has. Not to mention the great farmer's markets where you can catch a healthy, cheap lunch (try the weekend Farmer's Market in Edinburgh or Stockbridge Market).
The Halfway House is always a perfect and inexpensive option if you are searching for a Scottish pub where you can luxuriate in authentic local food.
And you have to try those Scottish delicacies such as haggis when you're in the pubs. Or if you have a sweet tooth, try the deep-fried Mars bar, a Scottish creation. And you can't get a typical Scottish breakfast to start your morning.
Do not forget to order a Sticky Toffee Pudding for dessert. The heartwarming pies and mash potatoes, broths and bangers and mash are our favourite sort of local foods.
So, here are the five best things you must do when you plan to visit Edinburgh, Scotland.