The UK's obsession with tea originates from the Seventh Duchess of Bedford, who shared her guilty secret of enjoying tea and snacks a few hours before dinner. Unbeknownst to her, she went on to set a trend that would evolve into a national tradition! Today, high tea in London is a habit rather than tradition. You will find Londoners nibble on finger sandwiches, scones and macarons while devouring their tea with equal enthusiasm. This blog is dedicated to finding the best sweet and savoury locations for high tea in London.
The Savoy Hotel | High Tea in London
The Savoy Hotel is the place to be if you want to enjoy good food on a long afternoon by the Thames. It is located just a stone's throw away from the swanky Covent Garden district. Along with an impressive selection of tea and coffee, expect the most scrumptious sandwiches, heavenly raisin scones, and trays of luscious cakes, you've ever tried. The Savoy is definitely one of the "must-visits" in your high tea in London itinerary.
Where is The Savoy Hotel?
Strand, London WC2R 0EZ, United Kingdom
Our favourite dish at The Savoy Hotel?
Homemade scones with clotted cream and jam
Cost of high tea at The Savoy Hotel?
£75 per person
Claridge's | High Tea in London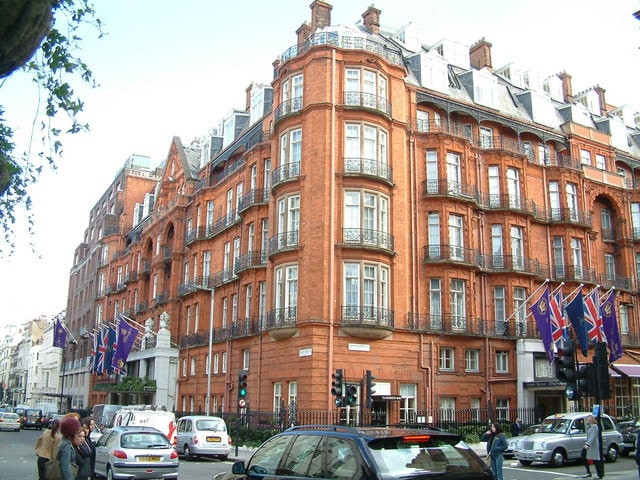 Who wouldn't want to dine at London's finest high tea establishment, that's been putting smiles on the faces of its patrons for the past 150 years? Claridge's in London, specialises in an array of sweet and savoury delights, that taste even better after every sip of tea you take. Staying true to its roots, Claridge's takes traditional English high tea dishes and gives it the respect it deserves, by following age-old recipes that have been handed over generations after generations.
Where is Claridge's?
Brook St, Mayfair, London W1K 4HR, United Kingdom
Our favourite dish at Claridge's?
Chocolate eclairs
Cost of high tea at Claridge's?
£70 per person
Rosewood London | High Tea in London
Rosewood London is the mecca for art-fanatics and foodies alike. Art revelers can admire the hotel's sophistication and the spellbinding decor of the Mirror Room, which is the restaurant that hosts the high tea sessions. Food aficionado can take solace in the culinary delights of Executive Pastry Chef, Mark Perkins, who is known to whip a mean ginger jaconde sponge. If all this hasn't convinced you to pay a visit to Rosewood London, then maybe take the word of the good folks at the Afternoon Tea Awards, who've adjudged Rosewood London the best Best Contemporary Afternoon Tea two years in a row.
Where is Rosewood London?
252 High Holborn, Holborn, London WC1V 7EN, United Kingdom
Our favourite dish at Rosewood London?
Chocolate mousse
Cost of high tea at Rosewood London?
£70 per person
Sketch Gallery
Sketch Gallery is the brainchild of restaurateur Mourad Mazouz and award-winning chef Pierre Gagnaire, who've transformed Sketch Gallery into one of the most beautiful restaurants in London. But it is during tea time when this restaurant really shines. Sketch Gallery is what you call a paradox as it shows glimmers of eccentricity, which can be seen in its bizarre, egg-shaped loos, but also manages to come off as "elegant". The menu here at Sketch Gallery consists of gooey apricot and pistachio cake, hot-pink Battenberg, salted-caramel éclairs and shot glasses of white-peach and verbena cheesecake. All of this makes Sketch Gallery one of the most sought after high tea in London destinations.
Where is Sketch Gallery?
9 Conduit St, Mayfair, London W1S 2XG, United Kingdom
Our favourite dish at Sketch Gallery?
Smoked salmon sandwiches
Cost of high tea at Sketch Gallery?
£59 per person
Cake Boy Cafe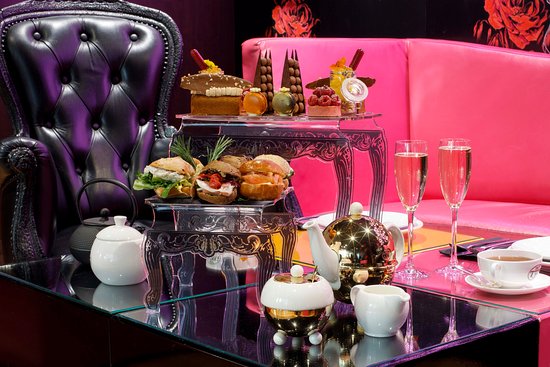 Who said that the best high tea in London is found only in 5-star hotels? Cake Boy Cafe transcends barriers and has made a name for itself because of its delectable high tea menu. Head chef, Eric Lanlard, makes the most amazing specialty sandwiches with salmon, petit fours, macaroons, and chocolate tarts you've ever had! When you're done adding a few extra pounds to yourself, finish off your high tea experience with a little vegan champagne, as recommended by Mr Lanlard himself.
Where is Cake Boy Cafe?
Unit 2, kingfisher house, Juniper Dr, Battersea, London SW18 1TX, United Kingdom
Our favourite dish at Cake Boy Cafe?
Olive sourdough with coronation chicken
Cost of high tea at Cake Boy Cafe?
£25 per person