Leeds is a great city for college students. It is well known for having top-notch schools and universities with various programmes to fit every interest, skill level, and financial situation. Leeds has a wide variety of accommodations, many of which are geared towards the needs of students. There are many possibilities to fit different budgets, from the comfort of student residences to the solitude of privately rented flats. Compared to other cities in the UK, Leeds has a relatively low cost of living and has a variety of the student accommodation. Students feel right at home in Leeds since it has a sizable student population and is a student-friendly city. It is easy and hassle-free to seek for the best student accommodation in Leeds, which is close to both these universities and the main attractions. If you choose to attend school in Leeds, you can count on finding excellent student housing and having a great social life.
Reason To Book Student Accommodation In Leeds:
An increasing number of students from all over the world and the UK are moving to Leeds, making it a vibrant city with a thriving student community. With a reputation for offering a top-notch education to students, the city is home to several highly regarded educational institutions and top-ranked colleges. With over 70,000 pupils, it is popular among students. Almost the entire year, the city is teeming with activity and people in a joyful and lively mood.
The city's centre is intense, giving your daily life exquisite flavours with exciting social events occurring almost every other day. You can quickly locate affordable apartments to rent in the city centre that come with bills, enabling you to budget during the week and then indulge on the weekends. These are the reasons for booking student accommodation in Leeds with many facilities.
Accommodation Options In Leeds:
| | | |
| --- | --- | --- |
| Accommodation | Cost | In INR/ per week |
| The Refinery | £174-250/ per week | 21917 |
| Vita Student St. Albans | £268-358/ per week | 31385 |
| Sycamore House | £244-299/ per week | 26213 |
| Burley Road | £138-215/ per week | 18848 |
| Vita Student Portland Crescent | £323-467/ per week | 40941 |
| Oxley Residence | £109-149/ per week | 13062 |
| Iconinc | £267-359/ per week | 31473 |
| Symons House | £214-355/ per week | 31122 |
| iQ Marsden House | £177-240/ per week | 21040 |
| iQ Leeds | £163-267/ per week | 23407 |
List Of Best Student Accommodation in Leeds:
1. iQ Leeds: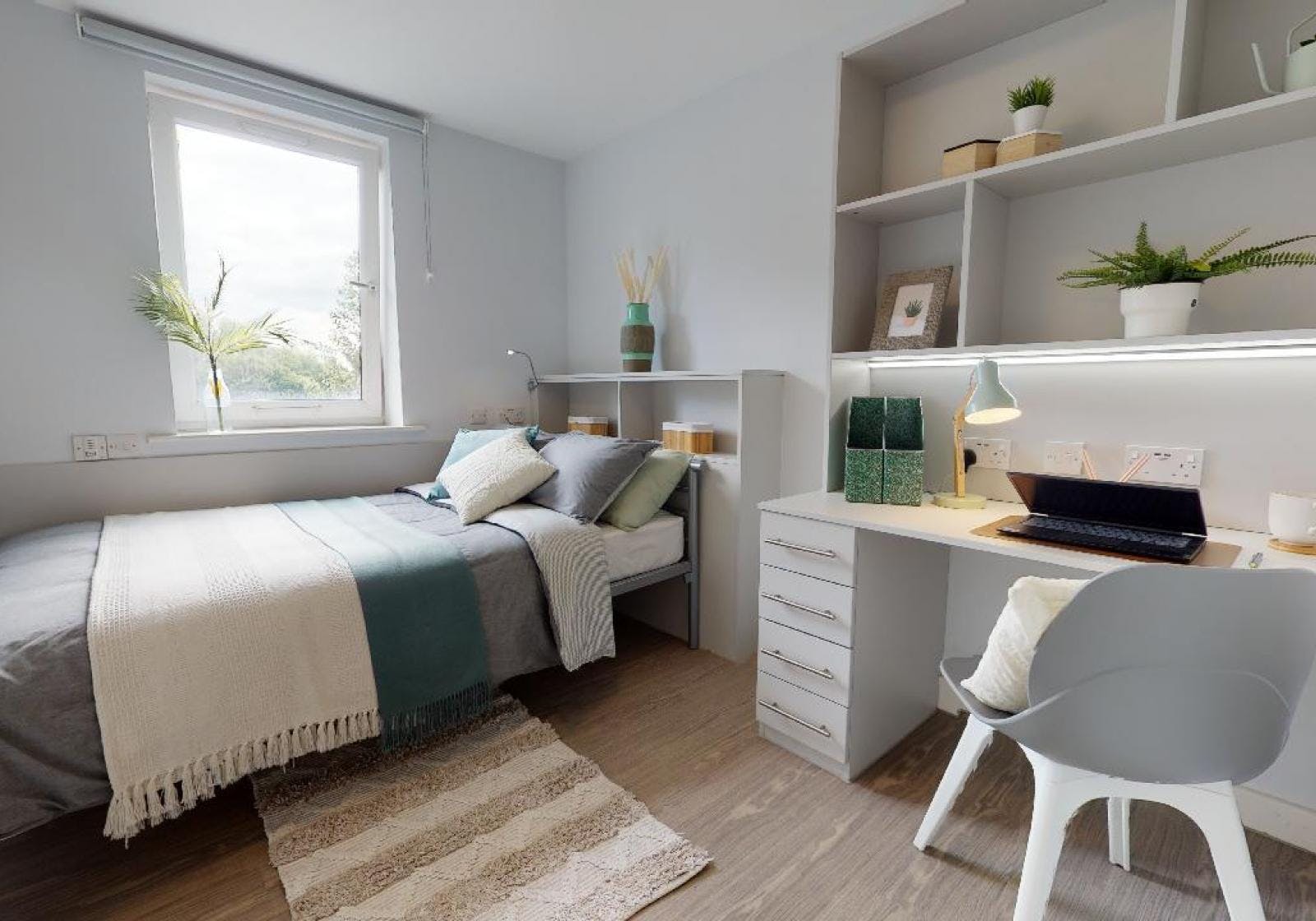 iQ Leeds is one of the most popular student accommodation in Leeds. . It is recognized as the most affordable accommodation alternative, making it a perfect choice for international students. A comfortable bed, an study area, and a bathroom are features of the average iQ Leeds dorm. With various ensuites, studios, shared rooms, and apartments, they have a variety of options of in Leeds that offers the most incredible student experience. All room kinds are further separated into platinum, gold, silver, and bronze categories to cater to student's varied interests and preferences.
Price: £163-267/ per week
2. The Refinery: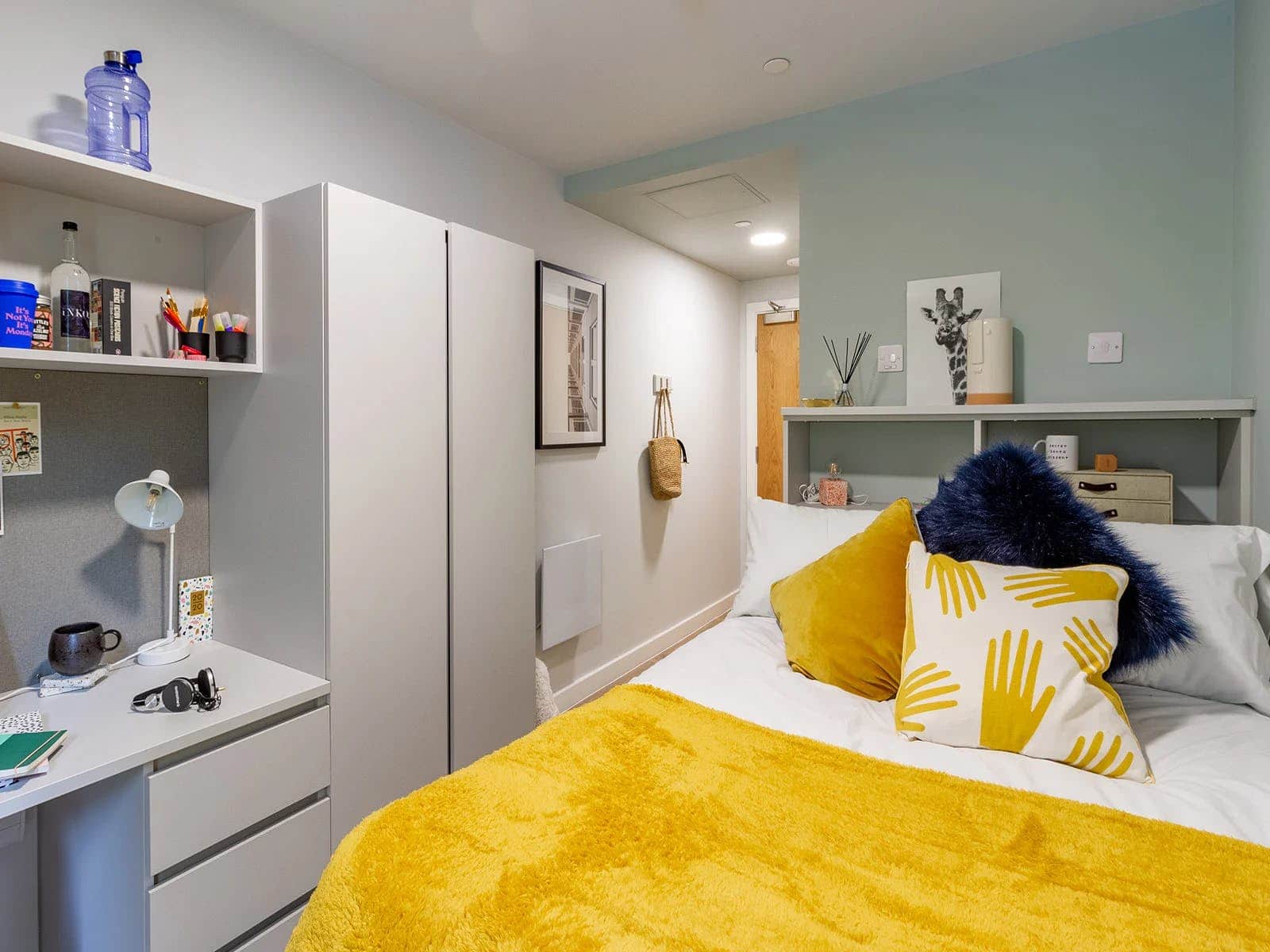 Modern student housing can be found in The Refinery in Leeds, United Kingdom. All the rooms come completely furnished with plush mattresses, a living area, a mini-kitchen, roomy storage, and a desk. They also offer study rooms so you may do your homework in peace. You will be hooked by the exciting student housing's year-round social events. The facility has a 24-hour gym with cutting-edge equipment to support your fitness goals.
Price: £174-250/ per week
3. Vita Student St. Albans: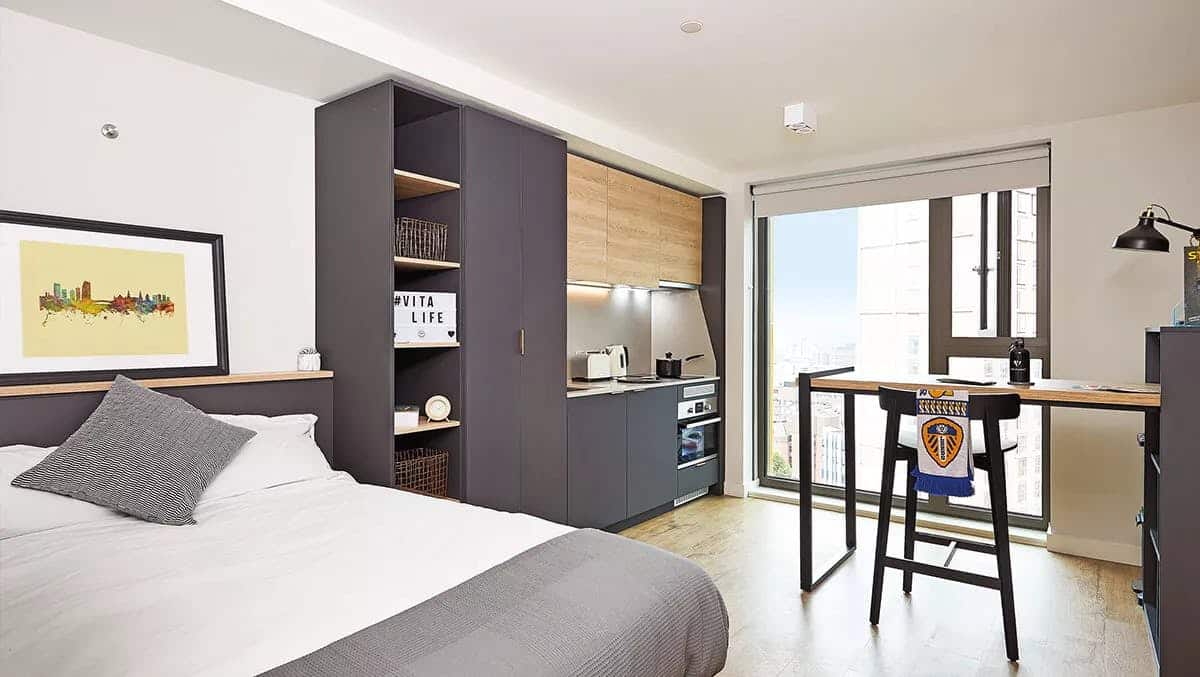 Leeds is home to several student residences and Vita Student is one of them. Many studio homes are available there that are tailored to your needs. You will be kept safe in this location via a key fob system, a 24-hour CCTV service, and on-site staff. The Art Gallery, Grand Theatre, City Museum, and Trinity Centre are just a few locations to hang out in the area. It is considered best student accommodation in Leeds and the right option because of its comprehensive amenities.
Price: £268-358/ per week
4. Sycamore House: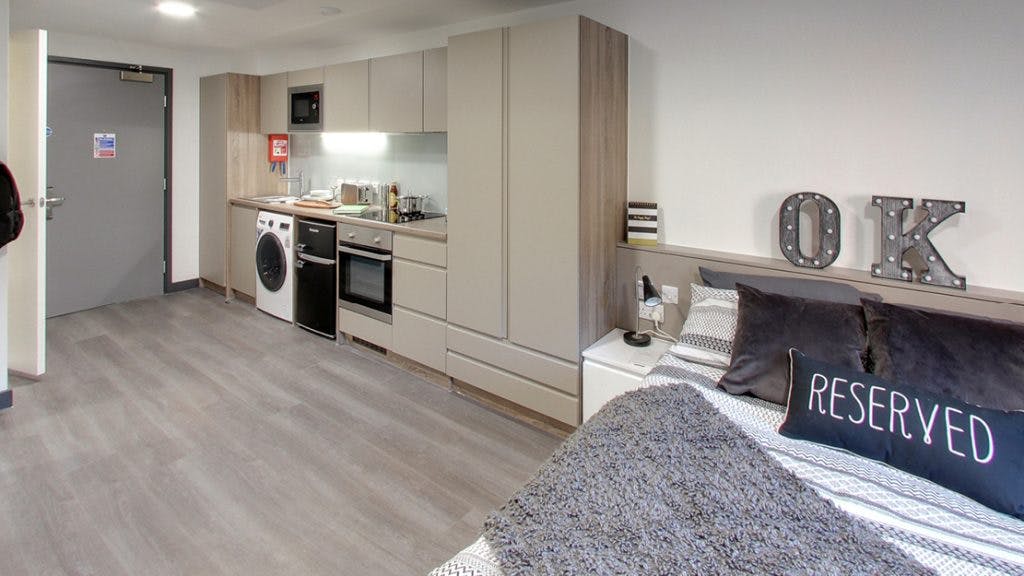 Penthouses and studio apartments are available for the students at Sycamore House. Students who want to go to the city or their university can do so quickly due to transportation. Each of the housing is loaded with a variety of conveniences, which helps students feel at home. Free wifi, a kitchenette, a study area, a wardrobe, a lounge area, a game room, a community area, and a lot more are just a few of the amenities available. If you book the best student accommodation in Leeds, they will arrange all the facilities that ensure a relaxing and affordable stay.
Price: £244-299/ per week
5. Burley Road: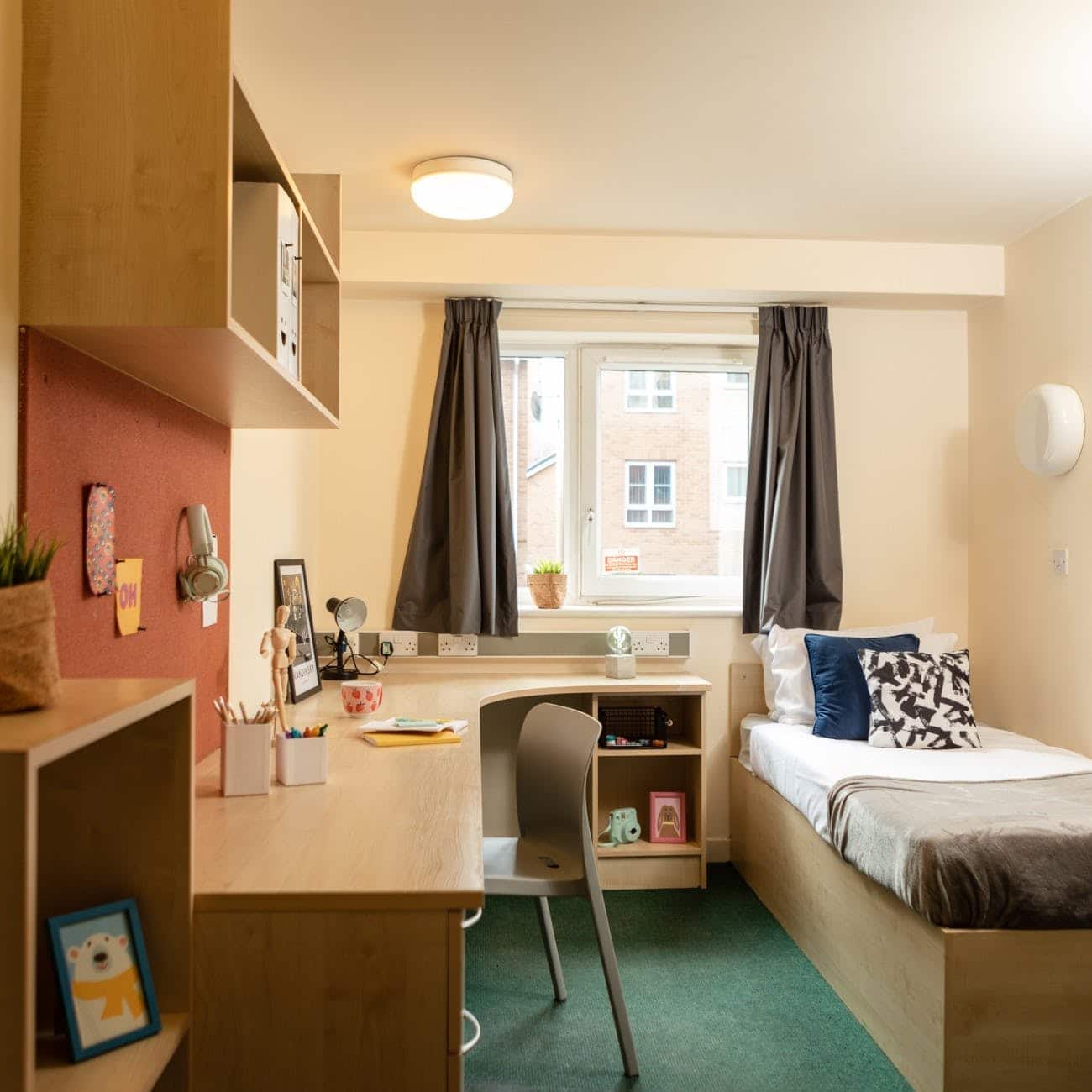 Leeds is home to Burley Road student housing. It is one of the best options if you are looking for the best student accommodation in Leeds. They guarantee students with a great time for socializing, relaxing, and staying comfortable. The neighborhood around the property has a thriving nightlife, a wide range of cultural activities, shopping, and excellent student transportation options. Ensuite or studio apartments are the two types of offered accommodations. A room with handicapped access is also available at Burley Road housing.
Price: £138-215/ per week
Transportation in Leeds:
Leeds is a tiny city with many locations close to one another or only a short bus or train ride away. Find out from your university whether it offers any other forms of transportation for students. You can discover the following transportation choices near your student housing in Leeds.
The price of a day ticket on the First Bus is approximately £4.30, but they also provide Unlimited Student Travel cards for about £35 each month on a rolling ticket, £155 for a term, or £340 for the year.
Trains leaving Leeds Central Station for the famous student neighbourhoods of Burley Park or Headingley will cost less if you show your 16–25 Railcard.
Students at the University of Leeds and Leeds Beckett University can use Amber Cars in addition to private hire taxis. They can leave their student ID with the driver and pay for the taxi the following day at the SU.
Final Thoughts:
No matter why you are considering relocating to Leeds, the city will indeed have the ideal house for you. Look for the best student accommodation in Leeds that offers a wide variety of housing alternatives that are well-suited to the needs of students. Because more student housing and student rentals are being created in Leeds to handle the continual influx of students that is growing annually, this transit network has become more effective.
FAQs:
1. Is Leeds a student-friendly city?
Leeds is a thriving, reasonably priced, multicultural city renowned for its arts, sports, leisure, entertainment, and nightlife. Almost 60,000 students reside inside the city limits of this location in Yorkshire, England. It is a fun area to live and learn because of a thriving student community.
2. What are the different accommodation types available for students in Leeds?
In Leeds, there are affordable options for student living that offer comfort. You can pick from various homes, including flats, dorm rooms for students, studio apartments, private apartments, and many others.
3. Can you get discounts for student accommodation in Leeds?
Yes, students who reserve in advance frequently get good deals and pay less for housing in Leeds. By arranging a group reservation, you can save money. Keeping an eye on accommodation websites to stay informed is helpful, as other cashback offers are continuously available.
4. Is Leeds affordable for students?
Compared to other places, Leeds cost of living is far less expensive, especially for students. The typical student needs about £1,300 monthly to pay their basic expenses.
5. Is Leeds good for international students?
Students from all around the world come for education and research due to its international reputation. More than 14,400 international students from 137 countries attend Leeds University.