Bristol has a thriving music scene and various distinctive small enterprises. It is the best place for international students and it offers many options for student housing. Bristol is a unique English city with breathtaking hilltop vistas and many historic buildings to explore. International students can find something to enjoy in this city, humming with opportunities. There are numerous options for student housing, and the city boasts a strong student culture. They can select the best accommodation depending on student requirements and price range.
Choosing the best student accommodation in Bristol can be influenced by several things, including your research and local expertise, your place of study, and your personality type. You can quickly find the finest discounts on student dorms, student hostels, student apartments, and student flats in Bristol.
Reason To Book Student Accommodations In Bristol
Some of the most outstanding educational institutions in the nation, including the University of Law, the University of Bristol, and the University of the West of England, are located in Bristol city. In Bristol, near these universities, students can find several of the best student housing.
The city has a unique atmosphere that you have never experienced. The student accommodation in Bristol allows you to reserve student apartments from more than 3000 en-suite rooms, studios, shared rooms, dorms, and student apartments. If you start looking for a place to live early, you can find student housing options within your price range.
Best Accommodations In Bristol
| | | |
| --- | --- | --- |
| Accommodation | Cost | In INR/ per week |
| iQ Bristol | £311 – 369/ per week | 27266/per week |
| iQ Water Lane House | £300-410/ per week | 26302/per week |
| Zinc Works | £237-258/ per week | 20779/per week |
| Zed Alley | £378-421/ per week | 33140/per week |
| Hotwells House | £196-217/ per week | 17184/per week |
| Stylish studio apartment | £3116/ per month | 273189/ per month |
List Of Best Student Accommodations in Bristol
1. iQ Bristol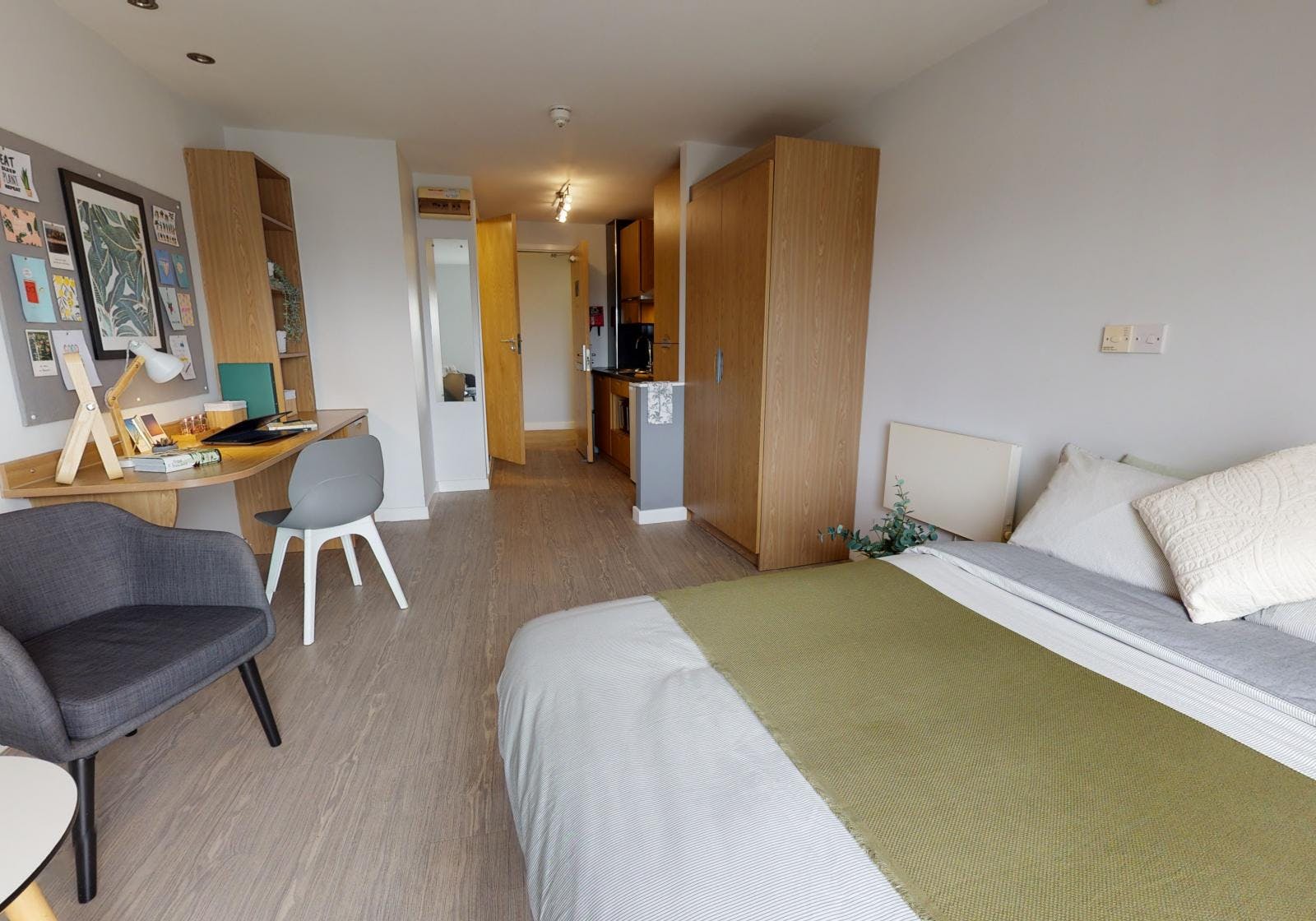 An excellent option for students to live in Bristol is iQ Bristol. Some of the best colleges are close to this student housing. Due to its convenient proximity to such universities, it is a well-liked place for both domestic and international students. Students can enjoy the lively city's entertainment options and weekend events by choosing this student accommodation in Bristol. Due to transportation, students who want to go to the town or their university can do so easily. The distance between iQ Bristol and the bus depots is only a few minutes. Healthcare facilities and hospitals are readily available.
Price: £311 – 369/ per week
2. iQ Water Lane House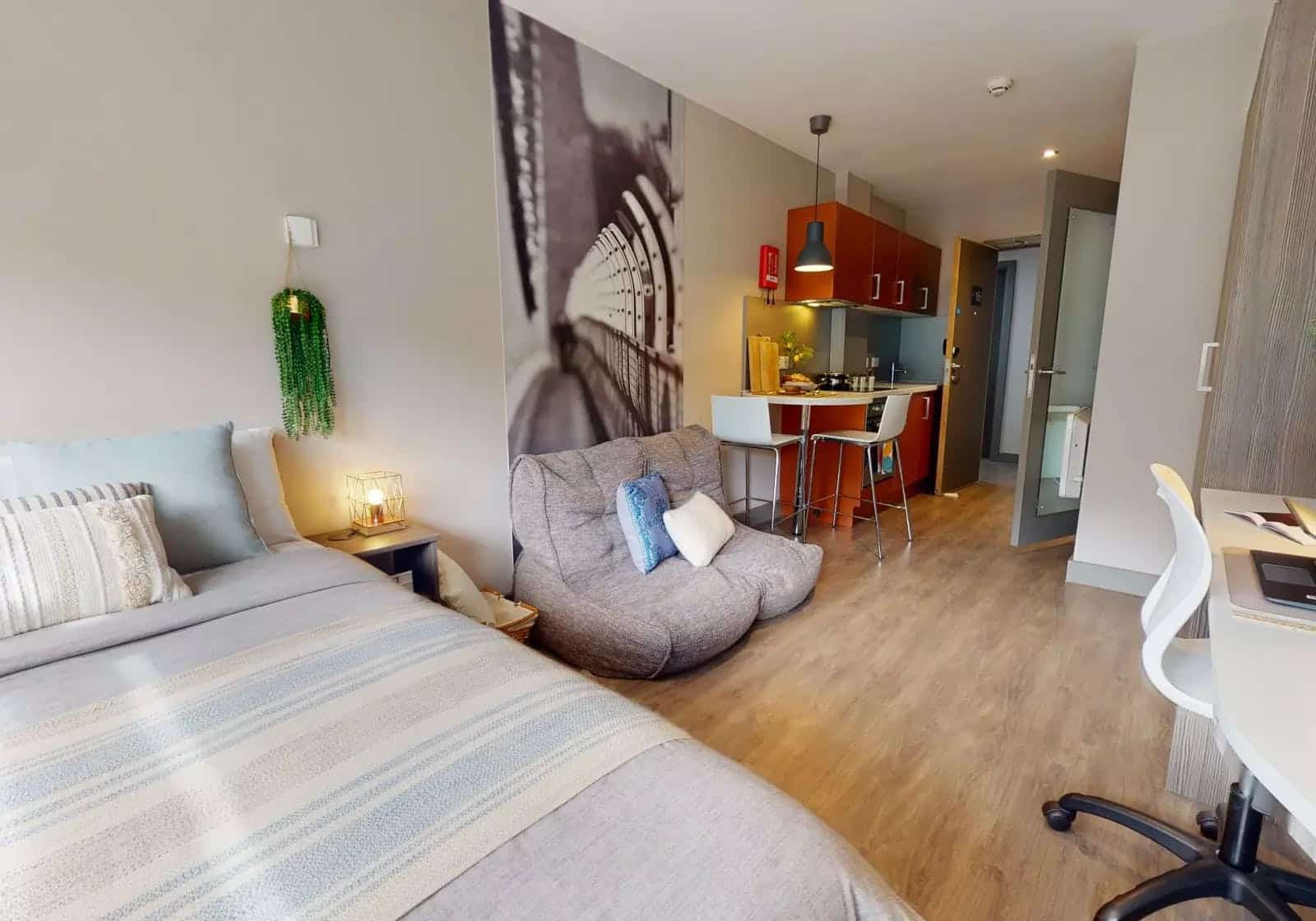 Bristol's student housing has gained popularity among young students. Because of its proximity to the city centre, students may commute by walking or via public transportation. The building provides a full selection of great features. The studios offer well-decorated interiors with all the required furniture. It also provides a private bathroom and a sizable kitchen with contemporary amenities. There is also a gym, a movie theatre lounge, a study area, and a private dining room on the premises. It is great to live on Water Lane. Plenty of well-kept trees make each surrounding plot personal, and the homes are far apart and hushed.
Price: £300-410/ per week
3. Zed Alley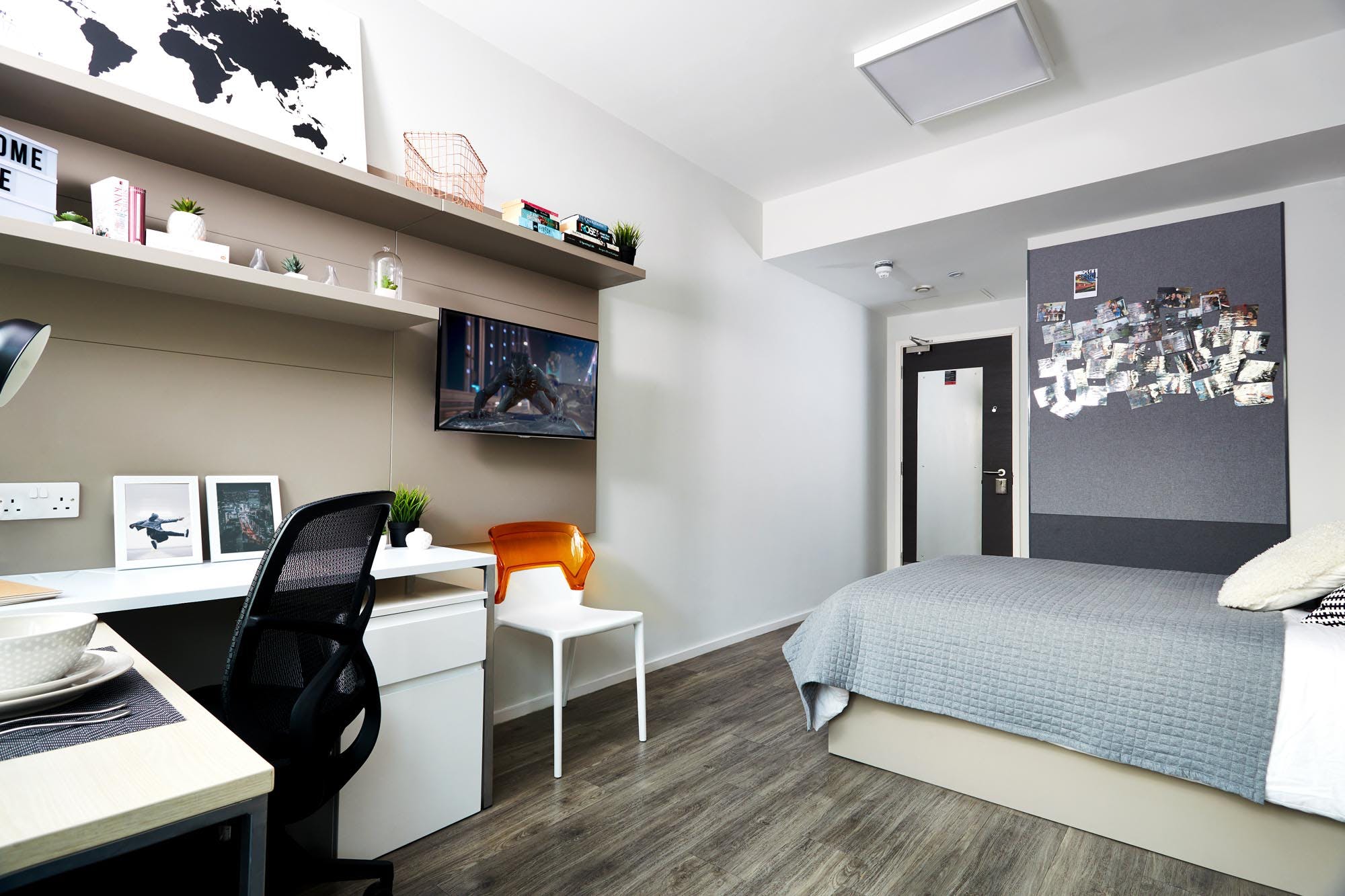 Another location in Bristol where you might locate a good student flat is Zed Alley. This student accommodations in Bristol provides a wide selection of tastefully decorated studios outfitted with all the amenities you could want. On-site high-speed internet connection is accessible, and a staff member is always on duty. It also has CCTV and secures key building access for safety and security. There are also quiet study spaces and a coffee lounge available. There are also laundry facilities, bike storage on the site, and a gym with yoga classes and free private training sessions. On-site activities include pop-up golf, cocktail making, and art courses, among other trendy pursuits.
Price: £378-421/ per week
4. Hotwells House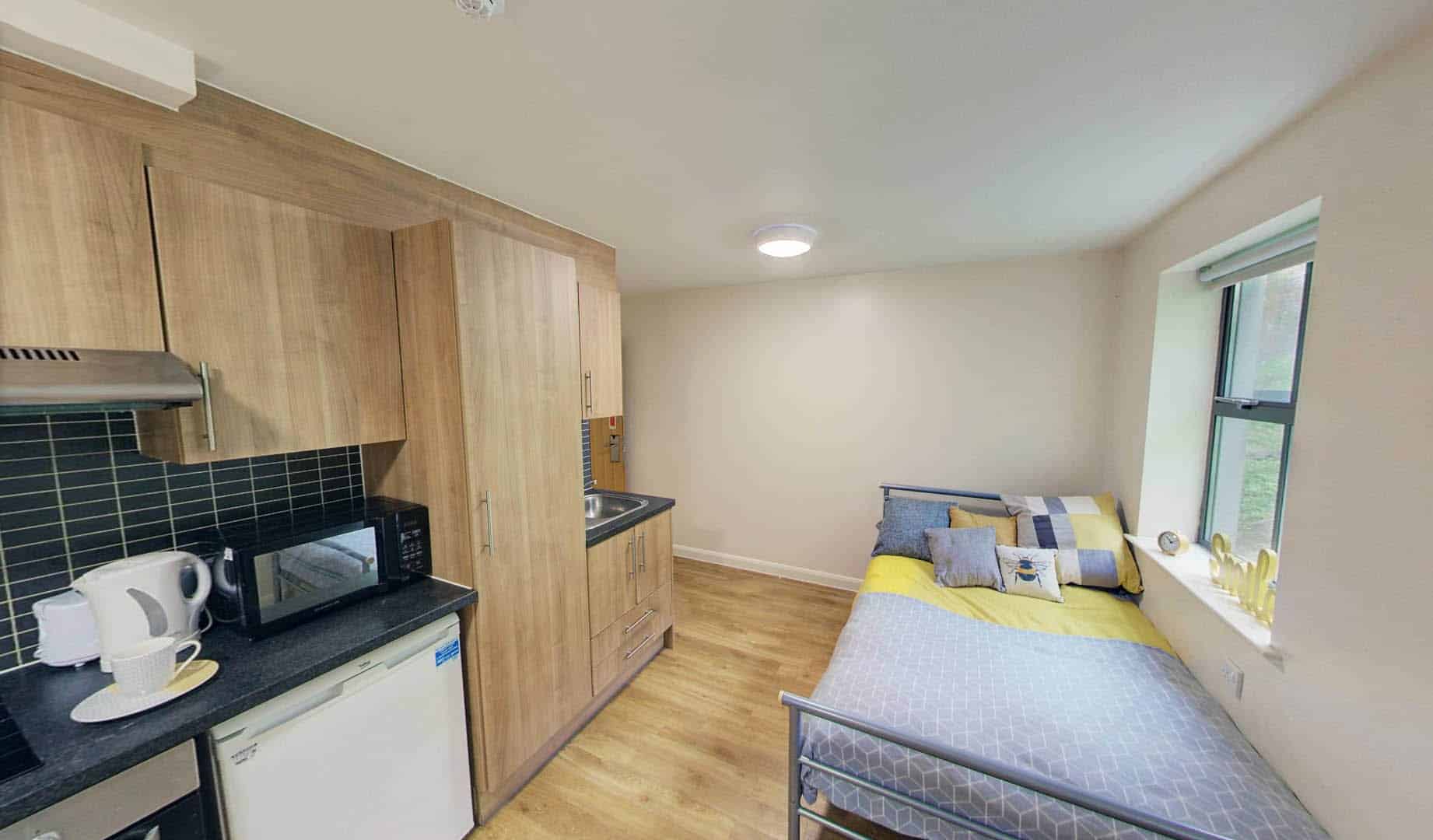 Students can stay in the studio, en-suite, and non-ensuite rooms at Bristol's Hotwells House. The property offers a variety of facilities and services for the students. Among them are Wi-Fi, CCTV everywhere, a card entry system, all-inclusive bills, parcel services, a residential life team, online maintenance reporting, 24-hour maintenance, on-site support staff, social events, a free gym, a games area, study spaces, an on-site laundry facility, a social lounge, and TVs in all lounges. This student accommodation in Bristol is a fantastic choice for a student that gives more offers for international students.
Price: £196-217/ per week
Stylish studio apartment central location in Bristol
You may feel at home with the high-quality kitchen and contemporary bathroom amenities, which include a walk-in shower. In addition, the units provide breathtaking front-facing Bristol Harbour views. In Bristol's picturesque cobblestone streets of Welsh Back and the Old City, the home is in a lovely Grade II listed Edwardian structure.
With Temple Meads station only fifteen minutes away, you will be close to Bristol's main business, entertainment, retail, and harborside districts. There is a wealth of things to see and do right outside your door on Bristol's harbourside, which contains some of the city's best museums, restaurants, and bars. Businesses such as Lloyds TSB, HBOS, and Aardman are all close by if you are in Bristol on business.
Price: £3116/ per month
Transportation In Bristol:
Any university and private student housing in Bristol is easily accessible and is only a short walk from any of the city's major transit hubs, due to Bristol's strategic location. Bristol's world-famous railway station, buses, and amiable taxis are just a few of the transit alternatives available to students in Bristol. Below is a list of Bristol's main transportation options and an estimate of their costs for your convenience. Students must understand that these prices can change during busy hours.
Bus: Bristol's bus network operates all the time. Students can take buses from any city in England. The average bus fare in Bristol depends upon the bus they choose.
Cycling: You can even explore Bristol city with a bike.
Bottom Line
Always choose student accommodations in Bristol that is nearer to the college. There are many sites available online to help international students. By referring to them, you can choose the best accommodation.
FAQs
1. Is Bristol a good location for students to live?
One of the most energetic cities in England is Bristol. It offers outstanding higher education facilities and is teeming with life and character. There are many options available to both domestic and international students.
2. What is the ideal time to search for dorms in Bristol?
Although student housing will be available all year long, most students start looking for shared living in Bristol 6 months before their intake.
3. Which form of transportation in Bristol is best?
The bus is the most inexpensive mode of transportation in Bristol. You may travel nearly everywhere you desire due to the city's network of roads. The floating harbour ferry is another exciting and enjoyable way to go through several areas of the town if you want to try something different.
4. Where do international students who study in Bristol reside?
In Bristol, most international students often live in off-campus housing, residence halls, private housing, flats, student lets, and apartments. To guarantee a smooth transition to life in Bristol, planning and investigating the many student living alternatives is crucial.
5. How is the weather in Bristol?
The temperature is pleasant. The average summer temperature ranges from 19 °C to 12 °C, making it comfortable to walk around the city.