Introduction
A universe of opportunities opens up for prospective business executives when they enrol in an MBA programme overseas without having to take a burdensome admission test. In this blog, we examine the pros of this choice as well as the justifications for why certain students like it. Candidates who choose an MBA abroad without an entrance exam might nonetheless show their abilities and win admission through alternative channels.
Discover the colleges that provide this option and experience the world of business education without the restrictions of the conventional admission test.
Understanding The Entrance Exam Requirement
The entrance exam requirement has been a longstanding tradition for MBA programmes, with tests like GMAT and GRE being common standards for assessing applicants' aptitude and readiness. However, these exams come with challenges and limitations. As a result, an increasing number of students are now drawn to pursuing an MBA without the GMAT or GRE requirement. This alternative approach allows applicants to showcase their abilities through other means, such as work experience, academic achievements, and letters of recommendation.
Choosing an MBA without the GMAT or GRE requirement offers applicants greater flexibility and a chance to focus on their strengths. It encourages a shift towards assessing an individual's overall potential, allowing for a more inclusive and personalised approach to business education.
Countries That Offer MBA Abroad Without Entrance Exam
Numerous prestigious universities provide an opportunity to pursue MBA abroad without entrance exams. These colleges offer top-notch business education while valuing an admissions policy that is more inclusive, drawing a pool of exceptional people from a variety of backgrounds.
1. MBA Abroad Without Entrance Exam In The USA
Several popular universities in the USA offer MBA programs without entrance exams, considering various criteria:
Columbia Business School: Allows applicants to take the Executive Assessment test instead of GMAT/GRE.
Colorado State University: Waives GMAT for applicants with 8+ years of work experience. Colorado State University provides a variety of MBA program options, catering to different learning preferences. Students can choose from on-campus, online, and real-time programs called Mosaic. Colorado State University offers a diverse and inclusive learning environment as a public institution, attracting students from various backgrounds.
NYIT (New York Institute of Technology): Waives GMAT for students with a GPA above 3.0/4.0. The accredited MBA program at the New York Institute of Technology (NYIT) equips students with essential skills for transforming businesses and enhancing their value in the marketplace. As a private institution, NYIT is known for its focused and supportive approach to education, providing students with ample opportunities to engage in real-world business challenges.
Kenan Flagler Business School, UNC: Offers waivers for strong LSAT/MCAT scores or 5+ years of professional experience. Strong LSAT/MCAT scores or those with more than five years of professional experience are eligible for exemptions from Kenan-Flagler. The school prepares students for important positions in the corporate world with a dedication to academic achievement and a collaborative atmosphere.
The University of Tampa: Admission to a number of University of Tampa programmmes does not require GMAT scores. The University of Texas provides students with the information and abilities required to thrive in today's competitive business environment, with an emphasis on practical learning and cutting-edge teaching techniques.
Pace University: The educational philosophy of Pace University carries over to its MBA programs, which put practical experience and talent ahead of GMAT scores. The business degree programs at Pace University combine academic rigor with practical experience to provide students a firm grounding in business fundamentals.
2. MBA Abroad Without Entrance Exam In Canada
Several business schools in Canada offer GMAT waivers or do not require GMAT scores for their MBA programs. Canadian MBA without GMAT and other entrance exams may help you to take educated decisions while pursuing MBA to build your career.
Schulich School of Business: For applicants with a GPA higher than 3.3 (87-89%), the Schulich School of Business waives the GMAT fee, demonstrating their dedication to recognizing academic excellence and promise.
DeGroote Business School: DeGroote Business School does not require GMAT scores as part of its comprehensive admissions process. DeGroote gives students the chance to learn from real-world experiences and make a significant contribution to the corporate world.
Thompson Rivers University: GMAT required only if mentioned by the admission committee. Thompson Rivers University's MBA program prepares students to be effective managers and leaders in a rapidly changing market. The programme strongly emphasises decision-making in uncertain business environments, allowing students to develop critical problem-solving skills. As a public institution, Thompson Rivers University fosters a collaborative and innovative learning environment that encourages students to explore emerging business trends and challenges.
NYIT Vancouver: Students with a GPA greater than 3.0/4.0 are eligible for a GMAT waiver from NYIT Vancouver, demonstrating their commitment to developing a diverse and skilled cohort. The Vancouver campus of NYIT provides a vibrant and encouraging learning environment that equips students for achievement in a range of business jobs.
3. MBA Abroad Without Entrance Exam In Australia
Some top Australian business schools offer MBA programmes without entrance exam requirements:
Monash Business School: GMAT waived for applicants with 3 or more years of managerial experience. Monash University's MBA program is designed for young professionals with a minimum of three years of business experience. The program adopts an experiential learning approach, incorporating consulting projects, overseas learning opportunities, and industrial engagements. Structured in four modules (foundation, innovations, transformation, and globalisation), the program equips students with the skills needed to excel in today's dynamic business landscape.
Macquarie Graduate School of Management: Because Macquarie GSM believes in evaluating students holistically, taking into account all of their qualifications and potential, the GMAT is not a prerequisite for admission.
La Trobe Business School: For applicants with three years of work experience and high academic standing in pertinent undergraduate programs, La Trobe Business School provides flexibility by not requiring the GMAT, placing an emphasis on practical skills and workplace preparedness.
Deakin Business School: For those who have either 3 years of work experience and an undergraduate degree or 5 years of experience plus a graduate certificate, Deakin Business School offers an alternate route by removing the GMAT requirement.
4. MBA Abroad Without Entrance Exam In The UK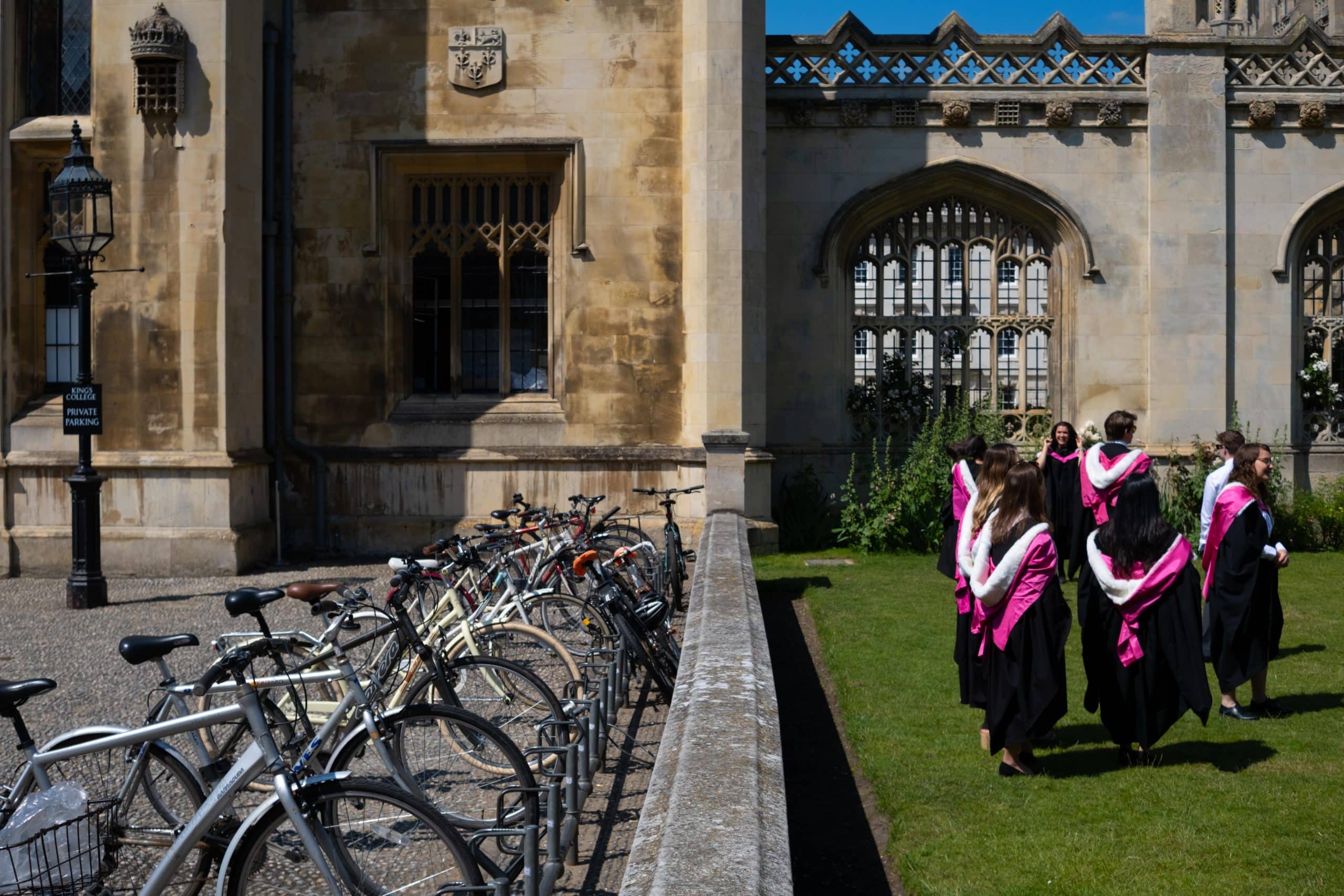 Top-tier business schools in the UK offer GMAT waivers or optional GMAT requirements for MBA programs:
University of Central Lancashire: The 12-month MBA program at UCLan provides a GMAT requirement that is optional, giving applicants the freedom to highlight their qualifications in a variety of ways.
Birmingham City Business School: The MBA program at Birmingham City Business School emphasizes a thorough screening process and appreciates candidates' varied talents by making GMAT scores optional.
University of Reading: The University of Reading places a strong emphasis on real-world experience and waives the GMAT for applicants with more than three years of professional job experience.
Durham University: The MBA admissions procedure at Durham University accepts a wide range of credentials and does not require GMAT scores in line with their dedication to diversity and all-around evaluation.
Apart from the USA, UK, Canada, and Australia, several other countries and universities offer GMAT waivers for MBA programs, including Germany, Netherlands, Singapore, New Zealand, and Ireland.
Without having to take an admission test, students can select from a variety of specialised options when pursuing an MBA. These might include supply chain management, marketing, entrepreneurship, international business, human resources, and more. Through specialisation, students may narrow their attention to their areas of interest and design their education to complement their job objectives.
Admission Process
Without an admission exam like the GMAT, applying for an MBA abroad necessitates a thoughtful and organised strategy. Here is a step-by-step approach and some important tactics to improve your chances of getting accepted.
Research and finalise the course and colleges that offer GMAT waivers.
Gather required documents like transcripts, resumes, SOP, and LORs.
Fill out the application form and pay the fees.
Prepare for the interview to impress university officials.
Focus on strong LORs, a compelling resume, and an impressive SOP to compensate for the lack of GMAT.
Regularly check university websites for updated requirements.
Emphasize academic achievements, work experience, and career goals in the application.
Showcase communication skills and enthusiasm during the interview.
Craft a convincing profile to increase the chances of admission to an MBA abroad without a GMAT.
Pros and Cons of Pursuing an MBA Abroad Without An Entrance Exam
Pursuing an MBA abroad without an entrance exam has its own advantages and disadvantages. Let's unfold the pros and cons of pursuing an MBA without an entrance exam to make an educated decision.
| | |
| --- | --- |
| Advantages | Disadvantages |
| Avoids stress and preparation for entrance exams | Limited opportunity to showcase academic aptitude |
| The more inclusive and flexible admissions process | Admissions based on subjective criteria may vary |
| Emphasizes work experience and practical skills | ome universities may still require GMAT or GRE |
| Saves time and money on exam preparation | Competition may be higher for limited seats |
| Allows for a diverse cohort of students | May miss out on standardised academic assessment |
Scholarships Offered For MBA
The following listed are the best scholarship options you could opt for while you are pursuing MBA abroad without an entrance exam.
1. Scholarships In Canada
Central Sector Scheme of National Overseas Scholarship for SC Candidates
Hani Zeini Scholarship
Ontario Graduate Scholarship
The University of Waterloo Graduate Scholarship
Go Clean Scholarship
Narotam Sekhsaria's Scholarships
Rotman School of Management Scholarships
Sauder School of Business Entrance Scholarship
Alberta MBA Scholarships
Ivey MBA Scholarships
2. Scholarships In The USA
Emerging Economy Fellowships
Social Impact Fellowships
Joseph Wharton Fellowships
Tuck School of Business- Need-based and Merit-based Scholarships
Meyer Feldberg Distinguished Fellowship Program
Sloan School of Management- McKinsey Award
The Robert S. Kaplan Life Sciences Fellowship
Horace W. Goldsmith Fellowship
Donald P. Jacobs International Scholarships
NYU Stern School Of Business – William R. Berkley Scholarships in US
3. Scholarships In The UK
GREAT Scholarships
Commonwealth Scholarship and Fellowship
The Financial Sumo Educational Scholarship Program
Charles Wallace India Trust Scholarships
Hornby Scholarships
Go Clean Scholarship
Chevening Scholarship
Oxford India Centre Scholarship
The Oxford and Cambridge Society of India Scholarships-University of Cambridge
The University of East Anglia Scholarships
4. Scholarships In Australia
Kraft Heinz Scholarship
AGSM Global Reach Scholarship and AGSM Excellence Scholarship
Monash MBA International Women in Leadership Scholarship
ANU College of Business and Economics India Excellence Scholarship
MBS Scholarships
Adelaide MBA Scholarship
MBA (Intensive) International Prestige Scholarships
UOW Postgraduate Academic Excellence Scholarship
International Excellence Scholarship (India); South Asia Business and Law Scholarships
Conclusion
Pursuing an MBA abroad without an entrance exam offers a promising path for students seeking to enhance their business education without the stress of standardised tests. The availability of scholarships and flexible admissions criteria makes it an attractive option, allowing students to focus on showcasing their practical skills and unique qualifications to secure their place in prestigious international universities.
FAQs
Which exam is required for MBA abroad?
The exam that is needed for an MBA abroad differs by university and nation. Others provide admission without an entrance exam, taking into account other aspects of the applicant's profile, while certain universities may demand the GMAT or GRE.
Which college is best for MBA without an entrance exam?
Numerous universities, like Colorado State University, NYIT, Thompson Rivers University, and Wilfrid Laurier University, are well known for providing MBA programs overseas without entrance tests. These colleges have open admissions standards that prioritise job experience and other credentials.
Is MBA without GMAT good?
Those with solid academic and professional credentials who choose to forgo standardised examinations may find that pursuing an MBA without the GMAT is a smart alternative. A lot of colleges evaluate candidates based on their overall profiles and provide GMAT exemptions.
Is MBA without CAT worth it?
The MBA can still be worthwhile even without CAT (Common Admission Test) results because certain foreign colleges do not require CAT ratings. Instead, they evaluate applicants using other standards such as employment history, academic achievement, SOP, and LORs.
Can I join MBA directly?
Several foreign universities give applicants with suitable job experience and academic credentials immediate admittance into MBA programmes, negating the requirement for an entrance exam like the GMAT or CAT.
Thank you for taking the time to read the article on MBA abroad without an entrance exam. We hope you found the information helpful and informative. If you're interested in exploring more about universities, we encourage you to continue reading similar articles below: