Introduction
Chinatowns have a long history, reaching back to the nineteenth century. They developed as havens for early Chinese immigrants, providing comfort and familiarity in a strange environment. Chinatowns are important economic engines that contribute to the nation's diversified commercial environment in addition to its cultural vibrancy. These neighbourhoods have weaved strands of business and trade into the fabric of British culture, from family-run eateries to bustling marketplaces. In this blog, discover the best Chinatowns in the UK, where history and culture collide to form dynamic East-meets-West communities.
What Is A Chinatown?
A Chinatown is a different neighbourhood or district within a city or town distinguished by a sizable Chinese immigrant population and a concentration of Chinese-owned businesses. It acts as an assembly place for Chinese customs, food, holidays, and enterprises, providing a window into Chinese heritage and encouraging a sense of neighbourhood among locals and tourists alike.
Chinatowns frequently have elaborate architecture, bustling street markets, genuine restaurants, and historic sites that commemorate Chinese identity and add to the region's ethnic fabric.
Where Can I Find Chinatowns In The UK?
If you're a student in the UK who desires to travel, you must visit these UK Chinatowns, which can be found all throughout the country. These lively Chinatowns are a must-visit location for anybody looking for a genuine experience since they provide a remarkable fusion of Chinese tradition and modern living. Following is the list of Chinatowns in the UK.
| | | |
| --- | --- | --- |
| Chinatown in the UK | Location | Speciality |
| London Chinatown | London's Soho district | Largest in the UK, diverse eateries, Chinese New Year celebrations |
| Birmingham Chinatown | Southside district, Birmingham | Fusion of Chinese, Vietnamese, Thai, and Malaysian influences, vibrant street market |
| Leeds Chinatown | Near Leeds' centre | Multicultural authenticity, red lanterns, diverse culinary offerings |
| Manchester Chinatown | City Centre, Manchester | Authentic Chinese restaurants, diverse grocery stores |
| Liverpool Chinatown | Near Liverpool's centre | Europe's oldest, "Chinese Gate," vibrant New Year celebrations |
| Newcastle Chinatown | Newcastle upon Tyne | Authentic Chinese establishments, cultural experiences |
| Edinburgh Chinatown | Edinburgh's Old Town | Fusion of Chinese, Thai, and Malaysian influences, authentic eateries |
| Glasgow Chinatown | Merchant City district, Glasgow | Captures the essence of Cantonese cuisine |
1. The Defining Cultural Center: London Chinatown
The famed London Chinatown serves as the spectacular starting point of our tour. This thriving neighbourhood is the biggest Chinatown in the UK and is tucked away within the vibrant metropolis, spanning over Gerrard Street and beyond.
Its elaborate arches and antique lanterns pull you inside, where you'll find a plethora of actual Chinese eateries, teahouses, and shops. Since its establishment in 1950, London Chinatown has emerged as a symbol of Chinese culture, especially during the spectacular festivities that mark the Chinese New Year.
2. The Flavour Fusion: Birmingham Chinatown
Birmingham's Chinatown in the UK, also known as the Chinese Quarter, is where one can find a fusion of Chinese, Vietnamese, Thai, and Malaysian. Situated in the Southside district, it pulsates with a vibrant street market, a medley of restaurants, and a tapestry of cultural encounters.
Here, you'll encounter a rich mosaic of flavours, from the amazing Peking duck to the delectable dim sum, reflecting the city's diverse culinary palette.
3. The Nothern Gem: Leeds Chinatown
Journey to Leeds, a city in the north, where a beautiful Chinatown in the UK awaits your discovery. It is found near the city centre, around Merrion Street and Vicar Lane, with vibrant red lanterns and ornate arches. The streets are a canvas for authentic Chinese restaurants, delightful tea houses, and hidden treasures like Chinese bakeries and herbal medicine shops. You can find a beautiful sigma of traditions that showcases the city's multicultural fabric.
4. Shades Of Traditions: Manchester Chinatown
Continue travelling north until you reach Manchester, a bustling city with a beautiful Chinatown in the UK waiting for you. This neighbourhood, tucked away in the heart of the city along Faulkner Street, is decorated with vibrant bridges and ornamental street lights.
A multitude of real Chinese eateries, serving everything from Cantonese and Sichuan to Malaysian and Vietnamese food, fill the streets. Don't pass up the chance to browse grocery stores brimming with fresh supplies and unusual foods; pique your culinary curiosity.
5. A Glimpse into History: Liverpool Chinatown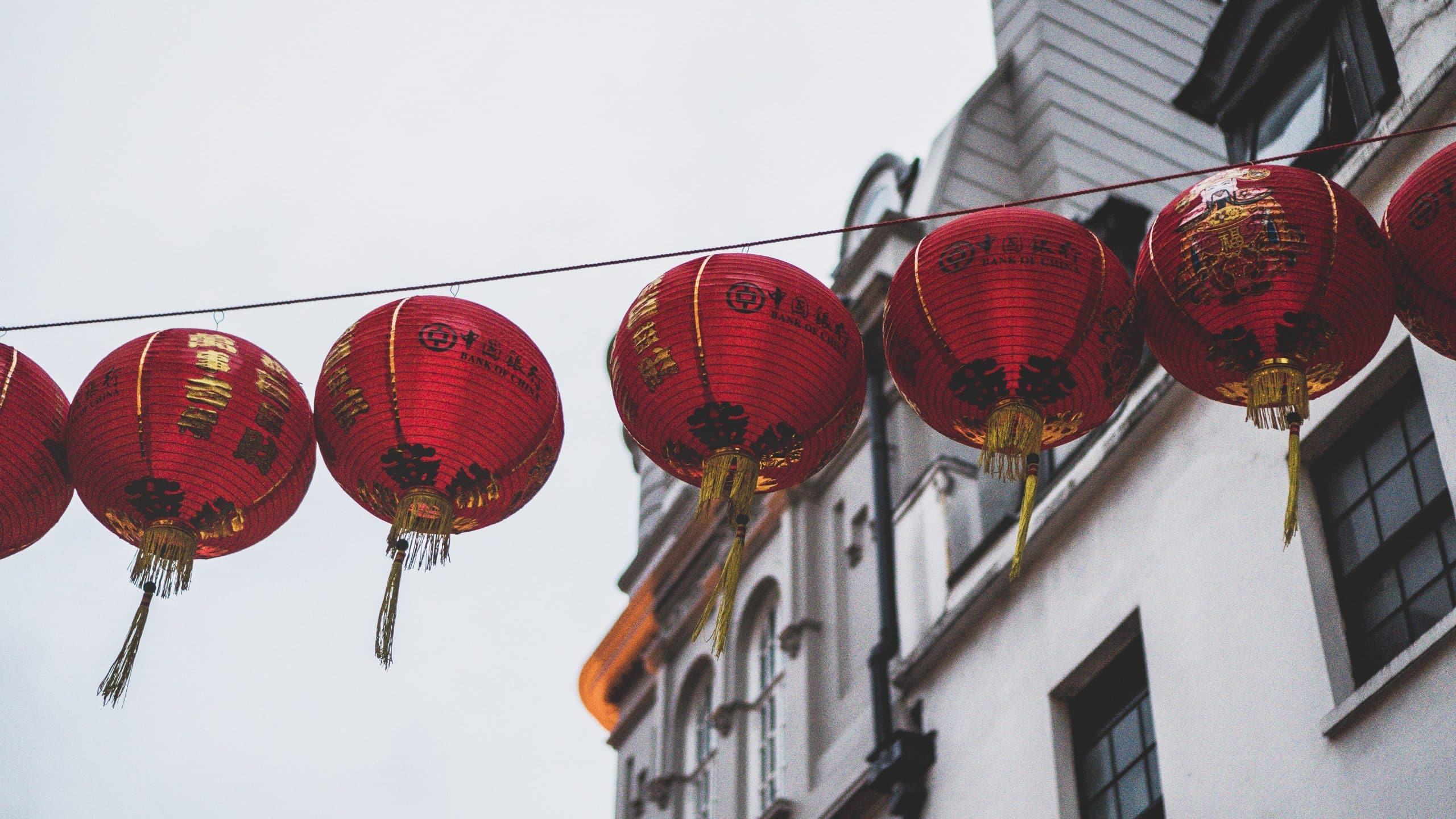 Step into the historical tapestry of Liverpool's Chinatown, a gem that dates back to the late 19th century. It is recognised as Europe's oldest and pays homage to the city's multicultural roots.
As you explore its streets, the captivating "Chinese Gate" stands as a symbol of unity. The district comes alive during Chinese New Year, boasting vibrant parades and traditional dragon dances that underscore the city's inclusive spirit.
6. The Cultural Haven: Newcastle Chinatown
Immerse yourself in the heart of Newcastle upon Tyne, where a lively Chinatown in the UK thrives. Nestled around Stowell Street and Gallowgate, this district offers a slice of Chinese culture in the northeast. Stroll beneath colourful Chinese lanterns and explore authentic restaurants, shops, and supermarkets that invite you to delve into a world of flavours and traditions.
7. The Hidden Gem: Edinburgh Chinatown
Edinburgh, Scotland's capital, where a hidden culinary gem awaits discovery. Nestled within the city's Old Town, this compact enclave exudes a fusion of Chinese, Thai, and Malaysian influences. Though smaller in scale, it boasts authentic eateries that tantalise your taste buds. Wander along its streets, exploring Asian supermarkets that offer an array of spices and ingredients, offering a gateway to new culinary horizons.
8. A Scottish Chinese Fusion: Glasgow Chinatown
Travel further north to Glasgow, a city enriched by its vibrant Chinatown along the banks of the River Clyde. Located within the Merchant City district, this Chinatown captures the essence of Cantonese cuisine. Embark on a culinary journey as you explore local eateries serving authentic dishes, offering a taste of China amid the Scottish landscape.
Conclusion
As our exploration comes to an end, we've delved into the heart of these vibrant Chinatowns, each a testament to the diverse and rich tapestry of Chinese heritage and culture. From iconic landmarks to hidden gems, culinary wonders to spirited celebrations, Chinatowns in the UK offer an immersive experience that bridges continents and generations. Hope this blog helps you to discover the best Chinatown in the UK.
FAQs
1. Which is the biggest Chinatown in the UK?
The largest Chinatown in the UK is in London, notably in the dynamic neighbourhood of Soho, and it extends from Gerrard Street to beyond.
2. How many Chinatowns are there in the UK?
There are many Chinatowns in the UK, including significant ones in London, Manchester, Birmingham, Liverpool, Glasgow, Leeds, Newcastle, and Edinburgh.
3. What is Chinatown London famous for?
The largest and most recognisable Chinatown in the UK, Chinatown London is known for its authentic Chinese restaurants, stores, and lively celebrations, especially during Chinese New Year. It offers a diverse cultural experience.
4. Which city in the UK has the most Chinese?
The city in the UK with the most significant Chinese presence is London, which boasts a major Chinatown and is a hub of diverse Chinese culture and communities.
5. Is Chinatown in London worth visiting?
Yes, it is worthwhile to explore Chinatown in London. It is a vibrant cultural district with elaborate arches, lanterns, authentic restaurants, and a lively environment that provides a fascinating look at Chinese culture and food.
Thank you for reading about the "Chinatowns in the UK." If you're interested in exploring more articles on related topics, we recommend checking out the below articles: