Stock investments are one of the most common ways to build wealth in today's world. You may have read a variety of tales regarding stock market owners, ranging from defeats to inspirational "rags-to-riches" reports. The beauty of this investment avenue is that it approaches each investor according to his or her investment strategy.
Investing is a way to put capital away when you are occupied with life and make the investment function for you so that you can enjoy the maximum benefits of your labour in the future.
How to invest as a student? One of the easiest opportunities for new investors to get interested in the stock market is to open an online trading account, which can then be used to purchase common securities or stock mutual funds. Many brokerage accounts enable you to begin investing for the cost of a single share.
How to Invest as a Student: Choose the Method of Your Investment
There are many approaches to equity trading. Choose the choice that better reflects how you want to spend from the list below.
You want to choose your own securities and mutual funds.
You want a professional to do the procedure for you.
You want to consider saving in the company's 401(k). It is among the most popular ways for new investors to get started. In several cases, it shows potential investors some of the most tried-and-true investment techniques, such as having tiny daily investments, relying on the long run, and adopting a hands-off strategy.
How to Invest While Studying: Select an Investment Account
In general, an investment account is used to invest in stocks. For those who want to be hands-on, this normally entails opening a brokerage account.
An online trading account is most definitely the fastest and least costly way to purchase securities, funds, and other investments. You may open an individual retirement account, commonly known as an IRA, or a taxable trading account with a broker if you are not investing properly for retirement with a workplace 401(k) or another scheme.
A Robo-advisor provides the advantages of equity investing without requiring its user to do the legwork needed to choose specific assets. Robo-advisor programmes provide complete wealth management: During the onboarding phase, these firms will question you about your investment priorities and then create a portfolio to help you meet those goals.
If you are a student moving abroad, don't forget to sign up for this form! 👉🏻
How to Invest as a Student: Invest in Individual Stocks
If you're looking for a particular business, you can purchase a single share or a few shares to get your feet wet in the stock market. It is possible to build a diversified portfolio out of a large number of individual stocks, but it requires a substantial expenditure. It's important to do your
research and stock analysis before you start.
The advantage of equity mutual funds is that they are naturally diversified, lowering your risk. A portfolio consisting primarily of mutual funds is the obvious option for the overwhelming majority of investors, including those investing their retirement savings.
However, index funds are unable to grow as quickly as other individual stocks. The advantage of individual stocks is that a smart choice will pay off handsomely, but the chances of any individual stock making you wealthy are extremely low.
How to Start Investing in as a Student: Invest Regularly
Investing on a regular basis allows you to capitalise on normal market volatility. When you spend a constant sum over time, you purchase fewer securities when the market is up and more shares when the market is down. This can make you pay less per share on average over time, a concept known as dollar-cost averaging.
Read: How To Invest In Student Coin In 2021?
How to Invest as a Student: Set a Budget with Focus
The sum of money used to purchase a single stock is determined by the price of the securities. (Share values will vary anywhere from a few bucks to several thousand dollars.)
Capital investment is loaded with complex tactics and methods, but some of the most active investors have done nothing more than adhering to stock market fundamentals.
The most difficult thing to do when you start investing in securities or mutual funds is to not look at them. Because you're striving to fight the odds and win at day trading, it's best to break the trap of testing your stocks many times a day, every day.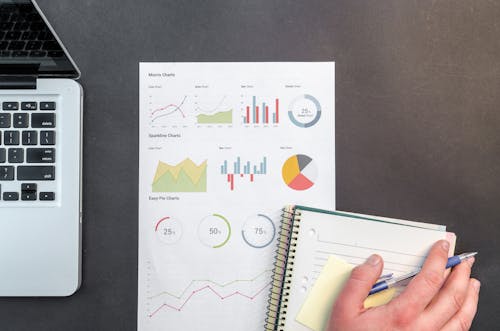 How to Start Making Money as a Student: Handle an Investment Portfolio
Although obsessing about frequent volatility isn't good for your portfolio's — or your own — wellbeing, there will be periods where you'll need to check in on your stocks or other assets.
If you use the measures outlined above to purchase mutual funds and individual securities over time, you can review your portfolio at least once a year and ensure it is always in line with your investment objectives.
How to Invest as a Student: Analyze the Data
Open, high, low, and previous close are all possible values. The open is the first price at which a commodity trades during normal trading hours, whilst the high and low are the peak and lowest values attained by the stock during those hours, respectively. The previous close is the previous trading day's closing price.
Market capitalization denoted as "Mkt cap," is a metric of a company's size depending on the number of securities it has on the public market compounded by the existing share price.
The PE ratio is an abbreviation for the price-to-earnings ratio, which certain analysts use to determine if a commodity is undervalued, overvalued, or equally priced.
Dividend yield denoted as "Div yield," shows you how much an individual should expect to earn in dividends (cash distributions firms can make to shareholders) each year, calculated as a percentage of the existing share price.
High and low for the previous 52 weeks is the maximum price the stock has exchanged for in the previous 52 weeks, while the 52-week low is the lowest price the stock has traded for in the previous 52 weeks.